As any experienced marketer knows, analyzing and results is the most important part of any promotional campaign.
If you work with a budget, someone is expecting you to bring in new leads, customers, and revenue. You need to show that you're accomplishing these goals.
With digital marketing, this is easy.
Instead of relying on estimated audiences from TV networks or trying to draw connections between a billboard and a rise in sales, digital marketing offers concrete data for each campaign.
However, given the access to so much data, it's difficult to determine what to include in your results.
Plus, you need to explain what those metrics mean – after all, pages of indecipherable metrics aren't helpful without context.
On the flip side, you may have to ask an SEO agency for reports on your company's progress to determine whether their results are worth your investment.
There are many ways to approach SEO reporting, but an effective report should show exactly what the client is getting for their money.
WebFX's results driven team of 500+ experts is focused on providing you with the data you need to be successful! Contact us online or call 888-601-5359 today to learn more about SEO reporting and how it can make a difference for your company.
On this page, we'll cover what kinds of reports an SEO plan should include and which metrics most effectively illustrate ROI.
Two types of SEO reports
Before we get into the exact metrics that belong in an SEO report, it's important to note that any campaign can use two types of reports — initial and ongoing.
1. Initial reports
An initial report should give a comprehensive look at a website before any SEO work is done. This will serve as a benchmark you can use to compare against later improvements.
Much of the information in an initial report comes from automated tools like our SEO checker, but the person who creates and manages the SEO campaign should highlight a few key areas, including:
Keyword optimization
Rankings
Content quality
Backlink profile
Usability
Mobile-friendliness
Internal links
HTML tags
Having this information in one place makes it easy to measure progress and identify easy wins for your site.
An experienced SEO may also include competitor analysis in their initial report with information about competitor performance in key areas.
This serves as a benchmark as well and gives a general idea of how much work you need to beat these sites.
2. Ongoing reports
After an SEO campaign starts, ongoing reports explain its progress and results.
Most agencies offer monthly reports as part of their SEO plans, although some prefer to provide them quarterly.
Here, we'll focus primarily on ongoing reports since they show the most current results of a campaign.
Measuring the metrics that affect your bottom line.
Are you interested in custom reporting that is specific to your unique business needs? Powered by MarketingCloudFX, WebFX creates custom reports based on the metrics that matter most to your company.
Leads

Transactions

Calls

Revenue
Learn More

What's included in an ongoing SEO report
Most SEO reports pull most of their data from Google Analytics since it's considered the industry standard. The details in these reports vary, but most revolve around the same key metrics:
Traffic
Rankings
Conversions
Sales or leads
These are the most common metrics to see in a report because they're easy to access and understand. They're also great for showing month-over-month and year-over-year results, which should show steady increases.
Traffic in particular lends itself to great visuals for the success of a campaign.

The huge jump in page views is clear, and gives the client confidence that their investment is leading to real results.
Beyond the metrics we mentioned above, reports may also include less straightforward metrics like:
Time on page
Bounce rate
Landing pages
Custom goal completions
Today, many SEO agencies simplify this process by creating custom dashboards for each of their clients.
These dashboards automatically pull certain metrics for a time period and offer a comprehensive snapshot of a campaign's performance.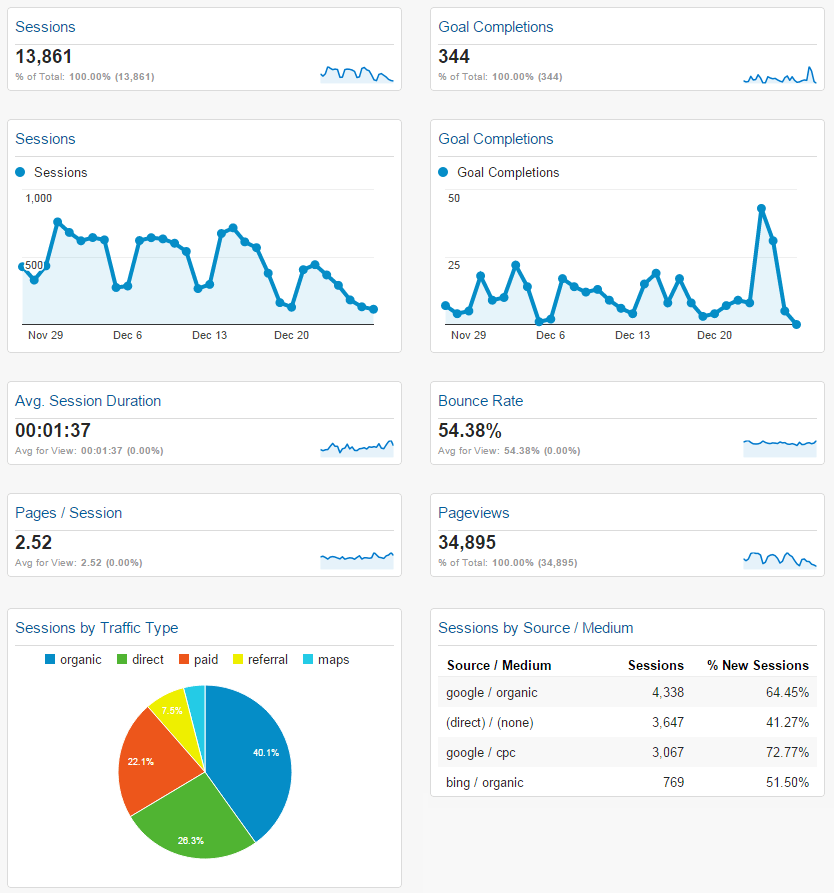 This kind of report also makes it easy for the client to compare results from month to month.
After all, if the sessions, goal completions, and time on page are all higher than the previous month's report, the campaign is likely performing well.
However, metrics alone don't make a great report– it's how well the report explains those metrics and the impact they have on the company's bottom line.
This is where reports vary the most from agency to agency, and sometimes between account managers at the same agency.
This part of a report can also vary based on individual clients' needs and preferences.
If one client is focused on outranking a competitor for high-value keywords while another's concerned with increasing sales on their ecommerce site, their account managers will consider this when compiling their reports.
WebFX is a partner businesses trust.
Hear from HydroWorx, who saw a 236% increase in organic sessions with WebFX services.
Watch the Video Testimonial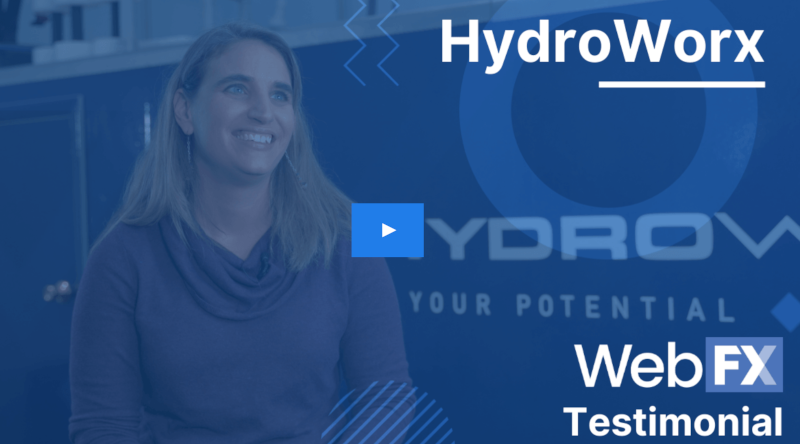 SEO reports from WebFX
At WebFX, we specialize in creating results-driven strategies, and we always keep the focus on leads and revenue.
That's why one of the first steps we take for each of our clients is setting up custom goal tracking in Google Analytics.
Before launching a new campaign, we discuss what exactly the client wants to accomplish and the on-site actions that prove their success.
For example, many local service-based businesses want to increase the number of phone calls they receive.
In this case, we set up click-to-call functionality on their site and track how many users click that button to call their business.
B2B companies, on the other hand, typically want to increase the number of contact form submissions they generate online. We'll set this up as a custom goal and make it the focus of their reports.
Google Analytics makes it possible to track a wide variety of on-site goals — from email newsletter signups to ecommerce purchases — and we take full advantage of this feature.
After all, these engagements signify that a client is earning new customers. That's a much more important goal than something like traffic.

We also provide analysis with each of the metrics we include, so our clients know why their results look the way they do.
That information guides our actionable recommendations moving forward.
For example, if we test out a new title tag strategy and the test pages see an increase in traffic, we'll make a site wide change – and we'll keep you in the loop as it happens.
Additional reporting from MarketingCloudFX
Beyond the data we pull from Google Analytics, we also give our clients access to our proprietary tracking software, MarketingCloudFX.
We developed this platform to give our clients transparent access to their campaigns' performance and provide a clear snapshot of the results their investment earns.
We begin tracking our clients' data in MarketingCloudFX as soon as they launch their campaign with us. They have access to their ROI dashboard at any time to get real-time information about their business's online performance.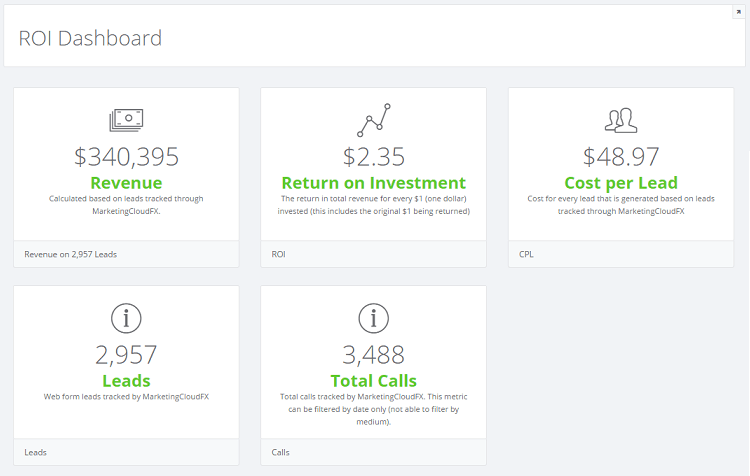 This dashboard shows the total revenue, number of leads, and total calls they've generated with WebFX.
These metrics are the most important to every client, and we believe in making them accessible for showing the value of our work.
We also use this data to calculate the cost per lead and ROI for each client, which makes it easy to determine whether their campaign is successful from a financial standpoint.
This tells each client that their marketing budget is going to good use and earning tangible results related to their needs.
Learn more about SEO plans from WebFX
At WebFX, we know how to get real results with SEO. We have years of experience creating custom strategies for clients in a variety of industries, and we always keep the focus on increasing revenue.
If you're ready to speak with your new SEO partner about how WebFX can help you, fill out a contact form to get in touch!
How Is Your Website's SEO?
Use our free tool to get your score calculated in under 60 seconds.