Facebook marketing is one of the best ways to promote and grow an ecommerce store.
With its free business page option, advanced consumer targeting capabilities, and a built-in advertising platform, you can reach hundreds of new customers for a fraction of the cost of a traditional advertising campaign.
All you need to know is how.
Ecommerce encompasses a wide variety of audiences and industries, so there's virtually no end to the list of strategies you can use to sell through Facebook.
We'll cover three of the most common on this page, but keep in mind that this isn't an exhaustive list. But they're all great starting points — and can help you build the foundation for Facebook marketing strategy that earns the results you want for your ecommerce business.
Keep reading if you want to learn more, and give us a call at 888-601-5359.
74% of people use social media when making a purchasing decision.
Make their decision easy with a stellar social media presence. See how your brand can level up by requesting a no-obligation proposal today.
One of our experts will be in touch within 24 hours!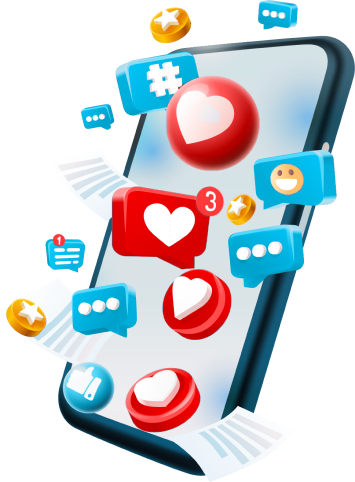 1. Post product pages
Product pages are arguably the most important pages on any ecommerce site.
These are the pages on your site that feature specific items you're selling. Each one should include the product's name, description, image, and functionality that allows visitors to purchase the item.
Some ecommerce companies go all out with their product pages and throw in videos, 360-degree views, accessory products, recommended products, similar categories, and other additional content.
But you don't necessarily need those extras to profit — so if you have product pages that meet the criteria above, you're ready to start advertising on Facebook.
When you share links to your product pages on Facebook, be sure that your product images are included in the link preview.
That image acts as the visual focal point of your post, which draws your followers' attention straight to the product for sale.
That encourages them to click the product's link and go to your site, where you can convert them into paying customers.
Your page should also have a noticeable call-to-action button that stands out to your potential customers right away.
This button could say "Buy," "Add to Cart," "Add to Basket," or any other phrase that indicates making a purchase. But regardless of the text, it should catch visitors' eyes and make it easy for them to purchase the item they want.
And just like that, you have a new sale!
This strategy works exceptionally well with flash sales, overstock inventory, and promotional deals.
And as any successful ecommerce company will tell you, the first sale for each customer opens the door for repeat purchases, too.
So when you move that first product, you're making an impression on the buyer.
If the process is easy — like clicking a link on Facebook and then getting a new golf club in two days — you can bet that customer will come back.
But if the process is complicated, you may not even make the first purchase.
Posting a product page's link to Facebook makes that first sale as easy as possible.
And considering the hundreds of people who could see each post, that could turn into a lot of revenue for your company.

Hear What It's Like to Work With WebFX!

"Our WebFX team was on top of everything. Best part is our lead contact felt like she was part of our company. She learned everything about our business so quickly and was able to be very efficient with our brand. Reacting to what we needed or wanted to change, making us feel so comfortable the whole way!"
Retail
2. Post category pages
Depending on your industry, you probably have a few different category pages on your site that cover the products you sell.
Most of the time, category pages act as navigational elements.
But they're also great ways to move sales through Facebook.
Sharing your category pages on Facebook hits a specific part of your customer base — people who know they want a certain kind of product, but they're not sure which specific product to buy.
By showing them that you offer lots of options, you give them the chance to learn, explore, and make the decision for themselves.
This is especially effective when you include user reviews, star ratings, and other quality indicators on your category and product pages.
You can even go the extra mile and create a purchasing guide — a crucial part of content marketing — and include it on your category page to help visitors learn what they need to know about the products you sell.
This improves the chances that users who visit your category pages will make informed purchasing decisions for themselves.
It also means you build your reputation as a reliable industry authority.
After all, if you're sharing free resources on how consumers can buy the right product for their needs, you're making it clear that you're trustworthy and knowledgeable. As a result, site visitors will feel more comfortable buying from you.
All in all, that's a lot of value that you can get from a single category page.
By repeating this process for different category pages on your site, you can bring new visitors to your site and convert them into customers on a regular basis.
It takes time to properly set everything up on the page you want to promote. But once you've added the necessary elements, you can generate sales from it day after day.
Plus, you have to create category pages anyway — they're essential for your website's navigation. If you want customers to find the products that they want, you have to make it easy for them.
Helpful category pages — coupled with other navigation strategies — are an effective way to help customers find the products they need.
So your site is going to have category pages anyway, no matter how you spin the situation.
You might as well make some money from them!
3. Share customer photos
One of the best parts of using Facebook for marketing is that it allows you to build relationships with your customers. And in many cases, this means they'll be comfortable sharing photos of their purchases.
As a result, you can use Facebook to get free user-generated content, or UGC — and this content can be extremely helpful in your marketing strategy moving forward.
For example, if someone buys a golf club from your ecommerce store, they might share a photo of themselves using it on your Facebook page.
Then, with their permission, you could share it with your followers to promote that product.
This has a few important benefits.
First, it shows that you maintain an active, involved presence on social media. That shows your followers that you truly appreciate customers buying from you.
Second, it gives you a more interesting visual to share with your followers. So if someone saw the same golf club on your site, but they didn't know enough to buy it, that customer photo could provide the context they need to purchase.
Third, customer photos encourage other customers to share multimedia with you. In other words, one customer sharing a photo can set off dozens of other customers who want to share content with you, too, in the hopes of being featured on your Facebook page.
That places you in a prime position to strengthen the relationships you've already made with your Facebook followers to ensure they have the products they need.
Plus, you can be sure you've produced satisfied customers when they show you how they're using a product they bought.
Satisfied customers are often repeat customers, as well. So no matter how you spin it, encouraging users to share photos with you is one of the most effective tools for long-term revenue on Facebook.
WebFX is a leading Facebook marketing agency
WebFX was an early adopter of Facebook marketing, and we've helped dozens of ecommerce companies get their start on social media.
We've also helped them repair negative reputations, earn customer reviews, and improve their overall strategies, so they can earn more customers.
Now, we'll do the same for your ecommerce store. Contact us today to speak with a strategist about creating a custom Facebook marketing strategy!
Earn a 20% greater ROI with WebFX