Build an Audience on Social Media With These Tips
Social media is one of the most powerful tools in your marketing arsenal. You can easily reach out and connect directly with customers on a personal level, and at a fraction of the cost of most other marketing channels. Word of mouth has turned into retweets and Facebook shares, except they're faster and more effective.
There's just no questioning it, social media marketing can work wonders for businesses of all sizes. But before you can start using it to reach and engage with potential customers, you need to establish an audience. There are many methods of doing so, and different approaches work better for certain industries than others.
We're here to walk you through the basics, so you can be well on your way to using social media to attract and convert new customers. If you'd like to speak with a social media expert, you can reach us at 888-601-5359.
Growing your social presence with WebFX is a walk in the park.
"WebFX allows growing your social media platforms to be stress-free! They are knowledgeable and adapt to your company needs!"
Learn More About Our Social Media Services

Pick a social media network
As a disclaimer, it's always a good idea to have company accounts set up for every social media network. Even if you don't end up using them for a few years, it's best to claim your company's name before someone else does.
However, it's more productive to work towards mastering a single social media channel than to spread yourself thin trying to familiarize yourself with multiple channels at once.
Know your audience
The first step to selecting the best platform for your business is to identify your customers. In other words, who's your target audience? What's their demographic? Are they women, men, Baby Boomers, millennials?
Take some time to create marketing personas for your ideal customers. Give them names, backstories, interests, the whole nine yards. This is always a good method of getting inside the heads of your customer base, and can be especially effective for social media marketing because…
Different social media networks attract different users
Once you know exactly who you're trying to reach, you need to take a look at your options for social media platforms. Many people lump all of them together under the "social media" umbrella, but there are important demographic distinctions between each one. Here's a brief rundown of each platform and its primary users, based on Pew Research Center data:
Facebook: Despite its recent cosmetic changes and algorithm updates, Facebook remains the one of the most widely used social media network by a healthy margin: some 68% of U.S. adults are now on Facebook.
Twitter: Twitter is most popular among U.S. adults ages 18 to 24 who have graduated from college and have an annual income of $75,000 or more. This makes Twitter a great platform for businesses that are looking to share professional advice and industry news.
Instagram: Instagram is particularly popular among young adults ages 18 to 24 who live in urban settings. However, 40% of U.S. adults ages 30 to 49 say they use Instagram as well.
Pinterest: Pinterest's primary demographic is overwhelmingly female, and users tend to have college degrees and higher levels of income.
LinkedIn: LinkedIn is especially popular among college graduates and those in high-income households. Some 50% of Americans with a college degree are on LinkedIn compared with 9% of those with a high school diploma or less. LinkedIn users have a yearly household income exceeding $75,000, and it's the most effective platform for most B2B companies.

Maintain a content strategy
The quickest way to lose social media fans is blatantly selling to them. People connect on social media because they expect something other than advertisements. This means that your company should provide information, entertaining posts, suggested resources, and anything else your audience would enjoy.
"Put others first," as the saying goes, and take a break from talking about your own brand.
Content calendars are well-suited to this task. Keeping a monthly content calendar gives you a top-down view of your social media strategy, and can help you answer questions like: "Am I posting too much of X kind of content?" or "Am I posting frequently enough?"
Content calendars also allow you to write updates in advance, taking away the stress of figuring out what to post on the spot.
WebFX is a partner businesses trust.
Hear from HydroWorx, who saw a 236% increase in organic sessions with WebFX services.
Watch the Video Testimonial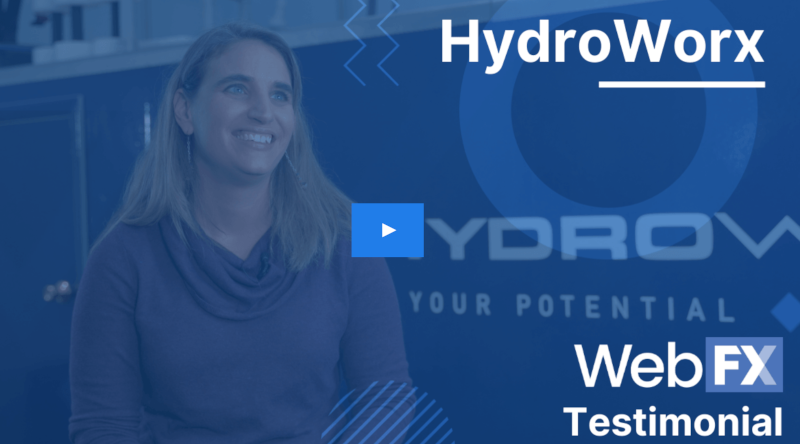 Engage
Engagement is the golden metric of social media. People love companies that humanize themselves, and social media is the perfect way of doing this. You can talk directly to your customers without the formality of a desk between you.
You can do this in a style and tone that best suits your company and your industry, as long as you're actively engaging with your customers. That engagement can take a few different forms:
Do you see a fan posting about frustrations related to your company? This is the perfect opportunity to demonstrate your top-notch, personalized, and rapid customer service while in the spotlight.
Proactive customer service
Why not take the initiative and reach out to your customers that are already happy with your company? Follow up on recent purchases to make sure everything's going well, and you'll gain loyal customers in the process.
Stellar service is rare in many industries, and can make your company stand out among competitors.
Non-business related engagement
See a relevant or entertaining post by one of your fans? Retweet or share it with a shout-out to the original poster! Everyone loves acknowledgment, and social media gives you opportunities galore to highlight your customers.
Ready to get social?
Put this advice to work making posts and connecting with fans. You have nothing to lose, and so much to gain! Social media is one marketing channel where a little effort and planning can go a long way. It's always growing, and continued effort means continued returns.
If you're too busy to plan and manage your social media marketing, or want your accounts managed by a professional, let us help! At WebFX, we have a team of social media strategists with years of experience launching and fine-tuning successful social media campaigns for our clients. Contact us today to get started with a free quote!