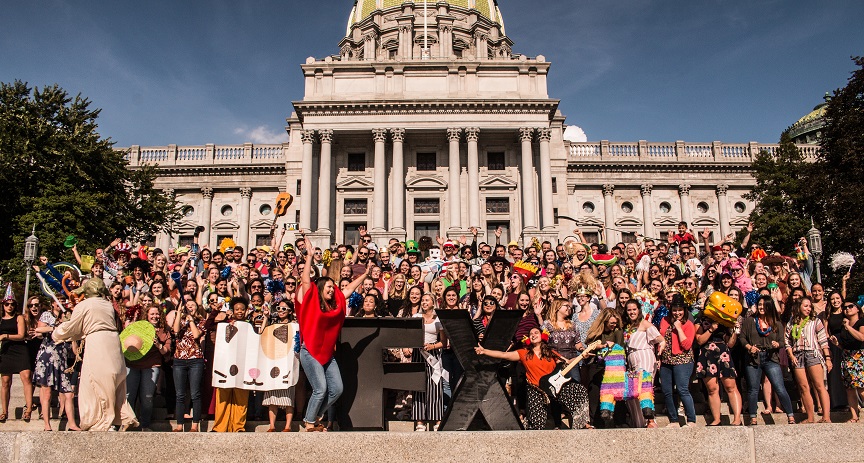 Amazon Marketing Services to Propel Your Online Sales
Generate more revenue from Amazon with full-service Amazon account management solutions from WebFX. From listing optimization to ad campaigns to brand management, our Amazon marketing agency offers all-in-one Amazon marketing services. Browse our plans now or request a custom proposal for your business!
Our Amazon marketing services
At WebFX, our Amazon marketing solutions are custom-designed to drive results for small and midsized businesses (SMBs).
Amazon marketing services from WebFX include:
Keep reading to learn more about our full-service Amazon management solutions, and how our Amazon Advertising Partner agency will help your business drive more revenue from the world's biggest online marketplace.
Are you ready to start optimizing your Amazon marketing campaign? Contact us online to chat with an experienced strategist from our team.
Grow your Amazon revenue with all-in-one Amazon marketing services
Forget dealing with multiple agencies and trying to sync emails, reports, and updates between them. With WebFX, you receive all-in-one Amazon marketing services. Access all the services you need, from advertising to marketing to management, with our full-service agency.
Find what you need now:
Check out our consulting plans if you're looking to stay in-house but want a second opinion.
Earn back your time with Amazon marketing services that include everything you need
Besides providing the services you need, our Amazon marketing services also take a turn-key approach to managing your store, marketing efforts, and advertising campaigns. That means you can spend more time on the tasks that need your attention.
For example, with our full-service Amazon account management solutions, you'll receive:
Dedicated account manager, plus access to SEO, PPC, and design specialists
Regular reporting
Return on investment tracking via MarketingCloudFX
Custom strategy
Depending on your specific service, you'll also receive additional deliverables. Check out our services below to learn more!
Why choose WebFX for Amazon marketing services?
When it comes to Amazon marketing services, WebFX is a top choice for a few reasons, including:
Get access to all the skills you need, from copywriting to SEO to design
Receive an all-in-one solution that helps you save time and energy
Work with an accredited Amazon Advertising Partner
Obtain reports that document your top metrics, like sales, average order value, and more
Partner with an agency with a proven track record and decades of experience
Learn more about why businesses choose WebFX by browsing our client reviews!
Find the Amazon marketing services you need
Learn more about our marketing services for Amazon sellers now:
Amazon Store and Marketplace launch services
First on our list of Amazon marketing services is the Amazon Store and Marketplace. For SMBs, having an Amazon Store is a must, and we can help you get started.
What is the Amazon Store and Marketplace?
If you've never heard of the Amazon Marketplace, you might be surprised to learn that you've probably used it before. Amazon Marketplace is simply the service companies use to sell on Amazon. It's distinct from cases where products are sold directly by Amazon.
When you buy yourself an Amazon Kindle and then get your child a used baseball cap, you're technically using two different platforms.
Since the Kindle is an Amazon product, it's sold by Amazon itself, whereas a used baseball cap is sold by a third party through Amazon using Amazon Marketplace. They're integrated so well with one another, though, that it's hard to tell the difference.
Amazon Stores are businesses' central hubs on Amazon, from which they can list and market their products. Whatever your business sells, you can benefit from setting up an Amazon Store where people can shop for your products.
Of course, not everyone is an expert on setting up an Amazon Store. That's the benefit of working with an Amazon marketing agency like WebFX.
What are WebFX's Amazon Store and Marketplace launch services?
Creating an Amazon Store is the foundation of any good Amazon marketing strategy, so we know the importance of getting it right. Whether you need help creating a Store or simply want to improve on the one you already have, WebFX offers several valuable services.
Amazon Store creation: It's hard to optimize an Amazon Store when you don't have one! If you need to create a Store, WebFX will work closely with you to make it happen.
Amazon Store optimization: If you already have a Store, WebFX will audit it and work to implement improvements for things like product descriptions and display updates.
Competitor analysis: Amazon is a competitive market, so we'll analyze your competitors' marketing to see where you can outperform them.
Amazon SEO services
The second way our Amazon marketing agency can help you optimize your campaign is by boosting your Amazon search engine optimization (SEO).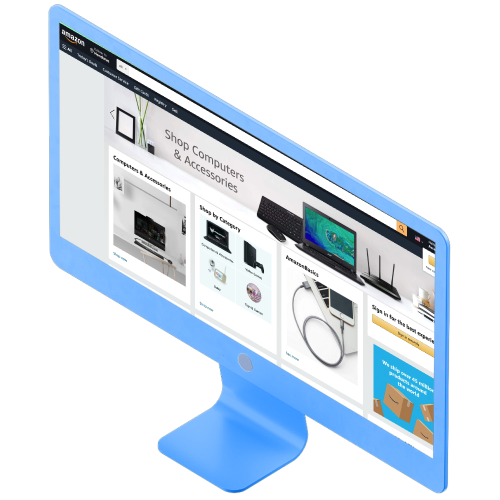 Increase your SMB's Amazon sales. See how with a free proposal.
What is Amazon SEO?
If you've already put some work into your online marketing campaign for platforms like Google, you might be familiar with SEO. Broadly speaking, it involves the process of optimizing your online content to appear in search results.
For Google, this usually means creating articles on your website and optimizing them to appear in Google rankings. But did you know that SEO can also apply to Amazon itself? After all, when you search for a product on Amazon, it compiles a list of results just like Google does.
If you want users to find you on Amazon, it's crucial for you to optimize your product listings to appear in search results on both Google and Amazon. This is where WebFX's Amazon SEO services come in.
What are WebFX's Amazon SEO services?
At WebFX, we offer all the necessary services to help your product listings rank in search results. Here are the main Amazon SEO deliverables we offer.
Dedicated Amazon marketing specialist: As soon as you partner with us, you'll be assigned an individual specialist who will work closely with you throughout the process.
In-depth keyword research: Keywords are essential to making SEO work, so your specialist will draw up a list of relevant, high-value ones to use in your campaign.
Category and subcategory optimization: Your products have to be categorized to rank, so your specialist will assign each one an appropriate category listing.
Professional copywriting: Each product listing needs to include informative textual content, and our professional copywriting team will craft that content for you.
Product photography: Users rely on being able to see what your products look like on Amazon. We'll provide you with high-quality photo optimization for all your listings.
Inventory monitoring: Your SEO will suffer if your inventory isn't kept accurate and up-to-date, so we'll constantly monitor it to ensure that it is.
Competitor analysis: SEO involves a lot of competing for rankings, so it's good to know what your competitors are up to. Our competitor analysis services provide that insight.
User engagement analysis: Ranking in search results won't do you much good if you're not engaging users, so we'll analyze user engagement for each of your listings.
Monthly reporting: We know you'll want to stay informed on how your campaign is working, so we provide monthly reporting on sales and product performance.
FBA support: As an Amazon marketing agency, we include Fulfillment-By-Amazon (FBA) support along with our general Amazon SEO services.
Amazon PPC services
Another of our Amazon account management services centers around optimization for pay-per-click (PPC) advertising.
What is Amazon PPC?
Like SEO, PPC isn't unique to Amazon. Platforms like Google Ads can help you display paid aids in Google results and in the margins of other websites. But Amazon has its own brand of PPC that you'd be wise to take advantage of.
Amazon PPC ads are divisible into three types: Sponsored product ads, sponsored brands, and product display ads.
Sponsored product ads: Sponsored product ads work a lot like Google PPC ads. They appear at the top of Amazon search results, and adopt the same format as the organic results, save for the "sponsored" label at the top.

Sponsored brands: Sponsored brands are ads that appear at the very top of the page when you search for a product on Amazon, even above sponsored product ads. Rather than advertising a specific product, they advertise your brand as a whole.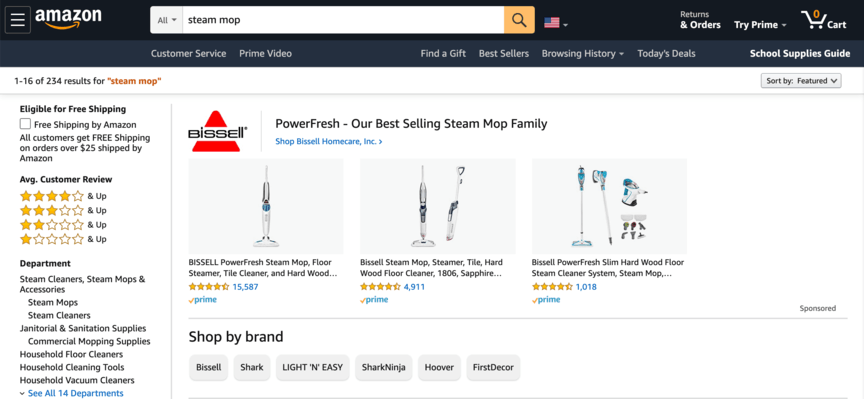 Product display ads: Product display ads work just like Google banner ads. They appear in the margins of websites that users visit, using cookies to target relevant users. Unlike the other two PPC categories, these ads aren't just limited to Amazon's site.
What are WebFX's Amazon PPC services?
Given the many similarities between SEO and PPC, it's no surprise that we offer many of the same high-quality deliverables for both. However, we provide several benefits unique to PPC as well. Those benefits include the following.
Dedicated Amazon marketing specialist: As with our Amazon SEO services, we provide you with an individual marketing specialist to work closely with you on your PPC.
In-depth keyword research: PPC operates based on keywords just like SEO, so we provide the same keyword research services to ensure that your ads stay relevant.
Automatic and manual campaign management: We use a blend of automatic campaign management and manual adjusting to maximize your return on investment (ROI).
Custom data-driven strategy: In line with the previous point, our custom software ContentGeniusFX can use machine learning to enhance the quality of your PPC.
Competitor analysis: PPC is as much of a competition as SEO, so we provide the same in-depth analysis of your competitors to determine how best to outpace them.
Monthly reporting: It's important for you to stay in the know on what's happening with your campaign, so we'll compile monthly reports on all the most important data.
Subscribe and Save recommendations: Amazon's Subscribe and Save program offers a great way to generate further revenue, so we'll help you manage that service.
Lightning deal, coupon, and promotion management: Our management services for Lightning Deals, coupons, and promotions can further help you maximize your revenue.
Amazon consulting services
SEO and PPC are common marketing services to make use of, but one thing not every Amazon marketing services agency can give you is professional consulting services.
What is Amazon consulting?
Even if you've already got an Amazon marketing campaign fully up and running, that doesn't mean it's perfect. Even if you understand how to work your SEO and PPC, you may still feel that something's not working as well as it should.
In many cases, there's a specific part of your campaign that draws your concern. Maybe your PPC ads aren't getting enough clicks, and you're not sure why. Or maybe you have a lot of users visiting your product pages, but not buying.
Other times, you're not even sure what needs improving — you just know that something's off, or that you could be doing something better.
That's where WebFX comes in. When it comes to marketing services for Amazon, we're the experts, and we have all the right knowledge to tell you what you can improve.
Even if you don't opt to have us actually manage your campaign for you, we can still use our resources and expertise to give you insight into where you can make it better.
What are WebFX's Amazon consulting services?
Your Amazon marketing campaign likely has many different elements to it, and we recognize the importance of treating each element individually. We offer consulting in several different areas, including the following.
Amazon SEO consulting: We will research your competitors, conduct an audit of your product listings, and compile a comprehensive recommendation report for your SEO.
Amazon PPC consulting: With the machine learning power of ContentGeniusFX, we'll analyze all three types of PPC and compile a list of fresh high-value keywords for you.
Amazon product optimization consulting: By analyzing things like product descriptions and images, we'll determine how you improve your product listings to rank higher.
Amazon Store consulting: Our team will assess the workings of your Amazon Store by examining everything from design to branding, as well as looking at your competitors'.
Amazon content consulting: We'll help you improve the quality of your written content on Amazon by looking at things like your keyword strategy and user search intent.
Amazon photography consulting: Our team will review your product photographs to determine the optimal steps for improving them and winning over users.
Amazon review management services
A final Amazon service that we offer is review management.
What is Amazon review management?
Users aren't going to buy your products without knowing anything about them. To be persuaded to spend their money, they have to know what a product is and what it does.
More than that, though, they have to know how good it is. You have to persuade them of the product's quality to make them believe it's worth buying. Product descriptions, SEO content, and PPC ads are all great ways to convey this information.
But ultimately, all three of those sources come directly from you, the seller. And many users won't trust in your word alone. For those users, the most valuable resource to have is good product reviews.
So, how do you make sure your Amazon reviews reflect well on your business? And how do you deal with any negative reviews that might come along?
Navigating Amazon reviews can be tricky. Fortunately, WebFX's Amazon review management services can help.
What are WebFX's Amazon review management services?
WebFX offers several services that can help you optimize your Amazon reviews. Here are some of the main ways we can improve your review presence.
Dedicated Amazon marketing specialist: Just like with SEO and PPC, we'll set you up with an account representative who will work one-on-one with you on your reviews.
Amazon Vine: Amazon Vine is a service that allows you to earn reviews from some of the most trusted reviewers on Amazon. We'll help you get the most out of it!
Email management: Sometimes users don't think to review a product until they're prompted to do so. We'll send out emails to encourage reviews of your products.
Product question and answer management: When users ask questions on Amazon about your products, we'll respond quickly and professionally with an answer.
Amazon Early Reviewer Program: The Amazon Early Reviewer Program encourages users who've purchased your product to review it, and we'll help you harness it.
Negative review management: Sometimes you'll get negative reviews, but that's okay — we'll quickly respond to all negative reviews to help you resolve the situation.
FAQs about full-service Amazon management
Looking to learn more about full-service Amazon management? Check out these FAQs:
What is Amazon Marketing Services (AMS)?
Amazon Marketing Services, now called Amazon Advertising, is the previous name of Amazon's advertising platform. Previously, sellers would use AMS to promote their products (via pay-per-click ads) on the Amazon marketplace.
How much do Amazon marketing services cost?
On average, businesses invest $9000 to $60,000 per month into Amazon marketing services. These costs depend on several factors, including the company's marketing strategy, monthly ad spend, business size, and more.
What do Amazon marketing services include?
Typically, WebFX marketing services for Amazon will include:
Dedicated account manager
Regular reporting
Custom strategy
Additional deliverables that depend on your service include:
Product listing optimization
Ad campaign management
Review management
Professional copywriting
Amazon Store design
While you can view our services deliverables online, you can also request a custom proposal for a more in-depth review of what your full-service Amazon management solutions will include. Just contact us online to get started!
Grow your sales with full-service Amazon management services
Ready to propel your Amazon sales like never before? We'd love to help you! With over 500 client testimonials, our Amazon marketing services have been tried and tested to drive positive results for SMBs.
To get started with us, just give us a call at 888-601-5359 or contact us online today!