5 Amazon Sponsored Product Ad Optimization Tips to Help You Nail Your Ad Campaigns
Did you know that Amazon's Sponsored Product Ads get two to five times higher conversion rates than other PPC ads? These sponsored product ads are extremely valuable for helping your business earn conversions and grow. If you want to experience the full benefits of these ads, you must start by optimizing your ads.
On this page, we'll provide you with five tips for optimizing your Amazon sponsored product ads. Keep reading to learn more and call us today at 888-601-5359 to find out how our Amazon ad agency can help you optimize your Amazon ads.
What are Amazon sponsored product ads?
Sponsored product ads are a way for your business to advertise your products to leads. These sponsored ads appear above, below, and alongside products in the search results. They look just like organic product results, except they have the word "Sponsored" attached to them.
These ads operate just like pay-per-click (PPC) ads. You must select keywords, bid for those keywords, and run your ad. Similar to PPC, you only pay when someone clicks on your sponsored product ad.
Your ad is attached to keywords. When people search those keywords, it triggers your ad to appear in the search results. If someone is interested in your product, they will click on your ad.
The ad will direct them to the product detail page of your listing. Once here, they can learn more about your product and decide if it is a good fit for them.
How do I build a sponsored product campaign?
To start running a sponsored product campaign, there are a few requirements:
You must have an active seller account. If you're going to run a sponsored product campaign, you must be registered as a seller on Amazon's platform. Outside companies can't advertise for sponsored products without having an Amazon account.
You must have active product listings. If you're going to try to advertise your products, you must have products to advertise. You should have at least a few products available so you can have options when deciding which one to choose.
You must have a buy box. This is the most important requirement. If you want to run sponsored products ads, you must have a buy box so people can purchase your product quickly. You get a buy box by having a successful history of selling, good reviews, competitive pricing, keeping products in stock, and handling fulfillment in a timely fashion, amongst other factors.

If you meet all of these requirements, you can select products to advertise for your sponsored products campaign.
Time to Level Up Your Sales
Our long list of services helps you grow every aspect of your business with marketing strategies that are proven to increase bottom-line metrics like revenue and conversions.
In the past 5 years, we've managed more than 12.9 MILLION transactions across our client base.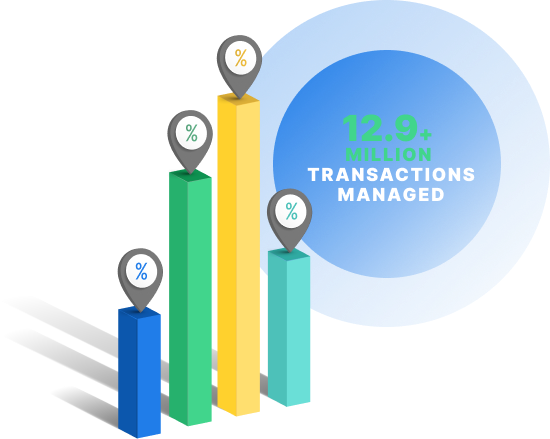 5 tips for nailing your Amazon sponsored product campaign
Sponsored products help you reach more valuable leads that turn into conversions for your business. Here are five tips to help you get started with your campaign.
1. Choose the right keywords
The first step to Amazon sponsored product ad optimization is choosing the right keywords. Your keywords will trigger your ad to appear in search results. If you want to reach more valuable leads for your business, you must choose relevant keywords.
You have two options for choosing keywords to target your audience.
Automatic targeting
Automatic targeting is a great option for your business if you don't have any prior keyword data for your product listings. With automatic targeting, Amazon does all the work for you. They suggest a list of potential keywords for your sponsored product listing.
You get a variety of data and information about these keywords and how they perform, which can help you drive successful results for your business. With these insights, you can focus on the most relevant keywords and integrate them into your Amazon sponsored product listing.
The shortcoming of this option is bidding. You set a default bid amount to get all the relevant keywords. This gives you limited flexibility with choosing your bid amount.
Overall, this option is great for businesses that are just getting the feel of running a sponsored product on Amazon. The set-up of automatic targeting also makes it easy to transition to manual targeting.
Manual targeting
Manual targeting is when you choose your keywords on your own. You must conduct your own keyword research, learn about the keywords worth, and decide which keywords will drive the best results.
This option is best for companies that have experience running an Amazon sponsored ad campaign. With this option, you can use Amazon-specific keyword tools, like Sonar, to help you find relevant keywords for your product listing.
Manual targeting is great for companies that want more control over their campaigns. You choose your keywords and how much you want to bid for each keyword. It takes a little more work to find the right keywords, but you will have more control over your campaign.

2. Optimize your title
Your title is one of the first things your audience will see when they find your ad. It's crucial that you optimize your title to drive leads to your product page.
When you optimize your title, you'll want to integrate keywords. Keywords help your ad appear in relevant search results. If you use more keywords, your ad can appear in more relevant search results.
Let's say you are running a sponsored product ad for lounge pants. If your title was "Lounge Pants," you wouldn't appear in many relevant search results. You'd only rank for the keyword "lounge pants," and even then, your title wouldn't give much insight about your product.
Instead, you would want your title to look something like "Hanes Women's Lounge Pants Ultra Soft 100% Cotton Dark Blue."
This is a descriptive title that includes multiple keywords. In this listing, you could rank for Hanes, women's lounge pants, soft lounge pants, 100% cotton, and dark blue lounge pants. It creates an opportunity for your listing to appear in multiple search results.
3. Set goals for your campaign
Any time you run an advertising campaign, you should have goals in mind for what you want to achieve. There are multiple goals you can set for your campaign.
Some goals include:
Generate sales for a new product
Earn authentic reviews
Gain conversions
Increase brand visibility
These are all great goals that you can set for your campaign. It's crucial that you set a goal for your campaign so you have a direction. You must know what you want to achieve with your campaign to know if it is working.
When you set your goals, be specific about what you want to achieve. Don't leave it at "gain conversions." You must decide how many conversions you want to gain and the time frame you want to gain them.
4. Set your budget
If you're going to run an Amazon sponsored ad campaign, you must have your budget set. Since these ads operate on a pay per click scale, you need to set a maximum budget amount that you are willing to spend.
As of the moment, Amazon keyword bids are relatively low compared to Google. This is partially due to many companies not knowing about Amazon's advertising services. It's also due to the fact that the focus is on ecommerce businesses, which significantly narrows down companies that use Amazon because many companies are only service-based.
You'll want to take estimates on keywords and see where the average bid falls for your products. From there, you can set a maximum bid that works for your campaign. You may not spend all of this money, but you need to know the most you're willing to spend on a campaign.
5. Monitor your campaign
Like any other strategy, it's important that you monitor your campaign's performance. You need to know if your ad is driving success for your business.
Monitoring your campaign allows you to see if your keywords are working. You will know which keywords are driving traffic for your business. If they aren't working, it's an opportunity to choose better keywords.
When you monitor your campaign, you know what elements of your page are working. You see how many people click on your ad compared to the number that convert. If the conversion rate is significantly lower, you may need to better optimize your ad to appeal to your audience more.
Monitoring your campaign ensures that you're using your money wisely and driving the best results for your business.

WebFX will help you optimize your sponsored product ad for Amazon
Sponsored ad products will help you obtain more valuable leads for your Amazon listing. When you optimize your listing, you obtain more valuable conversions for your business. At WebFX, we have years of experience optimizing campaigns to help businesses earn more leads and conversions.
We're a full-service digital marketing company that specializes in advertising on Amazon. We have a team of over 300 experts that will bring their knowledge and expertise to your campaign. We'll help you create a campaign that drives valuable leads and conversions for your business.
If you're looking for a company that knows how to drive results, look no further than WebFX. In the last five years, we've driven over $3 billion in revenue and over 7.8 million leads for our clients. Our team of experts focuses on helping your business grow.
Don't believe us? Check out our 1020+ client testimonials that attest to the great work we do for them!
Start using sponsored ads today
If you're ready to start optimizing your sponsored ads to drive better results for your business, contact us online or call us today at 888-601-5359 to speak with a strategist.
We look forward to taking your business to new heights!
Earn a 20% greater ROI with WebFX