You've probably heard of two different approaches to marketing and connecting with customers: Omnichannel and multichannel. While both use more than one channel to reach and engage prospects, they also have some differences.
Not sure which strategy your small-to-midsized business (SMB) should choose? You've come to the right place!
In this post, we'll discuss omnichannel vs. multichannel marketing, so you'll know which approach is better for your business. We'll tackle the following:
You can also sign up for our Revenue Weekly newsletter to get the latest marketing intel, like whether you should use omnichannel or multichannel marketing, delivered straight to your inbox.
What is omnichannel marketing?
As the name suggests, omnichannel marketing uses all channels to provide a seamless shopping experience. Omnichannel marketing revolves around the customer and combines websites, paid ads, emails, social media platforms, and more to reach your audience with personalized messages that drive conversions.
Omnichannel marketing example
For example, an automotive service center runs a special service offer for website visitors. When a website visitor lands on the homepage, a popup about the oil change offer appears. The online user — let's call her Emma — enters her email to claim the discount.
An automated email is sent to Emma with the discount code and the landing page where she can book her oil change appointment. Emma misses the email and doesn't schedule an appointment.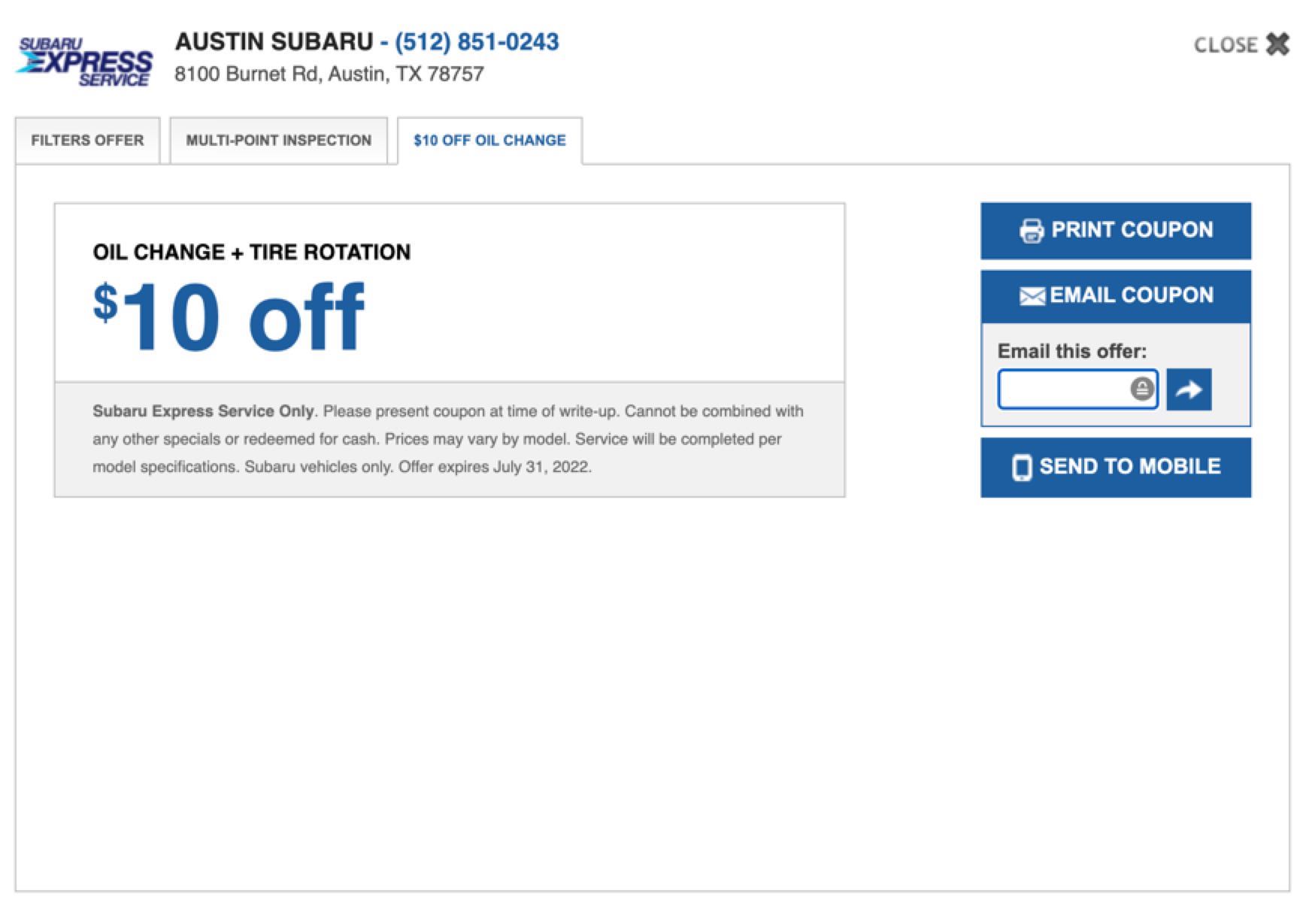 To gently nudge Emma and other website visitors who haven't converted yet, the automotive service center runs follow-up campaigns on social media and pay-per-click display ads targeting Emma and the visitors to remind them about the offer.
Emma remembers that she intended to schedule an appointment when she sees a display ad, so she clicks it, enters her email again, and receives a different email for those who opted in for the second time. This time, the email communicates the urgency to convert — perhaps the offer is expiring soon. Emma schedules her appointment through the landing page.
After her oil change appointment, Emma receives an email from the service center, thanking her for her trust and asking her to rate the service she received. Emma enjoyed her oil change experience: When she arrived, the service center team was expecting her, addressed her by name, let her wait in a comfortable customer's lounge, and updated her on the status of the service.
A satisfied customer, Emma gives the service center a five-star rating. The service center then shows its appreciation and emails her a unique "Refer a Friend" discount code that she can share with family and friends. Each time the code is used, she earns a point.
In this omnichannel example, the business uses multiple platforms — website, email, social media, and display advertising — to reach customers with personalized messages that drive conversions and create loyal customers.
What is multichannel marketing?
Multichannel marketing, on the other hand, centers around your product, and it uses multiple channels to reach prospects. While it's less integrated than omnichannel, multichannel marketing gives your audience the ability to connect via their preferred channels.
Multichannel marketing example
Let's use our automotive service center business example earlier. Adopting a multichannel approach, the automotive service center has an oil change offer.
The service center can market through multiple channels to inform as many customers as possible about their special service promo. The service center can send an email to customers, and customers can book their appointments by replying to the email.
Another channel that the automotive service center can use is its Facebook page. They can run an ad about the special offer, and the call-to-action (CTA) is to send a message to their Facebook page if a prospect wishes to claim the offer.
Omnichannel vs. multichannel marketing: What are their differences?
Now that we have an idea of what omnichannel and multichannel marketing approaches are, our next question is: What is the difference between omnichannel and multichannel marketing?
Their key differences lie in the following:
Let's go over each one:
1. Customer-centric vs. channel-centric
Omnichannel marketing focuses on the customer. Because its goal is to cultivate a stronger customer relationship, it focuses on creating a frictionless experience for customers across all channels they use.
Meanwhile, multichannel marketing is channel-centric. That being said, its goal is to let customers reach your brand via as many channels as possible. The goal of multichannel marketing is to be present in as many channels as possible to increase customer engagement and conversions.
2. Customer experience vs. customer engagement
Omnichannel marketing uses data to understand customers, map their journeys, and create personalized messages for pleasant customer experiences that will ultimately lead to conversions. The goal of omnichannel marketing is a seamless customer experience, whether customers shift to another channel or pay a visit to a brick-and-mortar store.
Multichannel, on the other hand, is focused on engaging with as many customers as possible by casting a wide net using multiple channels. By being present in as many channels as possible, multichannel aims to engage and convert customers on the channel they first found the brand.
Omnichannel or multichannel: Which is better for my business?
Because omnichannel marketing provides a more seamless customer experience, it appears to be the better approach to adopt. However, the better option for your business is one that your customers and prospects need.
Does it take personalization and a more streamlined journey for your customers and prospects to convert? Omnichannel lets you personalize messages and create unique journeys so your customers will have a smoother path to conversion when they shift channels. So omnichannel marketing may make the most sense for your business.
Do different buyer personas respond differently to your messages? If you have a price-conscious buyer persona and a buyer persona who responds positively without incentives, omnichannel marketing gives you the flexibility to do some personalization. It also enables you to map out a unique customer journey for different personas.
Is your business fairly new to other digital channels? Has your brand ever interacted with your customers through, say, social media and email? If your business has never engaged with customers using other channels you're just about to try, multichannel marketing may work for you.
If you're adopting multichannel marketing, compare the results across the different channels. You can then make adjustments to your efforts and budgets and focus on the platforms where your customers are most engaged.
It also makes sense to measure your multichannel marketing results. In the fast-paced world of digital, your audience's needs may evolve, and new competitors may arise. These changes may require you to shift to omnichannel marketing to stand out and provide the personalization edge over a competitor.
Our digital marketing campaigns impact the metrics that improve your bottom line.
See More Results

WebFX has driven the following results for clients:

$3 billion
In client revenue

7.8 million
Leads for our clients

5.2 million
Client phone calls
Omnichannel vs. multichannel: Which one is better for you?
Whether you're looking at using omnichannel or multichannel marketing to grow your business, WebFX can help you with your digital marketing efforts and goals.
Contact us online or call 888-601-5359 to speak with a strategist. Our team of 500+ digital marketing experts is excited to help you reach your business goals.
WebFX Careers
Join our mission to provide industry-leading digital marketing services to businesses around the globe - all while building your personal knowledge and growing as an individual.