Are you asking yourself, "Do I need HubSpot?" HubSpot is a popular customer relationship management (CRM) and marketing platform, with many companies utilizing its automation, sales enablement, and data tracking features.
But popular doesn't always mean best. When using CRM software, the key is finding the best platform for your unique company's needs, budget, and goals to unlock the best results.
On this page, we're breaking down the ins and outs of HubSpot's CRM software to help you answer the question, "Is HubSpot right for me?"
So, keep reading!
Bonus: Do you like to stay up-to-date on the latest sales and marketing trends? We thought so. Sign up for our free newsletter, Revenue Weekly, to join over 200,000 other marketers who get expert sales and marketing advice sent straight to their inboxes!
Don't miss our Marketing Manager Insider emails!
Join 200,000 smart marketers and get the month's hottest marketing news and insights delivered straight to your inbox!
Enter your email below:
Inline Subscription Form – CTA 72
"*" indicates required fields
(Don't worry, we'll never share your information!)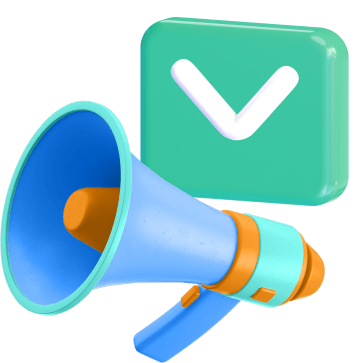 What is HubSpot?
Before we answer your question, "Should I use HubSpot," let's first dive into what HubSpot is and what it does.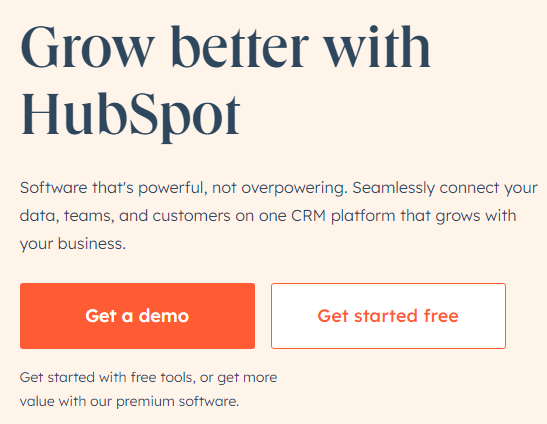 HubSpot is a CRM platform that connects your sales, marketing, content management, and customer service efforts, so you can streamline processes, optimize strategies, and earn more sales and revenue overall.
What is HubSpot used for?
With the platform's range of features and capabilities, HubSpot has several use cases.
You can use HubSpot to:
Like other CRMs, HubSpot helps companies build strong connections with their audience, manage leads, track results, and close sales.
HubSpot advantages and disadvantages
When deciding if your company should use HubSpot, it's helpful to dive into the HubSpot advantages and disadvantages.
The advantages of HubSpot
First, let's dive into HubSpot's advantages:
1. There's a free plan
Who doesn't love free things, right? HubSpot's CRM software comes with a free plan, so you can try the platform out for yourself with no upfront cost.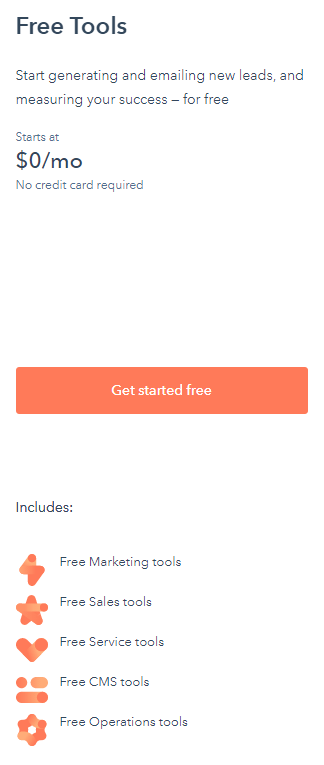 The free plan comes with basic sales and marketing tools to help you get started with generating and converting new leads. But you'll need to dig into your budget if you want access to more advanced features, like email marketing and reports.
2. It's an all-in-one CRM solution
If you want to combine all of your sales, marketing, and customer service tools into a single platform, then HubSpot can help.
It's an all-in-one CRM solution, which means you can manage your marketing efforts, including content, email marketing, and digital advertising, track and manage your entire sales pipeline, manage your customer service tickets, and more all in one place.
3. It integrates with multiple third-party tools and platforms
HubSpot can also integrate with other third-party tools and platforms, so you can pull the data from that tool into HubSpot or vice versa.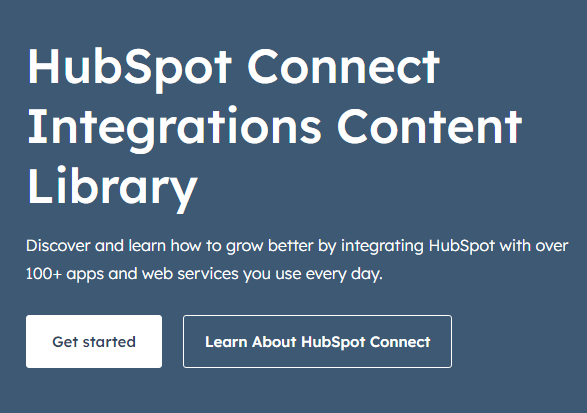 For example, you can connect HubSpot with Gmail, Google Calendar, our revenue acceleration platform MarketingCloudFX, and more.
The disadvantages of HubSpot
Here are some of the main disadvantages of HubSpot:
1. It gets pricey
One of the biggest downsides to using HubSpot is that the costs increase quickly. While the platform does offer a free plan, this plan only comes with a few basic tools and features and limited functionalities. For example, you can automate one email action if you use the free plan.
So, if you want to take full advantage of HubSpot's features, you'll need to opt in for one of their paid plans — and they can get pricey.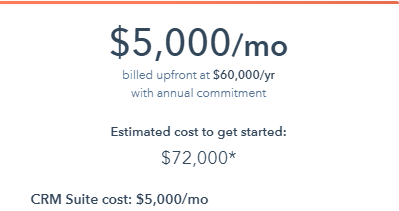 If you opt for the professional bundle plan, you'll pay about $19,200 a year. Plus, you'll need to set aside around $23,700 to get all of your tools and features set up and running.
Want more customized reports and features that suit your company's needs? You'll need to opt for HubSpot's enterprise bundle, which adds up to $60,000 a year with an estimated cost of $72,000 just to get everything set up.
That's a pretty hefty bill for small to medium-sized businesses (SMBs) to pay each year.
2. It's not cost-effective to only use a handful of features
As we mentioned above, HubSpot is an all-in-one CRM solution, which means it works best when you take advantage of all of its features.
But what if you only want to use email marketing features? Or, maybe you already use WordPress for your content management system (CMS) and don't need to use HubSpot's CMS capabilities. Well, you can opt to use only one or two of HubSpot's features, but it's not cost-effective to do so.
HubSpot's current pricing plans don't offer the flexibility to pick and choose which features you want to use. You may end up spending around $60,000 a year just for email marketing tools, which isn't practical.
3. Its features have a handful of cheaper alternatives
As we mentioned above, HubSpot's paid plans can get pretty pricey, especially if you only need a few features.
Like other CRMs, HubSpot is equipped with typical CRM features, like lead tracking, reporting, and email marketing. If you require these tools and are on a tighter budget, you'll be happy to know there are a plethora of cheaper alternatives out there, like Nutshell.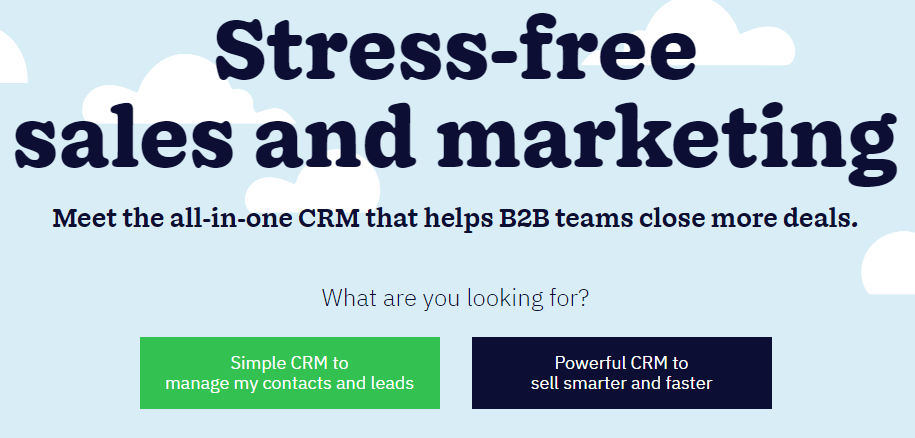 Starting at just $16 per user per month, Nutshell gives you access to the following features:
Lead tracking
In-depth sales performance and marketing strategy reports
Team collaboration capabilities
Contact management
And much more
That's a much smaller bill for all the same features you know and love.
Do I need HubSpot?
Now that we talked about the advantages and disadvantages of HubSpot, let's answer your main question: "Should I use HubSpot?"
The answer will vary depending on your company's needs, budget, and goals.
Who should use HubSpot
You should consider investing in HubSpot if you answer yes to the following questions:
Do you have a large budget set aside for CRM software?
Does your company have a knowledgeable team member that can effectively maximize revenue with all of HubSpot's features?
Is your company in need of software that can handle a large number of contacts and automations?
Does your team have enough full-time employees to use all of HubSpot's features?
Who shouldn't use HubSpot
So, who shouldn't use HubSpot? If you answer yes to any of the following questions, HubSpot might not be the best option for you:
Does your company have a smaller budget for CRM software?
Is your company an SMB with fewer employees that will use your CRM platform?
Is your team lacking a team member with extensive CRM knowledge?
Does your business want to utilize fewer CRM features?
HubSpot isn't for every business. If your company wants to utilize a handful of CRM features at a lower cost and needs a platform with a user-friendly interface that your entire team can use, you'll likely earn a higher return on investment (ROI) by investing in a HubSpot alternative.
We foster and form long-term partnerships so that your business has long-term results.
Over 90% of WebFX clients continue partnering with us into year 2 of their campaign.
Hear from Our Happy Customers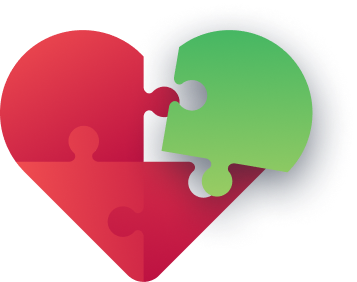 Get access to the best HubSpot alternative with Nutshell
Now that you know the answer to the question, "Is HubSpot right for me," you might be on the lookout for the perfect CRM solution for your business.
Let us introduce you to Nutshell. Designed with a user-friendly interface and powerful yet hassle-free features, Nutshell enables every member on your team to maximize sales and revenue with no web development or previous CRM experience necessary.
Boasting over 500 five-star reviews and $600 million in sales per year, Nutshell makes it easy to give your team the tools they need to close more deals and drive revenue.
The best part? Nutshell's friendly support team will be there every step of the way to help your team maximize revenue with every feature.
Want to see Nutshell in action? Wondering how Nutshell fuels business growth? We'd love to show you! Contact us online or chat with us by calling 888-601-5359!
How is your website's SEO?
Use our free tool to get your score calculated in under 60 seconds.
Get posts by email
Join 200,000 marketing managers and subscribe to Revenue Weekly!
"*" indicates required fields
WebFX Careers
Join our mission to provide industry-leading digital marketing services to businesses around the globe - all while building your personal knowledge and growing as an individual.