Short message service (SMS) marketing is an effective way to disseminate information, keep customers informed, and get their opinions. SMS messages have a 98% open rate, making SMS-based marketing efforts seven times more effective than email marketing strategies.
We've compiled 10 of the best SMS marketing examples to help your business reach customers using the fastest and most accessible mobile channel of all time.
Here's a brief overview of what we'll cover:
Don't miss our Marketing Manager Insider emails!
Join 200,000 smart marketers and get the month's hottest marketing news and insights delivered straight to your inbox!
Enter your email below:
Inline Subscription Form – CTA 72
"*" indicates required fields
(Don't worry, we'll never share your information!)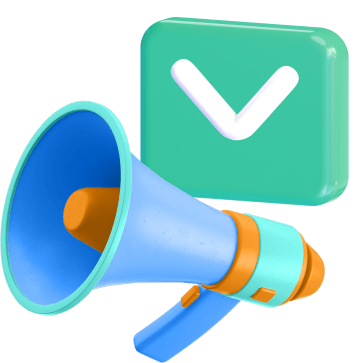 Text message marketing examples
| | | |
| --- | --- | --- |
| SMS marketing example | Campaigns | Industries |
| 1. Product launches | New product launch campaigns targeting a specific audience, having a clear call-to-action, and offering an exclusive deal or promotion. | Tech companies, fashion brands, retail, and food & beverage businesses |
| 2. Welcome offers | Work best for campaigns to acquire new subscribers or customers and encourage them to make their first purchase or sign up for a service. | Ecommerce businesses, subscription services, hospitality, and retail stores |
| 3. Order status and shipping updates | Ecommerce campaigns where customers have purchased an item and are waiting for their order to arrive. | Ecommerce retailers, grocery stores, and logistics companies |
| 4. Personalized messaging | Works best for campaigns that require a high level of engagement and a personalized approach, such as loyalty programs, customer retention, and upselling. | Ecommerce businesses, travel agencies, and financial institutions |
| 5. Time-sensitive offers | Campaigns aiming to create a sense of urgency and encourage immediate action, such as flash sales, limited-time promotions, and event invitations with deadlines. | Travel agencies, restaurants, event organizers, and retail stores |
| 6. Customer service | Urgent notifications that require immediate action from the customers | Transportation, telecommunications, and banking industries |
| 7. Event updates | Campaigns involving time-sensitive information, such as concerts, conferences, and other live events. They are also effective for campaigns that require attendees to take action before or during the event, such as registering for a workshop or participating in a poll. | Concert promoters, sports teams, and event management companies |
| 8. Community building | Campaigns aiming to engage and mobilize people around a common cause or goal, such as promoting social justice, advocating for environmental protection, or organizing community events. | Small businesses, non-profit organizations, social advocacy groups, political groups, and niche industries |
| 9. Donation drives | Campaigns requiring urgent and immediate action, such as disaster relief efforts or emergency medical funds. | Non-profit organizations, charities, and companies that prioritize corporate social responsibility (CSR) |
| 10. Thank you offers | Works best for campaigns that aim to retain customers, build loyalty, and improve customer satisfaction. They can also be effective in encouraging repeat purchases and referrals. | Restaurants, hotels, and spas |
Read on to learn more about each one!
What is SMS marketing?
SMS marketing is a direct marketing tactic that uses text messages to reach consumers with offers, service announcements, and other promotional messages. It's a fast and well-received method of reaching out to customers, and it's also simple and quick to implement.
Why is text message marketing important?
SMS marketing is the most effective way for your company to notify customers of order status updates, discounts, special offers, and other information via text message.
It's also the best method for advertising your wares and fostering consumer loyalty. Many companies use SMS marketing tactics to expand their customer base, encourage more interaction with the brand, and ultimately boost revenue.
Moreover, SMS is one of the least expensive forms of outreach compared to other marketing channels. Plus, it's great for your bottom line and your budget because it has one of the best returns on investment (ROI).
How much should you spend on marketing?
Learn how to plan a marketing budget that fits you and your business needs.
Read the Blog Post & Watch the Video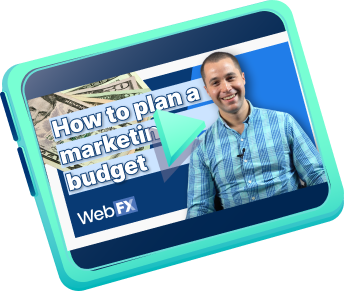 Top 10 SMS marketing examples for your business to implement
Now that you have a basic understanding of SMS marketing, let's look at some SMS marketing examples to see how marketers use SMS to strengthen their connections with consumers and subscribers.
Here are the top 10 SMS marketing examples to consider for your business:
1. Product launches
SMS's immediacy allows you to gradually introduce new items, boosting the buzz around your offerings and building up consumer anticipation.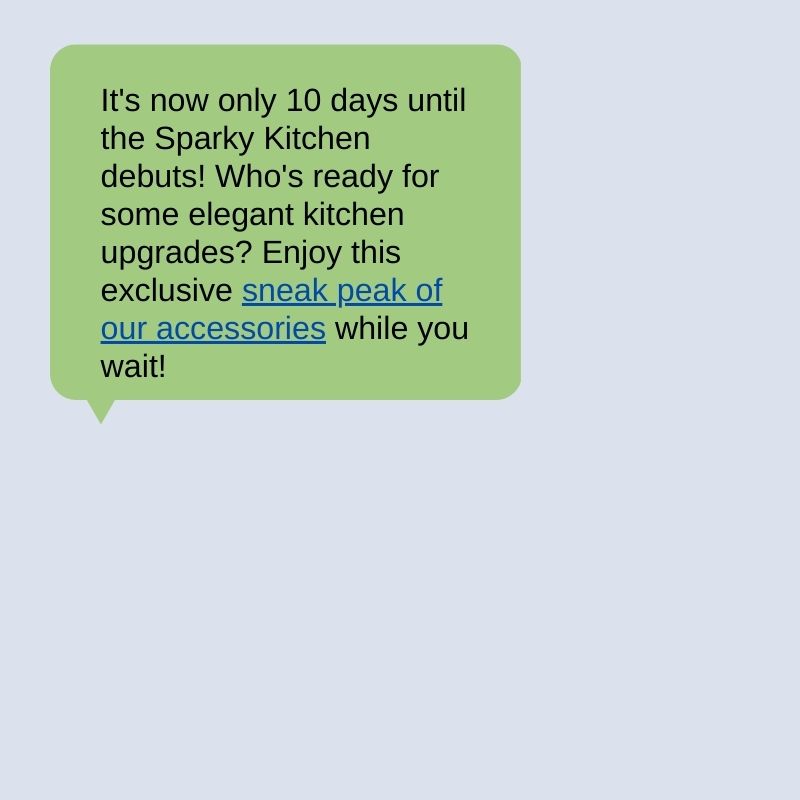 With the advent of the internet, consumers now have access to a global marketplace. SMS is a one-of-a-kind marketing method to get your offerings noticed immediately.
2. Welcome offers
Welcome offer texts are the way to go if you want to give a reward for signing up. Sending a coupon code or link through a text message is a good first step. And if it doesn't result in a sale, you can always try sending it again via email.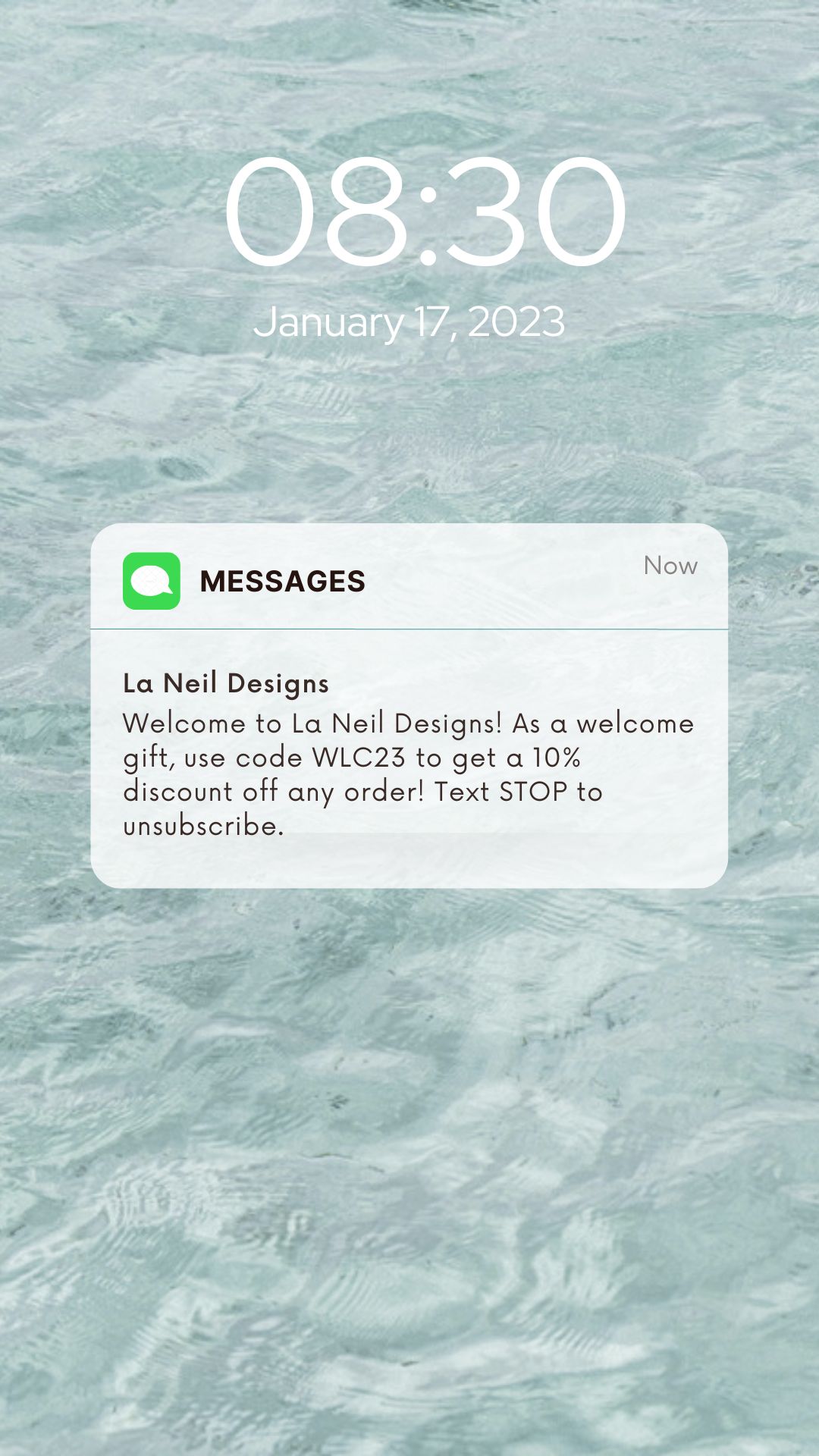 Since SMS can't save attachments or show photos, it might be best to incorporate your text messages with a multimedia messaging service (MMS).
3. Order status and shipping updates
Order confirmations and shipment updates are two areas where SMS marketing excels. Customers shouldn't have to double-check their inboxes after placing a purchase with you.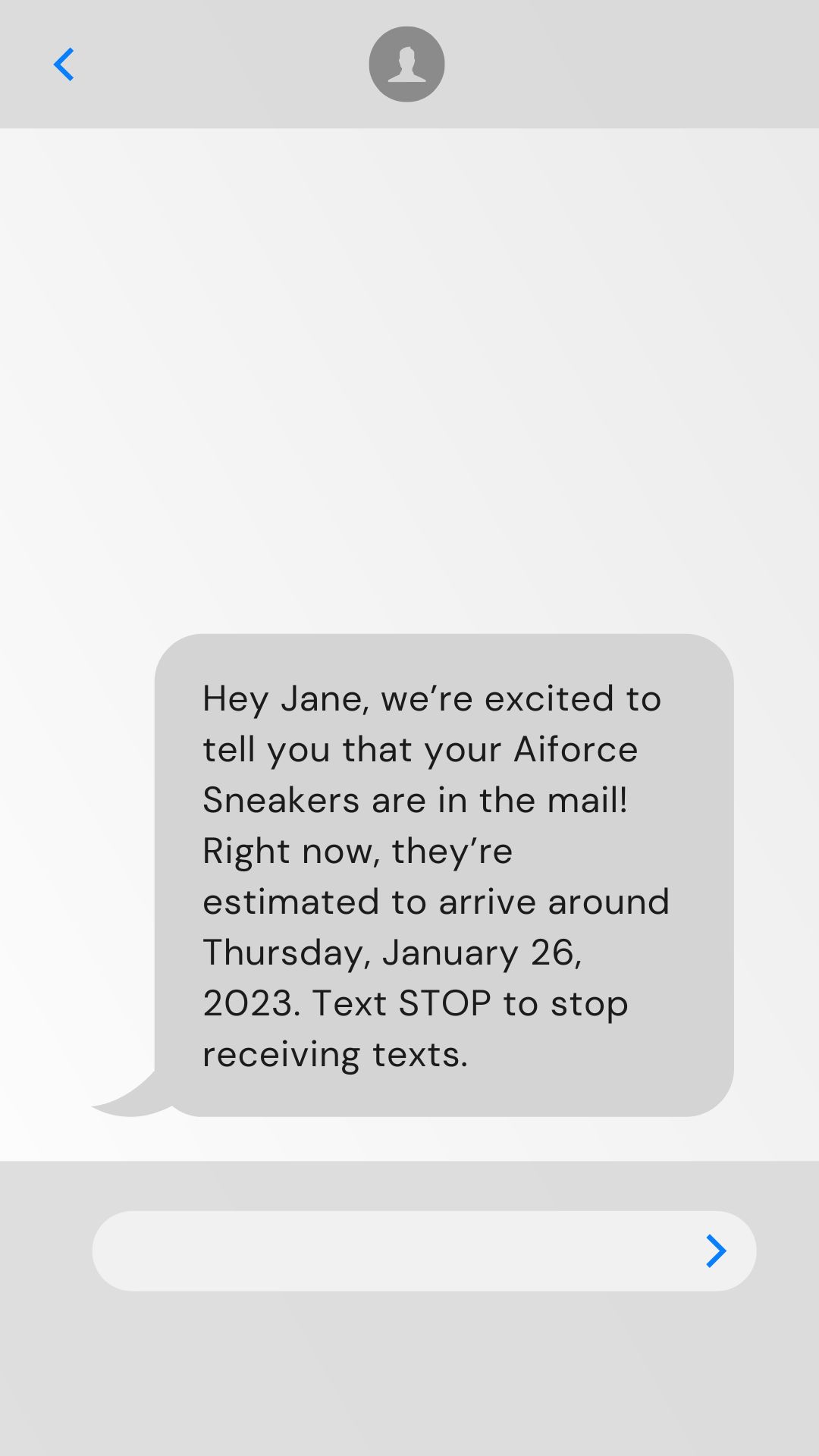 Additionally, your text removes any room for doubt if the email is delayed. Subtly but significantly, it sends the message to your consumers that you've got everything under control.
4. Personalized messages
One of the most effective SMS marketing examples is sending clients special offers tailored to them. It's when you send someone a text message to celebrate an important date, like their birthday or the anniversary of when they became a part of your loyalty program.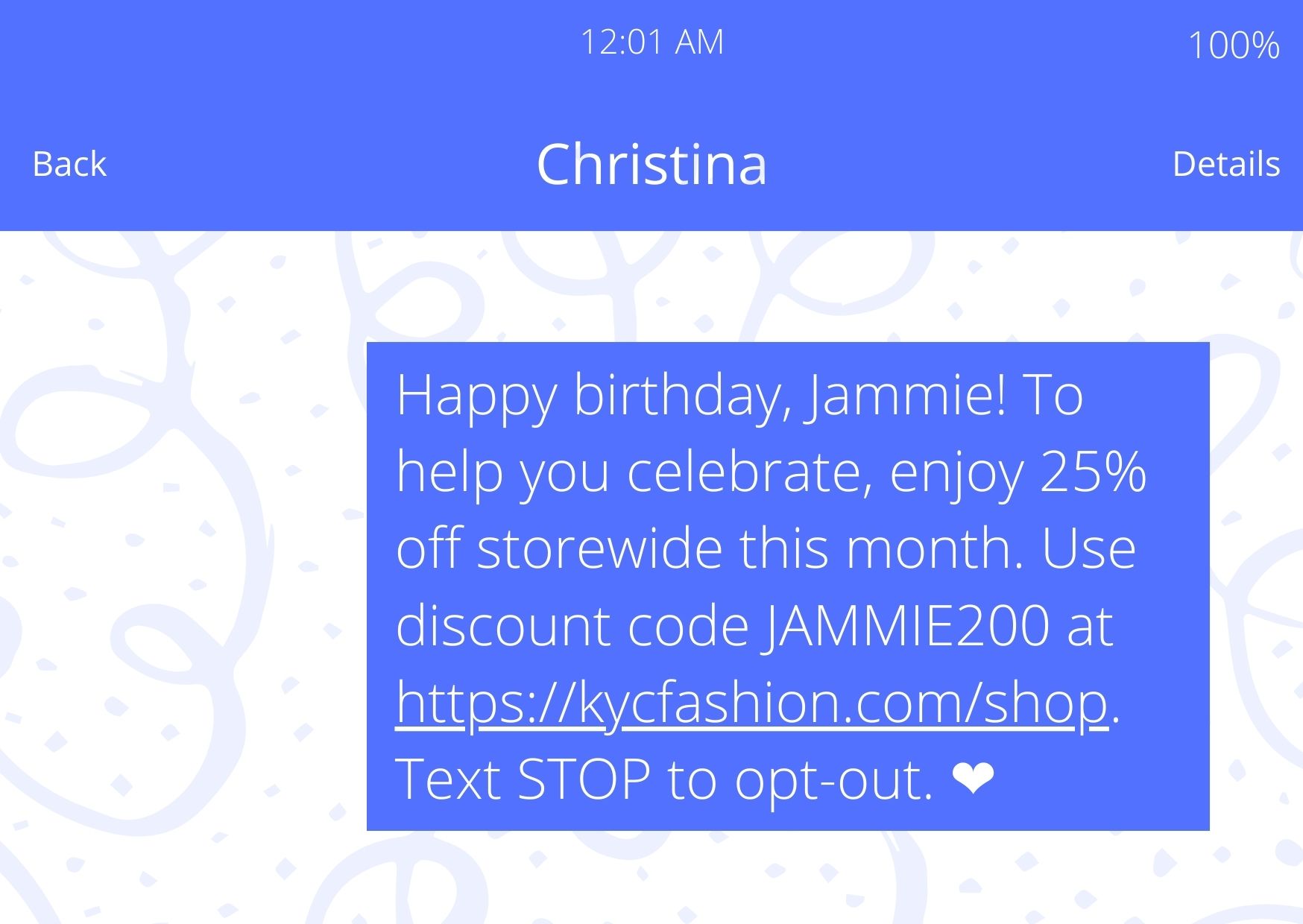 In addition, sending personalized text messages with in-text links is an effective strategy for promoting a time-limited deal.
5. Time-sensitive offers
An SMS is the best way to ensure that your customers have the best chance of participating in a special time-sensitive promotion. You can add some urgency to your marketing text message for maximum effect.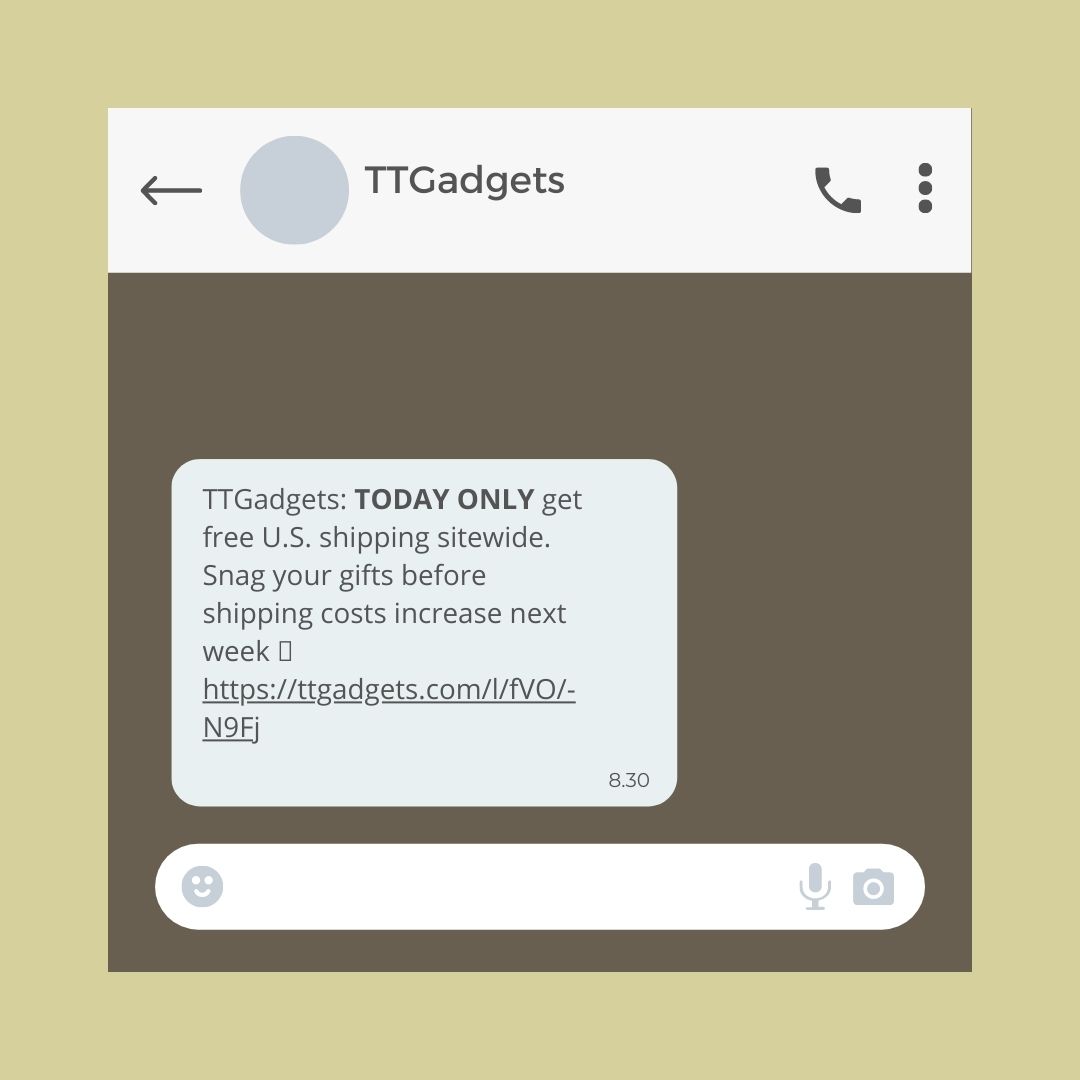 Instantly seeing such drops is a big reason why the SMS has been so popular — collectors don't want to miss out on a limited edition character or variant they absolutely must have.
6. Customer service
SMS isn't solely for commercial purposes. You can also use it to head off any difficulties by addressing potential concerns early on. Using text message marketing, you can comfort clients who are having problems with your company.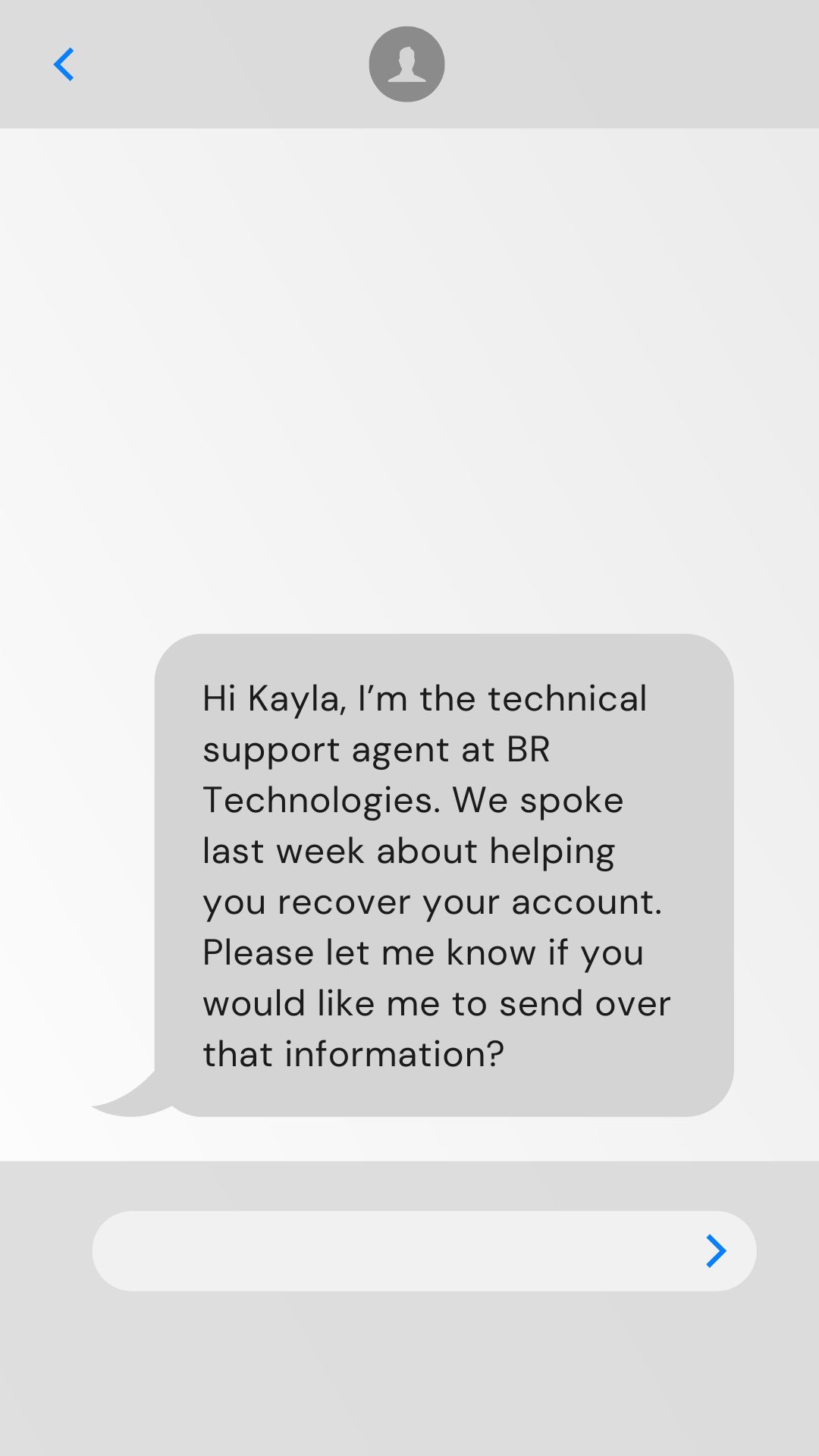 Keeping clients informed and displaying the human aspect of your brand are facilitated by the more personal nature of this distribution channel for subscribers. People like conversational messaging, and SMS provides an excellent opportunity to do just that.
7. Event updates
You can use SMS to generate excitement about an event's lineup, distribute QR codes for tickets, inform guests of the status of their sessions, and even give engaging material in real-time.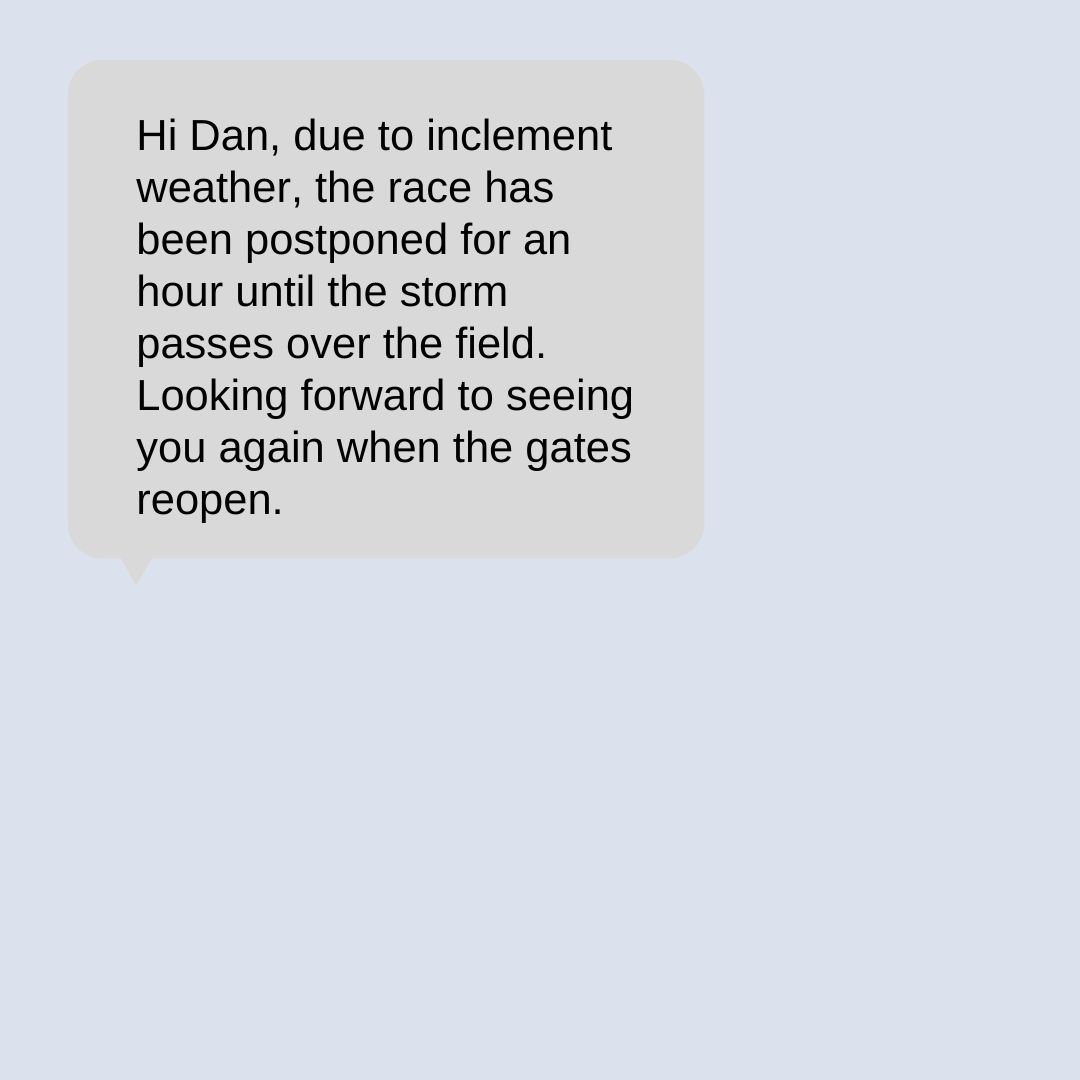 Event-goers can choose to receive text alerts on essential details, such as the main stage speaker's announcement or the availability of mobile tickets.
8. Community building
You can use SMS communications to establish brand loyalty by fostering a sense of community among your target audience. You can increase brand awareness without drawing attention to your company.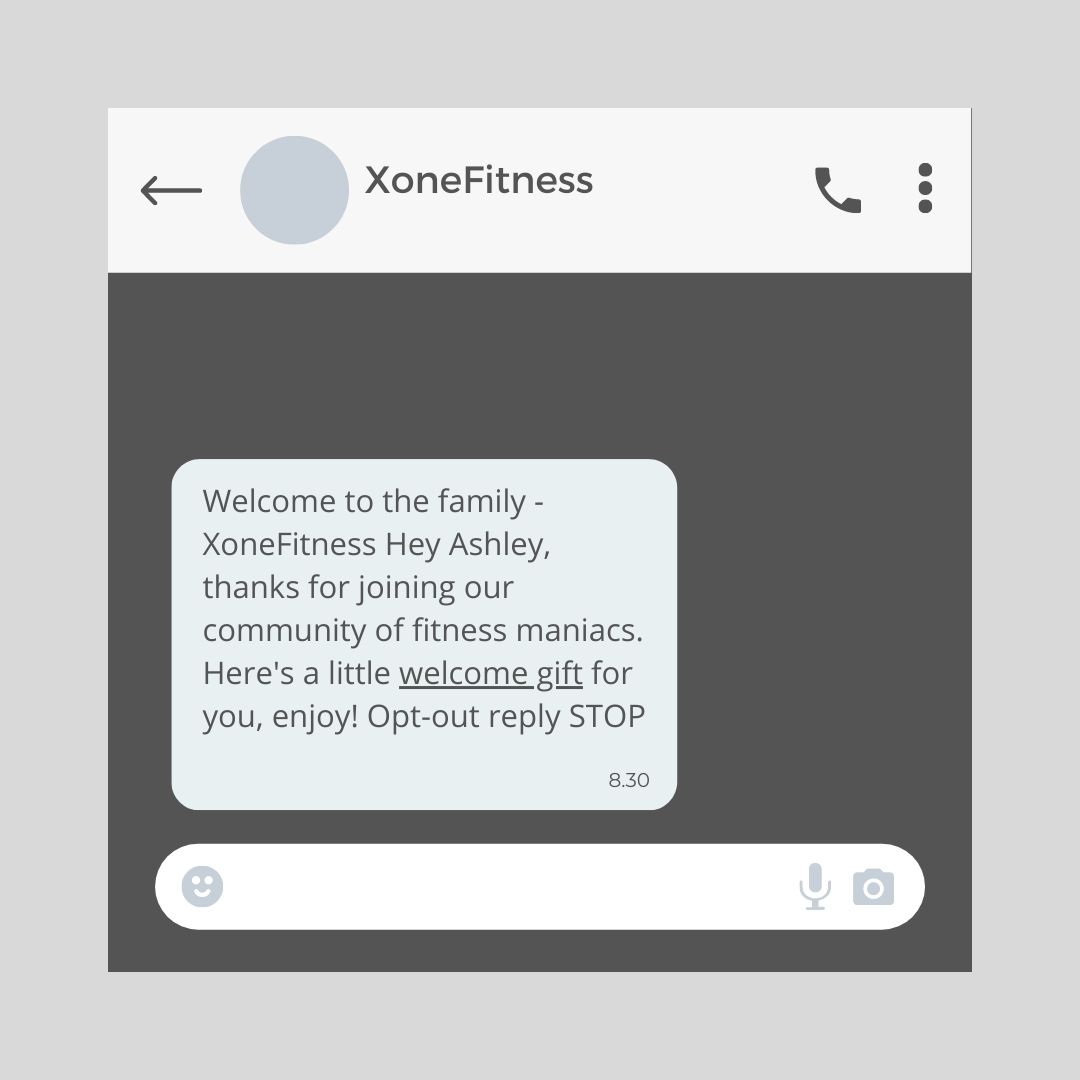 79% of consumers agree that user-generated messages significantly influence their purchasing decisions, and all of these factors encourage people to create such content.
9. Donation drives
Text message alerts can be sent out in minutes, giving people time to act as soon as news of a disaster, whether local or global, breaks.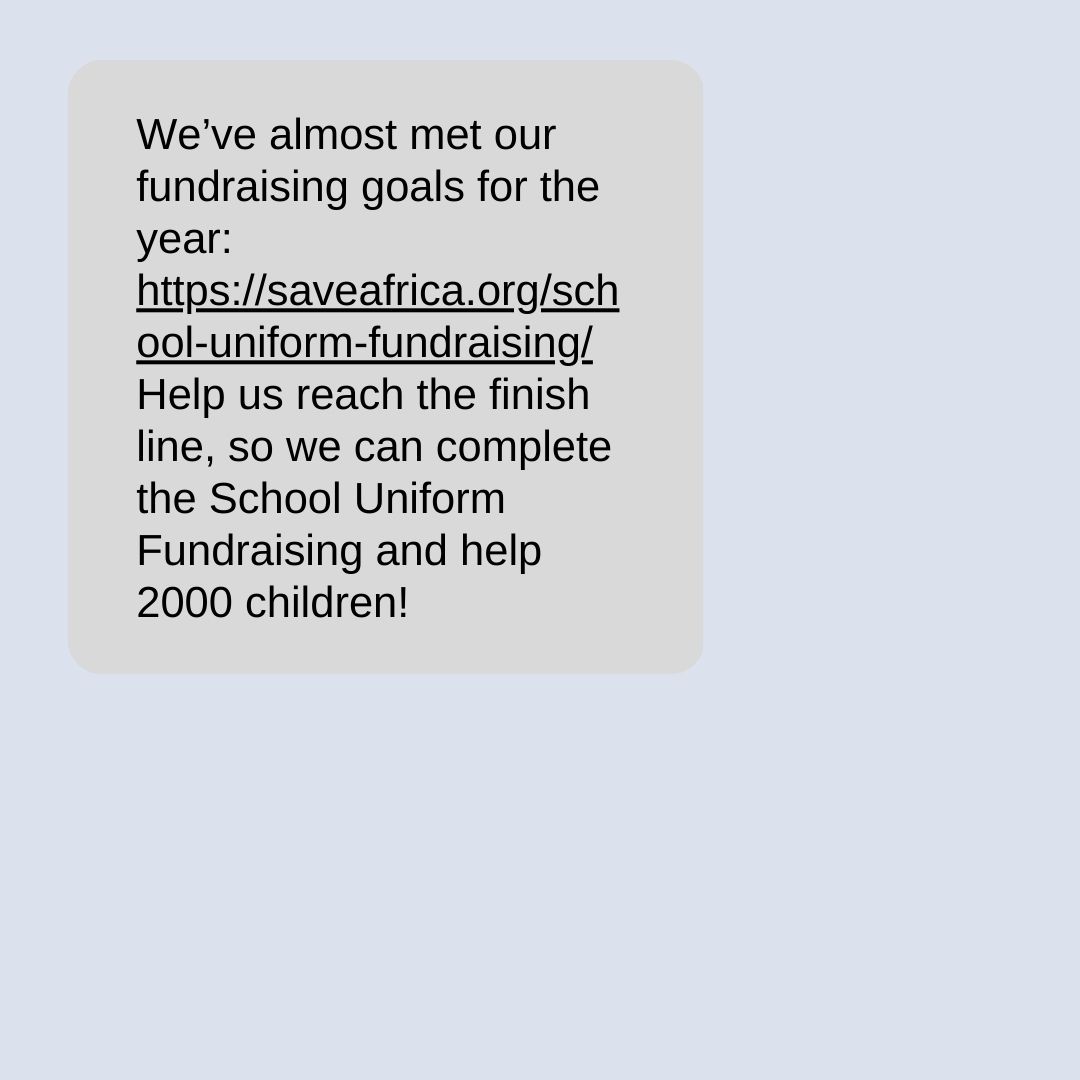 If you want your SMS donation drive or fundraising message to stand out from the crowd, you need to ensure it's not simply another cymbal being banged.
SMS allows you to reach your donor base while the idea is new and before they are inundated with requests for money from competing groups.
10. Thank you offers
The simplest way to connect with your clientele is to say "thank you." Make sure your SMS marketing efforts can engage in two-way discussions for the best outcomes.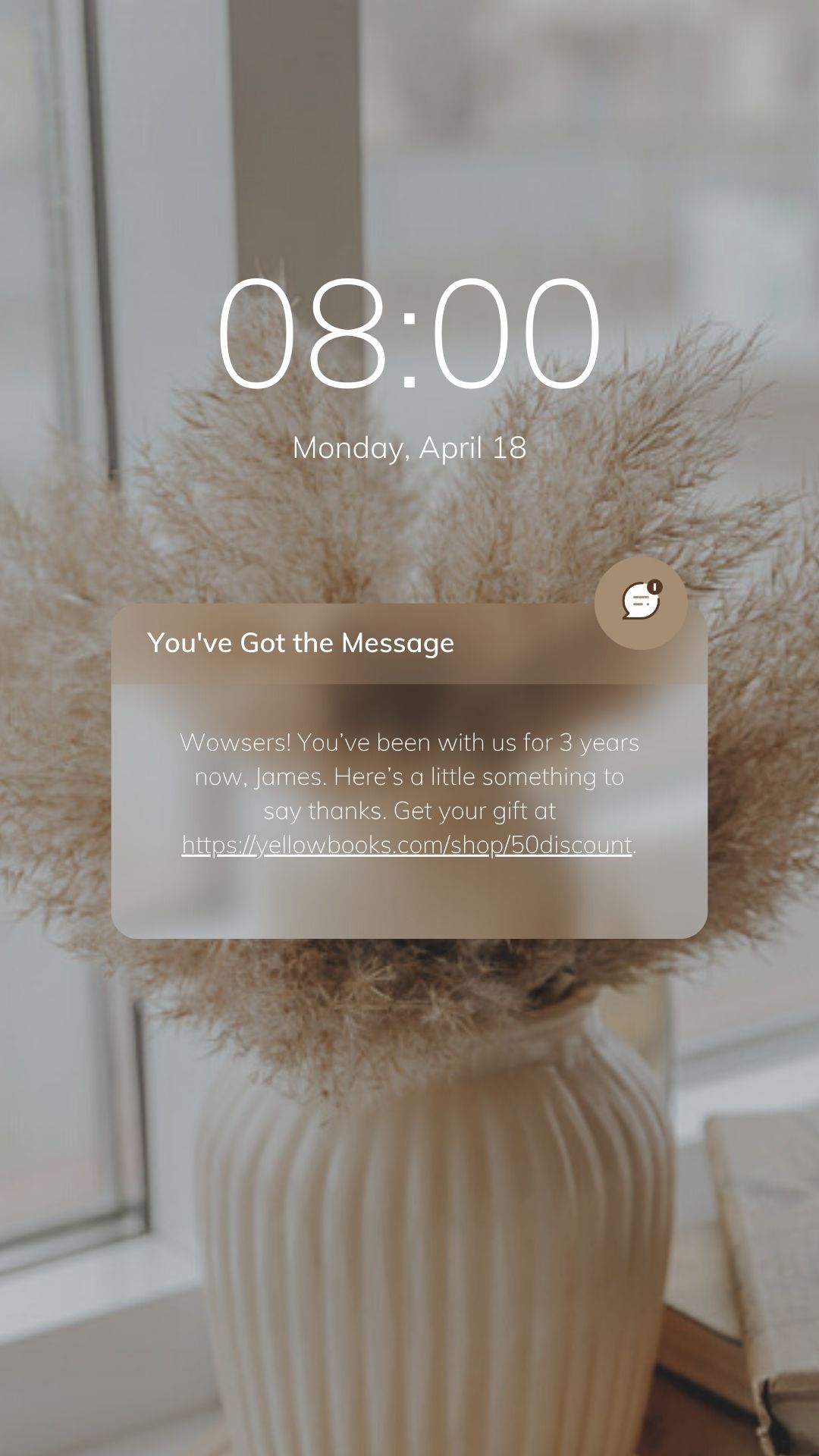 This interaction with customers will increase both brand recognition and sales.
Time to Level Up Your Sales
Our long list of services helps you grow every aspect of your business with marketing strategies that are proven to increase bottom-line metrics like revenue and conversions.
In the past 5 years, we've managed more than 12.9 MILLION transactions across our client base.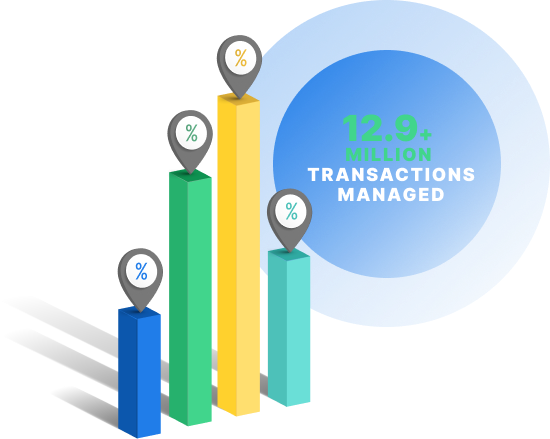 Partner with an expert SMS marketing agency
WebFX is the go-to option for companies needing a dependable SMS marketing team, outperforming the industry average by 488%.
Our SMS marketing team knows consumer weariness and the best methods for increasing text message response rates.
Contact us today or call us at 888-601-5359 to speak with an expert about creating an SMS marketing strategy for your business!
How is your website's SEO?
Use our free tool to get your score calculated in under 60 seconds.
Get posts by email
Join 200,000 marketing managers and subscribe to Revenue Weekly!
"*" indicates required fields
WebFX Careers
Join our mission to provide industry-leading digital marketing services to businesses around the globe - all while building your personal knowledge and growing as an individual.