Definition: Advertising is a paid promotional tactic that aims to sell a product or service to a target audience.
A newly opened pet grooming salon is looking for ways to let more pet owners know about its business. One of the ways it can increase people's awareness of its services and brand is through advertising. A furniture shop is introducing a new batch of desk lamps. Advertising can help the shop owner create demand for its new products.
If you landed on this page to find out what advertising is, check out some advertising examples for inspiration, and understand how it can help your business, you're in luck. This page will discuss these topics:
Want more advertising and marketing tips delivered straight to your inbox? Subscribe to Revenue Weekly and be one of the 200,000 marketers who receive their dose of marketing and advertising advice in their inbox for free!
What is advertising?
Advertising is a paid promotional activity that aims to sell a product or service to a target audience. Businesses pay for a space or a slot, so their messages — called advertisements — are published or aired.
One of the oldest forms of marketing, advertising has been around since the 17th century, after print publishing was developed. Today, advertising is classified into two: traditional advertising (print, TV, radio, and outdoor) and digital advertising (pay-per-click or PPC, social media, and display).
The ultimate goal of advertising is reaching an audience and influencing them to purchase from a business. Advertisements, or ads for short, can target either a general or a niche audience.
What is the importance of advertising?
Advertising can help drive growth for businesses of all sizes. It can:
Help introduce new offerings or brands: Advertising helps companies introduce their new products and services to prospects, thus increasing awareness. New businesses also benefit from advertisements, which announce their entry into the market.
Inform customers of products' unique selling propositions (USPs): Your ads can help you communicate your offerings' USPs in easily digestible formats, so your audience can remember them.
Increase sales: By increasing awareness about your brand and your offerings, advertising can help boost your sales!
Retain customers: Use advertising if you want to remind your customers about your brand, your products, or your services. An ad shown to one of your customers may prompt them to think about their experience and re-purchase from you!
10 types of advertising
We can classify advertising into two — traditional and digital advertising — and then look at the different types of ads and advertising channels under each one:
Traditional advertising
Traditional advertising refers to ad strategies that use traditional or non-digital media:
1. Print
These ads use the print medium and are often seen in newspapers and magazines. Flyers, brochures, and directories are also common print ad channels. If you're a business targeting personas that read newspapers and magazines, this is an excellent avenue for advertising.
2. Direct mail
A type of print advertising that reaches a more targeted market, direct mail sends brochures, flyers, and newsletters to customers through snail mail. Businesses can attract prospects by tossing in a discount coupon in the mail!
3. Outdoor
Also known as out-of-home advertising, it uses billboards, public places, or transportation to increase awareness among people in a geographic location. Make sure your messages are concise and your font size is bold enough to be seen and remembered!
4. Radio
Radio advertising is a form of broadcast advertising that airs ads during programming breaks. Businesses can pick spots when their audience is tuned in. For example, a company can consider airing its ads in the morning to reach people who are driving to work.
5. TV
Also a type of broadcast advertising, TV advertising can promote your business, products, or services through TV commercials. Their cost varies depending on factors such as commercial length, TV show, the time of day, and frequency of airing.
Digital advertising
Digital advertising, on the other hand, involves promotional activities online. Here are some online advertising examples and types:
6. Search advertising
Also referred to as PPC, search advertising lets businesses bid for relevant keywords, so their ads appear whenever a user types in that search query. Businesses then pay each time a user clicks on their ad.
For example, let's say you're in the jewelry business. You can bid on keywords related to your products like "pearl necklaces for women." A high PPC Quality ad score can let you land on the top of the search engine results page (SERP) of the keyword you're bidding on.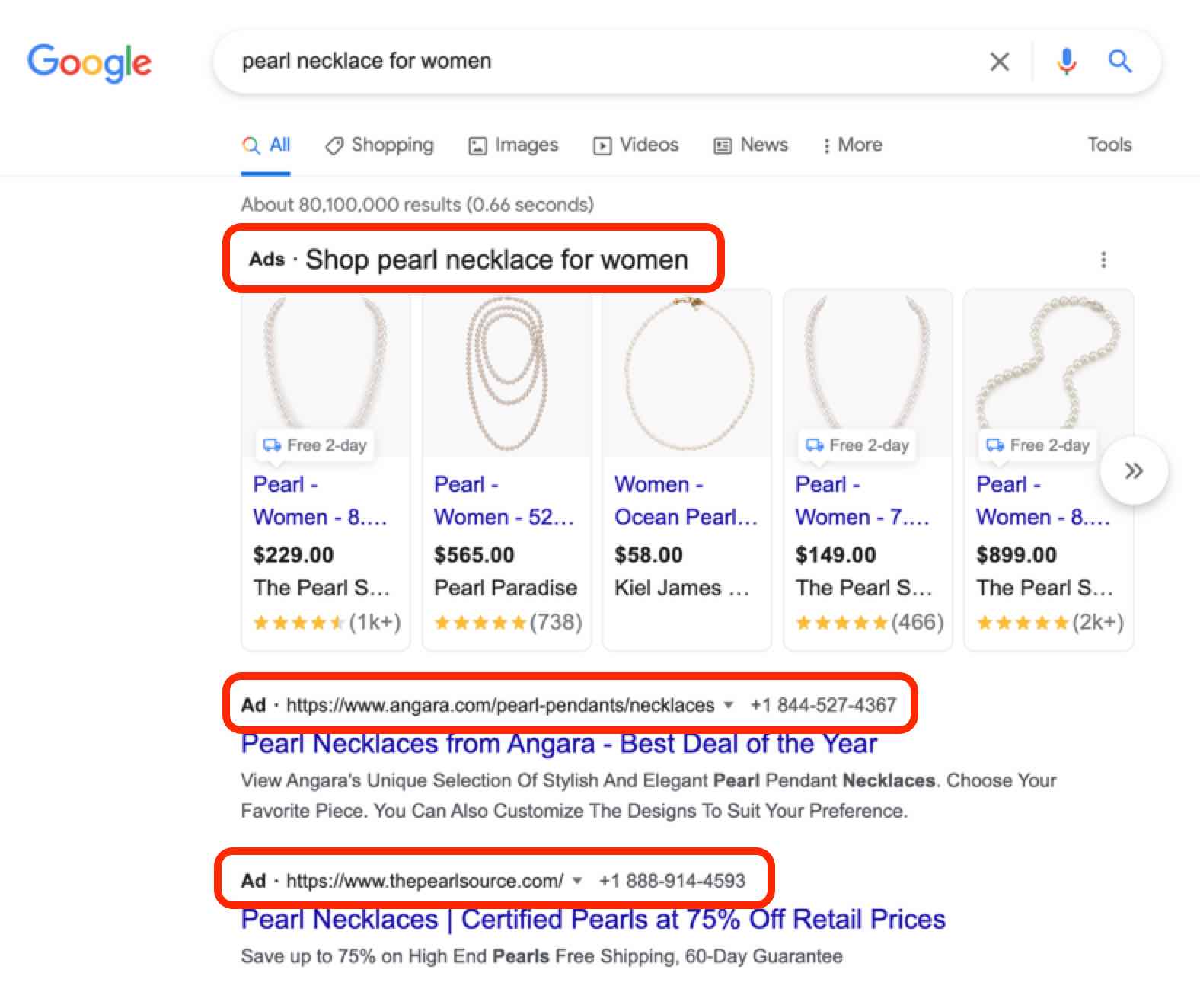 7. Display advertising
Display advertising refers to ads found at the top, bottom, or side of web pages. Other display advertising examples are video ads that appear before a video content is played or during streaming.
If you're remarketing to an audience, display advertising is an excellent way to reach and remind them about your product. Have you ever visited a product page once, and then seen this product's ads on other websites you visit? It's remarketing and display advertising at work!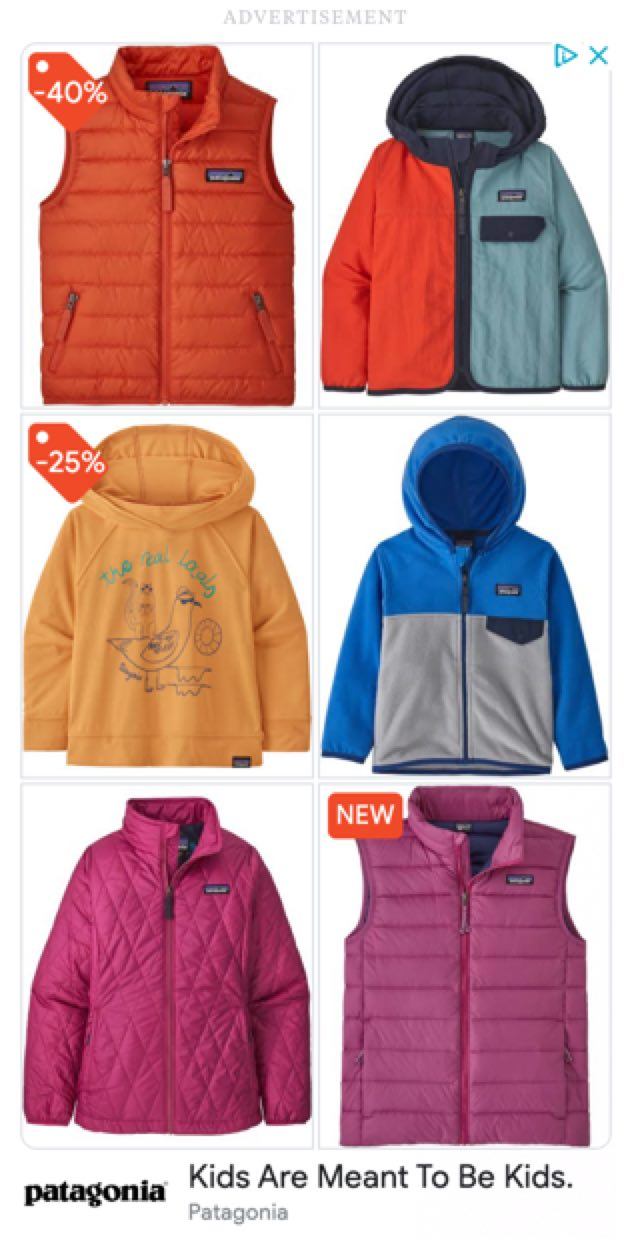 8. Social media advertising
Social media advertising lets businesses reach and target specific audiences based on their demographics, interests, and consumer behavior.
You can run social media ads about your latest product targeting your buyer persona. Social media advertising is also an excellent remarketing channel.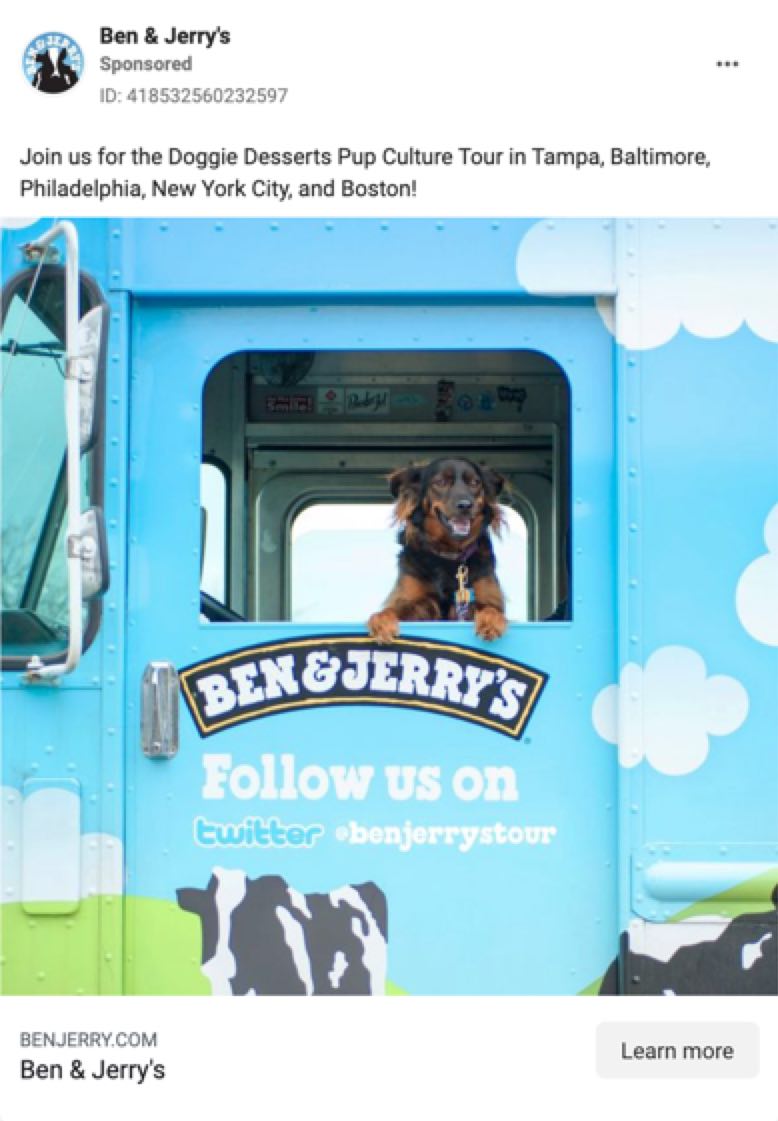 9. Mobile advertising
Did you know that almost 53% of site traffic is generated from a mobile device? It makes sense for businesses to explore mobile advertising to reach their prospects, who are most likely smartphone users.
Some mobile advertising examples are SMS ads, app ads, and site ads that are crafted for mobile users.
You can also pair mobile advertising with print advertising using QR codes. For example, let's say you ran an ad with a QR code on an in-flight magazine. Readers can scan the QR code using their mobile device, and they are directed to a landing page to learn more about a product or get a special offer when they sign up as a lead!
10. Native advertising
A form of paid media, native advertising is usually found as content published on editorial sites. Native ads are called such because they blend well and "natively" with the other editorial content on a website. They are far from a hard sell, but they mention your brand, offering, and a link to your site.
In this native advertising example from a law firm, the native content is about road trips. The article segued into what to do after a road accident. It also mentioned the law firm's expertise, which is defending the road accident victims' rights.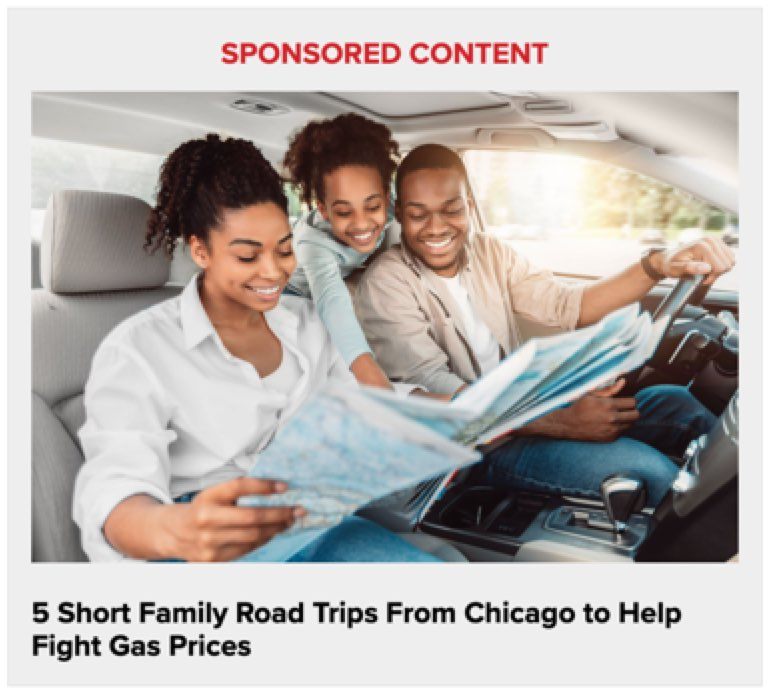 How to create effective ads
Advertising is meant to influence and move your audience to action. Your ad's goal is to convince people to choose your brand and product. Here are tips to create an effective and compelling ad:
Create an attention-grabbing headline: Your headline should hook a user casually scrolling on her social media feed, or a commuter that passed by your billboard.
Support your headline with a subhead: Think of your subhead as a clarification or a supporting statement to your headline. Together, they should pique the interest of your audience.
Write compelling copy that communicates your advertising message: Once you or your copywriter has nailed your headline and subhead, make sure you highlight your product's USPs and features.
Get your message across with a powerful visual: "A picture paints a thousand words" is a cliché for a reason — there is some truth to it. Complement your headline with an equally attractive visual. Paired with your headline, the image should get your advertising message across to your audience.
Excited to kick-start your advertising efforts?
Advertising can promote your business and offerings to your target audience and help drive revenue. If you want to get started with your digital advertising efforts but need help, team up with WebFX.
We're a full-service digital advertising agency that has helped our clients generate over $3 billion in revenue. Our team is equally excited to help you achieve your advertising goals and return on investment (ROI).
Contact us online or call us at 888-601-5359 to speak with a strategist about our digital advertising services!
WebFX Careers
Join our mission to provide industry-leading digital marketing services to businesses around the globe - all while building your personal knowledge and growing as an individual.