Did you know that 93% of online experiences begin with a search engine? No matter which sites people eventually end up on, they usually start with a Google search. That makes Google the prime location for all your digital marketing.
You can harness various strategies for reaching people through Google, such as getting your web content ranking in organic results. But one of the most effective marketing strategies is paid search engine marketing, where you pay to display ads in search results. But what exactly is paid advertising, and how does it work?
We'll go over the answers to both of those questions below, along with some tips for how to better optimize your ads. Read on to learn more, and then subscribe to Revenue Weekly for more online advertising tips from the agency with over 25 years of experience!
Our digital marketing campaigns impact the metrics that improve your bottom line.
See More Results

WebFX has driven the following results for clients:

$3 billion
In client revenue

7.8 million
Leads for our clients

5.2 million
Client phone calls
What is paid search engine marketing?
To start out, we have to ask — what is paid search engine marketing?
Paid search engine marketing is sometimes also known as pay-per-click (PPC) advertising is a type of marketing that allows you to create and display ads in search results. These ads typically appear at the very top of the page, above the organic results, and are run through Google Ads.

Each ad you display takes users to a landing page where they're encouraged to become leads or convert.
Since 46% of page clicks go to the top three PPC ads in search results, paid search marketing is an incredibly valuable digital marketing strategy. It does cost money to run a PPC campaign. Fortunately, though, you only have to pay for an ad when it gets clicked on, meaning a well-run campaign can be very cost-effective.
How does Google Ads work? You bid on specific keywords — terms people search for in Google — that you want to target. When people search for those keywords, Google will display the ads of the bidders who:
Have the highest bids
Have the best quality scores (Google's assessment of your ads' quality)
With a well-planned campaign, you can win out on enough bids to display your ads to a wide audience.
How can you start a paid search engine marketing campaign?
Once you understand what paid search engine marketing is, the next question is how to begin your first campaign. The deeper you get into your paid search strategy, the more complex it will likely grow, but there are a few simple steps you can take to get things started. Here are three steps for you to follow to kick off your paid search engine marketing campaign.
1. Find and bid on relevant keywords
Keywords are essential for paid search engine marketing. You target your ads toward specific keywords to ensure you reach a relevant audience. After you create your Google Ads account, you should start developing a list of keywords to target in your campaign.
Start by brainstorming a few simple terms relevant to your business and then use a tool like KeywordsFX to build out your list with related keywords. The keywords you choose should be highly relevant to whatever your campaign is advertising. Once you have a list, you can bid on those keywords in Google Ads.
When bidding, consider your budget, as well as how much the competition is bidding.
2. Create ads and landing pages
Once you've selected your keywords, you can set to work building the ads themselves. That means crafting the blurbs that appear in search results, as well as developing the landing page they'll link to. When doing this, make sure you fulfill user search intent — that is, why users search for your chosen keywords.
Your ads should give users what they hope to find from a search. For that reason, each keyword should have a custom ad crafted specifically for it. On your landing pages, keep things simple.
Use minimal text, and center everything around a single call to action (CTA) that prompts users to convert.
3. Monitor results
Your PPC marketing doesn't end when you get your ads up and running. In fact, your work is only just beginning. The bulk of your paid search advertising involves monitoring your ads' results to see what's working and what isn't and responding accordingly.
You can view this progress by looking at various metrics in Google Ads like click-through rate (CTR) and conversion rate. When you see an ad or campaign that isn't driving results as it should be, you can either improve it or replace it with something else.

How can you optimize your paid search engine marketing?
We've covered all the basics of running a paid search campaign, but how can you ensure that your paid SEM campaign goes above and beyond? Fortunately, there are a variety of things you can do to come out on top of the competition.
Here are three of the best tips for optimizing your PPC!
1. Target branded keywords
We already noted that you should aim to keep all your keywords relevant to your ads and business, and nothing epitomizes that more than branded keywords. Branded keywords are keywords that include the name of your business. Sometimes, people will search directly for your business.
When that happens, you definitely don't want to miss out on their traffic, since they're already looking specifically for you. That's why it's important to bid on your branded keywords. If you don't, there's a chance your competitors will, and in doing so, they could steal away your traffic.
2. Create custom audiences
One fantastic feature Google Ads offers is the ability to create custom audiences. With custom audiences, you can target your campaigns to highly specific groups of people. Essentially, you can tick off boxes for the characteristics you want your audience to have.
Some aspects you can target with custom audiences include:
Age
Gender
Ethnicity
Location
In doing so, you can ensure that your ad resources are spent only on the people you most want to target. If you have a list of buyer personas you use for your marketing, you can simply plug in all the traits of those personas to start driving better results.
3. Use RLSA
Another way you can hone your ad focus to a particular audience is with remarketing lists for search ads (RLSA). RLSA enables you to direct your ads specifically to people who have already visited your site. For example, someone might visit your site and make it all the way to the cart before leaving.
Their behavior clearly indicated an interest in purchasing from you, so they're a highly valuable lead to target. Since Google can track the pages that users visit, you can tell Google Ads to direct a campaign to people who visit a particular page on your site.
WebFX is a partner businesses trust.
Hear from HydroWorx, who saw a 236% increase in organic sessions with WebFX services.

Watch the Video Testimonial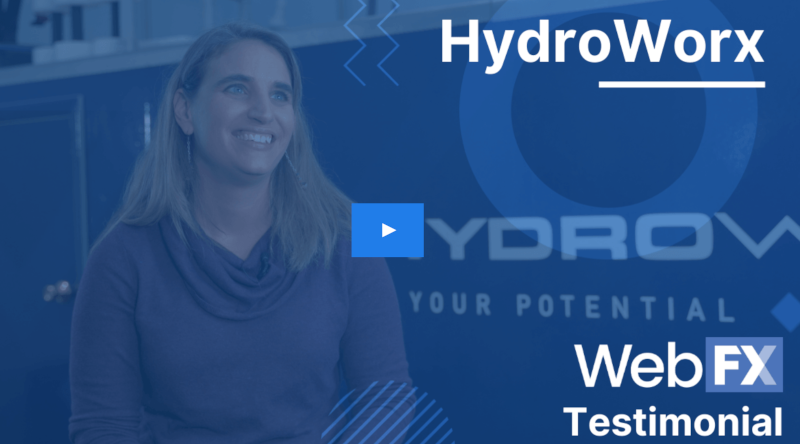 Give your paid search engine marketing a boost with WebFX
Ready to get started with PPC advertising?
WebFX would love to help! With over 1020 client testimonials, we're the PPC agency that businesses trust to produce stellar results for their marketing. With our PPC services, you'll get help optimizing your campaigns for all the tactics listed above.
You'll also receive a dedicated account representative to keep you informed on everything we do for your advertising. To get started with us, just call 888-601-5359 or contact us online today!
How is your website's SEO?
Use our free tool to get your score calculated in under 60 seconds.
WebFX Careers
Join our mission to provide industry-leading digital marketing services to businesses around the globe - all while building your personal knowledge and growing as an individual.