How many times have you heard "create high-quality content" or "do great keyword research"?
You can boil down search engine optimization (SEO) to these basic components, but you need to dig deeper and seek more sophisticated search engine optimization techniques to maximize results. It's time to step beyond the fundamentals and let actionable SEO techniques take the stage and strengthen your campaign.
Keep reading for seven of the best SEO techniques that can help you take action and boost your traffic flow. You can also use some of our recommended website optimization tools to make these search optimization techniques a reality!
Do you need a team of experts to apply the latest search engine optimization techniques to your site? WebFX is a leading SEO agency that's focused on driving results. Contact us online or give us a ring at 888-601-5359 today.
Looking for an all-in-one SEO audit tool? You've found it.
SEO Checker provides data on key metrics to give you:
Complete SEO score

Content Grade

Site Speed Analysis

and more.
1. Optimize internal links
Backlinking isn't the only worthwhile link-based practice to increase your traffic and generate leads.
Internal linking also carries weight and can affect rankings to produce benefits for your business. Linking to new or little-known pages from popular pages indicates their value and helps search engines crawl and index them faster.
Spread the link juice — or ranking power — of your high-performing pages to other pages that need a pick-me-up. You can pinpoint your weakest pages via Google Search Console's Landing Pages dimension.
If you find pages that have positive click-through rates (CTR) and low rankings, a decent dose of link juice can get them the exposure they deserve and help you improve your search engine optimization.
2. Outreach for unlinked mentions
As your site gains traction and visibility, other companies, industry leaders, clients, and professionals can reference your site without taking the time to link to your pages. Mentions without links are untapped opportunities for backlinks, and they're closer within your reach than you might think.
Making use of these natural mentions is a wise move.
Contact them to request link placement on the pre-existing mentions. If sources make a note of your brand, it's likely they're already receptive to your business and are willing to add the links.
Finding unlinked mentions is the most challenging step, but there are brand monitoring tools available that can track down these instances.
A widely-used (and free) resource, Google Alerts, can monitor your brand name across the Internet to keep you aware of chances to acquire links.
Since Google has the ability to span so much of the web, it's a convenient, easy-to-handle option.
3. Fill content gaps
No matter how robust your content marketing campaign is, it's unlikely you can cover every single topic in your field. "Content gaps" are wide open talking points that people need information about. However, leaving questions unanswered fails to help your audience.
The good news is that these gaps in your content are new prospects for keywords and rankings.
Google wants your content to add value for searchers rather than repeat information.
Filling in lacking or insufficient material impresses Google because you provide what others can't. You can set up internal site search to learn what people are looking for on your website.
Through Google Analytics, you can track their queries and explore the holes in your content.

If your competitors haven't addressed certain topics either, you can be the first definitive resource for a subject.
If your competitors have covered a topic, but it's missing from your site, you still have an area to discuss to increase user satisfaction.
4. Outdo competitor content quality
Aside from patching up content gaps, you have to contend with your competitors in content quality, too.
Producing more accurate, thorough content is how you can rise above the other search results and gather visitors. If you want to outrank your competitor's SEO, look at how much they've written, what makes their page appealing, and what you can do to elevate your own content.
The word count of pages isn't a direct factor in Google ranking, but longer posts tend to more fully delve into topics. Don't let your pages dip below the word count of the highest-ranking content for your desired keywords.
The average page that ranks first in the search results has 2416 words, so your posts need to be fairly comprehensive to have a decent chance of excelling.
Check the word count on the pieces of content that outperform yours and go beyond their efforts for advanced search engine optimization.
5. Optimize for voice search
With the rise of mobile Internet usage, the voice search feature is getting more attention.
In fact, 40% of adults use voice search at least once a day. Because speaking a search query generates unique keywords compared to typed searches, voice search optimization is the latest search engine optimization technique you need.
Voice searches have a conversational quality that you can shape your content around. They're made up of full questions and long-tail keywords (longer strings of search terms).
If you're voicing a search about flights, you might say, "How long is a flight to Dallas?" but when you're typing the search on your phone or computer, you might enter, "Dallas flight time."
Since current SEO techniques rely on central keywords, voice searching challenges the norm and stretches SEO strategies to address complete questions.
Revisit your keyword research for voice search optimization to keep up with the latest SEO techniques and reach the top of the search results.
6. Target featured snippets
The first spot on search engine results is valuable, but the featured snippet space — or position zero — is even more sought-after. Appearing before organic results in a large box, featured snippets get more eyes on them than the first search result.
Optimizing for featured snippets includes structuring your data in response paragraphs or bulleted lists. Images and tables also show up in featured snippets, so find graphics that can back up your points for the featured snippet position.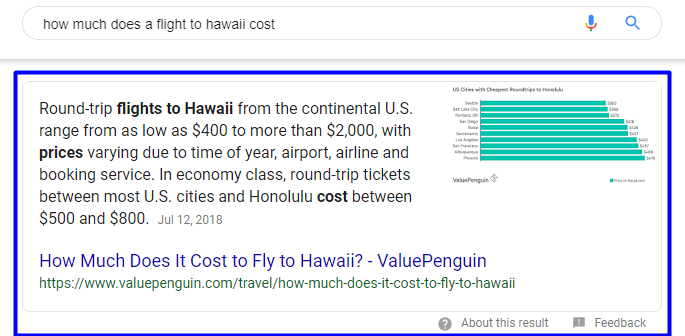 Featured snippets also go hand-in-hand with voice search, because voice assistants like Siri read back the featured snippets for users. The concise answers fit perfectly with voice questions, so position zero does double duty as an advanced SEO technique.
7. Promote content via social media
Social media is a crucial element for generating site traffic and engagement.
Social signals like followers benefit your business and search performance. Your online presence through social media is a practical tool for SEO in 2023, specifically for content promotion. Sharing your posts on your LinkedIn, Facebook, Twitter, or Instagram can connect users to your pages.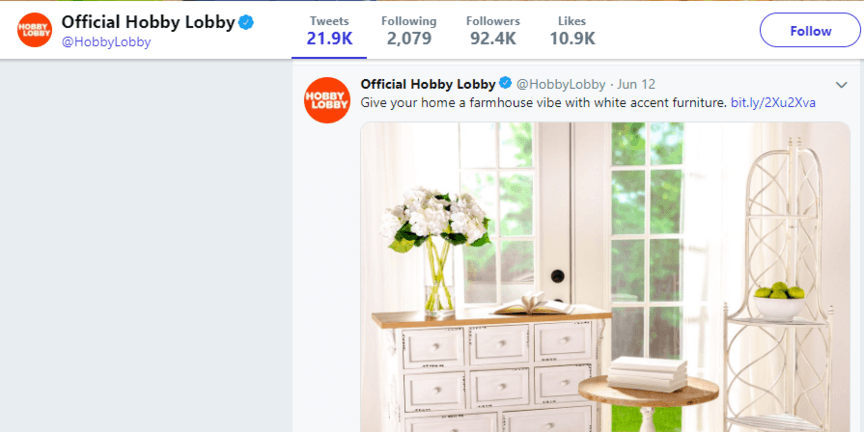 Encourage your audience to spread the word about your services and products to draw in visitors and capitalize on your platforms.
BONUS READING: Why SEOs Need to Be Genies in a World of Masters
Use these SEO techniques with WebFX
If you want to move your SEO strategy forward, the latest search engine optimization techniques are essential. An SEO agency can propel your campaign to new heights with up-to-date methods. WebFX is a top SEO company that's focused on driving results and staying at the forefront of digital marketing.
We've generated over 7.8 million leads and $3 billion in client revenue in the last five years alone!
With research, analytics, and implementation, our team of 500+ brings expertise to your campaign and skyrockets your conversions and revenue.
Ready to find out how we can help your SEO campaign?
Contact us online or call us at 888-601-5359 today to speak with an SEO expert and start improving your rankings.
How is your website's SEO?
Use our free tool to get your score calculated in under 60 seconds.
WebFX Careers
Join our mission to provide industry-leading digital marketing services to businesses around the globe - all while building your personal knowledge and growing as an individual.