Did you know that 93% of online experiences begin with a search engine?
With so many people spending time on Google, there's no question that search engine optimization (SEO) is one of the most valuable digital marketing strategies available for your golf course.
SEO for golf courses can help you rank highly in search while targeting high-return keywords that help you attract users to your website.
Read on to learn more about optimizing SEO for golf courses, and then partner with WebFX — the agency with 25 years of experience — for our golf course SEO services. Just call 888-601-5359 or contact us online to get started!
7 tips for boosting golf club SEO
To boost your rankings, there are several ways you can optimize your web content. However, a few strategies in particular stand out from the crowd for their effectiveness.
Here are seven ways to improve SEO for golf courses!
1. Target long-tail keywords
When you talk about SEO, it's typically about getting your content to rank. But you don't want your content to rank for just anything — you want to target searches that are relevant to your business, which you can do by including specific keywords in your content.
You want to focus heavily on long-tail keywords which are keywords that are many words long. They come with two main benefits:
Specificity: Because they're longer, long-tail keywords are more specific to particular search audiences, which allows you to better reach your potential customers.
Competition: The increased specificity of long-tail keywords means a narrower group of businesses is interested in targeting them, leading to lower competition for you.
In short, long-tail keywords are one of the best ways to not only appear in search results, but to appear in the right search results.
2. Address user search intent
Although long-tail keywords are important, your rankings aren't completely dependent on keywords alone. Instead, you should include keywords where they fit naturally, while focusing primarily on user search intent.
User search intent refers to the reason users search for a particular keyword, and it's an incredibly significant attribute for your content to address. Google's algorithms are smart enough to tell if your content provides the information users are looking for.
To find user search intent for a particular keyword, simply look at the top results already ranking for it. Whatever information they provide, it's a safe bet that your page should address the same need.
3. Earn authoritative backlinks
Another crucial element of SEO for golf courses is backlinks — links to your content from other websites in your industry. When Google sees that an authoritative site has linked to you, it assumes that you're authoritative as well, and ranks you higher.
You can obtain backlinks by reaching out to golf-related websites and requesting that they link to you. The best approach is to find broken links in their existing content and recommend that they replace them with new links to your site.
When finding backlinks, aim for quality over quantity. A single reputable backlink is worlds better than ten low-quality backlinks. What matters is convincing Google that your content is authoritative, so it will rank higher.
4. Optimize your title tag and meta description
When users encounter your content in Google, the first impression they'll have of it is the blurb they see listed in the search results — that is, the title tag and meta description. You should optimize both of these features to attract users, so they'll choose to click your listing over the other rankings.

Your title tag provides the name of the page being listed. You can make it more compelling by including numbers and emotive adjectives (e.g., "20 Amazing Golfing Techniques"). The numbers will help your page jump out at users, and the adjectives will compel them to click.
Your meta description, meanwhile, should serve as a short summary of the content on your page. It should be accurate and engaging.
5. Use internal linking
Backlinks aren't the only type of link that can benefit your golf club SEO. Internal linking — including links in your content to other pages on your website — is another valuable practice to implement on your site.
Internal linking is beneficial because it keeps users on your site longer. When someone reads a blog post, they may want to learn more about something in the post and follow a link to a different page. The longer they spend following links, the longer they stay on your site.
With every moment that a user stays on your site, their chances of becoming a lead or converting increase.
6. Implement responsive design
Not everyone who visits your website will do so on a computer. In fact, over half of all Internet traffic comes from mobile devices — which means that if your website isn't mobile-friendly, you're missing out on the majority of your potential traffic.
That's why it's so critical to implement responsive design, which is the practice of optimizing your website for multiple types of devices. Different devices have screens of different sizes and shapes, and your website needs to function efficiently on all of them.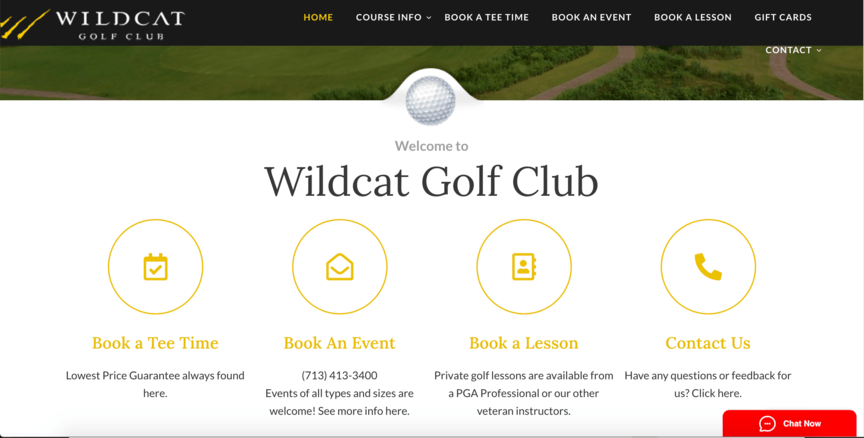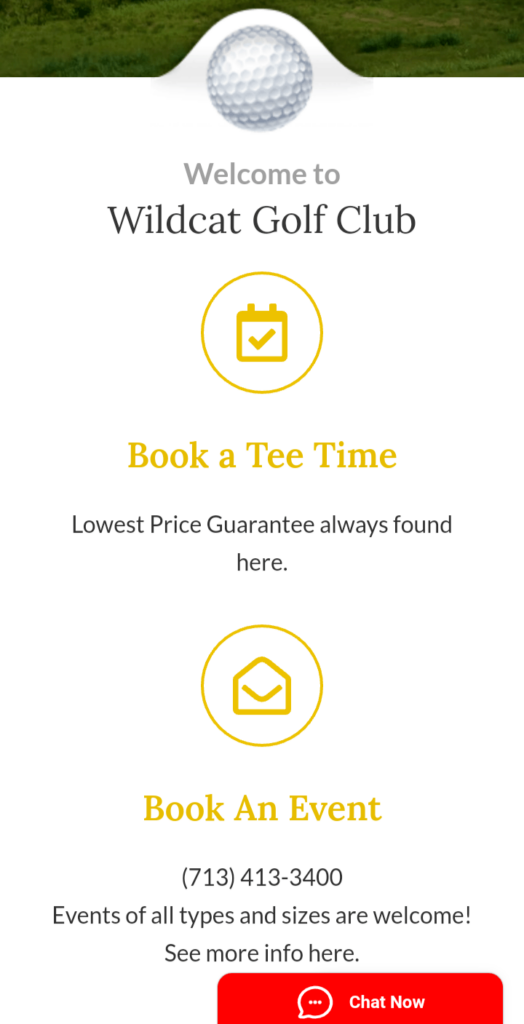 To top it all off, Google ranks websites based on their mobile format. So, without practicing responsive design, you won't rank at all!
7. Improve page load speeds
Did you know that 83% of users expect pages to load in three seconds or less? Three seconds might not seem like much, but in the world of page load speeds, it's a long time.
If a page takes longer than that to load, most users will end up hitting the "back" button.
That's why it's crucial for you to optimize your page speeds to run as quickly as possible, ideally keeping them at one or two seconds. Here are some ways you can do that:
Cache web pages
Minify code
Compress images
When your website runs quickly, you'll be able to retain all the people who visit your site, leading to significant benefits for your golf club SEO.
Hear What It's Like to Work With WebFX!

"WebFX is a great partner in our companies success. They take the time to understand our business and put campaigns in place to meet those business needs. They also bring fresh new ideas to the table on a regular basis. Excellent company to work with."
Outdoor Recreation
Give your SEO a boost with WebFX's golf course SEO services
Ready to take a swing at driving up your rankings? When you partner with WebFX, we'll help you get a hole in one! With client testimonials, we're the agency businesses trust to drive results, and our golf course SEO services are top-of-the-line.
When you partner with us, you'll get help optimizing your web content for all the tips listed above. Furthermore, you'll receive a dedicated account representative to keep you in the know about everything we do for your campaign.
To get started with us, just call 888-601-5359 or contact us online today!
Earn a 20% greater ROI with WebFX