10 minute read
Sarah Berry is a Google Analytics-certified Web Marketing Consultant at WebFX. She's written over 400 articles on digital marketing, covering topics like SEO, CRO, and Amazon. When she isn't polishing her Time Magazine Person of the Year Award, she's spending time with her flock of ducks.
What if you could get a better return from search engine optimization (SEO)? Chances are, you probably can, by focusing your SEO plan on SEO strategies that offer high returns. Some you may already use, while others may offer your business a new, untapped way to increase your return on investment (ROI) from SEO.
Keep reading to learn about the five SEO strategies that offer the best ROI, and how you can use them to generate better returns and more revenue for your business. For more insider tips on optimizing digital marketing strategies like SEO, sign up for Revenue Weekly!
1. Maintain a fast, mobile-friendly website
A fast and mobile-friendly (or responsive) website is essential. When it comes to determining where your site ranks in search results, Google looks at page speed and mobile-friendliness. If you have a slow site or a site that doesn't display correctly on mobile devices, you can count on lower rankings.
When you think about SEO and ROI, rankings are critical. If you don't rank well in search results, you can't attract the traffic necessary to generate an ROI from SEO. For perspective, around 95% of search traffic goes to the first page of search results, which means a page-one ranking is critical.
Maintaining a fast and mobile-friendly site can help your business rank on page one. If you want to see how a fast and mobile-friendly website will benefit your bottom line — and SEO ROI — use Google's "Test My Site" tool. This tool measures your mobile site's speed and calculates how much revenue your business could get with a faster website.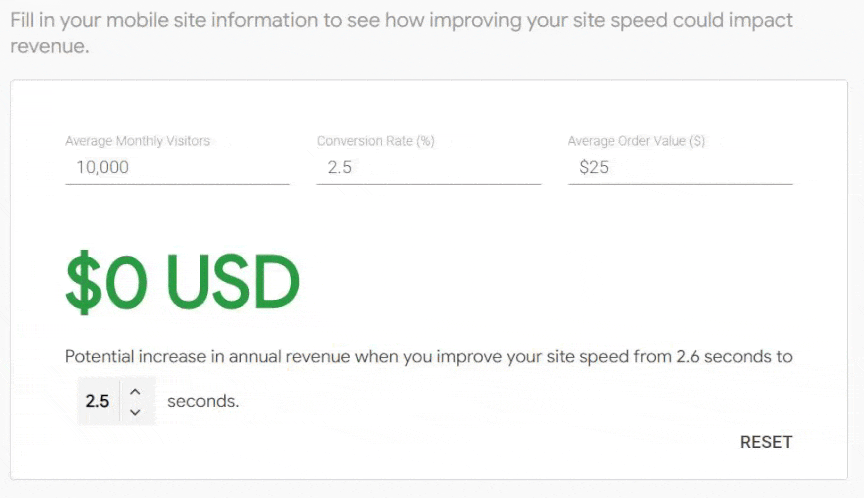 Speeding up your website usually involves the following:
Compressing site images
Using external video hosting sites like YouTube
Minifying HTML, CSS, and JavaScript
Enabling browser caching
Reducing server response times
While you can probably take care of compressing images and creating a YouTube account, other fixes like improving server response times and minifying code will require the help of a developer. If a developer isn't available to help, our U.S.-based team of developers can help. They can take a look at your site, find page speed opportunities, and implement fixes so you have a faster website that can rank higher in search results.
Like page speed optimization, mobile-friendly or responsive web design will require the help of a design and development team. While you can use website builders like WordPress, Wix, or Squarespace, it's vital to check their SEO-friendliness beforehand.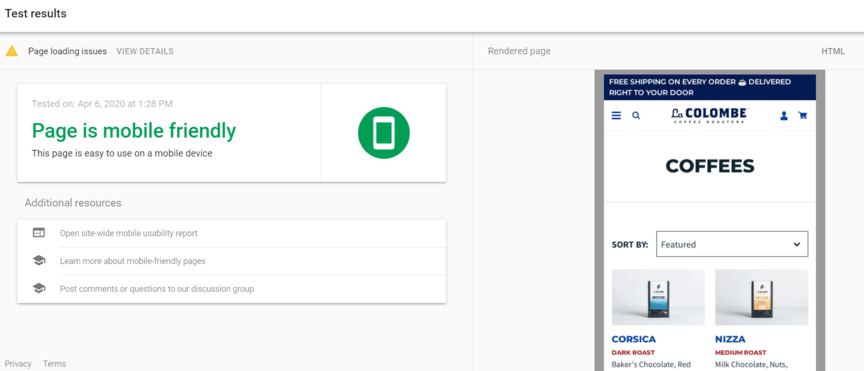 Alternatively, you can invest in professional web design that includes SEO optimizations.
2. Target long-tail keywords
Keywords are a core component of SEO (and improving your SEO). Finding relevant keywords, determining the search intent of those keywords, and mixing those keywords into your content and meta tags, will not only help people find your website but also help your content rank in search results. You can choose from two types of keywords:
Long-tail keywords: A long-tail keyword is three to four words, like "arabica coffee beans 12oz."
Short-tail keywords: A short-tail keyword is one to two words, like "coffee beans."
Get the best ROI from SEO by researching and targeting long-tail keywords. Long-tail keywords help your SEO strategy because they have less competition. Fewer people search for "arabica coffee beans 12oz" because it's specific and caters to a specific search intent.
In comparison, lots of people search for "coffee beans" because it's general and captures a broad search intent.


Not to mention, long-tail keywords target more specific search intents. Someone searching for coffee beans may want to know:
How to choose coffee beans
Which brands produce the best coffee beans
How to use coffee beans
What types of coffee beans to purchase
In comparison, someone searching "arabica coffee beans 12oz" is likely looking for someone that sells arabica coffee beans in a 12-ounce package. They know exactly what they want. That's why your business wants to target and rank well for long-tail keywords.
These keywords help your company reach people looking for products or services like yours. Instead of trying to bring as much traffic as possible to your website, you're bringing the most qualified traffic, which means more leads, sales, and revenue for you. KeywordsFX is an excellent tool for finding long-tail keywords — and it's free.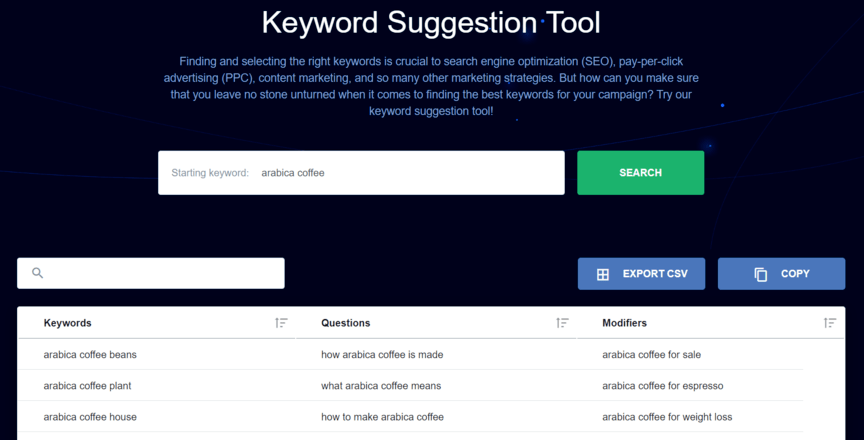 Just enter a starter keyword, like arabica coffee, and KeywordsFX will produce a list of related keywords, including questions that feature your keyword.
You can also copy your results to save them for later or export them to view in Microsoft Excel or Google Sheets. Finding and researching keywords is a process, and it's only the beginning when it comes to SEO. If you feel intimidated or overwhelmed, don't hesitate to ask for help from someone that specializes in SEO, like WebFX.
3. Optimize local listings
While local SEO matters more to some companies than others, local search still deserves a spot in your SEO roadmap— especially if you're looking to increase your ROI from SEO. That's because local listings serve as a discovery and research hub for users. Searching for takeout in your area, for instance, will generate a list of potential businesses in Google search results.
The same will happen when researching a company, whether it's a restaurant or software provider.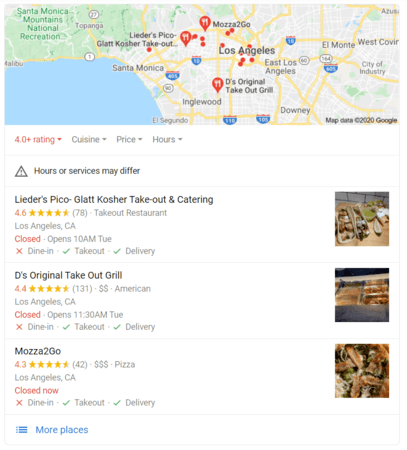 You want a presence in those search results because you'll share with searchers your:
Phone number
Hours
Website
And more
This information makes it super easy for searchers — your future customers — to visit your site, learn about your offerings, and contact your team. Each of these actions helps a user move one step closer to conversion. For the best return on this strategy, claim and optimize all your local listings.
You can use a local listing management tool like LocalFX to streamline this process. It'll take all your basic information, like name, address, phone number, and more, and auto-update your local listings for you.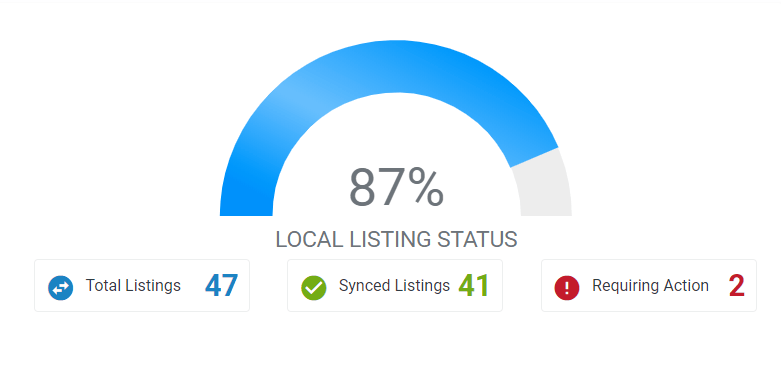 If you're looking for local listing management help that goes beyond tools, we maintain an in-house, U.S.-based team of more than 500 SEO specialists. From managing your local listings to optimizing your local SEO, we will help you reach more people in your area.
4. Create helpful content (and optimize it for SEO)
Content not only helps potential leads and shoppers get to know your business, but it also helps your company improve its SEO ranking, which is essential to attracting traffic and sales. You can produce a variety of content, including:
Blog posts
Product pages
Videos
Guides
And more
For the best ROI from SEO, it's essential to create content for users and search engines. That means producing helpful, informative content that also follows SEO best practices. For example, a blog post explaining how to ground coffee beans could include images or GIFs to help readers learn how to ground coffee beans while also featuring an optimized title tag, like, "How to Ground Coffee Beans: 3 Easy Options." When planning content, remember to focus on evergreen content topics.
Evergreen content doesn't age as fast as other content. People will always have questions about how to grind coffee beans, for example, and the answer will generally stay the same. That kind of content will continue to generate website traffic and serve as a touchpoint in your audience's path to purchase.
In comparison, a time-sensitive topic, like coffee bean shortages, will age out fast and attract little-to-no traffic. Your business doesn't want to invest its time or money in this kind of content because it will diminish your ROI from SEO substantially. Instead, focus on evergreen topics, and optimize them for users and search engines.
If you need help developing and creating evergreen content for your website, WebFX features a dedicated team of SEOs, copywriters, and graphic designers that can work with you to produce long-lasting, A+ content for your site.
5. Re-optimize past content
Content refresh and re-optimization matters to your SEO ROI for three critical reasons:
Content decays over time: Outdated content can lead to lower rankings in search results because searchers (and search engines) recognize that it's old, whether due to its published date or information, which can make it irrelevant to a user's search.
Content carries long-term value: Updating evergreen content can maximize its value and impact on your bottom line. Content updates, for instance, can help a blog post or product page go from page two to page one.
Search intent evolves: New technology, regulations, and standards can all shift search intent. Updating your content to account for these changes can help keep it fresh and relevant, as well as ranking high in search results.
For the best results with this strategy, follow these tips:
Start with pages that rank on page one, two, or three
Look at the search results to determine the search intent
Conduct keyword research to find additional keywords to target
Use the core keyword in the title tag and first 100 words
Update any outdated practices, studies, or statistics
Check every page's mobile-friendliness and page speed
Add helpful images, videos, or GIFs
Once you update a page, submit a crawl request in Google Search Console. Google may take a few days or weeks to crawl the page, but when it does, it'll see the updated information. Once this information enters its index, Google can move forward with tweaking its search results — and your position in them.
Re-optimizing content can seem like another to-do on an already long to-do list. It's understandable, too. If that's how you feel and you're looking for help, WebFX can provide support through our award-winning SEO team.
And remember — measure your ROI
A tremendous benefit of digital marketing strategies like SEO is the ability to measure and track your results.
Getting the most value from this benefit, however, requires using the right tools, like Google Analytics. Here are a few tips for getting started with Google Analytics:
Besides Google Analytics, you can also use MarketingCloudFX. This proprietary ROI-tracking software, which all our clients receive access to, makes measuring and monitoring the ROI of your SEO, as well as other online marketing strategies easy. It'll import and break down Google Analytics data, plus data from other third-party tools, like Salesforce.
You can also access MarketingCloudFX on the go from your smartphone, which makes catching up on your strategy and its performance fast and simple. Together, these tools can make your life (and SEO ROI calculations) easier.
Looking for an all-in-one SEO audit tool? You've found it.
SEO Checker provides data on key metrics to give you:
Complete SEO score

Content Grade

Site Speed Analysis

and more.
Help your business improve its leads, sales, and revenue with SEO
SEO is a powerful digital marketing strategy because of its ability to generate long-term revenue.
Getting the most value from SEO, however, requires taking a strategic approach with your SEO plan. Focusing on tactics that can deliver big wins, like mobile-friendly design, can have a massive impact on your company's ability to generate leads, sales, and revenue online. If you're looking for some help with maximizing SEO's long-term benefits and ROI, WebFX can help.
With online marketing strategies like SEO, we've helped our clients earn more than $3 billion in revenue in the past five years, plus more than 7.8 million leads. Learn how we can help your team by contacting us online or calling us at 888-601-5359!
Sarah Berry is a Google Analytics-certified

Web Marketing Consultant at WebFX

. She's written over 400 articles on digital marketing, covering topics like SEO, CRO, and Amazon. When she isn't polishing her Time Magazine Person of the Year Award, she's spending time with her flock of ducks.

WebFX is a full-service marketing agency with 1000+ client reviews and a 4.9-star rating on Clutch! Find out how our expert team and revenue-accelerating tech can drive results for you! Learn more
Try our free SEO Checker
Boost your site's search performance with our free SEO Checker. Analyze your website for optimization tips on titles, headers, content, speed, and more. Get a free report now to enhance rankings on Google, Bing, Yahoo, and beyond!
How Is Your Website's SEO?
Use our free tool to get your score calculated in under 60 seconds.
Try our free SEO Checker
Boost your site's search performance with our free SEO Checker. Analyze your website for optimization tips on titles, headers, content, speed, and more. Get a free report now to enhance rankings on Google, Bing, Yahoo, and beyond!