April 30, 2021
14 minute read

Jessica is a Google Analytics certified Digital Video Analyst at WebFX. She has created over 100 videos for the WebFX YouTube channel (youtube.com/webfx) in the last two years. Jessica specializes in video marketing and also loves content marketing, SEO, social media marketing, and many other aspects of digital marketing. When she's not creating videos, Jessica enjoys listening to music, reading, writing, and watching movies.
Yes, your favorite beauty influencers and fishing gurus have a YouTube marketing strategy. In fact, most brands that use YouTube have (or should have) a YouTube marketing plan in place. If you're looking to create or grow your YouTube presence, you've come to the right guide.
We'll cover everything from creating your account to promoting your videos outside of YouTube, so keep reading to learn more!
YouTube marketing strategy overview
YouTube is more than just a social media platform.
It's actually a major player in the search engine game with over 2 billion users logging in every month to watch videos.
Just think about this. How often have you turned to YouTube to get an answer to one of your questions?
From tutorial videos to vlogs, YouTube has content for nearly every query. YouTube also offers robust advertising solutions for businesses of all sizes.
The company reported nearly $7 billion in revenue in the first quarter of 2023, meaning advertisers see the value in purchasing YouTube ads.
When creating non-paid content for YouTube, this is where long-form video shines.
A typical social media video, such as one posted to Facebook or Twitter, performs best when it's under a few minutes long. On the other hand, YouTube videos do better when they're over five minutes long.
Some video experts recommend keeping your videos between six and eight minutes, but this number is not set in stone.
In just one example, YouTube tech creator Marques Brownlee uploaded a nearly 50-minute video that has received over four million views at the time of writing this blog post.

What you create depends largely on your audience, which we'll discuss more in a bit! Since YouTube is both a search engine and a social media platform, you have the opportunity to optimize videos for better visibility and interact with your audience.
Audience engagement can even help your videos perform better in the search results.
And just like other social media platforms, you can also engage with your audience on your ads.
We're heading into the really important stuff! Let's go over how to shape your YouTube strategy.
How to plan a YouTube video marketing strategy
When first diving into YouTube for your business, it's critical to understand why you want to create content and who you want to reach with that content.
Understand your audience
Knowing who your videos are meant for can help you shape your messaging, your script, and everything in between.
Does your audience appreciate humor, or would they prefer you get to the point? Will they stick around for a long product tutorial, or would a quick product overview video work just as well?
If you already have some sort of active presence on YouTube, you can use the YouTube Analytics platform to get a better understanding of who is watching your videos. You can take away ideas such as which types of videos people enjoyed most, the demographics of your viewers, and where people are watching your videos.

Subscribing to a paid tool like VidIQ can also give you insights into what your audience likes most, including the additional channels and other videos your subscribers like.
If you aren't established on YouTube, take some time to figure out who you target with your other marketing efforts. If you have personas or any other audience information available to you, use that to flesh out your target audience.
Once you know who will watch your videos, you're ready to determine what you want to achieve.
Set your goals
Creating goals for your YouTube marketing strategy can help you align all of your content for a more cohesive experience.
These goals go further than video views or subscribers.
Some overarching YouTube goals you may want to consider are:
Boosting audience engagement
Increasing website traffic
Growing sales
The goals you set for your YouTube channel will help determine the type of content you create.
If you want to increase sales, maybe you invest more time in product-centric videos like tutorials or demos. You may also want to look into YouTube advertising to increase purchases.
If you're just looking to grow your audience and boost engagement, educational videos may do the trick.
Knowing what you want to achieve can help you determine the type of channel you will run.
Decide what type of YouTube videos you'll create
Now that you know your audience and what you want to get out of your YouTube channel, you can decide what type of content you'll create.
While you don't necessarily have to stick to one specific type of video, it's best to put more energy into the content that will drive results.
At WebFX, for example, our YouTube channel focuses primarily on educational content. We cover a variety of digital marketing topics to help educate marketers, but we occasionally share content about our company culture and our services.
We post videos every Monday. Yup. Every Monday.
Join the 5,000 marketers who get their marketing knowledge from WebFX videos.
Subscribe Now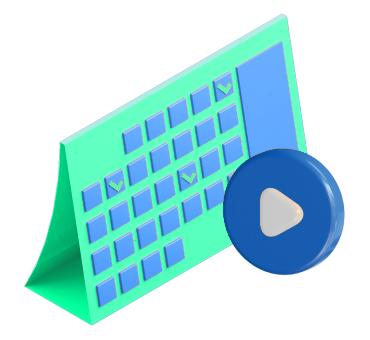 Four types of YouTube marketing videos you can create are:
Educational videos, including tutorial videos, industry update videos, and explainer videos
Company culture videos, including event videos and brand videos
Product or service videos, including demo videos and launch videos
Testimonial videos, including client and employee testimonial videos
For a complete explanation of video types, check out our blog post on video marketing!
Create your YouTube channel
You can't create a YouTube marketing plan without having a YouTube channel. Luckily, creating a channel doesn't take a long time.
If your business has an existing Google account, just log in to YouTube with your credentials. If you don't have a Google account, you need to create one.
Go to YouTube and click the "Sign In" button at the top right corner. YouTube will take you to a page where you can create a new account for yourself or your business.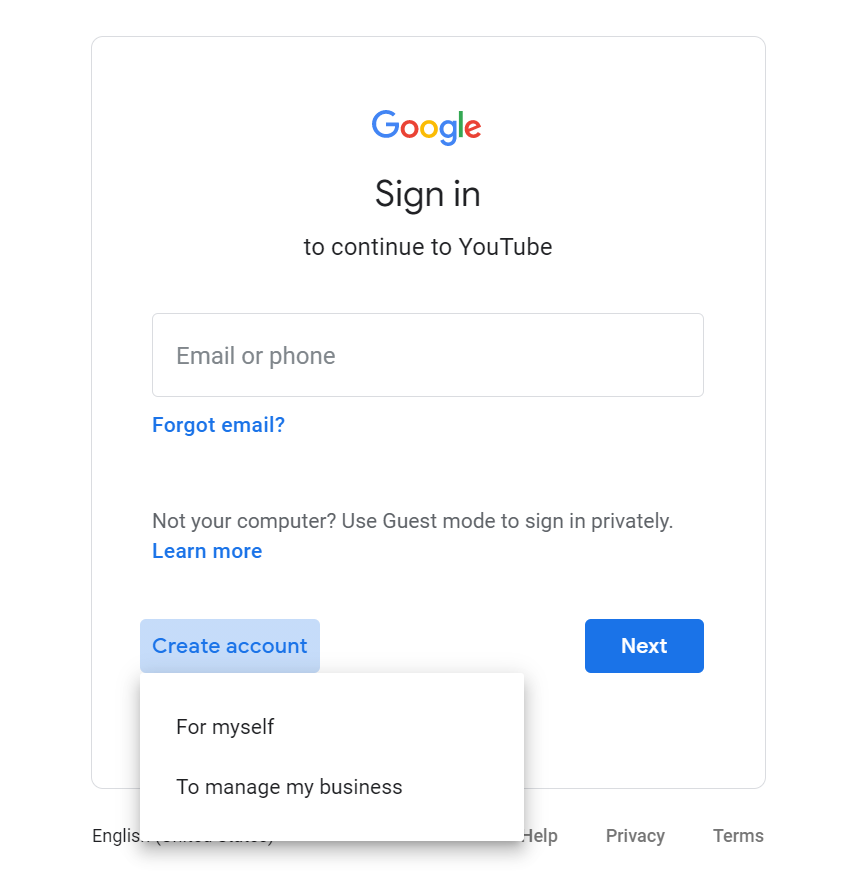 Once logged into YouTube, you may notice your Google avatar in the top right corner.

Click on the avatar and select the option to "Create a channel."
Follow the prompts on the screen and enter any information you may have to get your channel in shape. You can always make changes to your channel information after the initial setup process.
You may want to consider setting up a Brand Account for your channel so that you have an easier time growing your YouTube presence in the future. You can learn more about Google Brand Accounts on Google's support pages.
Speaking of brands, making sure your channel aligns with your brand is crucial to your YouTube marketing strategy.
Incorporate your branding
When setting up your account, you'll want to ensure all of the graphical elements and text descriptions you use match the rest of your branding across different marketing channels (like your website, Facebook account, or LinkedIn account).
Start with simple things like your profile picture, banner, and watermark, and then work your way up to your channel trailer. In YouTube Studio, you can upload custom graphics for your channel under the "Customization" tab.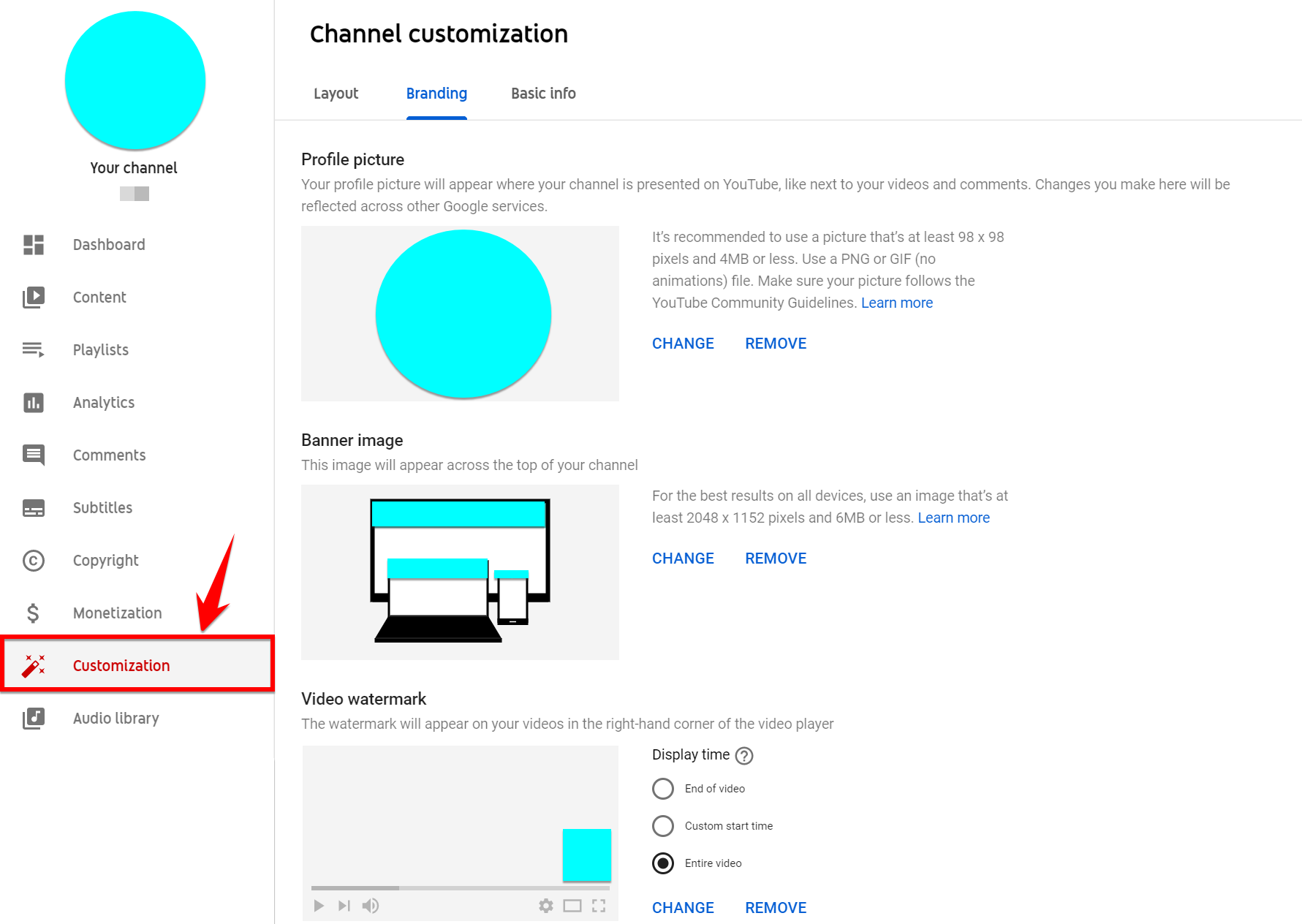 Just make sure you follow YouTube's guidelines for channel graphics when uploading.
Also under the "Customization" tab, you can add your channel trailer and some basic info about your business.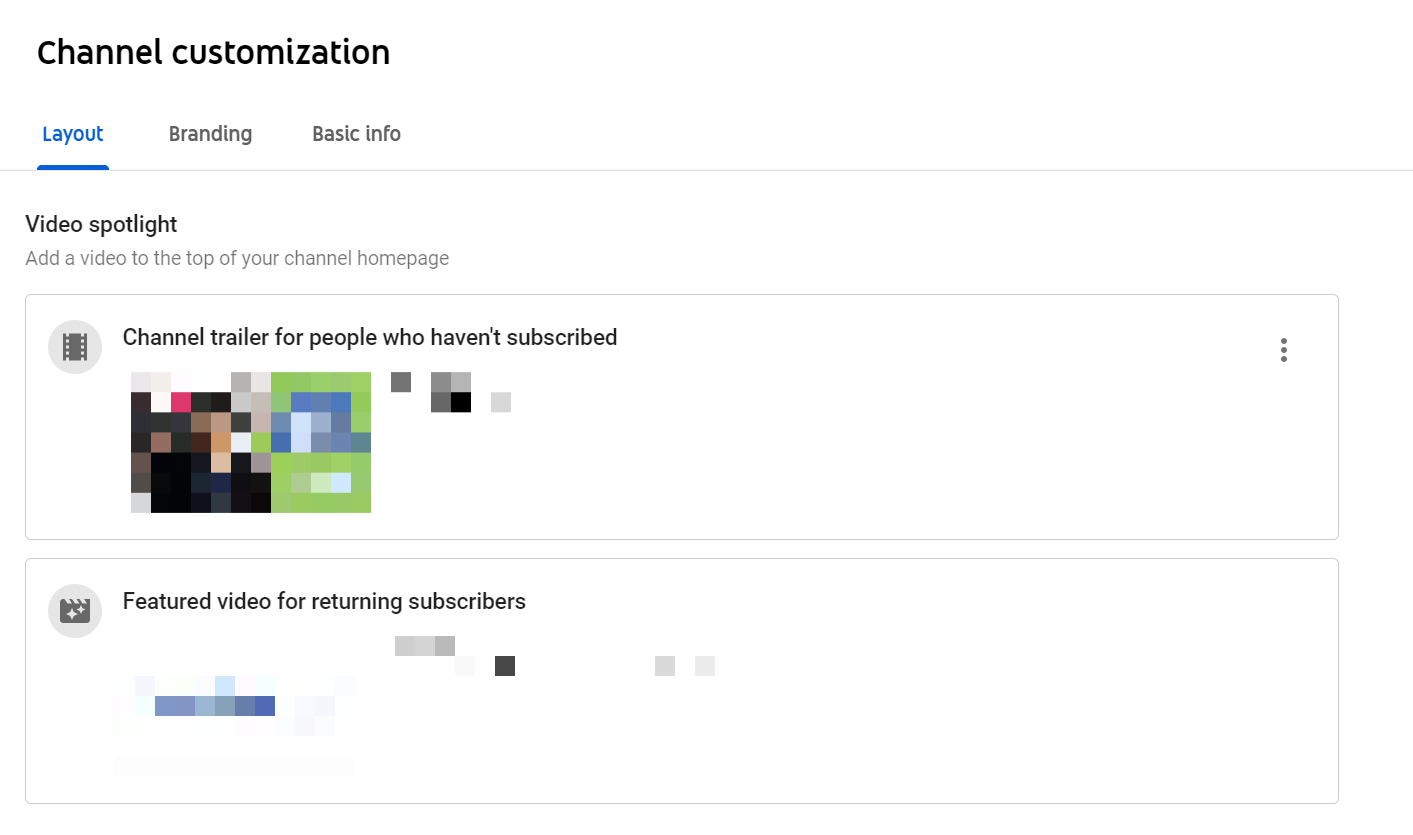 Your channel trailer should tell people what they can expect from your channel and why they should subscribe, while your business info should tell your story and give people a way to find your website. Once you have enough videos, you can also start to organize them into playlists for people to browse when they land on your channel page.
Learn the Best Times to Post YouTube Videos
Produce your YouTube videos
So you have a channel and know what you want to accomplish.
It's time to start producing valuable content for your audience.
Write your script
When coming up with a plan for your first video (or any video), write everything down. If someone is going to be speaking on camera, either write a script or create an outline.
Stepping in front of the camera without a plan can result in a rambling video without a purpose. And a video without a purpose does not help you achieve your goals.
When writing your script, keep three principles in mind:
Write in a conversational tone.

You usually speak more casually than you write.

Write for your audience. If you're breaking down a complex topic to people who aren't in your industry, avoid jargon or explain more complicated terms.
Give your video talent time to read through the script in advance. This will help keep the shoot moving and avoid errors caused by unpreparedness.
Even if you're shooting a product video with no one on camera, have some sort of plan so you know what shots you need for a complete video. You'll cut down on production time if you know what you want going into a shoot.
Shoot your video
You can shoot a professional-looking video with minimal equipment.
Here are a few tips for recording a great video on your own:
Use the camera you have available. Your smartphone likely has a great video camera.
Steady your camera with a tripod or on a flat surface.
Keep the camera at or slightly above eye-level if recording with a person.
Shoot in a quiet location to avoid picking up unwanted noises if recording audio.
If recording audio with a camera or phone's built-in microphone, keep the camera as close as possible to your subject to limit the amount of noise it picks up. Even a "quiet" room makes noise.
Adjust the lighting in your room as necessary. Don't be afraid to move a lamp or open a window for more natural light.
There's a good chance you'll need to edit your video, and it's not as scary as it may seem. We put together a blog post on the best video editing software for your business to make your life easier. After you've created (and reviewed) your video, share it with the world!
Promote your YouTube videos
As mentioned at the beginning of this blog post, YouTube is a search engine.
That means you should take some time when uploading your videos to optimize them, a practice known as YouTube SEO.
Side note: To upload your videos, just click the "Create" button and follow the prompts from your YouTube Dashboard.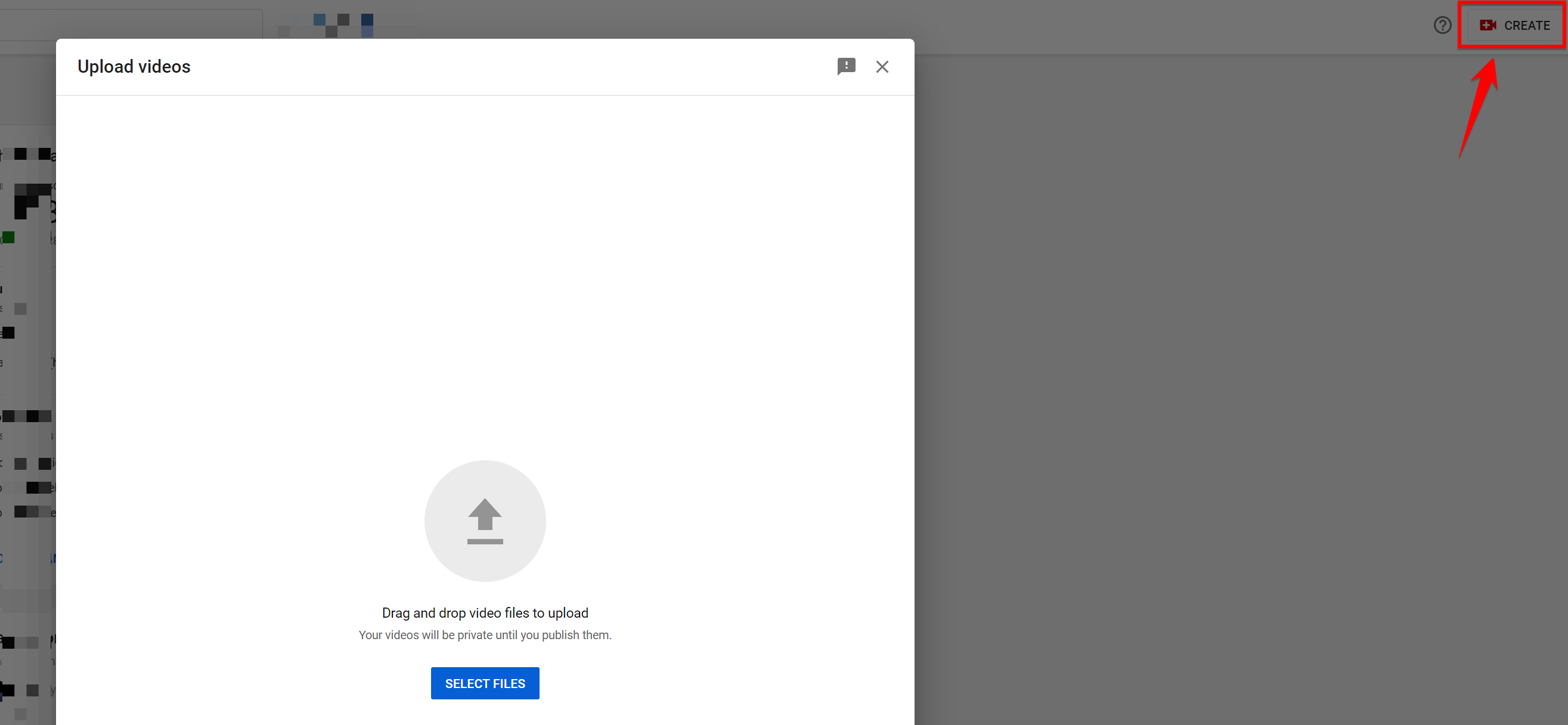 The crux of YouTube SEO is keyword optimization. You can set keywords at the channel and video level.
Channel Keywords
Channel keywords help tell YouTube what your channel is about, which ties back to the earlier point about knowing what type of content you want to create for your YouTube strategy.
You can set your Channel Keywords by going into your channel settings and updating your "Basic Info."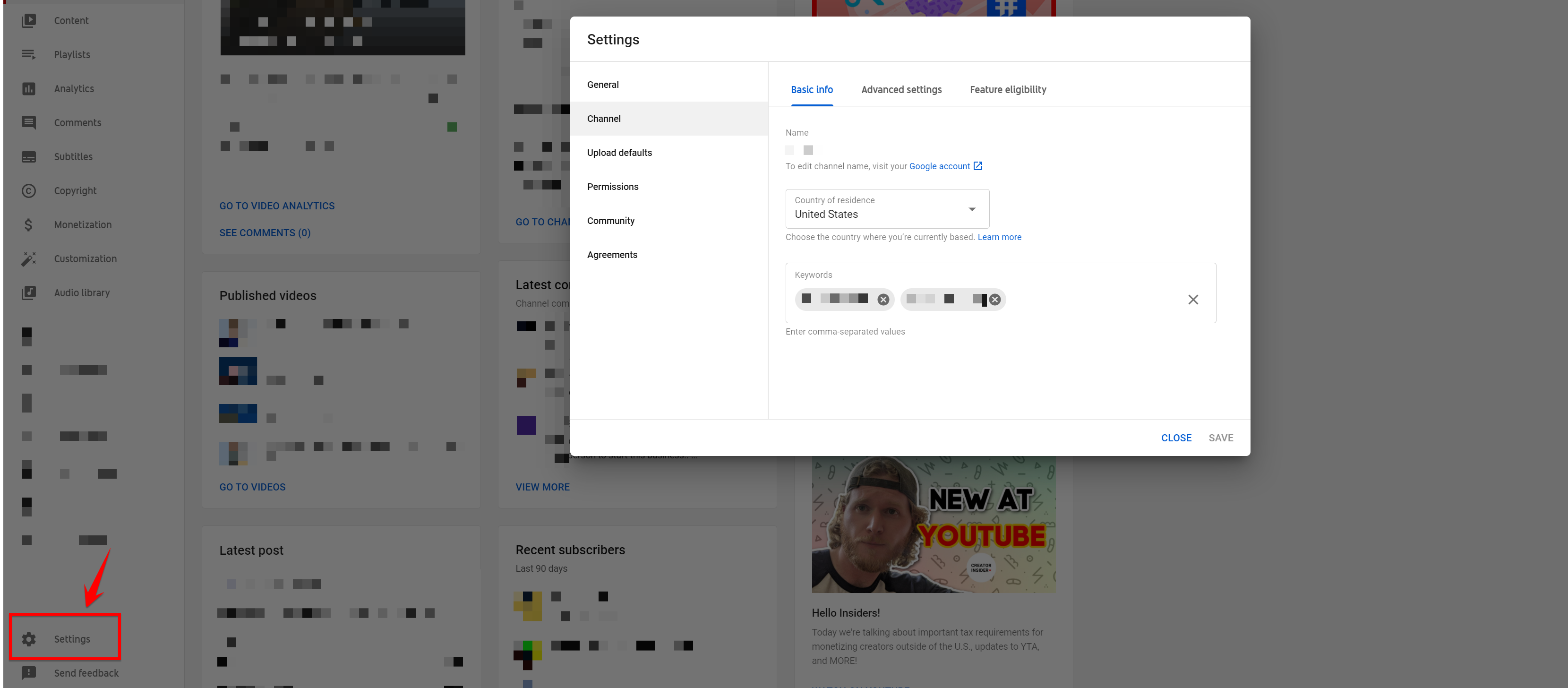 Channel Keywords also come into play with your channel description, so make sure you include them when you're working on your channel's branding.
Video Keywords
Every YouTube video needs a title, a description, subtitles, and tags.
These four locations are where you'll want to use your target keywords.
Before creating your video, take some time to look at what similar videos use for their keywords.
The free versions of both VidIQ and Tube Buddy are great for telling you which keywords you should jump at and which may be a bit more difficult to rank for. If you have a script for your video, try to use your keywords naturally throughout. The keywords will reappear as part of the subtitles when you upload your video, helping YouTube understand more about your video.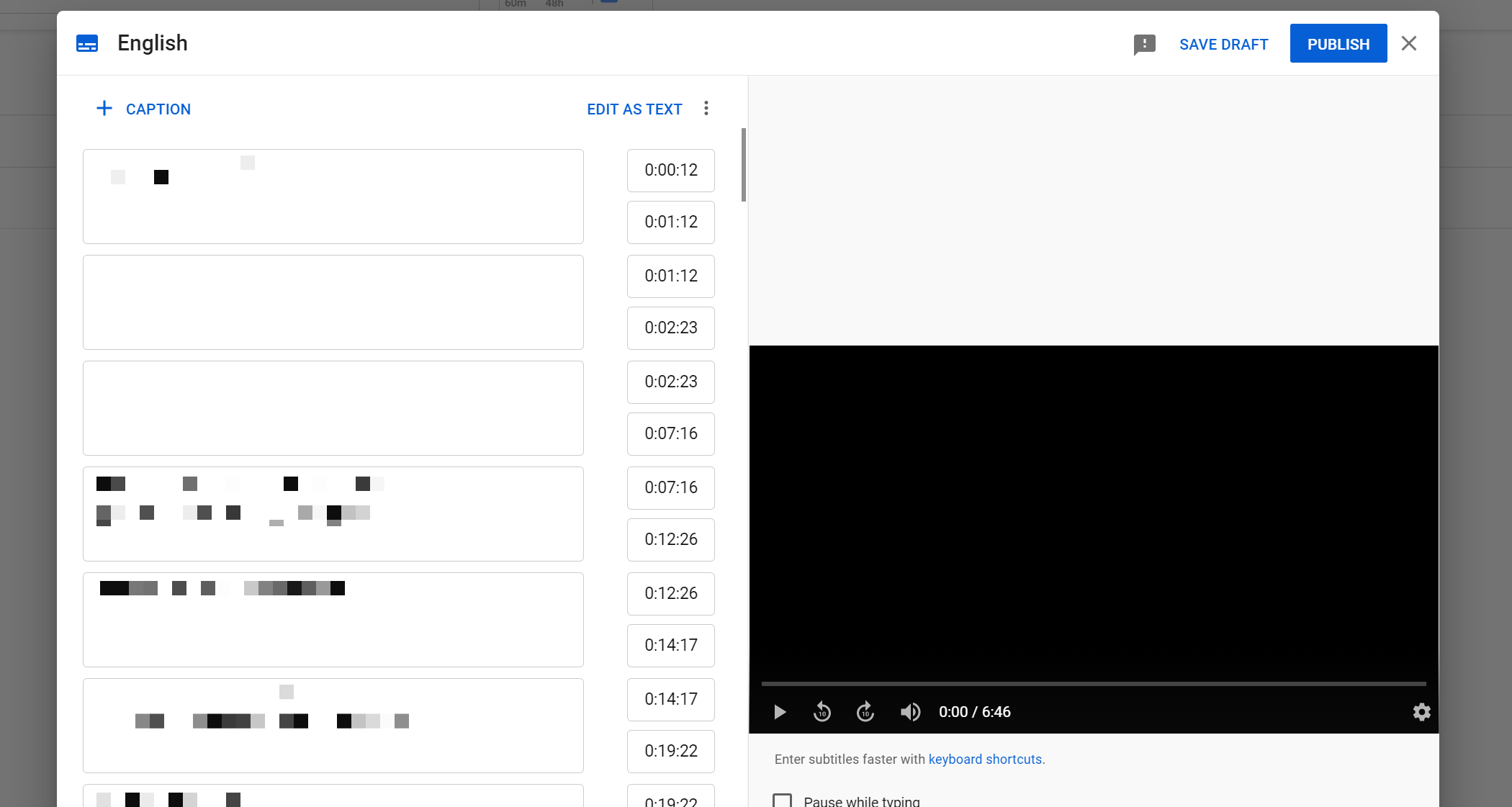 Use your target keywords in your title and description where they make the most sense.
While tags play a small role in YouTube SEO, it can't hurt to implement your keywords there, too.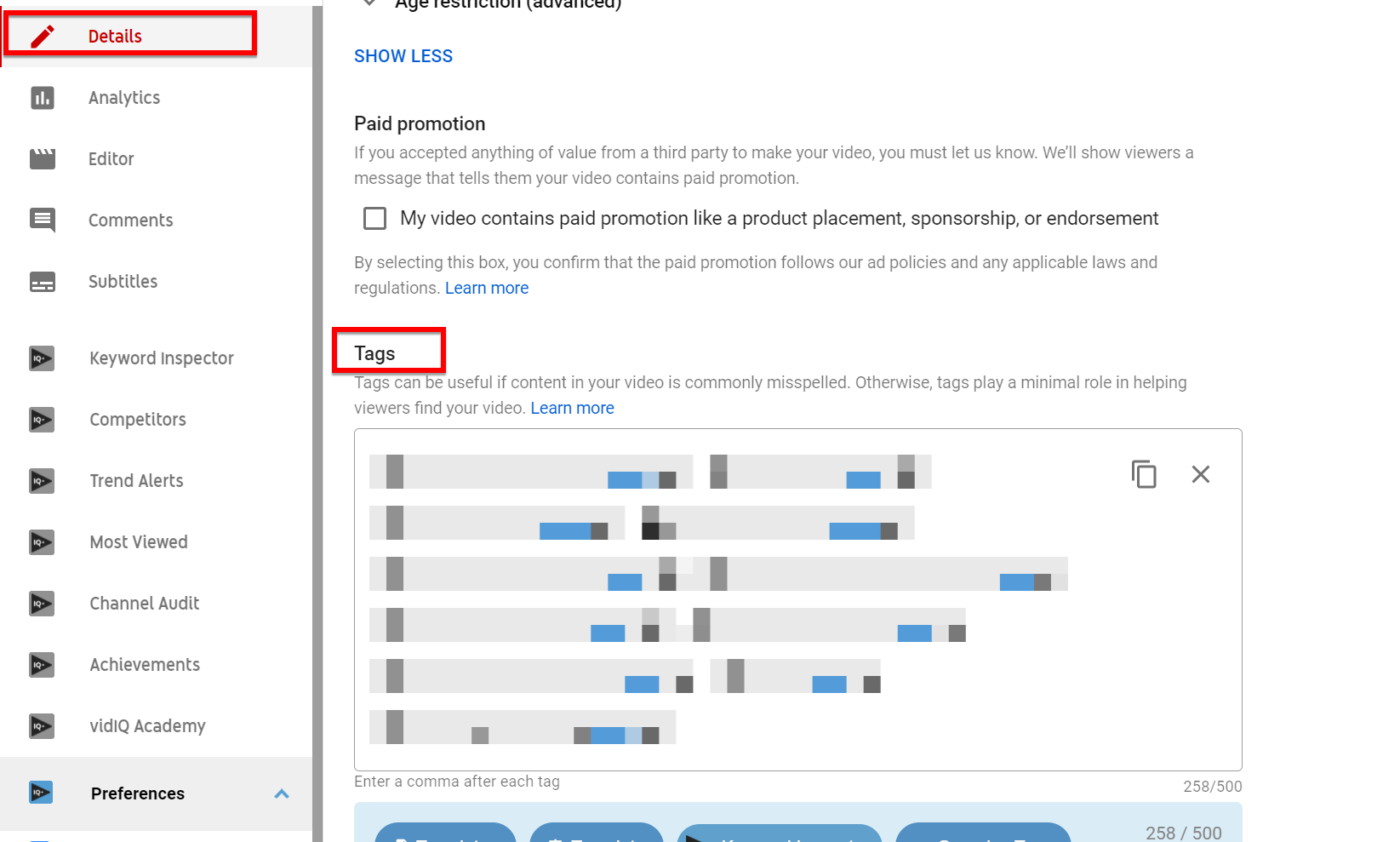 You'll have the opportunity to edit all of these pieces of information when uploading your video.
You can also make changes to your video metadata after it's uploaded by clicking the pencil icon next to each video in the "Content" section of your channel.

After your video is public, you can promote it on other platforms such as:
Your website
Your social media accounts
Your email newsletters
YouTube ads are a whole different ball game, so check out our guide on YouTube advertising to learn more about optimizing your paid strategy.
Review your video analytics
A marketing strategy for YouTube is not complete without reviewing your video performance.
On a regular basis, whether that be weekly, monthly, or quarterly, use YouTube Analytics to track how your videos are performing.
You can also view website traffic from YouTube on Google Analytics (if you have that set up for your business).
As an example, in your Google Analytics account, go to "Acquisition," "Social," "Network Referrals," and click "YouTube" to see which pages are getting traffic from YouTube.

If you've determined that you're hitting your goals, keep doing what you're doing! If not, you may need to shift your YouTube strategy a bit.
Don't forget to check in on your competitors! Take a look at what content they're producing, how they're interacting with their audience, how many subscribers they have, and any other information that will help you formulate a plan.
Is there anything you should be doing better?
Regularly watch popular YouTube videos to understand what makes them so popular.
Is there anything you can learn from channels that are doing well, even if they're not directly a competitor?
If you follow this YouTube video marketing guide, you're on your way to YouTube stardom.
For help with your YouTube marketing plan or YouTube advertising strategy, don't hesitate to reach out to our team at WebFX. Our video marketing experts are happy to help your business grow.
Jessica is a Google Analytics certified Digital Video Analyst at WebFX. She has created over 100 videos for the WebFX YouTube channel (youtube.com/webfx) in the last two years. Jessica specializes in video marketing and also loves content marketing, SEO, social media marketing, and many other aspects of digital marketing. When she's not creating videos, Jessica enjoys listening to music, reading, writing, and watching movies.

WebFX provides digital marketing solutions with expert marketers, designers, and developers to increase visibility, conversions, and revenue.

Learn more
Try our free Marketing Calculator
Craft a tailored online marketing strategy! Utilize our free Internet marketing calculator for a custom plan based on your location, reach, timeframe, and budget.
Plan Your Marketing Budget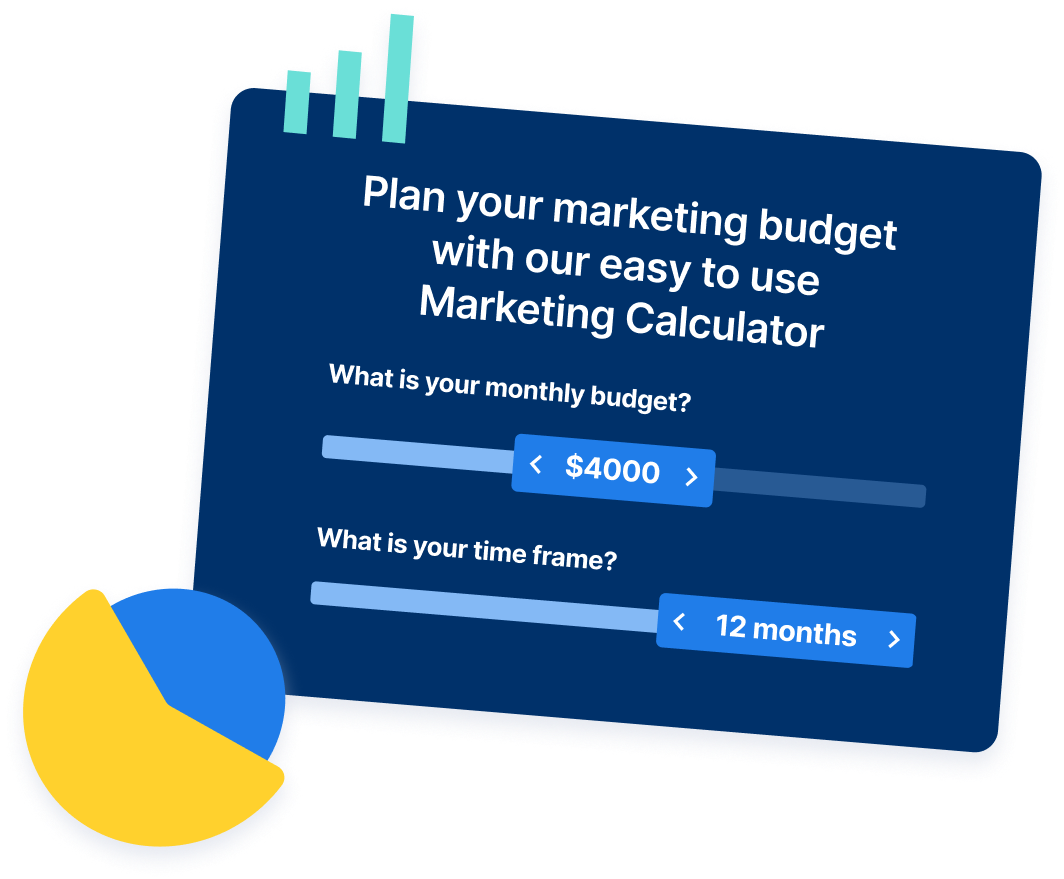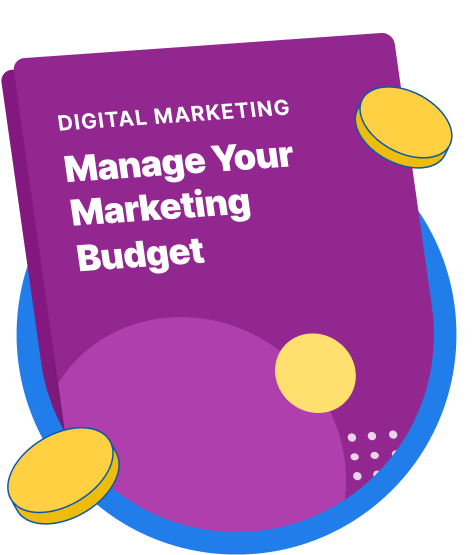 Maximize Your Marketing ROI
Claim your free eBook packed with proven strategies to boost your marketing efforts.
Get the Guide
Try our free Marketing Calculator
Craft a tailored online marketing strategy! Utilize our free Internet marketing calculator for a custom plan based on your location, reach, timeframe, and budget.
Plan Your Marketing Budget