Have you ever browsed on Instagram and seen a post that you would love to share with your followers but didn't know how to share it?
Since Instagram doesn't have a share or reshare button like Facebook or Twitter, you may feel like it isn't an option with Instagram — but that's not true.
In this post, we'll tell you:
Keep reading to learn more!
P.S. Do you feel like you're always the last to know about the latest marketing trends and changes? Stay ahead of the curve by subscribing to our newsletter, Revenue Weekly, for insider tips and tricks for keeping your marketing active and current!
How to repost on Instagram: 2 ways to reshare content on Instagram
If you want to know how to share a post on Instagram, there are two options:
1. Take a screenshot of the post
The best way to repost on Instagram is to take a screenshot of the content you want to share. If you find a post you like, you can take a screenshot on your iOS or Android device.
Then, you can go into Instagram and click the plus sign in the top right corner.

Choose the photo you screenshotted and crop it, so only the image appears in what you're posting. Then, create your caption and make sure you give credit to the original poster (we'll discuss this more later). After you add your caption, you can share it with your Instagram profile followers.
This option is an easy way to reshare relevant content with your audience.
2. Use an Instagram reposting app
If you don't want to take screenshots of posts to repost on Instagram, you can use an Instagram reposting app. These apps integrate with Instagram, so you can take Instagram posts you see and share them on your page.
There are numerous popular tools for reposting on Instagram, including:
Each app has a different process for getting reposted content on Instagram.
For example, with Repost: For Instagram, you must copy the URL for an Instagram post you want to reshare. You go into the app, and it'll automatically show up there. From that point, you can caption the content and share it to your Instagram profile.
This option is ideal if you want to share video content, because you can't screenshot videos to deliver the full experience. These apps make it easier for you to repost on Instagram and share content with your followers.
4 tips for reposting on Instagram
Now that we've covered how to repost an Instagram post, you're ready to start reposting. When you're reposting on Instagram, though, there are a few things you want to keep in mind, so you can do sharing without a hitch:
1. Get permission to repost
The first thing you need to do before anything is to get permission to repost someone's content. You don't want to share content to your profile without someone knowing you're doing it. Generally, it's best practice to ask the user first if it's okay to share their content.
If you don't want to go through the tediousness of asking every time you see content you like from someone, you can contact them and ask them if you can share any of their content now and in the future related to your business or industry. This option is excellent if you follow industry authorities or someone posts about your brand often.
While you aren't required to ask permission, it's the sensible thing to do. You don't want people to find out you shared their content and didn't ask if it was okay and have them get upset with you. Asking permission will save you from trouble in the future.
2. Always give credit in your captions
Along with asking permission when you repost on Instagram, you also want to ensure you credit the content source. Giving credit is essential because it shows you're not trying to take someone else's content and pass it off as your own.
This practice is critical if you're reposting original content from someone. It won't sit well with people if you're taking their content and not giving them credit for creating it.
Giving credit is also a great way to make customers feel special. If someone created a video about your business, and you share it to your profile with credit, they're going to feel unique to your brand. It helps build more brand loyalty that creates repeat customers.
3. Don't completely edit the photo
If you reshare content on Instagram, don't completely edit the media you reshare. Many people try to add filters to the photos, slap on stickers, or something similar. While those features can be a fun way to jazz up content, you want to keep the reposted content as authentic as possible.
Not to mention, editing someone's photo could come off the wrong way, especially if they don't know about the changes.
That doesn't mean you can't make minor edits to the photo. If you need to edit the image for a specific reason, make sure you talk to the person whose content it is and discuss it with them. Again, permission is vital for doing Instagram reposting right.
4. Keep posts on-brand
When you learn how to repost on Instagram, you may feel compelled to share any post you see related to your business or industry. Before you do that, you need to consider if the post fits with your brand.
You're still sharing content to your profile, so you don't want it to stick out, even if it's a great representation of your brand. All the posts you share should meld together nicely, so it looks as though all the content comes directly from you.
Target, for example, reposts a lot of content from its audience. However, this content blends in with all the other content they share.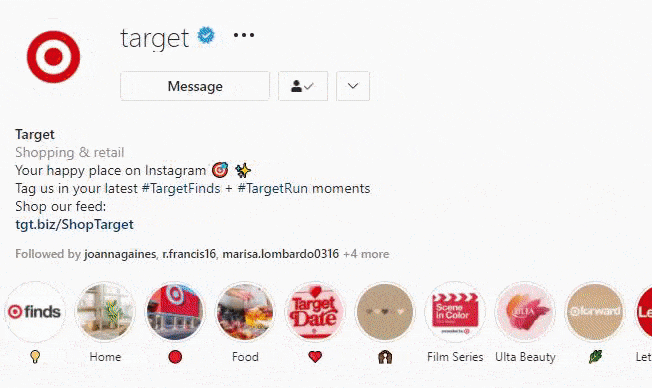 If you find content that doesn't fit your brand's aesthetic, this may be an opportunity to talk to the original content creator about making minor edits. For example, if you post all your content in black and white, and they post a picture in color, you may ask to use the black and white filter to fit your aesthetic.
You want to ensure that your content stays on-brand, so it fits with everything else you post.
Not happy with your social media engagement?
We've got just the blog post for you.
Read the Blog Post & Watch the Video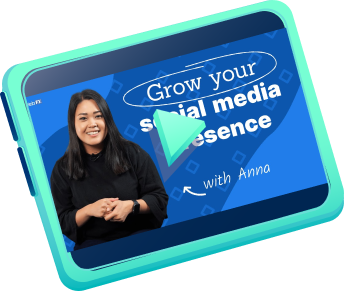 Why repost on Instagram?
Reposting on Instagram is an excellent opportunity for your brand. Here are two big reasons you'll want to give resharing content a try:
1. It takes time to create high-quality content
When you're marketing your business online, one consistent issue you'll run into is finding time to create content. If you're using multiple social media platforms or multiple marketing strategies, you may find you're always pressed to find time to create new content.
With social media platforms being a place where you need to post content frequently, it can be tiresome to try and consistently create new content. Instead of constantly trying to get the creative juices flowing, you can rely on others' content to help fill the gaps.
Reposting this content enables you to have fresh content continuously flowing on your profile without doing much extra work.
2. User-generated content is valuable
The second benefit of learning how to repost an Instagram post is that it enables you to share user-generated content. This content is extremely valuable to your business because it allows you to provide customer insight to your followers.
People trust others' experiences and often turn to things like reviews to help them make purchasing decisions. User-generated content serves as a review or recommendation of your business. These provide authentic experiences of your brand, which can help convince people to choose your brand.
Start reposting on Instagram today
Now that you know how to repost on Instagram, it's time to start reposting content! If you need help managing your Instagram account, look no further than WebFX. Our team of over 500 marketing experts can help you ramp up your Instagram marketing efforts.
Our team of social media experts knows how to create Instagram posts that drive results. In the past five years, we've driven over $3 billion in revenue and over 7.8 million in leads for our clients. We'll help you maximize your results with social media marketing.
Ready to ramp up revenue for your business? Contact us online or call us today at 888-601-5359 to speak with a strategist about our social media marketing services!
WebFX Careers
Join our mission to provide industry-leading digital marketing services to businesses around the globe - all while building your personal knowledge and growing as an individual.