Maria owns a business and wants to find a new way to connect with people interested in her company. She discovers that social media is a great place to connect with leads and deliver valuable information to them. As she researches, however, she keeps seeing sites that say, "Organic social media is dead!" Is this true?
No. The scope of social media has shifted over time as more platforms push out paid advertising options. This shift, however, doesn't mean that organic social media has lost value.
Organic social media posting is still a valuable opportunity for you to connect with leads and get them to engage with your brand. On this page, we'll look at:
Organic social media content vs. paid social media content
Benefits of posting organic social media content
How to do organic social media successfully
P.S. Want to get the latest tips and tricks for marketing your business online? Join 200,000 marketers by subscribing to Revenue Weekly!
Organic social media content vs. paid social media content
When you look at organic social media content, you'll see many people mention paid social media content in conjunction with it. So, what's the difference between these two?
Organic social media
Organic social media, a type of organic marketing, involves posting content on your company's profile. You don't pay for this content and can post as much content as you want on your page.
People will see this content in their feed if they follow your business or if someone who follows your company shares your posts. You can post content on any social media platform, like:
If someone discovers your business's profile for the first time, they can see all the content you've posted prior.
Paid social media
As the name implies, paid social media involves paying to run ads that appear in both your followers' and target audience's feeds. These paid advertisements don't appear on your company's profile. Your audience can only see them if they're targeted with the ad, and it appears in their feed.
With paid ads, you pay every time someone clicks on your ad. It's valuable for building brand recognition as well as capturing new followers and leads.
BONUS READING: What is Enterprise Social Media?
5 benefits of posting organic social media content
When you learn about organic social content, you may wonder how it will benefit your business. Here are five benefits of posting organic content for social media.
1. It's free to have a social profile
The most significant benefit of organic social media content is that it's free to use. It doesn't cost you anything to create a profile and post content. When you can make a free profile, it makes organic social media a cost-effective marketing option, which appeals to many businesses.
2. You can connect with your audience and solve problems
Posting organic social media content enables you to build a connection with leads interested in your products or services because you put content directly in front of them. Additionally, many people will use your organic content as a chance to express problems or concerns, which you can promptly solve by responding to them directly or encouraging them to direct message you.
3. You build a community of brand lovers
Creating a social media profile enables you to build a community connecting people who love your brand. It allows you to deliver information directly to these brand lovers to get them to turn into customers for your business.
4. You deliver valuable information fast
Posting organic content for social media enables you to deliver valuable information fast. You can post information for your audience that they can see immediately or find later when they look at your profile. It makes your social profile a one-stop-shop for information about your business.
5. You can tell your brand's story
Doing organic social media enables you to tell your brand's story to your audience. You can help your audience get to know your business better by posting organic content frequently, which enables you to nurture these followers towards conversion. You can post facts about your business, employee spotlights, and share your company values.
All these insights help you tell your brand's story and enable people to get to know your business better.
Not happy with your social media engagement?
We've got just the blog post for you.
Read the Blog Post & Watch the Video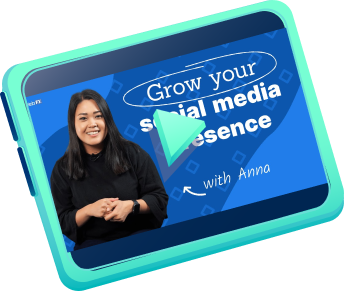 How to do organic social media successfully
Want to get started with organic social media? Check out these six tips for posting organic social content!
Focus on the right platforms
Successful organic social content starts with choosing the right platforms. You don't need to have a presence on every social media platform — you only need to focus on platforms where your audience spends their time.
Look at the demographics for social media users on each platform. If you know who you're targeting, you can figure out the platforms your target audience uses most. You'll want to focus on those platforms to ensure you can connect with your audience.
Optimize your social profiles
Before you post organic social content, you want to optimize your social profiles.
It's always best to have a complete profile so that leads can get all the information they need when they visit your page. When optimizing your profile, make sure you:
Use your company logo for your profile photo
Add a relevant cover photo (where applicable)
Fill out your biography section
Add important contact information like email and/or phone number
Add a link to your website
Provide your address
Adding this information creates a resource page for people to get the most up-to-date information about your business. They can see the latest news about your company, get your contact information, and find your address all in one place.
Try different organic social content formats
When you're posting on social media, you want to ensure that you're posting content that keeps your audience interested and engaged. If you're continually posting content in the same format with the same subject, your audience will get bored with your business.
To keep your social media strategy lively, you need to try different social media content formats. Let's say you're building a presence on Facebook. When you look at Facebook's content options, you can post numerous types of content.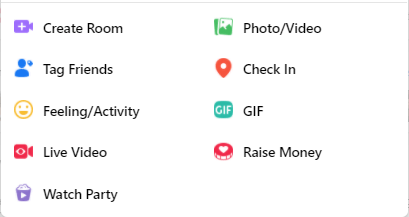 You can post photos, videos, live videos, or post a GIF. Additionally, you can share links to your blog posts or post a plain text post. However, if you run a Facebook campaign, you shouldn't post just photos all the time.
While images are great for catching your audience's attention and getting them to engage, your audience may get bored with your content. So, what do you do with a platform like Instagram, where the only options are photos and videos? If you're using a platform that has specific formats, you can keep your content interesting by making sure each post is unique.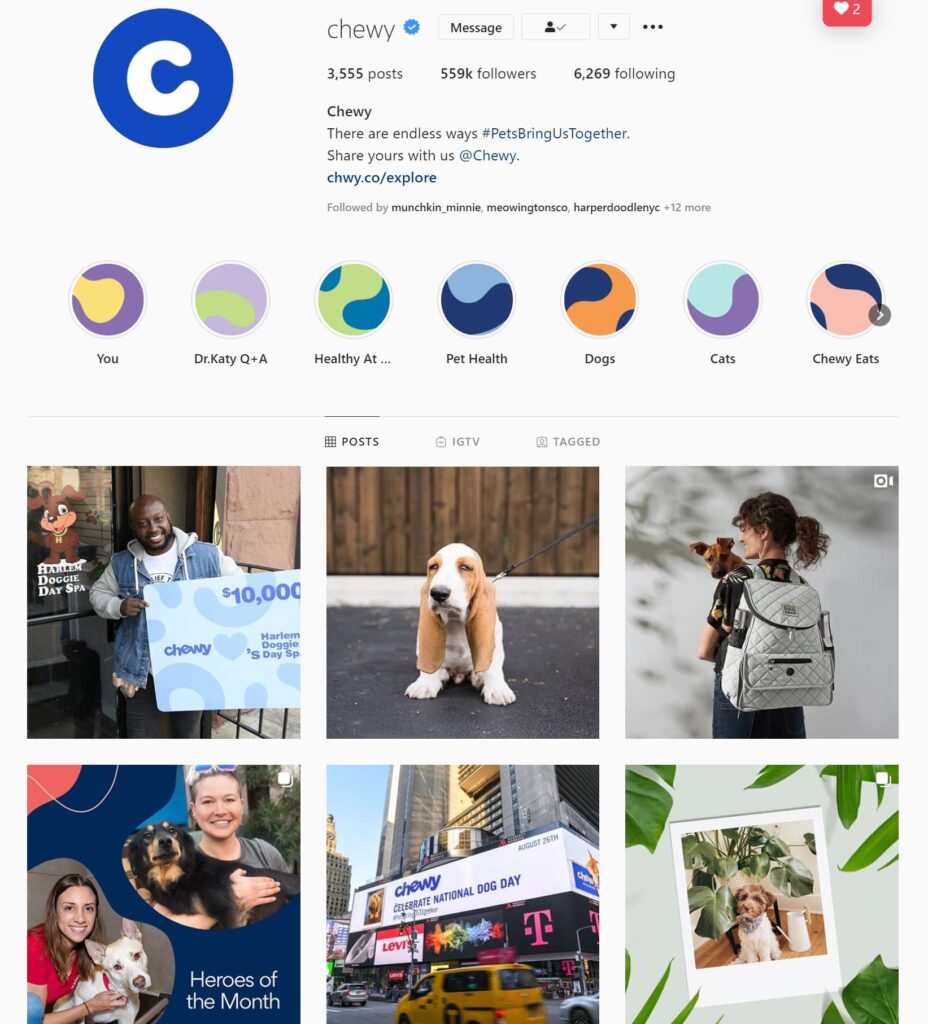 Take Chewy's Instagram as an example. They use both photos and videos in their content, but each content post is unique and presents something new to the follower. So even though they use the same formats, they keep their content fresh by posting different subjects and topics of content.
Create content that engages
Don't create organic social content for the sake of creating content.
You want to create content that will engage your audience and get them to interact with your brand. So, for example, you can post a poll on Twitter or ask a question on Facebook to get leads to comment on your post. Creating content like this encourages your audience to take notice of your content and interact with it.
Not every post needs to be a poll or asking a question. You can make content engaging by merely using a high-quality photo that catches your audience's eye or posting a video that gets them to stop and watch.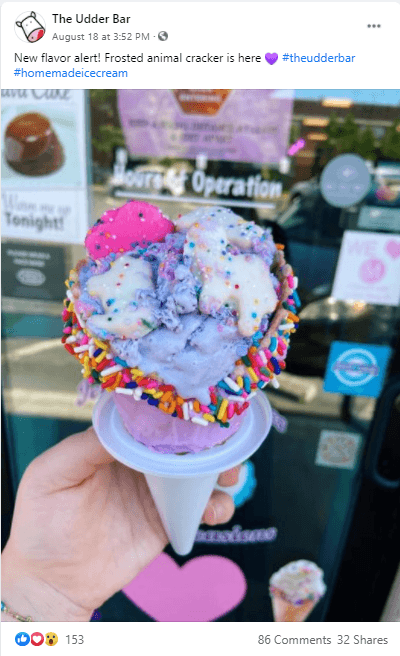 Take this example from Udder Bar, a small, family-owned ice cream shop.
They posted a bright and colorful photo of their new ice cream flavor. Despite not asking any questions or posting a poll, the post received dozens of comments.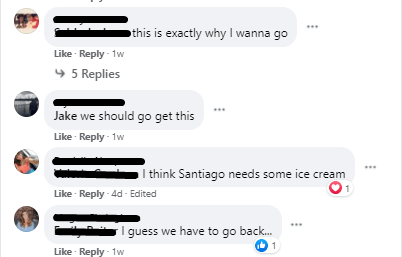 So, as you can see, simply posting a bright, high-resolution photo can go a long way in helping you garner engagement on your posts.
Figure out the right time and frequency to post organic social content
A key component of posting organic social media content is getting your timing and frequency right.
When you publish content, you want to ensure that your content reaches your audience. If you're posting it when they're not likely to see it, you won't get as much engagement on your content. You may need to test different times of day to figure out when you garner the most engagement.
It will take some trial and error to figure out when you should post your content. You'll also want to figure out the right frequency as well. You don't want to overwhelm your audience with content, but you also don't want to post so infrequently that your audience doesn't see your content.
Start by posting twice a week and see how your content fares from that point. If you don't see as much engagement, you can up the number of times you post each week until you find a frequency that works for your audience.
Balance your content
Our last tip for creating organic social media content is to balance your content. While your social profiles are a great place to promote your products or services, you don't want to bombard your audience with promotions for your products repeatedly.
You need to strike a balance between promoting your products or services and providing your audience with valuable information they want. If it fits with your brand, you'll also want to throw in some fun or interactive posts to keep it interesting for your audience. Like your timing and frequency, this process will be a test.
You'll need to test and see what the right balance is for your audience. Just know that a little bit of everything can help you create a more balanced and engaging social media presence.
Get started with organic social media content
Creating organic social media content is an excellent way for you to engage your audience and help them get to know your brand. You'll build a more substantial social media presence so more people can get to know your company.
Aren't sure where to start with your organic content for social media? WebFX is here to help. We have a team of over 500 experts that have over a decade of experience in social media.
We also have qualifications, like being a Meta Business Partner. Give us a call at 888-601-5359 or contact us online to speak with a strategist about our social media marketing services!
WebFX Careers
Join our mission to provide industry-leading digital marketing services to businesses around the globe - all while building your personal knowledge and growing as an individual.