Running an ecommerce store is very different from managing a physical retail store, and both have their own unique challenges. They also each have distinct advantages – and for ecommerce stores, the biggest one is analytics data.
When you operate online, you have the ability to track each of your customers and understand how they find your store, which pages they visit, and what convinces them to make a purchase.
Unlike in-store retailers, you never have to guess how a visitor found your site, making it easier than ever to see which of your marketing strategies work and which don't.
All you need to get started is the right set of tools. There are hundreds (if not thousands) of options online to monitor and analyze your site.
This means that no matter your needs, there's a tool to meet them – you just have to find it.
Bonus content: ecommerce stats for businesses
If you're searching for the right ecommerce analytics tools for your business, the following six are all great options that can help you understand your customers and make better marketing decisions.
Price: Free
Google Analytics is the most widely-used analytics tool on the market. If you don't yet have tracking installed on your site, this should be your starting point.
It provides in-depth information on your site's traffic, including how your visitors find you, which pages they visit, how long they stay, and much more. This data is useful for any site owner and helps you learn more about your customers and how to reach them more effectively.
For ecommerce marketers, conversion tracking data is particularly valuable.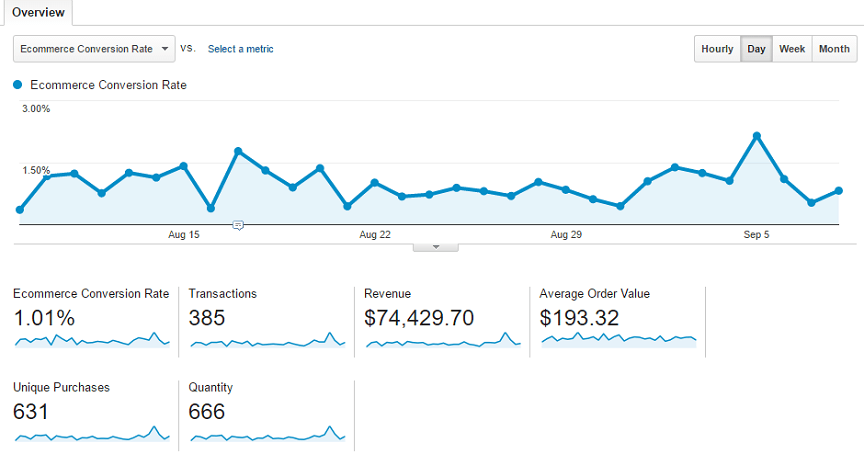 When integrated with your site's ecommerce platform, you can use Google Analytics to track all of the sales on your site.
You can see where these customers come from, which of your other marketing channels they've contacted (like PPC ads or an email newsletter), and which pages they visited on your site before converting.
Then, you can use all of this information to improve your marketing strategy moving forward.
And best of all? It's completely free.
Price: Free
Piwik is a free web analytics platform and offers many of the same features as Google Analytics. The main difference between the two is that unlike Google Analytics, which is accessible through your browser, Piwik requires users to download the software and install it on your own servers.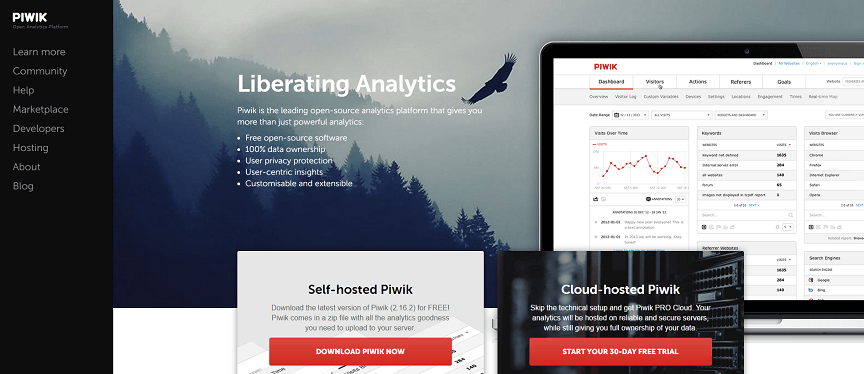 Once installed, you can use it to track all of your ecommerce conversions, as well as any other goals you've set up on your site. You can also monitor multiple sites at once, set up custom dashboards, and watch a real-time flow of visitors to your site.
If you're limited on time – or simply forget to check your analytics data regularly – you can also benefit from their automated email reports feature.
Simply select the data you want, set a schedule, and you'll receive reports right in your inbox every day or week.
Price: $120 – $600/month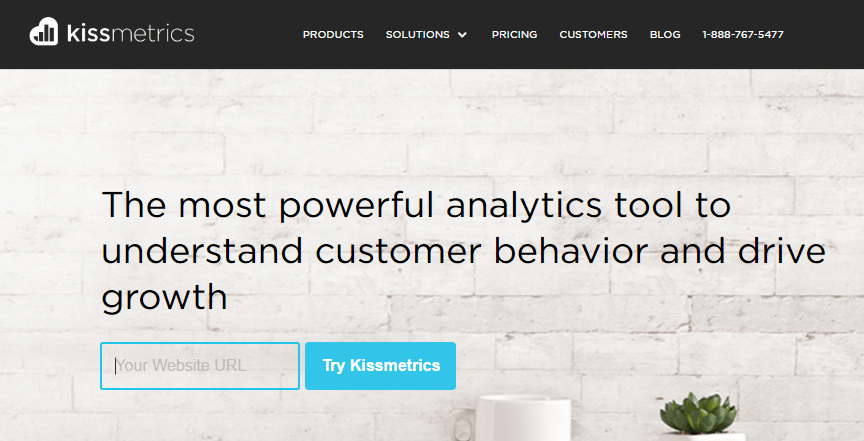 Kissmetrics is one of the most popular paid tools among ecommerce site owners, and it has several features tailored for increasing online conversions.
It lets you see the paths your customers take before making or abandoning a purchase, making it easier than ever to understand what makes your visitors buy – or not. It also shows "profiles" of each visitor that include every action they take like viewing pages, creating accounts, and adding items to their carts.
The goal with Kissmetrics is to show common paths your visitors take before converting, then use that information to convert more of your traffic into customers.
Price: $150 – $2,000/month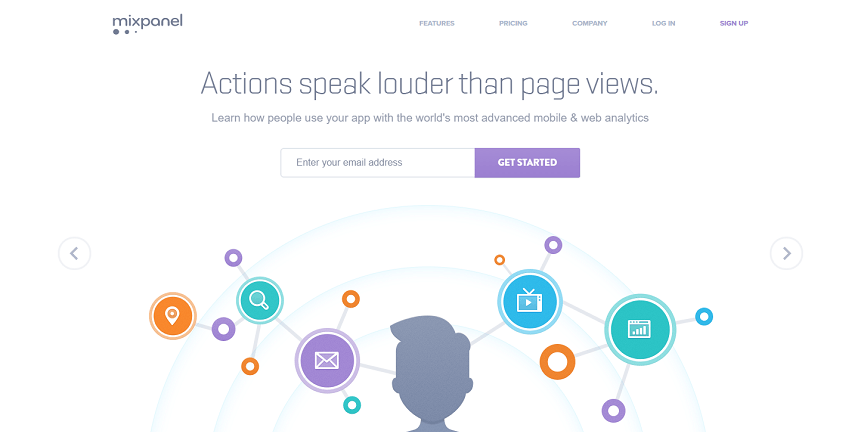 Mixpanel is similar to Kissmetrics in that it allows you to look at your site in terms of sales funnels and focus on conversions. It also provides advanced features for mobile and app tracking.
One of the main advantages of Mixpanel is that it allows for advanced segmentation in reports. Although this requires some developer experience, it allows you to segment customers beyond standard ecommerce reports and view your data exactly how you want.
It's worth noting, however, that their pricing model is based on "data points," or visitor actions on your site.
These points are counted every time a visitor leaves a comment, adds an item to their cart, or takes another step towards conversion, meaning that the more successful your store becomes, the more expensive tracking will get.
Price: $9 – 99/month
Although Crazy Egg isn't a traditional analytics platform, I'm including it in this list because it's another valuable tool for collecting visitor data.
You can use their heat mapping tools to see user behavior on your pages, like clicks and scrolls. This means that beyond basic analytics data on what actions your visitors take on a page, you'll see exactly which content impacts their decisions.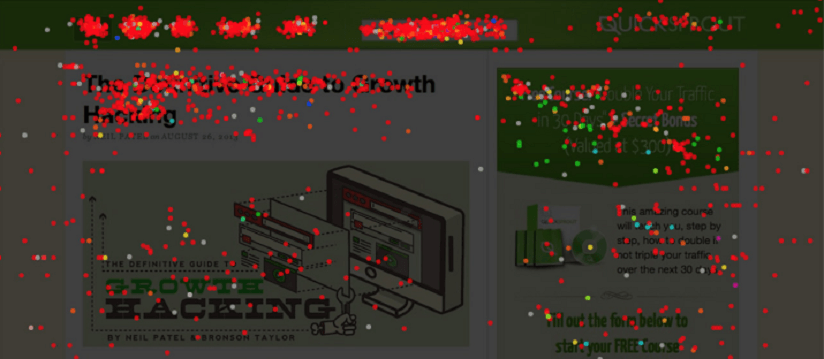 You can also use their "confetti" feature to see clicks in different colors based on their referral source. This allows you to get an even more in-depth understanding of your visitors and how they respond to your site based on how they found it in the first place.
Price: $49 – 999/month
Visual Website Optimizer is an A/B testing tool you can use to optimize your ecommerce site for conversions.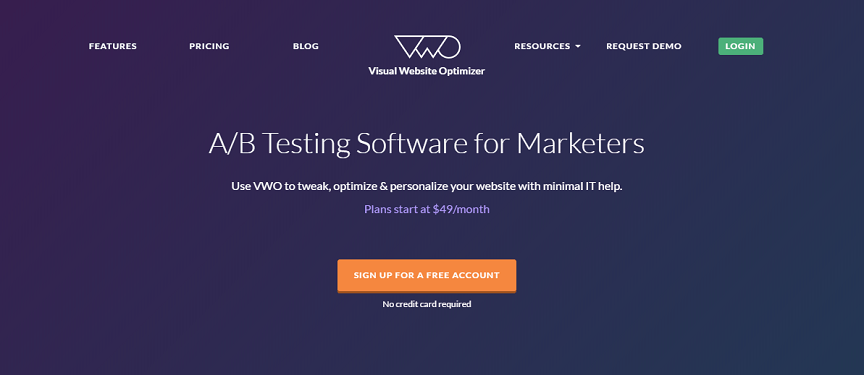 If you're unfamiliar with A/B testing, it involves creating multiple versions of a webpage and alternates the versions visitors see. Once you've run the tests long enough to collect significant data, you can determine which version produces the higher conversion rate.
There are many elements can you test on your ecommerce site, including colors, layout, images, promotions, calls to action, and your checkout process.
When you run these tests and implement their results, you improve your site's overall success – and get a better understanding of what your visitors find compelling in the process.
Knowing the analytics tools for e-commerce is only half of the battle. The other part involves harnessing those tools to unleash your website's potential.
Want to boost your ecommerce conversion rate?
Check out our video on how to do that with ecommerce CRO!
WebFX Careers
Join our mission to provide industry-leading digital marketing services to businesses around the globe - all while building your personal knowledge and growing as an individual.