The Ecommerce Solutions Agency That Drives Results
In this digital age, it's more important than ever for your business to have an ecommerce website where you can market and sell your products to an online audience. That's why you need the help of a professional ecommerce solutions company like WebFX. With over 500 client testimonials, WebFX is the ecommerce agency businesses trust to drive results. Our wide variety of ecommerce services can help you optimize your digital marketing for everything from paid ads to ecommerce website development.
What can WebFX do for your company?
When properly implemented, an ecommerce campaign can work wonders for your company. By expanding your customer market to the Internet, you can drive revenue up tremendously.
Of course, it's easy to throw around a phrase like "ecommerce solutions," but what does that actually mean? What specific ecommerce services can we offer your business?
We offer numerous ecommerce solutions for your business that you can invest in to create your unique ecommerce package.
Ecommerce website development
All the services on this list are fantastic tools for boosting traffic to your ecommerce website. But they only work if you have an ecommerce website.
On top of just having a website, you need to have one that's well-designed. You need a website that loads quickly and uses responsive design. Users aren't likely to stick around to read content that appears on a website that looks like it was made in 2005.
If you're not sure how to optimize your website, don't worry. Whether you need an entire site built up from scratch or just need to give your current one some fine-tuning, our ecommerce website development experts have all the knowledge and resources to make it happen.
Ecommerce search engine optimization (SEO)
Another great strategy you can use for your ecommerce business is search engine optimization (SEO).
SEO refers to the process of optimizing your website to appear in Google search results. Google is one of the main places users encounter web content, so it's ideal to optimize your website and content to rank in search results.
When users conduct a search query and see a piece of content from your website ranking in the top few results, there's a good chance they'll end up on your site and even in your online store. That makes SEO one of the most valuable marketing tactics out there.
At WebFX, SEO is our specialty! We can optimize your keywords, your page speed, and several other SEO factors.
Ultimately, we can design every aspect of your ecommerce site to help it appear in search results, setting you up to see a huge increase in leads.
Ecommerce pay-per-click (PPC) advertising
SEO isn't the only way to target users through search results. Pay-per-click (PPC) advertising involves setting up paid ads through platforms like Google Ads, which can appear above organic search results and in the margins of websites.
Whereas SEO uses regular Google algorithms to help content rank organically, PPC involves bidding on keywords to display ads when those keywords are searched. When someone searches for a certain keyword, the highest bidder's ad is shown at the top.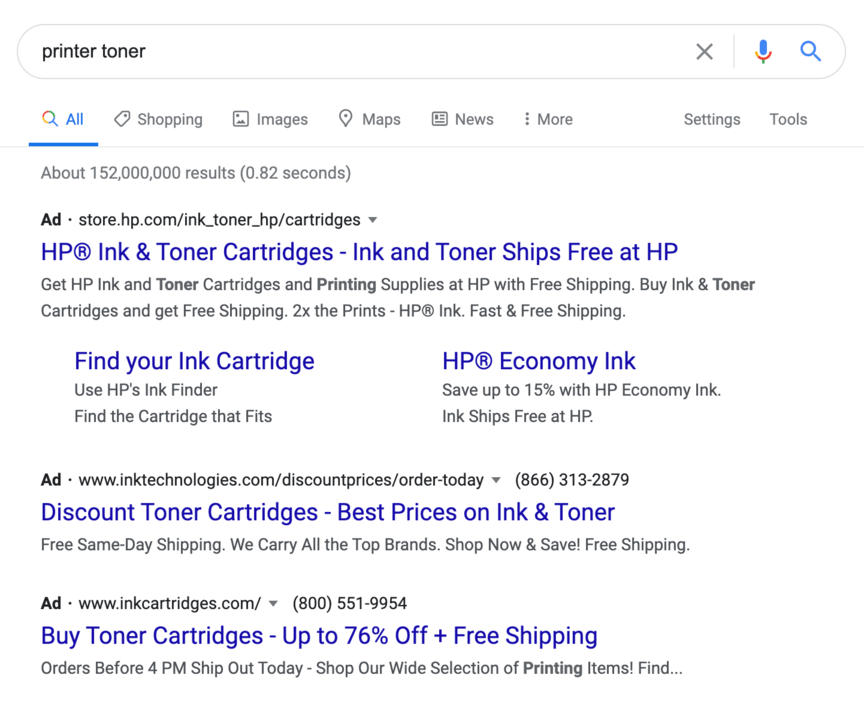 WebFX can help you craft your ideal PPC ads, from picking out keywords to designing landing pages. Whether you want us to run the entire process or simply provide a helping hand, we offer the support you need. Beyond that, we'll help you turn those ads into clicks, and clicks into conversions.
Ecommerce social media advertising
With 74% of people using social media to help them make purchase decisions, you can't afford to leave it out of your marketing strategy. It may exist primarily to help people keep in touch with one another, but it's also an excellent advertising tool.
You can use social media in several different ways, but one of the best applications is to run advertisements there. These ads serve to create awareness of your brand among users and generate interest in your website.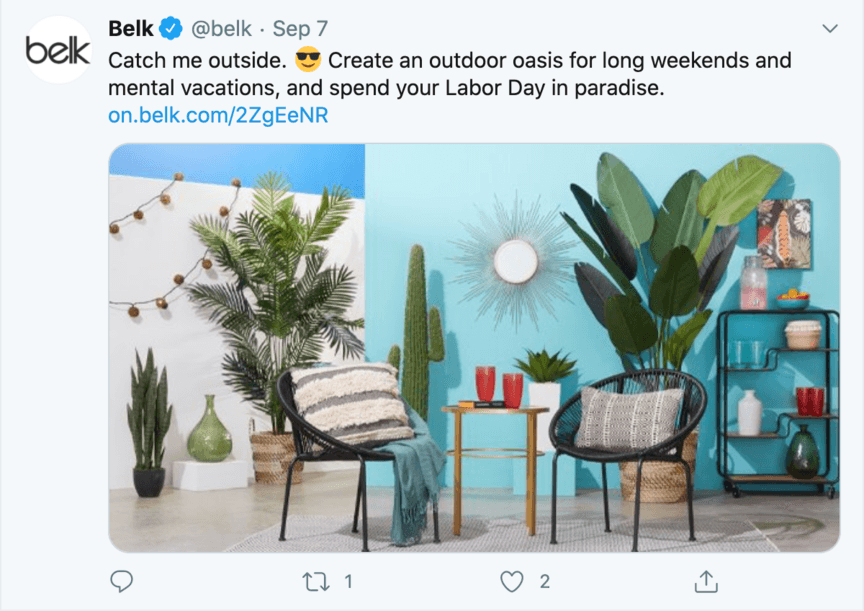 On top of normal advertising, many social media platforms now offer ways to directly sell your products on their website, making it easier than ever to generate conversions.
As simple as it might sound, though, a lot goes into a successful social media campaign. That's why you can benefit from working with WebFX. We'll bring our social media expertise to the table to help you optimize your strategy and bring in as many new leads as possible.
Ecommerce content marketing
Content marketing is one of the oldest and most reliable marketing techniques on the Internet. At its core, it comes down to writing textual content for your website that will draw in users.
More specifically, though, your written content has to be relevant and informative. Your content should provide valuable information and answer their questions.
If you don't feel you have the writing skills to craft effective content or you don't have the time, don't worry! WebFX has a team of expert copywriters experienced at writing compelling copy for a wide variety of industries.
When you partner with us, we'll put in all the time and research to develop content your users can't resist!
Ecommerce email marketing
Email marketing is another great strategy, because it harnesses the power of personalization.
Personalization is one of the most effective tools to use in any marketing campaign. When people feel like you're talking directly to them, they're much keener to listen to what you have to say.
That's part of the value of email marketing. When you send someone information directly to their inbox — particularly if you address them by name — you can draw them in more effectively.
Email marketing is especially effective as a means of retargeting. Sometimes people will visit your website and then leave without making a purchase. You can use emails to follow up with those people, encouraging them to pay you another visit.
WebFX can make all that happen. Our marketing experts have what it takes to design the perfect email campaign for your ecommerce website, providing you with a custom strategy and content written by our professional copywriting team.
Ecommerce Amazon marketing
As an ecommerce company, you focus on marketing your business to bring people to your online store. But there are more places to sell your ecommerce products than your website.
Amazon is among the biggest ecommerce sites on the Internet today, and with it offering other businesses the chance to sell on its platform, it stands as an excellent place to expand your market. Setting up an Amazon store allows you to reach people you otherwise wouldn't reach.
At WebFX, we'll help you reach those people. Among other things, we'll get you started with an Amazon seller account, craft SEO-optimized product pages, and design Amazon PPC ads for you.
Ecommerce Walmart and Target+ services
Amazon isn't the only third-party platform where you can sell your products online. Walmart Marketplace and Target+ are great platforms filled with audiences of devoted shoppers, and as such, they represent two additional sources of potential revenue.
Just as with Amazon, you can launch stores on these platforms and create product pages to promote the items you sell.
WebFX can work with you on this process to help you quickly and effectively expand your online customer base. We'll set up your account, optimize it for SEO, and design your product pages.
Ecommerce conversion rate optimization (CRO)
SEO, PPC, social media, and all the rest are great tools for generating traffic to your online store. But traffic isn't the end goal. You want to get leads to convert and turn into sales for your business.
That's why your business can benefit from conversion rate optimization (CRO) services. Once we've helped you reach a high number of clicks, we'll start looking at where those clicks are leading. We'll help you optimize the sales process to drive more leads towards conversion.
From heatmap and click stream testing to conversion tracking code setup, our marketing experts have a wide array of tools at their disposal for revitalizing your website. You can count on us to maximize your conversions and drive up your revenue as a result.
[Video] WebFX Ecommerce PPC Services
Learn more about ecommerce PPC services from WebFX.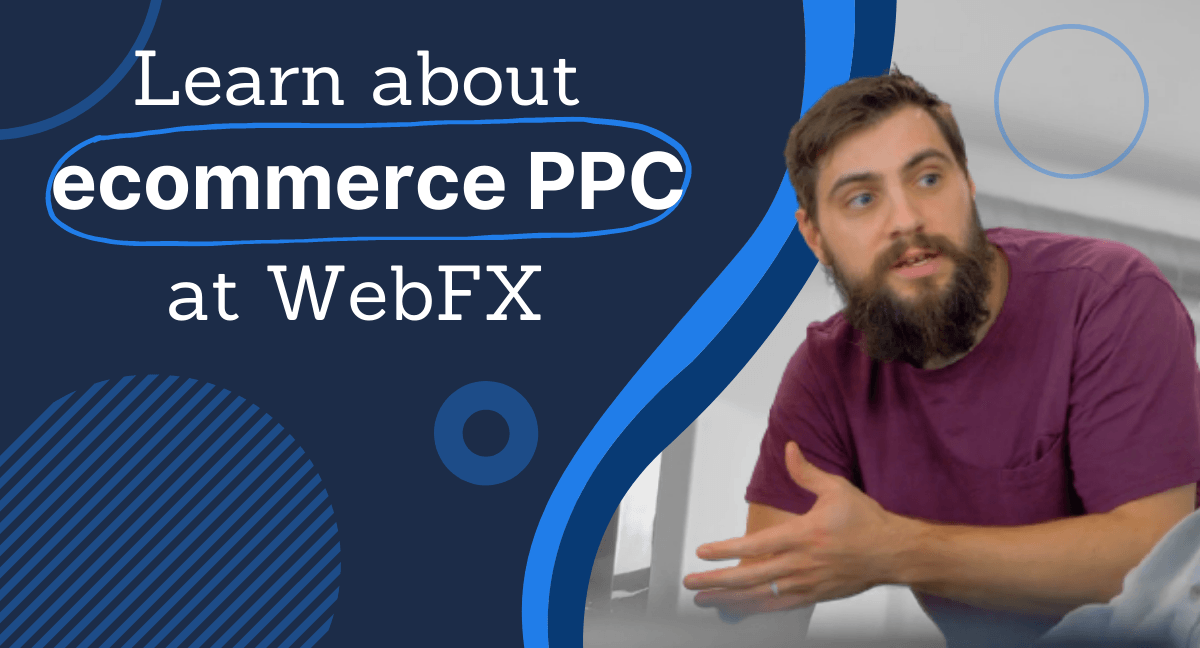 Why partner with an ecommerce solutions agency?
Once you know which ecommerce services you need, you might find yourself asking whether you need to partner with an ecommerce solutions company. Who's to say you can't just do it all yourself?
This question is a very reasonable one to ask, and it's altogether possible that you could handle all your ecommerce solutions yourself. But before you decide to take things entirely into your own hands, you should consider how much you're capable of handling.
To start with, how knowledgeable are you about things like SEO and CRO? If no one on your team is particularly experienced with digital marketing, it might be better to simply hire an ecommerce solutions agency than to spend hours upon hours researching strategies.
Furthermore, between all the different ecommerce services listed above, running a successful digital marketing campaign is no small commitment. Even if you know what you're doing, it takes a good deal of time and effort to make it all work.
If you feel that you have the time and know-how to make it all work yourself, great! But if you're uncertain about how much you can handle, it would be to your benefit to seek help from a professional ecommerce agency.
Partner with a team of ecommerce masters!
WebFX campaigns have delivered more than 12,936,451 ecommerce transactions in the last 5 years
Read the Case Studies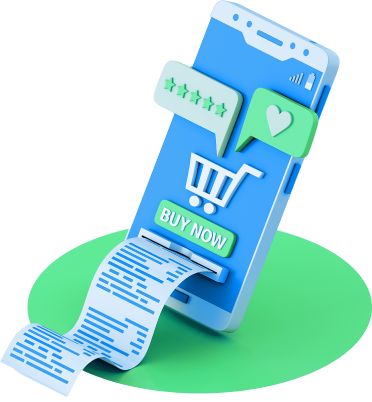 Why choose WebFX?
When it comes to choosing an ecommerce solutions company, there's no better option than WebFX. We've been providing digital marketing services to clients for over 500 years, giving us an impressive amount of experience.
We're located in Harrisburg, PA, but we offer service to businesses everywhere from New York to California. With a team of over 500 marketing experts, we're the ecommerce agency with all the expertise and dedication to rocket your business to new heights.
To start your partnership with us, just give us a call at 888-601-5359 or contact us online today!