Services

Ecommerce Marketing Solutions: Grow Your Online Store With Digital Marketing
Ecommerce Marketing Solutions: Grow Your Online Store With Digital Marketing
Ecommerce marketing solutions offer your business an avenue for growth. With ecommerce marketing, your online store can use strategies like search engine optimization (SEO), social media marketing, pay-per-click (PPC) advertising, and more to drive brand awareness, leads, and sales.
We've generated over
$3,021,182,299
IN CLIENT REVENUE
We've managed more than
12,936,451
TRANSACTIONS FOR CLIENTS
We have more than
500+
DIGITAL MARKETING EXPERTS
Creating and managing ecommerce digital marketing solutions, however, isn't easy. In addition to developing a strategy, your company needs to coordinate its efforts across channels, which requires time, dedication, and skill — and, in many cases, the help of an ecommerce marketing company.
At WebFX, we provide your ecommerce store with a complete package to online marketing. Whether you're looking to use social, search, or paid channels, we can deliver a custom strategy, managed by a dedicated team and project manager, that achieves your goals.
Keep reading to learn more about our ecommerce marketing solutions, which have helped our clients manage more than 12.9 million transactions in the past five years. Or, get one-on-one assistance for our ecommerce marketing services by contacting us online or calling us at 888-601-5359!
Looking for custom plans and pricing? Request a proposal to receive yours.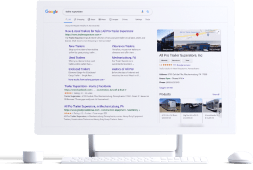 Request a Proposal
"WebFX took something we were not as knowledgeable about as we'd like to be and made it simple, successful, and even fun. Our Internet marketer is patient and has a wealth of knowledge when it comes to making our sites more visible to our valued viewers and customers. We feel secure in WebFX's hands and trust our partnership with them fully."
Marketing Director
AGRICULTURE AND ORGANIC FEED SALES
Partner with an experienced ecommerce marketing solutions provider
When it comes to ecommerce marketing solutions, you want a trusted provider to lead and guide your digital marketing strategy. With decades of experience and hundreds of satisfied clients, WebFX offers online stores across the world a reliable partner for ecommerce marketing.
Learn more about how WebFX can help your company grow with ecommerce marketing solutions now:
Get an entire ecommerce marketing team
For many small-to-midsized businesses (SMBs), it's not feasible to create and support an in-house marketing team. Your resources work better elsewhere, which is why partnering with an ecommerce marketing agency is so valuable.
With our company, you receive a complete ecommerce marketing team, which includes:
A dedicated account manager
Web designers
Web developers
Digital marketers
Social media specialists
Professional copywriters
Professional copy editors
Your business receives everything it needs, in one place, to market and advertise your store online.
You don't have to worry about finding and hiring a web designer, plus a copywriter and marketer. When you partner with WebFX for ecommerce online marketing solutions, you get access to a seasoned team of professionals that work together seamlessly to build and execute your ecommerce marketing plan.
Access extensive data and advanced tools
Ecommerce marketing is smarter with WebFX.
As your digital marketing agency, we provide your ecommerce company complete access to MarketingCloudFX. This all-in-one platform features multiple tools and billions of data points that help your WebFX marketing team create, manage, and grow your ecommerce marketing strategy.
MarketingCloudFX, thanks to the power of IBM Watson, also helps your WebFX marketing team make data-driven decisions about your ecommerce marketing campaign. With billions of data points and the power of artificial intelligence, it can offer data-backed suggestions for supercharging your strategy.
You can see the power of MarketingCloudFX and WebFX in our client results.
Just in the past five years, for example, we've helped our clients' businesses earn more than $3 billion in revenue. Even better, our clients have attracted more than 7.8 million leads and generated more than 5.2 million phone calls. They've also managed more than 12.9 million transactions.
In short, we've helped our clients grow their companies.
BONUS READING: ENTERPRISE ECOMMERCE PLATFORMS
Work with a client-focused ecommerce marketing company
When it comes to ecommerce website marketing solutions, you want a partner that makes your life easier. At WebFX, we do that. From providing our clients with dedicated account managers to responding to our clients' questions, calls, and emails, we deliver a client-focused experience.
That's why our client recommendation score surpasses the industry average by 488%.
Not to mention, 91% of our clients make us their long-term partner. As your agency, we'll support and work as an extension of your team, plus help your ecommerce store achieve its goals, from generating sales to increasing repeat purchases.
Check out our client testimonials to learn more about the WebFX client experience.
Receive regular, easy-to-share reports
Transparency matters to your business and ours. That's why we ensure transparency at every single step. From pricing your ecommerce marketing solutions to reporting your strategy results, we share everything.
With WebFX, it's easy for you to understand what our services cost and why. It's also hassle-free for you to review (and share) monthly, quarterly, and yearly reports for your different ecommerce marketing strategies.
We're here to make your life easier and your business stronger, and that's what we do.
Get a custom ecommerce website marketing solution and strategy
Successful ecommerce online marketing solutions depend on custom strategies. With an approach tailored to your business, goals, and audience, your company can maximize the impact of tactics like SEO, content marketing, and social media advertising.
That's why we customize your ecommerce website marketing solutions to you.
When you partner with our team, we take the time to learn about your company, audience, and goals. This investment allows your dedicated account manager and WebFX marketing team to build a competitive strategy that achieves your goals.
Discover the value of ecommerce website marketing solutions
Investing in ecommerce website marketing solutions offers your business several advantages. Whether you lead your initiatives in-house or with the help of an experienced agency like WebFX, you can use digital marketing to grow your business.
Learn more about the value of ecommerce digital marketing solutions:
Generate more orders and sales
Purchases don't happen randomly.
People take a specific path to find your company, research your product, and purchase your item. These journeys are unique, too, with Google finding that a user's path to purchase can encompass hundreds of touchpoints over days, weeks, months, and even years.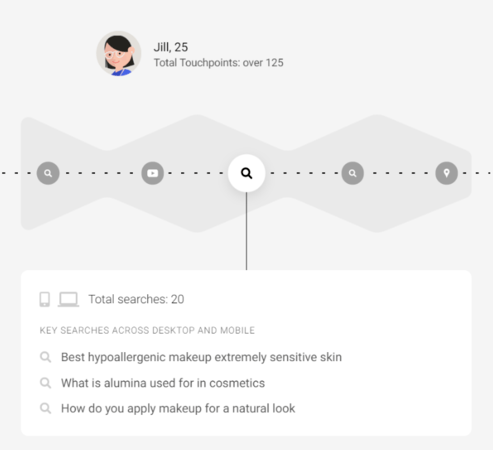 Digital marketing can help you do that.
You can use online marketing to give your business a presence on social media, in search results, and across paid channels. When you're present and active on these channels, you give your target audience a better chance of finding your company first.
With SEO, for example, you make your business visible in search results on places like Google and Bing. This increased visibility — for searches related to your business, products, and target market — helps your audience discover your company.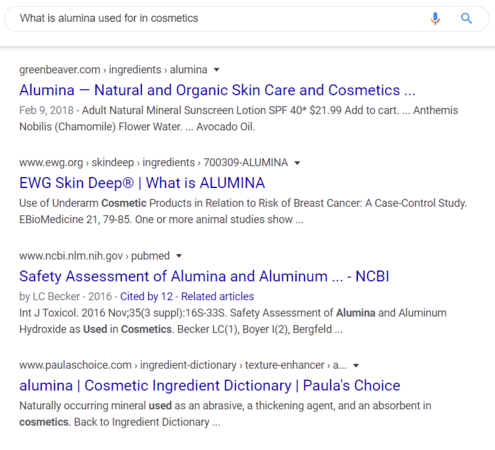 In comparison, your presence on social media can help your brand connect with future and current customers. You can build brand awareness with social media ads and improve customer loyalty with organic posts, which keeps your store top-of-mind.
Combine these strategies into an ecommerce marketing plan, and you can maximize their impact.
Reduce abandoned shopping carts
Abandoned shopping carts serve as a tremendous opportunity for ecommerce companies. If you can reduce your abandoned shopping cart rate or bring your shoppers back to complete their purchase, you stand to increase your revenue substantially.
With an ecommerce online marketing solution that includes email marketing, your business can move away from the average shopping cart abandonment rate of 69.57% and towards a more profitable number.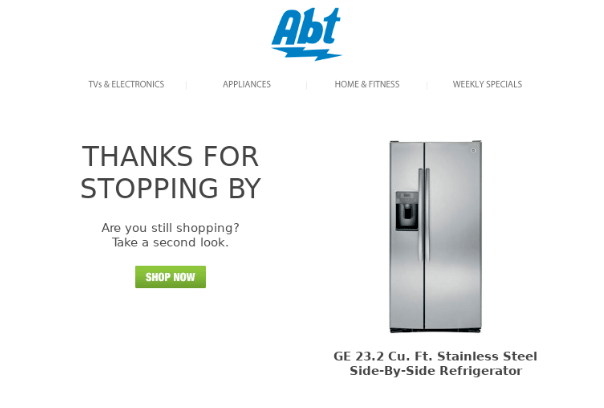 An ecommerce marketing agency can take your strategy a step further, too. With a remarketing campaign, your business can give shoppers another helpful reminder that pushes them to purchase your product.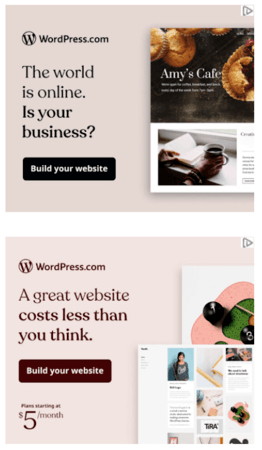 Use ecommerce marketing solutions to take a proactive approach to abandoned shopping carts.
Create company growth
Smart and competitive ecommerce digital marketing solutions can power your business's growth too.
When you increase sales and decrease abandoned shopping carts, you provide your company with the revenue necessary for growth. From hiring new team members to opening new warehouses, you can accomplish these global goals with online marketing.
Get the most value from ecommerce marketing by building an omnichannel solution with the help of an experienced agency like WebFX. Use the channels that offer your online store the most benefits, like search and social, to grow your presence and company.
FAQs about ecommerce marketing solutions
Do you have additional questions about ecommerce marketing solutions? Browse our FAQ:
What is ecommerce marketing?
Ecommerce marketing uses offline and online strategies to promote and grow your business. These strategies can range from print advertisements to social media posts, though many online stores use digital channels.
Which strategies work best for ecommerce marketing?
The strategies that tend to work best for ecommerce marketing and stores include:
Every online store is different, though, so different strategies may work better for your business. That's why it's helpful to create a custom ecommerce marketing solution. You build it for your brand, versus relying on a copy-and-paste approach.
How do I create an ecommerce marketing strategy?
If you want to build an ecommerce marketing strategy that achieves your goals, follow these steps:
Establish your goals, or what you want to accomplish with ecommerce marketing
Choose your preferred channels or strategies, like SEO or social media advertising
Determine your monthly and annual budget
Build your approach for each strategy, like your ads for advertising on social media
Measure your results
Develop your list of improvements for increasing your strategy's performance
Ecommerce marketing, like any digital marketing strategy, works in a cycle. You look for ways to enhance your approach continuously, as well as adapt your goals and tactics to your company's evolving objectives.
How much does ecommerce marketing cost?
For SMBs, an ecommerce marketing strategy can cost $2500 to $12,000 per month. Your costs will depend on your plan, aggressiveness, and resources. For example, an aggressive advertising strategy with a high ad spend could exceed $12,000 per month.
Should I manage my ecommerce marketing in-house or hire an ecommerce marketing agency?
Before investing in any ecommerce marketing solution, it's helpful to weigh your options. While some companies can lead their initiatives in-house, others require the support of an ecommerce marketing agency.
If you aren't sure which option is your best one, think about the following questions:
How much time would in-house management require?
What resources or tools would we need to manage our marketing in-house?
Who would manage your marketing efforts in-house?
Does this person or team have the time to manage your marketing strategy?
Does this person or team have the experience to manage your marketing strategy?
Can your company afford to hire an in-house marketer or marketing team?
Based on your answers, you'll have an idea of which option meets your needs. If you don't have the time or experience to lead your campaign, for instance, it makes sense to invest in a professional ecommerce website marketing solution.
Our digital marketing campaigns impact the metrics that improve your bottom line.
See More Results

WebFX has driven the following results for clients:

$3 billion
In client revenue

7.8 million
Leads for our clients

5.2 million
Client phone calls
Are you ready for more revenue? Get started with ecommerce marketing solutions
Marketing is one of your company's best tools. With online marketing, your business can promote its products, interact with clients, and increase sales. That's why ecommerce marketing solutions matter — and are a must if you want your store to thrive.
Use ecommerce marketing to your advantage by partnering with WebFX. Our ecommerce marketing agency can help your business get all the benefits of digital marketing by creating a custom strategy tailored to your brand, goals, and market.
Start earning more revenue with our ecommerce marketing services by contacting us online or calling us at 888-601-5359 to receive a free consultation!





+1020
For verified ratings of our marketing services, please read our:

WebFX Agency Rating:
4.9 / 5 with 300 ratings
Industry-Leading 1020 Testimonials