Chiropractors have some of the stiffest competition in the world when it comes to earning new clients. Whether you try to put yourself out there on television, radio, billboards, or newspapers, you're constantly in competition with other chiropractors in the area.
So how do you rise above your competitors?
The answer lies in search engine optimization (SEO).
But as a chiropractor, you need a specialized SEO plan that's customized for your business, industry, and location.
Call 888-601-5359 to speak with a strategist about how WebFX can create a custom SEO strategy for your practice, or keep reading for 4 ways SEO can help your business grow.
1. Build awareness
SEO is one of the best ways to build brand awareness as a chiropractor.
When you optimize your site for search engines, you tell Google, Yahoo!, and every other search site who you are and what you do.
That lets them categorize your site appropriately and show your business to people who want to learn more about it.
The best part is that it's free to start. So even if you're running a new practice that doesn't have a huge client base, you can still optimize your site for search by investing time instead of money.
Even if not all of the searchers who see your site click through to your pages, you still show your brand name to the people who either now or will one day need your services. That makes sure they remember who you are – and that when they do need you, they can find you.
2. Attract qualified traffic
SEO helps your site show up in search results for more than just your business's name. You can also show up for valuable keywords that reflect the services you offer.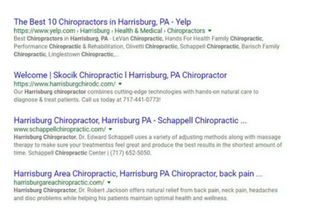 For example, you may choose to optimize your site for keywords like "chiropractor in [your city]" or "best local chiropractor." People searching for these keywords are likely to be interested in your services — otherwise, why would they want the best? You also know they're qualified because they're looking for local search results, and you need local clients in order to succeed.
To properly target keywords, you need to add content to your site that discusses them.
For example, you could create a page that talks about why you're the best chiropractor in your city or why you're the best option in a certain area.
You can also provide a list of local doctors who refer patients to you to show that you're a trusted member of the medical community in your town, create a page that shows your staff, and even list testimonials from your happy clients.
All of these are viable options for gradually introducing potential leads to your chiropractic office.
But it's not enough just to attract potential clients – you need to help them learn about physical therapy and why you're the best choice for their needs.
Some of our client Successes
3. Educate potential clients
Educating your potential clients is essential to earning their trust.
You can help them learn more by adding pages to your site that discuss your background, methods, philosophy, mission statement, community initiatives, and more.
The more that a potential client knows about you, the more likely is it that they'll become a patient.
Be as transparent as you can when you discuss issues relating to your business. In addition, feel free to give your opinion on industry issues while backing them up with facts and data.
These are all signs of caring, intelligent thought that will go a long way with your potential clients. Showing that side of your business is an excellent way to build your relationship with everyone who comes to your site.
Ready to reach more clients?
WebFX can help. We create custom SEO strategies for each of your clients, and we can help your chiropractic practice grow.
4. Convert visitors into leads
The last step of SEO for your business is to convert site visitors into new leads.
This requires you to make pages for your site that provide visitors with all of the information they need to contact you for an appointment.
Pages about pricing, awards, testimonials, and other bottom-of-the-funnel topics are the last big jumps your site visitors need to make to become leads.
Then, the goal is to make that process as easy as possible.
Use lead forms on your page that are optimized for both search engines and user interaction. Get your leads' names and email addresses at the very least, but optimize your forms to make sure as many people fill them out as possible.
You can also ask for individuals' phone numbers, reasons for contacting you, and goals for their chiropractic sessions.
Regardless of what you choose, make sure you get their basic contact information so you can follow up with each lead via email and turn them into a patient.
However, this process can take a long time, and no two patients take the same approach to converting. You have to build trust, contact them, and personalize their experience with your practice so they feel comfortable working with you.
Sometimes that can take a few hours. Other times it can take a few weeks.
Regardless, it's critical that you convert new leads with an SEO strategy. Otherwise, your chiropractic practice can't grow.
WebFX can help your practice grow
At WebFX, we've helped clients in a variety of industries reach their marketing goals. Our years of experience and drive for success has helped us generate real results like increased revenue for our clients.
Are you ready to get more clients for your chiropractic practice? Contact us today to launch an SEO campaign!
Call 888.449.3239 or contact us online today to see how WebFX can improve your online performance.