Properly managing online reviews is an important part of any Internet marketing strategy.
While you can't control what people say about your business, you can control how you address it. That gives you the ability to raise awareness for your brand, earn more loyal fans, and even debunk unreasonably negative reviews.
But managing online reviews is easier said than done. How do you actually work with review systems like Yelp to get the best results for your business?
WebFX has a team of reputation management experts who can evaluate your online presence and create a review management strategy for your home services company! You can call 888-601-5359 or contact us online today.
We'll take a look at that on this page, step by step.
1. Monitor your company on popular review sites
This is the foundation of online review management. If you want to keep an eye on what people say about you, you'll need to know where they're saying it.
The most popular review sites online are:
On all of these sites, you either have to create or "claim" your business listing. That allows you to get alerts whenever someone leaves a new review.
The first six sites pretty much do the same job — they tell potential customers what to expect from your company. The reviews are written by your customers, regardless of whether they had a positive or negative experience with you.
But Glassdoor is different. Glassdoor uses reviews from your current or ex-employees to inform potential future employees.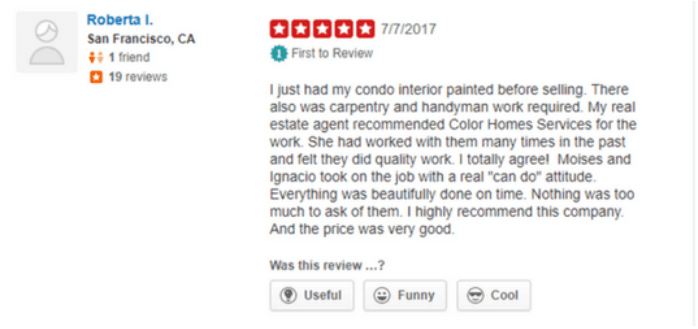 Either way, a negative review on any of these sites, and even sites like Angie's List is bad news.
Beyond these sites, you can also set up a Google Alert for your brand name to keep an eye on your company in the news.

Hear What It's Like to Work With WebFX!

"We were looking for a forward-thinking but down to earth SEO company to partner with. Not only were we looking to build a long term business relationship but we needed them to understand our needs as a small company. And WebFX met all of that criteria. Our experience has been unparalleled; from the sales team who made the drive to our office to meet us in person to our Internet Marketer who has been an absolute joy to work with. They are completely transparent about their services and they take the time to explain everything which not only sets them apart from every other SEO company we have worked with but we also feel like we're taking something away from our interactions with the staff at WebFX. We are exited to see where this year will take us knowing that we have such a great support system with their company."
Home Contractor
2. Reading reviews
Now that you're set up to catch any reviews of your business, it's time to actually read them.
If you run a big company, you can make it part of someone's responsibilities to read new reviews every day. If you're a smaller business, you can probably make time to read reviews as they come.
Regardless, it's important that you keep up with reviews, so you can see what people say and gauge their overall sentiment.
If reviews are positive, you don't have to do much of anything. Some companies choose to respond with a thank-you message if they can, but most companies let positive reviews lie.
But if reviews are negative, you have some more work to do.
3. Handling reviews
First, you have to consider whether a complaint is justifiable. If it is, you can offer an apology and solutions to fix the problem. That could include a refund or store credit.
If a complaint isn't justifiable — like a long, one-sided story about how someone felt unfairly entitled and didn't get what they wanted — you have a number of solutions at your fingertips. You can ignore them, respond to them privately, or reply publicly so that other users can see.
There are lots of examples of all three of these strategies in replying to negative reviews, and they all have their pros and cons.
Ignoring an unfair review is easy, but it doesn't address the problem at hand. Responding privately may solve the issue, but it doesn't show other customers that you addressed it. And publicly replying can seem aggressive, but as long as you maintain a professional tone, it can also show other readers you're dedicated to customer service.
It's up to you how you respond to negative reviews. But no matter how you do it, you want to be professional, courteous, and reasonable, so you can show potential customers that you handle problems calmly.
Nobody likes a company that hires people who fly off the handle or crumbles under one bad review.
As long as you act level-headed, courteous, and firm, you can make your business the good guy once again.
4. Learning from reviews
Regardless of the quantity or type of reviews you get, there's usually a kernel of truth in each one.
So if someone left a positive review that says your customer service team goes above and beyond, you can bet that at least one of your CSRs is an expert at satisfying customers.
In the same way, people leaving negative reviews that say your checkout service froze three times in a row have a valid reason to be upset. Maybe you should shift more time and developer resources on your checkout to make it as smooth as possible.
Despite the reputation of the Internet, about 99.9% of all reviews you'll get will fall into one of these two categories. Very rarely will you ever get a review that's completely unfounded or off-the-wall crazy.
But even if you do get an unreasonably bad review, you can still learn something from it. Namely, that your customer service team doesn't fold to people trying to exploit your return policies or customer relations.
That's a great thing to know about your customer service team. After all, they're in charge of doling out freebies and reconciliation in most companies. If they can hold their own against belligerent, unreasonable, or even verbally abusive customers trying to drag free stuff out of your company, then you have some great people at your company.
5. Incorporating reviews into your business
Reviews — even negative ones — are often blessings in disguise.
If you get lots of good reviews, you can add them to your site as customer testimonials. If you get negative reviews, you can learn something to improve your business.
Either way, you win in the long run.
By staying vigilant online, you can make sure any review someone leaves for you helps your business in the end.
It's just a matter of keeping your eyes open and finding the silver lining!
Our digital marketing campaigns impact the metrics that improve your bottom line.
See More Results

WebFX has driven the following results for clients:

$3 billion
In client revenue

7.8 million
Leads for our clients

5.2 million
Client phone calls
Online review management is just the beginning
Managing Internet reviews of your business is only the start of a much bigger Internet marketing strategy.
Online review management is just one small part of reputation management, a large strategic endeavor that helps create positive sentiment for your business on the Internet. Other parts of reputation management include search saturation, content creation, and more.
That umbrella term — reputation management — can quickly become a full-time job all on its own, especially for new business owners.
After all, you'll always have more customers than you'll have employees. That means you'll always have to catch up to the reviews that people leave you online.
Unfortunately, there's nothing you can do to stop bad reviews, and you shouldn't incentivize good reviews either.
At the end of the day, you just have to keep up with everything happening online in relation to your business.
It'll take some time and patience, but it can pay off for you in a big way.
WebFX is a reputation management agency
At WebFX, we have a full team of reputation management experts who know how to keep your business looking great online.
Whether you want help with managing online reviews or promoting your site in other capacities, we have the information, skill, experience, and savvy to make sure your company meets its goals.
We also offer an industry-leading customer relationship management (CRM) platform that helps you expertly improve your relationships with customers and prospects that turn into more revenue. Our CRM for home services, Nutshell, gives you and your team all the tools you need to drive more leads and conversions.
Contact us today to help your business and manage your online reviews!
Earn a 20% greater ROI with WebFX