Lighting and LED companies face particular challenges when it comes to advertising. You want to find as many people as possible to shop, but you must prove that your products are the best option. How can you target the right customers while showcasing your skills?
Search engine optimization (SEO) can help you improve your website's rankings and earn more traffic. You can see lasting results over time by altering your website to target search engines.
Keep reading to learn more about SEO for lighting and LED companies, and call 888-601-5359 today to speak with a strategist about how SEO can help your business!
What is SEO for lighting and LED companies?
SEO is the process of altering your website to help it rank higher on search engine results pages (SERPs). For lighting companies, this can include creating and maintaining an ecommerce website that showcases your products.
When someone enters a term into search engines, Google's algorithm goes through the entire index and decides which websites offer users the most value. The results may include a featured snippet or shopping section: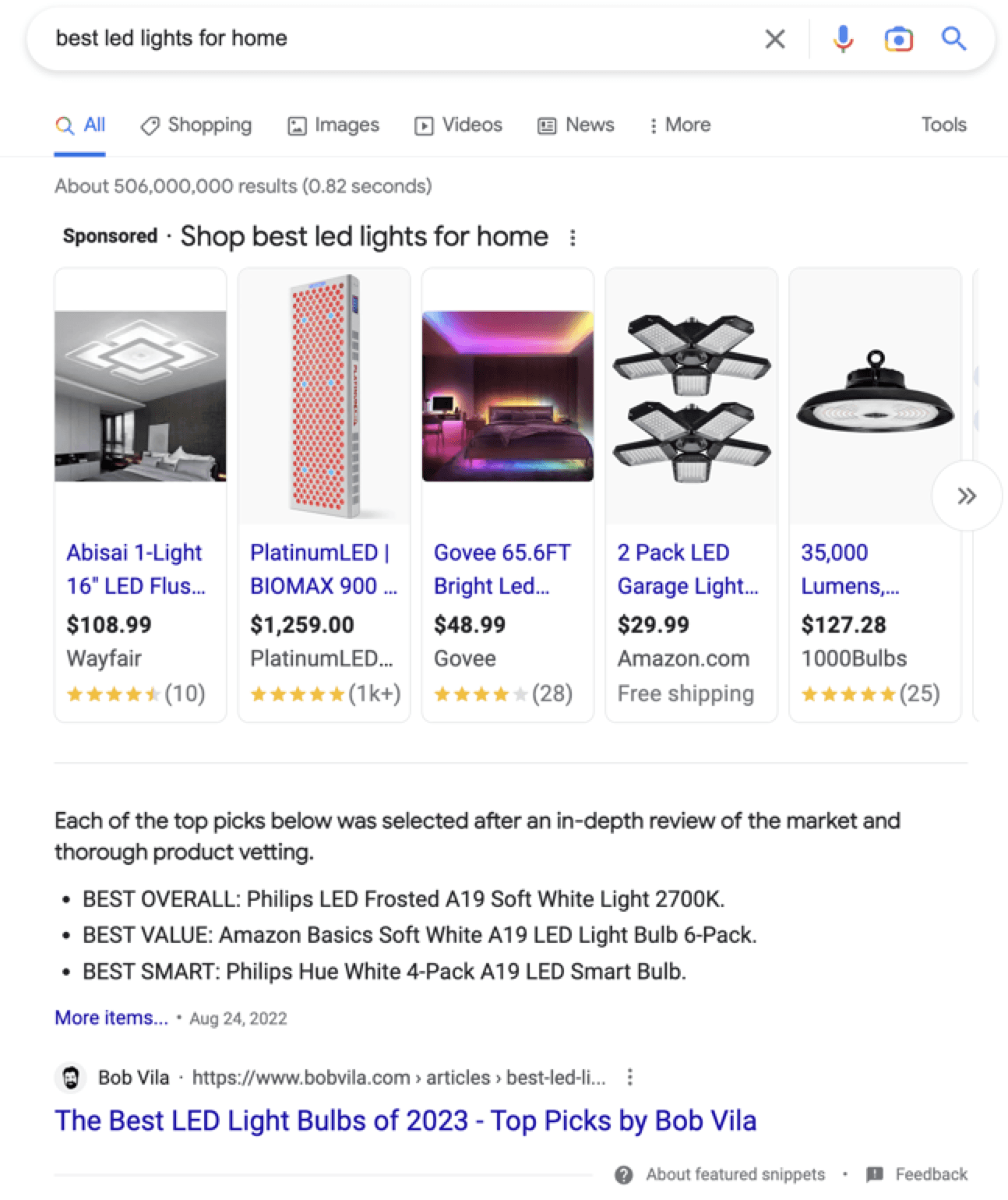 The primary goal of SEO is to make it easier for Google — and other search engines — to crawl your website. SEO also improves user experience (UX) so that when users enter their queries, they get the option most likely to help their issue.
Why do SEO for lighting companies?
SEO for lighting companies can help you place your products in front of your target audience. You can also:
Encourage more conversions: As more people find your site naturally, you will likely see an uptick and growth in conversions. You can also use your website content to encourage people to shop with you over competitors.
Prove your industry knowledge: Part of encouraging purchases is showing that you are a knowledgeable company. If you detail your products, post on your blog, and create thoughtful content, prospects will feel more comfortable buying from you.
Establish your brand: Your customers want to feel like they know your brand. In fact, 81% of people need to trust a brand in order to buy from them, so establishing your brand name can help you connect with customers and build a relationship.
Track your progress: Unlike traditional marketing methods, you can monitor your SEO metrics. SEO metrics are easy to track with online tools like Google Analytics, and you can see how your changes are working.
While there are several digital marketing strategies out there, SEO is the first step to building your online presence. Once you establish yourself and give people a usable website, you can then look to other techniques like email marketing or social media.
SEO examples
SEO for lighting and LED companies should showcase your products and target your audience — commercial or residential — while highlighting your unique selling point. To accomplish these and other goals, marketers consider a variety of SEO factors.
Below are a few SEO examples and types that can benefit your lighting or LED company. Note that you might use one or more of these categories depending on your business location, size, and goals.
1. On-page SEO
On-page SEO comprises changes you make internally on your website. These changes are totally within your control, and they make up a large portion of SEO efforts.
Some on-page SEO factors include:
On-page SEO can help you improve your rankings by showing Google that your website is relevant. Finding keywords for SEO like "professional companies" and publishing content on industry topics can help search engines and users alike.
2. Off-page SEO
Off-page SEO encompasses all changes that happen outside your website. Off-page SEO is essential for growing your site, but you have limited control over this aspect. Some off-page SEO factors include:
Backlinks: Links from other websites that direct to yours.
Guest content: Content on other websites that credits you as the creator.
Social media: Your social media accounts, which should direct back to your website.
There are many ways to earn backlinks and establish yourself with other popular industry leaders. As you build out your content, people may link to you naturally. You can also reach out to other companies and ask for a reference or link from their website.
3. Technical SEO
Technical SEO includes backend, internal processes that help your website run smoothly and rank higher. These technical features can include:
Technical SEO helps you create a practical, efficient website that anyone can use. It also tells Google what your pages are about to give you the best chance at ranking.
4. Local SEO
Local SEO targets uses in a specific geographical area. If you have a physical location or offer installation services in certain areas, local SEO ensures that your content reaches people nearby.
Say that you offer LED installation for commercial clients in Cleveland, Ohio. If you search "LED companies in Cleveland," the results look like this: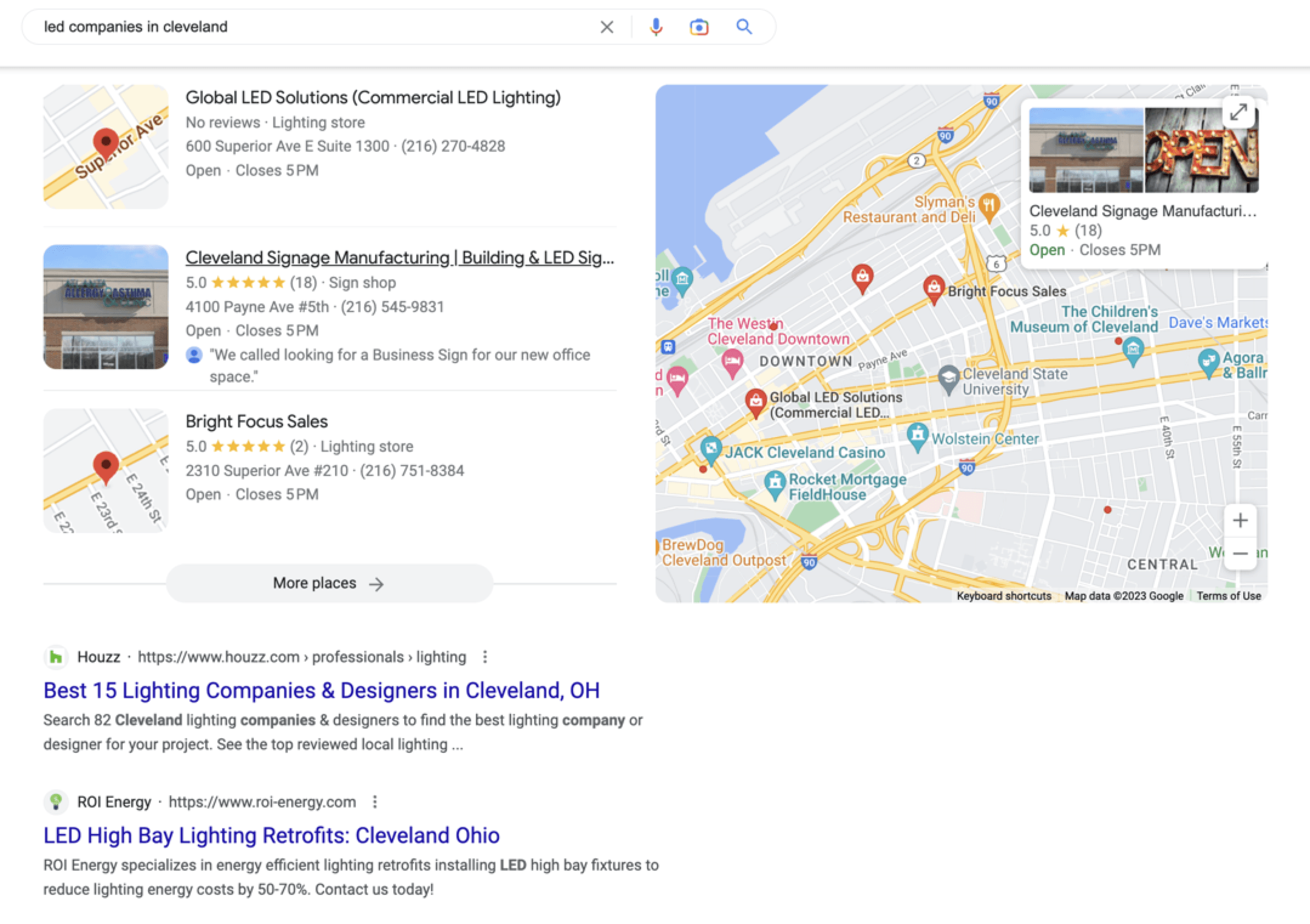 These map results make it easy for users to see where the company is, and they have their contact information readily available. This local focus prevents irrelevant companies from appearing in the SERPs.
If you only serve Cleveland and someone from Cincinnati wants your services, they will be disappointed when they come to your website. Keeping up with local SEO ensures you only reach people in your area.
How to choose SEO services
Working with an agency can help you save time and resources while getting the best results possible. Outsourcing your SEO with a digital marketing agency grants you freedom to focus on other business matters.
This video covers how to choose an SEO agency as well:
Choosing a reputable SEO company can ensure you get the services you need to optimize your website. SEO services should be:
Ongoing: SEO is not an instant fix — your SEO agency should have a long-term process outlined before you get started.
Scalable: As your business grows and changes, so will your needs. SEO should grow with you.
Genuine: A quality SEO agency will ensure that you earn more traffic and promote your products without deception.
As the leading SEO agency, WebFX can help you promote your services and products online. We check all the boxes above and more, so you can trust that you're getting the best fit for your company with our SEO services.
WebFX offers powerful SEO for lighting and LED companies
WebFX drives results for all our clients, and we can do the same for you. With over 1000+ clients and experience in over 154 industries, we make It easy to implement SEO into your current strategy.
When you work with us, we assign you a designated account manager. They will work with your existing website and decide what changes will have the most impact on your approach. You get completely customized SEO services with a consistent point of contact.
If you are ready to start seeing results, WebFX can help. Call 888-601-5359 or contact us online to learn how our SEO services can earn you more traffic and leads!
Increase your leads, sales, and revenue with digital marketing