What is SEO Monitoring? + 7 SEO Metrics to Track
SEO monitoring is the process of tracking your search visibility and rankings. By tracking key metrics such as time on page, bounce rate, and page speed, SEO monitoring helps improve website visibility and user engagement, ultimately driving organic traffic and revenue. Keep reading to learn more now!
After you've set up your search engine optimization (SEO) campaign, the work isn't finished. As your SEO performance ebbs and flows, tracking can help you catch problems and report successes.
Ongoing SEO monitoring is necessary to keep visitors flocking to your site and revenue flowing. The most useful metrics for judging your SEO status convey real data through alerts and tools.
So, what should you measure to stay on top of your campaign? Keep reading for our top 7 metrics and tools for the SEO monitoring process.
Do you need an SEO agency to track your campaign and drive qualified traffic? Contact us online or call us at 888-601-5359 today to speak with a team member about our SEO services.
What is SEO monitoring?
SEO monitoring is when you consistently observe your campaign efforts and results to gain a deeper understanding of the metrics that matter most to the success of your SEO strategy. With SEO monitoring, you can keep an eye on key metrics including time on page, bounce rate, page speed, and more – that affect the results that your SEO efforts produce.
7 metrics to track with SEO monitoring
Read on to learn more about the metrics that you should pay close attention to when monitoring your SEO campaign.
1. Traffic flow
Monitoring the SEO process starts with keeping tabs on your level of visibility from the search engine results page (SERP). The amount of organic traffic you receive from ranking is significant evidence of your strategy's impact on users.

To view changes in traffic flow, you can take advantage of one of the most effective SEO monitoring tools, Google Analytics. Google Analytics' custom alerts allow you to set up notifications for specific percentages of decreased traffic.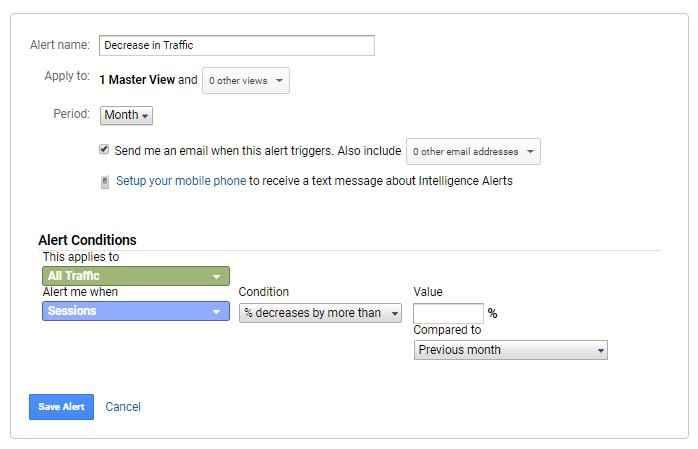 The alerts are automatically comparative, so you can gauge the shifts in long-term spurts of performance.
Like any kind of SEO analysis, you have to further explore the conditions of your rankings, audience, and the market to understand dramatic differences in site visits. Whether the demand for your products has subsided or the seasonal appeal is waning, you can weed out the potential cause of these unexpected changes.
You can also further segment your SEO monitoring of organic traffic by subcategories like landing pages. If you have spikes in traffic from certain landing pages, you can clearly witness the positive growth on these pages. But poor traffic on other landing pages is a chance to revamp your content for better results.
2. Bounce rate
The bounce rate — the measure of people who leave your site while only visiting a single page — is an instrumental metric, because it shows how enthralling your site is for visitors.
Since it's the percentage of exiting visitors after a one-page session, a low bounce rate is ideal for SEO, especially if you want to guide users toward a conversion that requires continued navigation.

However, it's possible your pages aren't meeting the needs of users or are difficult to use, which can make your bounce rate skyrocket.
Typically, keeping your eye out for a considerable bounce rate is a best practice, so you can act quickly to optimize your page and hold the attention of potential customers.
For instance, your page load speed could be slowing down, which encourages impatient visitors to run back to the SERPs. When you receive an alert about a high bounce rate, you can perform an SEO audit to hone in on your problem areas.
SEO monitoring's power tool, Google Analytics, once again offers tailored alerts to track the bounce rate. Pinpointing the pages that visitors quickly take off from can be a sign you should spend further time on search intent, depending on the nature of the keyword and page.
In a distinct case where you don't mind a high bounce rate — maybe your page is supposed to quickly answer questions without further interaction — then take this metric with a grain of salt, attributing the right landing pages with your purposes.
3. Click-through rate
To oversee how effective your title and meta description are, you can reference the click-through rate (CTR). The CTR reflects the percentage of users that see your result in the SERPs and click on it — so it's a good indication of your initial SEO entry point.
While you may think that the CTR simply correlates to your ranking, it can also translate your skill at meeting search intent into data. If your title seems to answer the core question, users are more likely to skip higher ranked sites and push your CTR higher.
You can set up SEO keyword monitoring and landing page alerts for the CTR in Google Search Console. Especially integrated with Google Analytics, Google Search Console can be a formidable resource. In Search Console, the CTR is limited to organic search results, rather than in Analytics, which uses paid results in the CTR, too.
This SEO monitoring tool matches closely with organic growth. Using it will allow you to stay in tune with the first impression from the SERP.
4. Conversion rate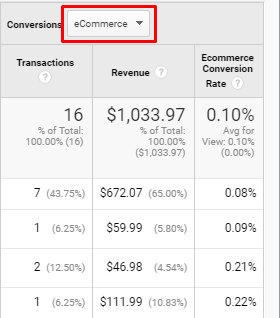 Clicks and traffic are crucial, but actions from your users speak volumes. Your desired conversions — whether newsletter registration or navigating to the checkout page — align with your overall business goals. So, you want to observe momentum in this metric.
Monitoring the SEO process through your conversion rate ties in with your ability to turn site visitors into customers.

Heading back to Google Analytics, you can create a goal or alert for user engagement steps. In Google Analytics, the conversions section is one of the five major reports, and it has a detailed breakdown of options and data visualization.
You can record the multiple steps down the sales funnel to evaluate the receptiveness of users to your site. Ecommerce stores particularly need conversion rate tracking to regulate the steady income of revenue from their SEO optimization.
5. Keyword rankings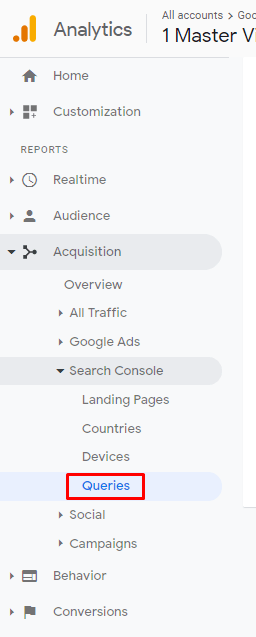 Because keywords hold such weight in SEO, it's no surprise that keyword ranking is a wide-spread concern for monitoring. SEO keyword monitoring keeps you in the know about your site ranking in the SERPs, which lets you strategize to climb higher and gain more exposure.
Moz's Rank Tracker and SEMrush are both handy SEO monitoring tools to check your keyword positions on Google in a central location. But you can also look at the queries that draw in users via Google Search Console.
The queries over time show if your keywords appear in the number one page of the SERPs. Your lowest ranking keywords can either mean you should move onto better keywords or work on boosting those pages.
6. Site exit points
The pages that are lacking interesting information and useful data likely become the places visitors exit on your site. In other cases, your visitors may simply be following links embedded in your content.
Depending on where, when, and why your page visitors leave, you can formulate a plan to make the most of their sessions and capitalize on their presence at these drop-off positions.
Look into which pages have high percentages of exits if you want to direct visitors to a deeper place on your site or a conversion.
Exit points from certain pages are found under Google Analytics' Behavior in the Site Content section. Knowing what's driving people away from your site is important for your strategy. You'll understand what productive actions you need to take to reverse this effect.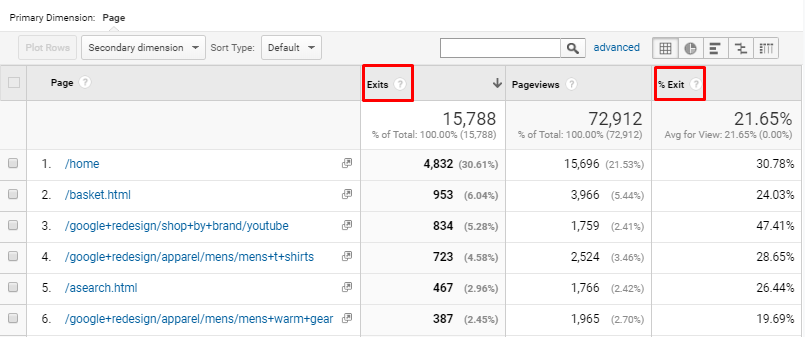 You can also view the links that take people away from your site from the Events and Event Labels sections.
Referring visitors to other sites can be a reasonable move, but you need to understand if that's hindering your business. Examine what's attracting them to other sites, and see whether you can provide that service or resource from your site.
7. Crawling
After Google has indexed your site — which you can request on the URL Inspection tool — your SEO strategy will probably lead you to make edits, changes, and additions to your pages.
You want to put your site's best face forward, so it's helpful to get Google to recognize any substantial modifications and rank your pages accordingly. Recrawling allows Google to find the updates and display them with a deserving ranking in the SERPs.

There are SEO monitoring tools to record the crawling behavior of search engine bots. Google Search Console lets you know the number of pages that Google has crawled. You can see the number of pages that Google crawls regularly for the last 90 days, which makes you aware if your SEO strategy is in play yet.
Google has a crawl rate limit which contributes to the frequency and selection of page crawling. If crawling slows down your server speed, you can set the maximum number of times Google can crawl your site if the Googlebot is requesting to crawl it too many times per second.
As long as you're watching the crawling habits of Google, you can have confidence that your alterations are available in SERPs and for user satisfaction.
Get expert SEO monitoring services
As you watch your SEO attempts and adjust your site, you can use data-backed choices to bring an influx of visitors and a surge in revenue. SEO monitoring is a persistent process that you can tackle with the right tools and assistance.
Professional SEO services can propel your SEO campaign further and drive qualified traffic to your site. At WebFX, we create a strategy to fit your business' unique needs and accomplish your goals through optimization.
Our SEO monitoring includes ongoing reporting, management, and analysis to keep your site strong in SERP rankings. Plus, we get results — in the last five years, we've generated $3,021,182,299+ in client revenue.
Interested in our impressive SEO services? Contact us online today or call us at 888-601-5359 to speak to an expert.
How Is Your Website's SEO?
Use our free tool to get your score calculated in under 60 seconds.