Is your moving company struggling to attract new leads? Your marketing strategy may be the reason. In today's digital age, many traditional strategies, like direct mail and billboard advertisements, simply don't cut it anymore.
If you are a mover looking to attract more customers and increase revenue for your company, it's time to try Internet marketing. Internet marketing allows you to reach your most qualified prospects while they're searching online, and it will also help you increase awareness of your company.
WebFX has a dedicated team of experts who will create an impactful Internet marketing strategy specific to your moving business. You can call 888-601-5359 or contact us online today for your free evaluation!
Below you can watch a short video about the differences between traditional marketing strategies and new marketing techniques! Then, you can read four simple Internet marketing techniques perfect for your moving company to implement!
Our digital marketing campaigns impact the metrics that improve your bottom line.
See More Results

WebFX has driven the following results for clients:

$3 billion
In client revenue

7.8 million
Leads for our clients

5.2 million
Client phone calls
10 rapid-fire marketing ideas for moving companies
Advertise your moving company on Google
Rank locally in Google searches with Google Business Profile
Use Facebook Advertising
Network with real estate agents
Create a referral program
Show your team at work on Instagram
Create helpful resources on your website
Advertise coupons in the off season
Hear What It's Like to Work With WebFX!

"Our organic traffic has increased every month since we started working with WebFX. Organic is by far the leading source of traffic, making this our best return on investment of anything else we do online."
Trailer Company
Why is Internet marketing beneficial for movers?
If you're like most movers, you probably rely heavily on referrals to keep your business up and running. However, if you're looking to grow your business at a faster rate, referrals alone may not be enough to produce the business growth you want to achieve.
By advertising your moving company online, you can reach your most qualified prospects and bring in more customers for your business. This is extremely important if your moving company has its sights set on bringing in more customers and revenue.
Time to Level Up Your Sales
Our long list of services helps you grow every aspect of your business with marketing strategies that are proven to increase bottom-line metrics like revenue and conversions.
In the past 5 years, we've managed more than 12.9 MILLION transactions across our client base.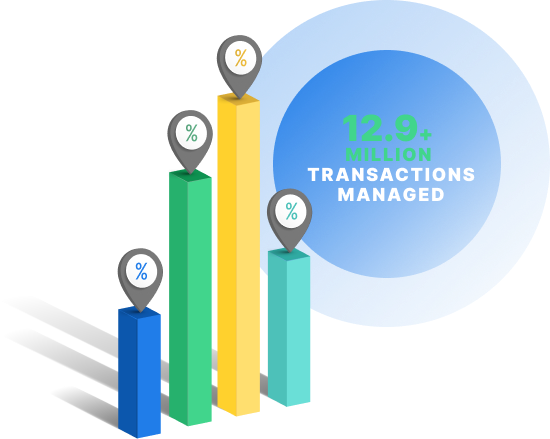 Internet marketing strategies for movers
Now that you understand the value of Internet marketing for movers, let's take a look at four specific strategies that will help your moving company achieve greater success.
1. Search engine optimization (SEO)
Search engine optimization (SEO) refers to a number of steps designed to improve your website so that it ranks higher in search engine results pages (SERPs).
First, you'll need to research and understand the keywords and phrases your potential customers use in search engines when looking for moving services. Then, you can incorporate those keywords in strategic places on your website. This will help search engines like Google understand what your pages are about and index them properly. You can also create content related to your products and services that will help your website gain traction in search results.
You can also reach more local traffic by creating a Google My Business profile and filling out key details about your business, such as location, hours, and contact information. Then, when people in your area search for movers, your company will be more likely to appear in results.
Ultimately, SEO helps your company increase brand awareness and reach more people online.
2. Pay-per-click (PPC) advertising
With pay-per-click (PPC) advertising, you can choose the keywords and phrases you want to trigger your advertisements in search engine results and other locations. Then, you can set a bid, and if it's among the highest, your ad will appear to the exact audience you want to reach.
And the best part? You only pay when people click your advertisements.
Another benefit of PPC advertising is that you don't have to wait for results. As soon as you launch a PPC campaign, your ads can start driving relevant traffic to your website.
Unlike SEO campaigns, which can take weeks to produce results, PPC ads begin working immediately. So if you're looking to quickly boost traffic to your website, PPC advertising is a great option.
3. Content marketing
Search engines and humans alike love quality content. This can include anything from blog posts and videos to infographics, ebooks, and downloadable guides.
When you create and publish content related to your products and services, it will help your pages rank higher in search results for targeted keywords and phrases.
In addition, if someone in your area searches online for a mover and happens to read a helpful blog post by your company, they will be much more likely to consider using your company.
4. Social media
Social media is another great way for movers to reach potential moving customers online.
Using sites like Facebook, Twitter, and LinkedIn, you can provide important updates about your company, offer special promotions, and even hold contests. This will help to increase engagement with your brand, and help your company expand its reach online.
Plus, every time someone interacts with your company on social media, it will appear in the newsfeeds of their friends and family members, expanding your potential reach and brand awareness.
In addition, people can review your company on social media sites, which can help to provide social proof that you are a trusted, reliable mover.
Internet marketing plans from WebFX
WebFX is a leader in the Internet marketing industry, and we offer custom SEO, PPC, content marketing, and social media plans designed to meet your business goals.
We'll take the time to get to know your company, and our award-winning team of experts will implement an Internet marketing plan that will increase your online traffic and revenue for your moving company.
When you choose WebFX for your Internet marketing needs, you can rest assured that you're working with a trusted partner, dedicated to helping your business achieve its full potential.
Still not convinced that Internet marketing is right for you? Check out our testimonials to see what our customers have to say. The results speak for themselves.
Interested in learning more?
Want to learn more about how WebFX can help your moving company reach more customers online?
Contact us today for a free consultation. We're excited to hear from you!
Earn a 20% greater ROI with WebFX