Your 2023 9-Point SEO Checklist
Search engine optimization (SEO) is the most popular marketing strategy in the world today. Get the perfect recipe to do it with this SEO Checklist!
It makes sense, too! Google serves trillions of searches every year, and when you rank well, you're almost guaranteed to attract qualified traffic. Here's the thing though — Google's guidelines are long and tricky, especially if you're learning about SEO for the first time.
You need an SEO audit checklist to make sure you're giving your site the best chance at ranking #1.
Get started on optimizing your website (and earning those top rankings) with the nine-point website optimization checklist below. If you need professional help when it comes to working through your website's SEO checklist, WebFX can help.
At WebFX, we work in organic SEO every day, helping our clients earn traffic, leads, and sales from the web. In fact, we've generated more than $3,021,182,299 in sales and more than 7,839,684 leads for our clients in the past five years.
Contact us online or call 888-601-5359 today to lay out an SEO strategy for your business!
1. Basic setup
Any SEO checklist for new websites (and even existing ones) should include your basic setup of must-use tools, like Google Analytics and Google Search Console. Follow along with this website SEO checklist to get your accounts started and linked to your site! Keep in mind, there are countless website optimization tools out there to help you with your SEO!
Set up your Google Analytics account
Google Analytics is a powerhouse tool when it comes to website analytics and SEO.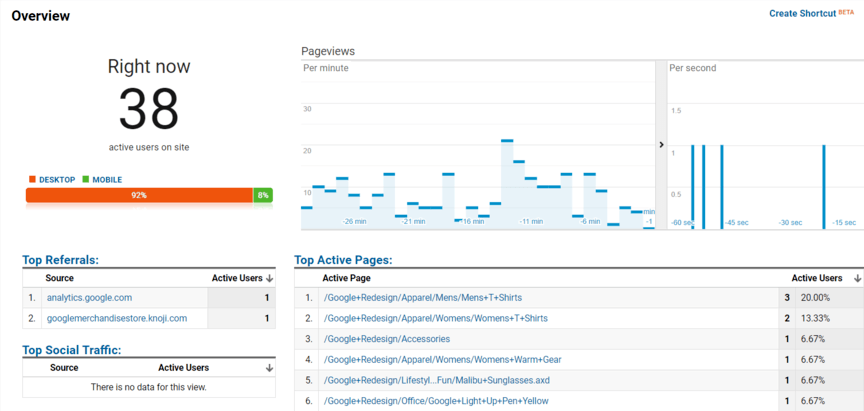 With Google Analytics, you can see:
How much traffic comes to your site from Google, social networks, other sites, and more
Which pages feature a high bounce rate, time on site, conversion rate, and more
How long it takes users to convert after finding your site
And more
Google Analytics also connects with several other platforms, including:
Google Ads
Google Data Studio
Google Search Console
You can get your Google Analytics account up-and-ready by following these five steps.
Set up your Google Search Console account
Next, you want to set up your Google Search Console account, which you can link to Google Analytics.

Like Google Analytics, Google Search Console is a free tool. It's also a powerful one, providing your business with immense insight into how your website performs in search results. Google Search Console highlights how people find your site in organic search results.
With Google Search Console, you can:
Submit your website's sitemap, as well as individual pages for indexing
Check your website for crawl errors and mobile-friendly issues
View top-linked pages, top linking sites, and more
See your impression and click counts for individual pages
Find which keywords attract the most views and traffic for pages
And more
Get your website set up in Google Search Console, and you can move onto the next item in this SEO audit checklist.
Set up Bing Webmaster Tools
Google may dominate the search market, but Bing still claims a fair portion of it. That's why it's worth using Bing Webmaster Tools. Like Google Search Console, Bing Webmaster Tools helps your business see how your website and pages perform in search results — but on Bing.

A few features worth taking advantage of in Bing Webmaster Tools include:
Uploading and submitting your sitemap
Viewing your biweekly SEO Report
Using the SEO Analyzer tool to check your site
You can get started with Bing Webmaster Tools by following Bing's handy how-to guide.
Set up Yoast SEO for WordPress sites
Got a WordPress site? Then you want to make setting up Yoast SEO a part of your SEO audit checklist.
Yoast SEO, a free plugin with paid options, helps your business optimize your site for SEO. In addition to the basic version, your company can use specific versions, like for local SEO, video SEO, news SEO, and even WooCommerce SEO.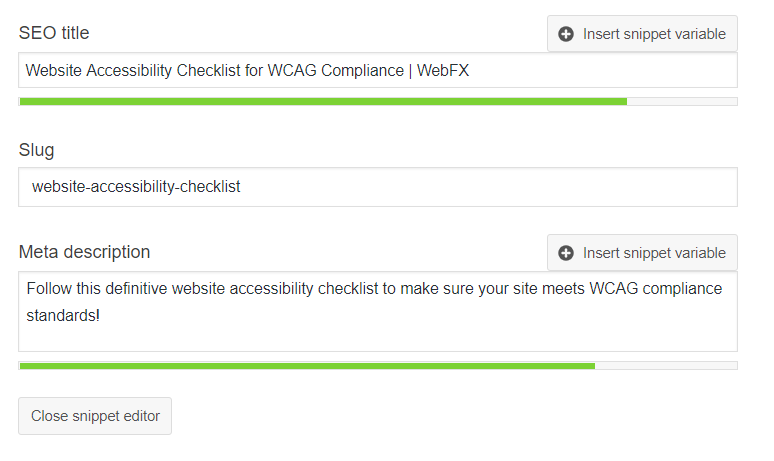 With Yoast SEO, you can:
Set canonical URLs
Take care of robots.txt files and sitemaps
Redirect pages with zero development skill
Learn more about the paid and free versions of Yoast SEO to see which is best for your site.
2. Keyword research
Keyword research is the process of discovering search terms that search engine users type into Google to find information related to your business or industry.
Once you do that, you can start using those terms on your site to draw traffic and, more importantly, potential customers.
Use our proprietary keyword research tool,
KeywordsFX

, to help you find high-quality keywords for content and PPC campaigns. Identify Top Keywords for Free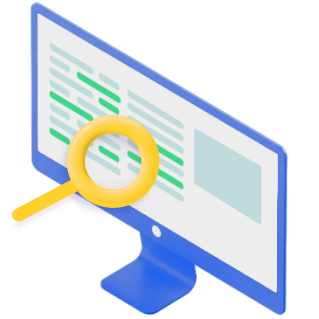 In this SEO checklist, we'll touch on each step of keyword research generally – but if you want to learn more, we delve into this concept more thoroughly in our beginner's guide to keyword research.
For now, we'll start with the basics with this SEO checklist for new websites.
Create a seed list of keywords
No one knows your business better than you do. That's why keyword research always starts with a brainstorming session to create a seed list of potential keywords.
This list should include any terms that you know are relevant to your business. Anything that may refer to your specific company, industry, or even headquarters is a smart start to keyword research.
For example, a local thrift store could start with keywords like "vintage t-shirts in [their city]" or "thrift shop [their city]."
Similarly, an electrician could use keywords like "electricians in [city]". They could also target more general searches, like "how to wire a dimmer switch" or informational queries along those lines.
While your company will differ from these examples, the principle is the same — think of keywords that your customers probably search.
Then, it's time to find the keywords that work.
Look up keywords in tools
Once you have your seed list, it's time to validate your keywords.
You can do this by looking up your keywords in a keyword research tool. The most popular of these is Google Keyword Planner, which actually shows pay-per-click (PPC) data.
(This data is only available to those running AdWords campaigns. You can use a number of alternative keyword tools if you don't advertise on Google.)
That data is still helpful for SEO in terms of search volume, popularity, and competition though.
The most valuable piece of information is search volume, or how often people search for a keyword in a given month. That'll give you an idea of how many new visitors you could potentially attract to your website and convert into customers.
Keywords with lots of searches aren't always the best choices, though. That's because keywords that are searched more often also have more companies trying to rank for them.
That translates to more competition for you – and it's also why it's so important to understand what makes keywords valuable.
No matter what keywords you choose, make sure you research their search volume, cost-per-click (CPC), and competition. Following this part of this website optimization checklist will benefit your SEO strategy by helping you target the most valuable keywords.
Record valuable keywords
The best keywords often follow this pattern:
Long (3+ words)
Specific
10+ monthly searches
Low competition
High relevance
These keywords are called long-tail keywords. They may not bring lots of people to your site individually, but you can target a lot of them to earn easy, steady traffic.
As you target more of these keywords, your brand will start to grow online since you rank for so many different searches.
And once you have that foundation for your website, you can move into more general keywords.
But for almost all businesses, it's best to target longer, more specific keywords.
As a bonus, specific keywords also correlate to buyer intent. For example, you can bet someone looking for "men's size 7 running shoes" is much more likely to become a customer than someone looking for "shoes."
After all, the more specific they are, the clearer they are on what they want.
But while it's crucial to record the good keywords you find, it's just as important to remove the bad ones.
Remove poor keywords
"Bad" keywords will vary from business to business, but they generally follow this pattern:
Short
General
High search volume
High competition
Low relevance
Targeting these keywords with a new website usually won't do much good — which is why this to-do is on our SEO checklist for new websites.. That's because you'll be up against nationwide (or worldwide) brands that have stronger websites than you.
Some of these keywords may eventually make good goals, but you need to build to them if you really want to make them work.
After you have your refined list of keywords, you can start targeting those keywords with content.
3. Technical SEO
A technical SEO checklist can seem intimidating, especially if the technical side of SEO is new territory for you or your team. Technical SEO, however, is essential. That's why you want to review and follow this basic SEO checklist for technical SEO.
Fix crawl errors in Google Search Console
Remember Google Search Console? Well, you can use it for finding and fixing crawl errors.

A crawl error means that Google can't read or view your page, which poses a problem. If Google doesn't understand what your page is about, it's not going to rank it for the term you want. That means less traffic for you, so it's a high priority to fix this problem.
Find and fix crawl errors in Google Search Console with these steps:
Log into Google Search Console
Click "Coverage" under the "Index" menu
View any crawl errors
For each crawl error, Google will provide additional information. If you click, "Learn More," you can learn more about the problem and how to fix it. Once you repair the error, you can then validate the fix by returning to the error and clicking, "Validate Fix."
Use "URL Inspection" in Google Search Console
While it's helpful to look at Google as another user, Google (and its bots) can't see your website the way most users do. When it comes to images, for example, Google relies on alt text to decipher your image and its role.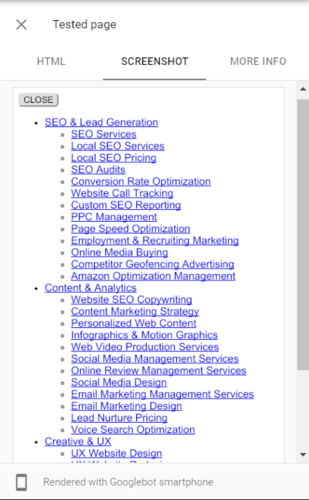 Since Google doesn't always see your site the way you do, it's helpful to use the "URL Inspection" tool:
Log into Google Search Console
Select "URL Inspection" or enter your URL in the search menu
Click "Test Live URL"
Choose "View Tested Page"
Select "Screenshot"
View a snapshot of your page, from Google's perspective
Once you see how Google sees your page, you can make any necessary updates or changes.
Fix broken links or 404 errors
A broken link, also known as a 404, doesn't make Google or users happy. That's why every website optimization checklist should include checking for 404s across your site — and fixing them as soon as possible.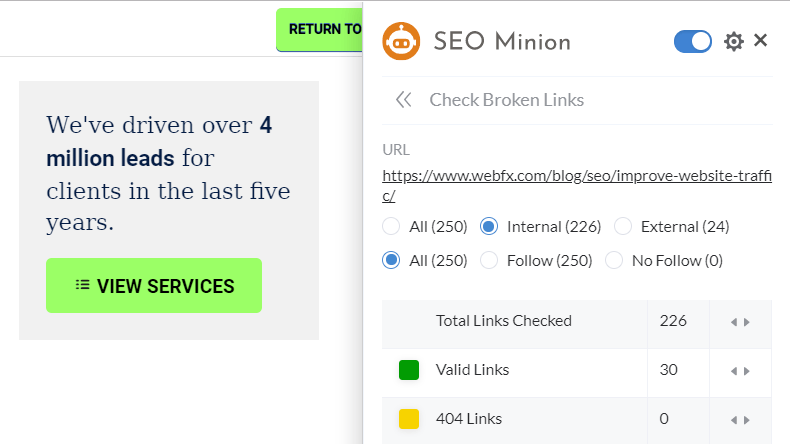 You can find broken links on your site a few ways, like with the following tools:
If you feature a smaller website, this step in your SEO checklist should only take a little bit of time. In comparison, a larger site may require more time and resources for 404 fixes, especially if it hasn't been checked in months or even years.
Either way, you want to find and fix broken links.
Make every page responsive or mobile-friendly
A responsive or mobile-friendly site is non-negotiable. More than half of the world's Internet traffic comes from mobile devices, which makes having a mobile-friendly website essential. If you don't, you will lose not only traffic and rankings but also sales.

You check the responsiveness of your website and its pages a few ways, including:
If your site isn't mobile-friendly, make fixing it a priority.
You don't want to lose a top spot in search results because your page wasn't responsive.
Have an HTTPS site
Like a mobile-friendly site, an HTTPS site is essential.

That's because Google uses HTTPS as a ranking factor too, which makes having an HTTPS a must for any search engine optimization checklist. For reference, HTTPS describes a protocol that helps display and secure pages across the web.
You want to provide not only search engines but also users a secure online experience. Even if your company doesn't process transactions online, HTTPS still matters. It's not only a ranking factor but also a trust signal for users.
Set aside some time and secure your website with the help of your development team.
Check your page speed
The last item on your technical SEO checklist is page speed.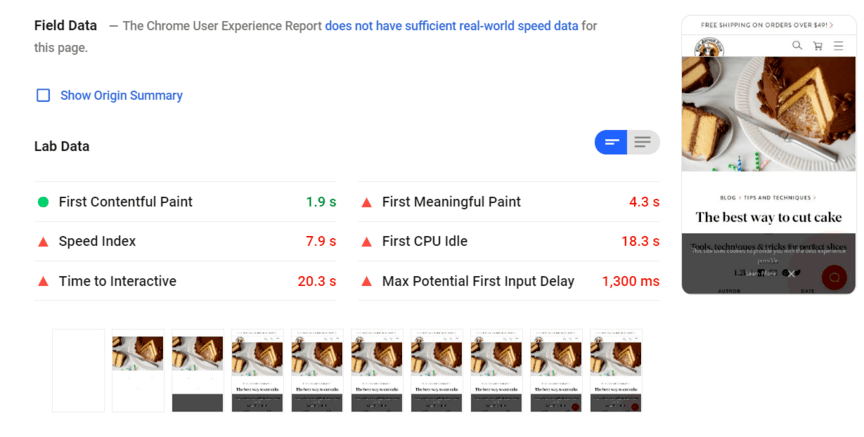 Again, Google uses page speed as a ranking factor. If you don't provide a fast experience, users will leave — and Google knows it. That's why the search engine's algorithm considers the speed of your page when ranking it in search results.
Check the speed of your pages with Google's free PageSpeed Insights tool.
Your report will provide your team with actionable advice. In some cases, the tips may seem confusing. That's when you want to talk with your development team or think about page speed optimization services.
4. Content creation
Content is a general term that describes any element you add to your site, including text, video, audio, graphics, and more.
In general, there are six kinds of content websites regularly use to appeal to their customers, ranging from blogs to infographics.
As content plays a core role in any SEO strategy, it deserves an SEO checklist of its own.
Blogs
A blog is a section on your site that you can use to publish posts about timely events, industry news, or company information.
Blogs are great for discussing just about anything, and adding new posts to your site on a regular basis helps Google read and understand your site better.
That means you enjoy more rankings, better rankings, and all the potential customers those benefits entail.
Articles
Articles are similar to blogs in that they're text-based content covering topics relevant to your business.
But articles are different in that they work best when they're evergreen.
Most often, that means using articles to talk about your products and services — especially why someone should choose you over your competitors.
Depending on the size of your business, you could easily end up with hundreds of article pages on your site that target highly-specific keywords.
That's both normal and a good sign. After all, the more keywords you target, the more customers you can earn!
Images
Images are great supplements to blog posts and articles because they give a visual element to text-based content.
While Google can't "see" images like a human can, their algorithm can still appreciate that you have an image on a page that's providing value to your reader.
That tells Google that you're creating content with your user in mind, and that'll help you rank better in search results.
Infographics
Infographics are visual representations of data covering a specific topic, and they're ideal for drawing traffic and links to your website.
They can also help you attract visitors if you share them on social media, especially if your followers share them with their friends.
That's because most people can read and appreciate an infographic at a glance. This is fundamentally different from blog posts and articles, which require visitors to read in-depth information to get the full impression of the content.
But for infographics, you want to use fewer words, more statistics, and lots of data visualization.
That's a winning recipe for any infographic in the long run.
Videos
Videos are excellent standalone pieces of content, and they're also great for adding SEO value to a page.
With videos, you can summarize an entire article or blog in a matter of minutes. That means someone doesn't have to read a whole page to understand what you're saying — they can get it all in a minute or two!
That provides tremendous value to your users, which Google always likes to see.
So whether you're posting a video as standalone content or supplementing a page, adding quality videos to your site is an effective strategy for any business.
Interactives
Interactives are pieces of content on your site that let your users accomplish something by adjusting settings, inputting information, or changing other criteria.
Interactives are even better at earning links than infographics, and they're more engaging than videos.
A good interactive will generate shares on social media, earn thousands of links, and climb the ranks of Google search results day after day.
The catch is that interactives also take the most time for planning, creation, and testing.
But once you have that done, you'll have an online product that can pay dividends for years on end.
Provide value
There's one main principle to all forms of content: You have to provide value.
If you don't offer something valuable to your site visitors — information, answers, ideas, etc. — then they don't have a reason to stay on your site.
That means they'll leave your site, find a competitor, and buy from them instead.
And that's the last thing that should happen with an SEO campaign!
So regardless of which content format you like best, it's crucial that you have a vision for the value you'll offer your visitors.
5. On-page optimization
On-page optimization is the process of streamlining the code and text on your site to make sure Google can read, understand, and rank it more easily.
The easier you make it for Google to do its job, the better you'll rank overall.
For that to happen, you need to follow the points on this website optimization checklist. From optimizing your title tags to using your keywords, there are several points you want to check-off to rank in search results.
Title tags
Title tags are one of the most important SEO factors for any page.
Title tags act as the literal title of a page, which tells Google what to expect on it. Your title is also what shows up in search results, and can determine whether a user decides to click.
While Google can't "see" images or videos, it can read text pretty well. So if your title tags don't match the context of your page's content, Google won't rank you in search results.
Title tags work best when you add some element that naturally attracts users' attention. That element could be a numbered list, eye-catching word (shocking, horrifying, etc.), or any other idea you have to draw someone's attention in search results.
When you have a strong title for your page, you'll naturally draw clicks that might otherwise go to your competitors.
Meta descriptions
Meta descriptions are short summaries of your page that tell people what to expect if they click to your site.
Meta descriptions show up underneath your title tags in Google search results. They don't directly contribute to your ranking in search results, but they're helpful for convincing Google users to click.
Alt tags
Alt tags are bits of code you use to tell Google what an image, video, or audio file depicts.
So remember how we said Google couldn't "see" images earlier? This is how you solve that problem.
Alt tags should be short, three-or-four-word descriptions of a multimedia element. That lets Google understand what you're showing your visitors so they can determine how good of an experience you offer.
Any time you use a multimedia file on a page, always use an alt tag with it.
It may seem like a minor detail, but it can easily make the difference in search engine ranking with a tough competitor.
Keyword usage
While Google has grown much more sophisticated over the past few decades, it's still important to use your target keywords on each page.
This shouldn't be a challenge since your keywords will be related to your title tags. That means all you have to do is write about your topic and the keywords will flow on their own.
If you ever find yourself intentionally adding keywords to different places on a page, take a step back and consider whether that's the best course of action.
Keyword stuffing is a major problem in Google's eyes. So if your keywords disrupt the flow of your text, you're probably adding too many.
Just write as you would speak and you'll use keywords as naturally on a page as in a conversation.
Latent semantic indexing
Google now understands synonyms, thanks to latent semantic indexing (LSI).
This is important for two main reasons:
It helps you rank for related but untargeted keywords
It lets you write more conversationally, which is good for readers
Still, there's a bit of a science to making LSI work for your pages. Generally, you can use the chart below to make sure a good page on your site will show up in similar searches.
With all of this done, you've almost entirely completed your on-page optimization.
LSI Keywords per Word Count
| Word Count | LSI Keyword Count |
| --- | --- |
| 300 | 1 |
| 600 | 2 |
| 900 | 3 |
| 1200 | 4 |
| 1500 | 5 |
Now, it's time to go local.
6.Local SEO
Local SEO is the practice of listing your business with different directories online so you can promote your brand to local potential customers.
We'll cover the four biggest sources in this SEO checklist, though there are thousands of local SEO outlets in the world.
Google Business Profile
Google Business Profile lets you add your name, address, phone number, and hours of operation to Google's database of companies.
That lets you show up for searches related to your products, services, and location. That means you don't always have to target a keyword to get listed in search results (although that helps) — you just need to join Google Business Profile.
We recommend starting with at least Google Business Profile. If you decide the other outlets aren't worth your time, then you'll still have a local Google listing on your side.
Bing Places for Business
Bing Places for Business is the same concept as Google My Business, but it's for the Bing search engine.
It includes all of the same information and search benefits as Google, which makes it a great addition to any local SEO strategy.
Yelp
Yelp is the world's most popular review site. People can use it to discuss their experiences with your business in detail and rate you on a scale of one to five stars — even if you haven't yet signed up for the site.
That means people could already be talking about your company without you overseeing the conversation. Anyone could be saying anything — and you're not there to give your side of the story!
That's why it's so important to "claim" your listing on Yelp.
You can add your name, address, phone number, and other information to your listing. It's also a place for people to see how reliable you are as a business.
Better yet, it lets you moderate the comments people leave about your business.
So if you need to mitigate a negative review or thank someone for their business, you can do it all in one place.
Yellow Pages
Yellow Pages runs a physical and digital phone book of businesses around the United States.
You can join their digital product for free, and it gives you an extra listing online from a trusted source.
More importantly, it lets you take advantage of any advertising options that Yellow Pages offers.
Even though they're not 100% digital, they're still one of the most trusted names in business. That can go a long way in exposing your brand to new customers and staying one step ahead of your competitors.
But local SEO is just the beginning. To really get your brand out to potential customers, you can also use social media to supplement and improve your marketing.
7. Social media
Social media is the most popular online activity in the world. That means if you want to reach out to customers, you should add a social media marketing plan to your SEO strategy.
By using social media, you reach your customers where they already spend their time online and encourage them to engage with, promote, and buy from your brand.
The best place to start is the most popular social network in the world.
Facebook
Facebook has more than 2.7 billion monthly users worldwide.
In a nutshell, that means you can probably find customers there.
Facebook offers businesses free pages so they can add their name, address, phone number, and other important information.
That also makes Facebook a great local SEO outlet, although it may not carry the same power potential as Google My Business or Yelp.
Still, it's good to fill out as much information as you can so that users can find you on the platform.
Then, you can use that page to promote content from your site and earn new followers. Join discussions with your followers, answer their questions, and offer solutions to their problems if they need any.
You don't have to give away your services for free — it's just good to show that you have a human side to your business.
That makes your company more relatable, approachable, and trustworthy.
And while you may not be able to measure those ideas with numbers, you can see their results in your bottom line!
Twitter
Twitter has 328 million active monthly users, and it's packed to the brim with excited users constantly talking back and forth to one another.
Creating a Twitter account for your business isn't so much joining a social network as it is jumping into an ongoing conversation.
As a result, you need to be prepared for Twitter users to talk at or about you — a lot.
These days, Twitter also doubles as a customer service medium, and you can hear from any of its users if they know your username.
When you use Twitter, you gain a new platform to promote your site's content and earn new customers. You can even take out ads to reach users based on their interests.
And if your content gains a lot of attention, you'll see it happen in real-time — not to mention in your website's analytics.
Instagram
Instagram is one of the world's most popular online photo-sharing networks.
It's also owned by Facebook, which means you can administer Facebook and Instagram ads from the same interface.
Aside from that, Instagram is a phenomenal way to promote your brand through photos and short videos.
These can be photos of your company, employees, products, results, and more. Text descriptions and hashtags help the photos get more exposure, which in turn helps you get more followers.
Those followers then become a consistent audience for your future updates.
In other words, you have a group of regulars who you know are interested in your business.
Pinterest
Pinterest is a popular image- and idea-sharing social network that focuses on visual engagement for its users.
Pinterest is exceptionally popular with women, who make up more than 66% of its users.
It's also popular with high-income households, which spells good news for any brands that use Pinterest to promote themselves.
Whether you're posting photos of your company, leadership, products, services, site content, or anything else, Pinterest is a great place to promote those images in relationship to your brand.
That gives people the opportunity to "re-pin" your content — Pinterest's version of sharing.
Effectively, this makes Pinterest similar to Twitter. But Pinterest also has some purchasing functionality built into it, and that makes it an ideal fit for ecommerce or retailers.
B2B companies can also succeed on Pinterest by promoting content, sharing industry information, and more.
In other words, Pinterest is helpful for every kind of company — regardless of industry.
LinkedIn
LinkedIn is the world's #1 social network for professionals, and when you create an account for your business, you can friend or follow business personalities ranging from local business owners to Fortune 500 CEOs.
You can also post content from your website, blog about your experience with your business, and attract new customers (or leads).
Best of all, you can create hyper-targeted, professionally-oriented ads that only display to LinkedIn users who fit specific criteria like job title, company, and more.
That means LinkedIn lets you appeal directly to professionals as they're focused on business.
That's especially valuable to B2B companies, but it's also helpful for B2C. For example, office supply retailers can find especially lucrative success on LinkedIn by sharing the right content and promoting the right products.
8. Link Building
Link building is the process of getting other websites to link to yours.
Links are the #1 most important SEO ranking factor. Google views them as votes of confidence from one site to yours, which acts as a digital endorsement.
Quality outweighs quantity when it comes to links, though. So if you only have a handful of links coming from reputable sources, Google will still rank you higher than a competitor with 1000 links from spam sources.
The ideal position for any link building strategy is a large quantity of high-quality links. That's easier said than done — but that's why it's ideal!
So how do you reach that ideal if it's such a lofty goal?
Below, we'll talk about the three most effective link building methods.
Email outreach
Email outreach is the process of sending your site's content to journalists, bloggers, and other influential people in your industry who are interested in the content's topic.
This strategy is most effective when you pair outstanding content (like an infographic) with a short, effective message.
That lets someone quickly skim your email, navigate to your content, and decide whether they want to link to it from their site.
Overall, email is probably the most reliable way to earn new links. It works best when you can email a person directly, as opposed to using "info@" or "contact@" email addresses.
To learn more about email outreach specifically, you can check out our blog post on how to write effective outreach emails.
Social media outreach
Social media outreach is the same idea as email outreach, except that you do it over Twitter, Facebook or another social network.
Generally speaking, social media outreach isn't as effective, convincing, or personal as an email. That's why it's best to use it only when you can't find someone's direct email address.
Still, it gets your content in the eyes of an influencer, and they might even share it with their followers.
Even if your ideal target doesn't link to your site, you can still get residual links from people who saw your link, enjoyed it, and linked to it themselves.
Natural acquisition
Natural acquisition is based on a common business principle — good products practically sell themselves.
If you create something truly innovative, helpful, and enjoyable, then you'll earn links naturally as people discover and promote your content.
This makes natural acquisition a self-perpetuating link strategy.
The better your content, the more links you'll earn online.
The more links you earn online, the better your content ranks in search results.
The better your content ranks in search results, the more people will discover it.
Then, you earn more links, better ranks, and more traffic all over again.
With natural acquisition, the goal is always to make the best possible product so that it passively gets results without your guidance.
9. Ongoing SEO
SEO isn't a once-and-done journey — it's an ongoing process.
Every time you've "finished" the SEO process or checklist, it's time to start it over again.
If you ever stop entirely, you won't be moving forward with your website. Unfortunately, that means your competitors will pass you.
Fortunately, SEO is never as difficult as it is the first time you try it. That means you'll always find new ways to improve your SEO process until you've turned your site into a lean money-making machine!
[Bonus] SEO checklist infographic
If you'd like an actual SEO checklist, use this handy infographic:

Complete your website's SEO checklist with WebFX
This basic SEO checklist can help your business get started with SEO.
That doesn't mean it's easy to implement on search engine optimization checklist on a site. It requires time, dedication, and some background SEO knowledge. At WebFX, our award-winning team can help you check-off every to-do on your checklist.
Request a free quote online today or call us at 888-601-5359 to start using SEO for your website!
How Is Your Website's SEO?
Use our free tool to get your score calculated in under 60 seconds.