Our Philadelphia web design services
Whether you want a simple or intricate website design, our Philadelphia web design company has the web design package for you.
Need a website fast? We can help! With our program RainmakerFX, we help you create your perfect website.
Our Philadelphia web design company uses RainmakerFX to incorporate your existing brand into one of our custom themes. You can choose an information-based template, multi-offerings template, or a user-engagement focused website. Regardless of which one you choose, we'll have your site up and running in 30 days!
Our designs are focused on driving leads for your business. We'll get your business set up on Google Analytics, so you can monitor your website.
We have an experienced team of Internet marketers and award-winning designers that work together to make your perfect website. This ensures that you get a great looking website that will rank well in search results.
We don't want to tell you about the work we do, we want to SHOW you.
View Our Portfolio

We've built over
Websites
in a variety of industries.
5 reasons web design for Philadelphia businesses matters
Learn more about why web design for Philadelphia businesses like yours is essential to growing offline and online.
A good website starts with great design. If your site appears old or difficult to use, you risk driving people away from your site.
Many times, your website is the first point of interaction between your business and new customers. It is crucial that you make a good first impression with new visitors.
Web design can strongly impact whether a person stays on your website. You don't want to lose customers to your competition because of a poorly designed website.
There are numerous aspects of your design that will impact how visitors view your website. Your colors, design choices, mobile-friendliness, and page speed all impact a user's experience on your website. These are all aspects of your website's design that need to be created seamlessly in order to keep people on your website.
1. Appearance
Your beautifully designed website is the first step to gaining new customers and keeping them on your page. The appearance of your website tells users all about your business.
If your site appears modern, sleek, and optimized, you will see more customers remaining on your site and eventually converting. You don't want a website that looks like it hasn't been updated in 10 years.
One of the most important strategies that we integrate into our websites is responsive design. With responsive design, your website will scale to fit the devices people use to access your site. This means that whether someone is on their iPhone or their laptop, they will have a seamless and easy experience.
Responsive design is important in Philadelphia web design because it provides a positive user experience. User experience is one of the most important aspects of your website. If users are having a positive experience, you will keep them on your website.
The appearance of your website, however, is just the beginning.
2. Navigation
Your design needs great navigation to go with it. Your navigation needs to be simple and easy to use. You don't want users to be unsure of where to find important information.
There are hundreds of navigation styles your business can use. You'll need to pick a style that is best suited for your Philadelphia business. Ideally, this navigation will provide the best user experience for your customers.
By providing them with a great experience, you will be able to hold their attention longer.
3. Attention
Once you get visitors onto your site, it is important that you keep their attention. You don't want to lose their attention and cause them to leave your site. Your customer's attention is valuable because it keeps them focused on your brand, products, or services.
In order to make a sale, you need to keep visitors' attention. The best way to hold someone's attention is through compelling content. This includes videos, downloadable content, infographics, and more.
Once you have their attention, you'll need to direct them to the next step.
4. Direction
This is how you get people to proceed to your page. The most common direction is scrolling down. It is a simple, effective way to get people to progress further.
You need to keep the device your users are using in mind. Responsive design is important here too because your website needs to adapt to make it easy for mobile users. It is easy to continually scroll on a computer, but it is a little more difficult on a mobile device because people use their fingers to scroll.
With responsive design, mobile users can easily scroll through your website and find the information they need.
5. Action
This is the ultimate goal. When any new visitor comes to your site, the goal is to get them to take action.
This is why you need to use a call to action (CTA) at the end of every page. This gives people a sense of direction and tells them what they should do next. CTAs dramatically increase conversions for businesses.
You can encourage your users to do anything. It can be to make a purchase, sign up for something, or download content. The goal is to get users to take action on your site.
Time to Level Up Your Sales
Our long list of services helps you grow every aspect of your business with marketing strategies that are proven to increase bottom-line metrics like revenue and conversions.
In the past 5 years, we've managed more than 12.9 MILLION transactions across our client base.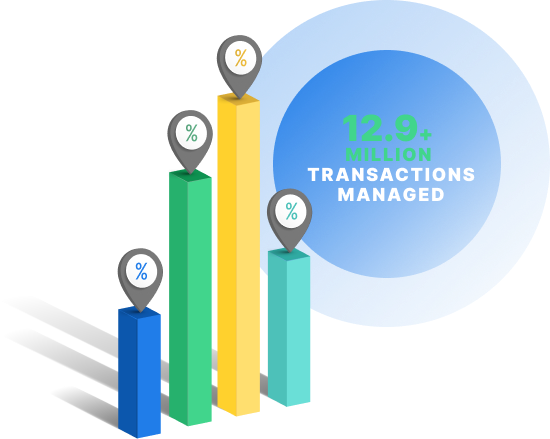 How to find the best Philadelphia web design company
Here are a few tips that should make finding the best web design company in Philadelphia, PA a little easier on you and your team.
Do your homework
This is important not only for you, but also for your web designers. This is because it gives everybody a view on what the website is going to look and function like.
One important item to note here is that you should not get stuck on any given design because ultimately yours will have to be unique in the sense that it fits you! So feel free to look at as many templates, sample websites, and model sites as you like… but remember that yours should be yours, and not modeled after someone else's.
Determine your strategy
Defining a clear mission at the beginning is very important when researching web design firms in Philadelphia. This is pertinent in order for our web designers to come up with a cutting edge web design based on what your goal is. Websites that do not have a clear goal at the beginning tend to drag, which extends both the design and launch of a website.
How functional does your site need to be?
Deciding on what kind of website you want definitely needs to be completed before thinking about what kind of functionality you want from the web design firm you choose.
There are many different types of websites that include static HTML, content management, Flash, etc. Deciding on the type of website will definitely have influence from the main objective of your site.
For example, if you are an artist in Philadelphia and you just want to show your great artwork on the web, then you would probably go with a partial Flash website because it has that "WOW!" factor. If you were a pet shop owner and wanted to easily change your website's content on a weekly basis, then you would probably want to go with a site backed by a Content Management System (CMS).
What is your design budget?
Finally, think about your budget. How much can you spend on your site and Philadelphia web design company?
To figure out how much you should expect your new website to cost, you can use our website cost calculator to create an instant quote for your project. While this will only be a rough estimate, it should still give you some guidelines for the budget that you should give to the web design company in Philadelphia that you choose.