4 benefits of social media marketing
You know the value of social media. Not only is social media valuable, but it offers many benefits for your Philadelphia business.
1. You can target people directly
As stated previously, social media marketing enables you to directly target people in your market. It is so important to connect with your target audience, so you can build a relationship with them.
Social media enables you to use advanced targeting options to hone in on your specific leads. You can create advertisements that are tailored and directed to different groups of your target audience.
You also have the opportunity to retarget people if they don't convert the first time. This is the process of creating advertisements that are specific to certain people who looked at products on your site. These advertisements often feature a product that your audience checked out.
With social media marketing, you can reach out to your target audience directly. This enables you to obtain more credible leads and earn conversions for your Philadelphia business.
2. You will obtain more qualified leads
You want to reach qualified leads because they are most likely to convert. Social media helps you attract more credible leads.
With these social platforms, you can target a specific type of user. You can create advertisements that appeal to them. It is easy to target interested parties with social media.
Social media is designed to give you advanced targeting options that enable you to reach more qualified leads. You are connecting directly with people who are the most interested in your products or services. This produces more qualified leads for your business.
3. You will build your brand
Social media marketing is a great way to build brand recognition. When people see your social media page and your posts, they learn about your business. They become more familiar with your business and your brand.
You will help people become more familiar with your brand by connecting with them on social media. This is an opportunity to share different kinds of posts about your business and get your followers familiar with your business.
Brand recognition is important because it leads to conversions. When people are familiar with your brand, they feel more comfortable purchasing your products. You need to build your brand and help your followers learn more about your brand, so they will feel comfortable converting.
4. You will boost your reputation
People use social media for many reasons. One thing people love to do on social media is leave feedback about your business.
Social media is one of the places people will go to post positive and negative reviews about a business. They use these platforms to share this information with others, so they can be informed. Regardless of their feedback, this is an opportunity for you to build your Philadelphia business' reputation.
Not everyone will be satisfied with your business. Some people may have an excellent experience, while others are not satisfied. If people leave a negative review, it's a chance for you to address the problem and try to fix the situation.
When you take the time to address reviews, it says a lot about your business. People know that others will have negative experiences with a business, but it matters how you address it. When they see you addressing matters, they can trust that you will address any issues they may have.
74% of people use social media when making a purchasing decision.
Make their decision easy with a stellar social media presence. See how your brand can level up by requesting a no-obligation proposal today.
One of our experts will be in touch within 24 hours!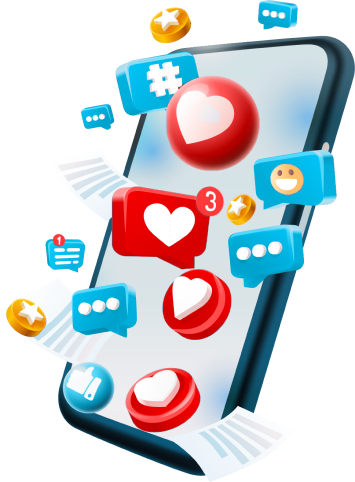 WebFX is a top Philadelphia social media marketing company
With the constant growth of social media, these platforms are constantly evolving and changing. It can be difficult to keep up with these changes. At WebFX, we know how to create an effective social media marketing campaign that will earn your Philadelphia business more leads and conversions.
We're a full-service digital marketing company with experience creating social media plans. We have a team of 500+ experts that are dedicated to your campaign. Our award-winning team will take the time to get to know your business, so we can create a customized plan that fits your business' needs.
We know how to drive results for our clients. To date, we've driven over $3 billion in sales and over 7.8 million leads for our clients. We focus on putting our clients' success first.
Our clients love the work we do, too. We have over 1,020 client testimonials from a variety of industries. Check them out to see what it's like to partner with a top social media company like WebFX!