One of the biggest tech debates of the 21st century is Apple vs. Android. People go head to head debating which brand offers superior products and services.
On this page, we'll discuss everything you need to know about Apple Pay and Google Pay and the benefits of using these services. If you want to learn more about these payment methods, call us today at 888-601-5359 to speak with a strategist.
Let's get started!
Our digital marketing campaigns impact the metrics that improve your bottom line.
See More Results

WebFX has driven the following results for clients:

$3 billion
In client revenue

7.8 million
Leads for our clients

5.2 million
Client phone calls
What is contactless payment?
Before we dive into Apple Pay and Google Pay, it's important to understand the technology behind these payment methods. Both operate on contactless payment.
With contactless payment, you don't need to slide your card at the point of sale (POS) terminal. Instead, you use your card in a compatible device.
Contactless payment uses near field communication (NFC) technology to obtain payments from your device. These terminals use radio frequency identification (RFID) to communicate the payment between the mobile device and the payment reader. The information transmits through RFID to make your payment at the register.
Most people use their mobile phones or compatible wearable devices like watches to make payments. When you get to the register, you simply open the Apple Pay or Google Pay app, hold or wave your device over the POS terminal, and make your payment. It's a simple process that takes less time than swiping your bank card.
Apple Pay

Apple Pay
is one of the most popular forms of contactless payment. It can only be used by Apple devices like iPhones, Apple Watch, or iPad.
There is no app to download to get Apple Pay. It operates through a pre-programmed app called Wallet. In this app, you add all your payment options in one place.
Apple Pay also enables you to send and receive money from friends and family. You can request or send money through Messages. If you're looking for a hands-free way to send and receive money, you can use Siri for these functions.
When you receive money from people, it doesn't automatically go on to your bank card. Instead, you get an Apple Pay cash card that lives in your wallet. When people transfer money to you, the money goes on to this card.
You can use this Apple Pay cash card like any other bank card. The funds are immediately placed on the card. You can use it to purchase things in stores, on apps, or online.
If you prefer the money on your bank card, you can transfer it into your bank account. This will take more time to process.
Apple Pay is available at numerous retailers. Check out the list of participating retailers here!
Common questions about Apple Pay
When using Apple Pay, many people have questions about how it works. Here a few common questions that may be on your mind.
Can you only use it in stores?
No! While most people will use Apple Pay in stores, you can also use it in apps and on the web. If you have an iPhone, iPad, or Mac, you can use Apple Pay to make purchases.
Apple Pay makes it easy for you to make purchases online. Instead of wasting time filling out lengthy forms, use Apple Pay to make purchases quickly and easily. For those who have a MacBook Pro, you can use TouchID with your touch bar to make fast purchases.
What bank cards are accepted?
Apple Pay works with many banks to enable you to participate in Apple Pay. You will need to check to make sure that your bank participates in Apple Pay. This contactless service works with popular credit card types, including Visa, Mastercard, American Express, and Discover.
Can you store more than bank cards in Wallet?
Yes! Apple Pay allows you to add various payment methods to make shopping a breeze.
You can upload some gift cards, but Apple Pay is a little more limiting with which types you can upload. Do a bit of research to see if your gift card fits with their requirements.
You can also add things like boarding passes, tickets, and rewards cards to your Wallet. It's a convenient way to keep numerous types of cards in one place.
Does Apple Pay store my card number and information?
No! One of the most common misconceptions about Apple Pay is that Apple stores your information within your Wallet. This, however, is far from true.
When you match purchases with your bank card in Wallet, there are device-specific numbers and unique transaction codes that are shared between your phone and the POS terminal. These unique codes change every time you make a purchase.
Your card number is never stored in your device or apple servers. When you make a purchase, your number isn't shared with the merchant. It is a safe way to make a purchase without sharing your personal information.
The only time Apple stores information is with your Apple Pay cash card. This is solely for troubleshooting, fraud prevention, and regulatory purposes. It's an extra layer of security to ensure that you properly receive money from your friends and family.
Do I need to sign or type in my pin when I use Apple Pay?
It depends. When you make purchases, you typically use the Touch ID on your phone to authorize the payment. It doesn't require a pin or signature.
If your purchase is over $50, it may require a signature, depending on the terminal. For the most part, you will only need to sign or use your pin for bigger purchases.
Apple Pay for merchants
As a merchant, it is easy to set up Apple Pay so your customers can start using it with your business. All you need to do is contact your payment provider and tell them you want to accept Apple Pay. If you have an NFC-enabled terminal, you don't need to worry about doing anything else.
Apple makes it easy for you to market that you accept Apple Pay. You can download the Apple Pay mark to use in emails, at your store terminal, and on your website. This makes it easy and convenient to show your audience that you accept Apple Pay.
You can also order Apple Pay decals to put on your storefront window and on your register.
Apple Pay is a great addition to your accepted payment methods because it doesn't cost anything to have it for your audience. You're providing a convenience to your customers and enhancing their experience in your store.
Google Pay for Android

Aside form Apple Pay, merchants can also use Google Pay. It is formerly known as Android Pay and is available only to Android users. Google Pay is compatible with mobile devices and Android-based smartwatches.
Like Apple Pay, you can use Google Pay in stores, in apps, and online. You can checkout with products like Google Play, Google Assistant, Chrome, and YouTube Red.
One of the unique features of Google Pay is that you can pay people who don't have Google Pay. All you have to do is use an email address or phone number to send money to your friends and family.
Google's Wallet allows you to save multiple types of cards. You can add bank cards, gift cards, and PayPal. Google Pay even allows you to buy transit tickets, use your phone at the gate, and get going.
You can also add loyalty rewards cards. You will see offers and Google Pay will remind you to use your loyalty cards when you're in that store.
Like Apple Pay, Google Pay is very secure, as Google Pay never shares your card information with anyone. There are multiple layers of security that protect your information and keep your account safe.
Moreover, Google Pay provides you with personalized suggestions for your Wallet, which gives you the best experience possible.
Google Pay for merchants
Google Pay is another contactless payment system that is easy to add for merchants. It is completely free to accept Google Pay.
You will reach your customers better with the numerous contactless payment service tools, such as Google Pay APO for Passes. This is an opportunity to promote your loyalty program, your gift cards, and store offers.
You can engage with your customers by sending messages or store offers so they can save them in their Wallets. You can also use Google Pay to send location-based notifications and real-time updates. It's a great way to bring more customers into your store and provide them with a better shopping experience.
Why should I use Apple or Google Pay?
There are numerous reasons why these contactless payment systems are a great option for merchants and customers alike. Here are a few you should know.
1. Quick checkouts
Nobody likes to wait in line for a long time. It becomes discouraging and people become impatient. Some people may not even make a purchase because they don't want to wait in line.
Apple and Google Pay allow you to check out faster. These payments process faster than card payments even when you must sign or input your PIN!
With these contactless payment systems, you can speed up checkout time. For customers, this is great because it gets them out the door faster. As a merchant, this is beneficial to helping you serve more guests.
It's a win-win situation for both parties. Since it comes at no additional cost to the merchant, it's a great option for your business.
2. It's safer
Credit cards are at high risk for fraud. This technology dates to the 1950s and struggles to keep up with today's security issues, like hackers.
These credit cards contain all your bank information in the magnetic strip on your card. It makes it easy for hackers to steal your information by placing card skimmers on top of the normal card reader. Even with chip cards, there is still a risk of your information being read and compromised, especially if the retailer doesn't have a chip card reader.
Contactless payment systems have a lower risk of credit card fraud. It's a safer option for customers. Apple and Google Pay are more secure because the cards never touch the terminal. The information is transmitted through RFID technology, so your card never needs to be swiped or insert.
These contactless payment systems also keep your information encrypted. Each time you use your card, the data changes. This prevent hackers from stealing your information because the data is constantly changing and becomes invalid by the time they would get to the information.
Apple and Google Pay are safer options for consumers and keep their information protected.
3. You maintain privacy
Privacy is important to consumers. You don't want too many people to have your information. It increases the chances of personal information ending up in the wrong hands.
With the increase in the amount of companies that experience card information theft, it's becoming more important to keep your information private. Contactless payment systems are a great option to protect your information.
Apple Pay and Google Pay don't keep track of what you buy or where you buy it. Your device numbers are also private, so merchants don't have access to them.
These payment systems also protect shopper information, like your address or billing zip code. It's an extra layer of safety that keeps your money protected.
Time to Level Up Your Sales
Our long list of services helps you grow every aspect of your business with marketing strategies that are proven to increase bottom-line metrics like revenue and conversions.
In the past 5 years, we've managed more than 12.9 MILLION transactions across our client base.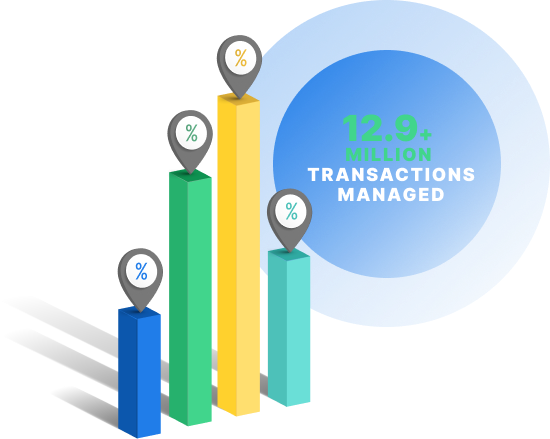 Let WebFX help you market your payment options
Apple Pay and Google Pay are two great options to help your business earn more conversions. When you make it easy for your audience to pay in a way that works for them, they are more likely to make a purchase. At WebFX, we know this is an important feature that you need to market to your potential leads.
We're a full-service digital marketing company that is dedicated to helping you earn more conversions. Our team at WebFX has driven over $3 billion in sales and over 7.8 million leads for our clients to date. When you partner with us, you'll get a team that is focused on your business's success first.
Our team of 500+ experts will bring their knowledge and expertise to your campaign. We have more than 25 years of experience in digital marketing. We have the skills and tools to help you market your business better.
Ask our clients what it's like to partner with us! We have over 1020 client testimonials from a variety of industries. Check them out to see what it's like to partner with a top marketing company like WebFX!
Set up your Apple Pay or Google Pay today
Apple and Google Pay will take your business to new heights. If you're ready to start seeing results, contact us online or call us today at 888-601-5359 to speak with a strategist.
We look forward to hearing from you!