Facebook Advertising 101: Tools to Help
If you want help tracking your Facebook performance, creating new ideas for it, or organizing your initiatives, you have a number of additional tools at your disposal.
Some are first-party from Facebook, and others are third-party platforms that require a separate subscription.
But regardless of which ones you use, the additional data will help you refine your Facebook advertising strategy even more.
Google Analytics (tracking)

Google Analytics is the most popular analytics platform for websites.
If you already use it, you can create tracking URLs for each of your Facebook ads to help you measure their effectiveness.
There are five parts of a functional Google Analytics URL, and you can create them using Google's own URL builder.
The first two parts are essential, the middle two help you organize multiple ads in the same campaign, and the last one is for organization purposes.

Source: The site that's driving traffic to your website Ex: utm_source=facebook

Medium: The type of traffic to your website Ex: utm_medium=cpc

Campaign: The name of your promotion / theme Ex: utm_campaign=arbor_day

Content: The individual ad that earned traffic Ex: utm_content=green_energy_graphic

Campaign Name: The organizational name of your campaign Ex: facebook_arbor_day_campaign
With all of that completed, your final URL will look like this:
This may sound complicated, but using the URL builder, it's as simple as entering the information into a few fields.

This may sound complicated, but using the URL builder, it's as simple as entering the information into a few fields.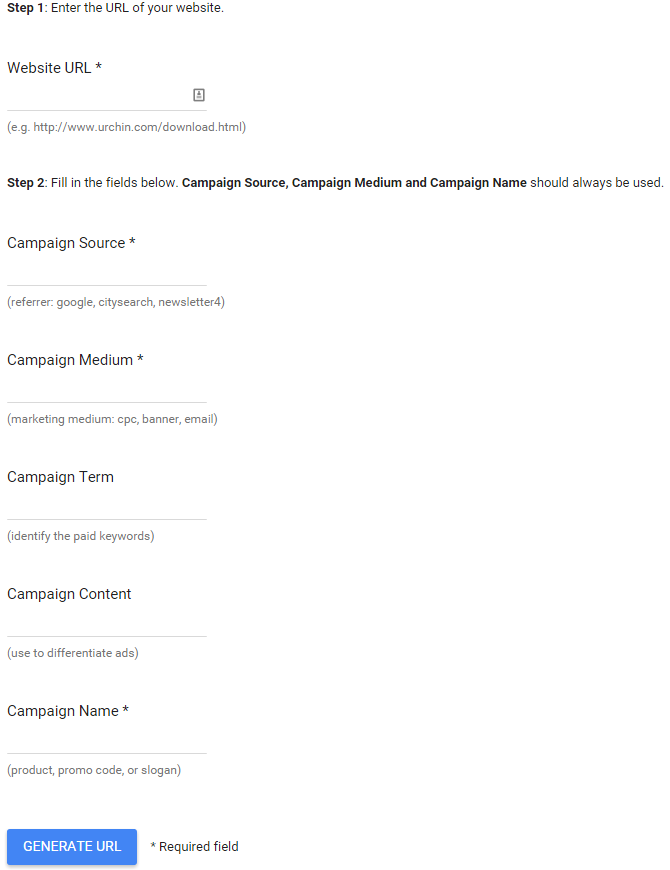 This is what the same URL looks like after using Google's builder.

When you use this URL in your Facebook ads, all the data you need will automatically collect in Google Analytics. You'll be able to see how many users arrived at your site from a particular ad, how long they stayed, how many pages they viewed, and how many converted.
Basically, Facebook Insights can tell you when visitors clicked through to your site – but with tracking URLs, Google Analytics can tell you what they did once they arrived.
Quintly (tracking)

Quintly is one of the most accurate and comprehensive third-party analytics platforms available.
Their Facebook analytics section is broken into different charts and data sets, much like Facebook Insights or Google Analytics. But in addition to the basic metrics, Quintly lets you establish key metrics for your Facebook page and check those results at a glance.
It also has separate sections for fans, posts, interactions, location, Facebook Insights integration, and real-time results.
Fans
This is a simple record of your page's followers over time
You can see your total, changes in the number of followers, and even the average number of followers you get per day.

That last bit of information might seem irrelevant, but it can help you determine the best times to post to your Facebook account.
Posts
This section tracks almost every bit of data you could want to see about your posts.
It covers your post history, when you've posted, how successful your posts are, what kinds of posts you use, and even user posts on your page.

User posts are comments people leave on your Facebook page. Anyone leaving a comment usually wants to talk to you directly, and Quintly even tracks your responses and notes how long it took you to respond, so you don't have to do the math.
Aside from that, you can find a lot of the same information in this section as you can in your Facebook Insights – it's just packaged a little differently.
Interactions
The interactions section of Quintly shows how people talk to and about your business on Facebook. These interactions include brand mentions, comments, and your responses.

Quintly records them, splits them up, and organizes them into graphs, so you can see the level of interaction you have with your followers.
One of the most important parts of this page is the key influencers tab, which shows you the major Facebook users who have an impact on your industry.
Those are high-value potential customers – or, in some cases, reviewers – who can help you get more recognition and brand awareness if they're on your side.
If you're considering branching out into influencer marketing, you can contact them using Facebook or email to ask if they'd like to sample your products. However, it's important that you stay realistic about who you choose to contact.
Users with millions of followers receive offers like this from several businesses per day, and they're unlikely to respond. But if you identify a user who has a strong following in your area or within your particular niche, they may be up for a partnership.
That kind of deal is mutually beneficial, since they get your products for free, and they can promote your business. And that's a connection that will almost certainly help your business again in the future.
Location
The location section shows when and how many customers checked into your physical business.
This isn't relevant to some businesses – particularly those in the ecommerce industry – but it's a great metric to measure success if your business only makes sales in person.

For example, a casino that's seeing an increase in check-ins can safely assume that they're getting more customers to their doors.
However, if you don't have a physical storefront and the majority of your sales are made online, this isn't a very valuable metric.
Facebook Insights
The Facebook Insights tab pulls all of your information straight from Insights and adds it to Quintly's metrics.
This is more of a convenience move since it keeps all of your Facebook and Quintly data in one place.
Realtime
The realtime tab shows how many people are using or interacting with your page at any given moment. Every person you see in this tab is actually on your Facebook page as you're viewing it.
This tab is mostly helpful when you're running a new promotion or campaign that requires you to keep an eye on the results.
If you're not seeing the results you'd like, you can alter your copy or targeting before spending your entire budget.
And if you're noticing an explosion of comments at one time, you can monitor them, read them individually, and reply to them as you're able.
In a nutshell, the realtime section shows you most of the stats you can find in other sections, but they're displayed as they're happening instead of being recorded.
Essentially, Quintly is a monitoring system. But if you're looking for a platform that will help you generate new ideas, the next one might be more your speed.
Buzzsumo (Competitive analysis)

Buzzsumo is one of the best ways to research potential content topics.
This third-party software tracks how many shares a particular page earns on Facebook, LinkedIn, Twitter, Pinterest, and Google+.

That means you can search for a particular topic and see how well the existing pages about that topic perform on social media.
With that in mind, you can now take a competitive approach to your Facebook marketing and beat your competitors at their own game.
If they posted content to Facebook that got a lot of shares, take the idea and add your own spin to it. Your competition has already proven that the content works – now you just have to make it work for you!
Don't copy everything word-for-word, but you can at least look at content from a different angle or package it in a different form of content, like a video or an infographic.
Then, after you've created and posted your own content, you can track the social results to see if you experience the same success as your competitors.
Reframed topics can work wonders, and they also help you compete for valuable Facebook followers and keywords in search engines.
All you have to do is type in a competitor's name or a keyword into Buzzsumo, and it'll tell you the rest.
Buffer (Scheduling)

Buffer is a simple program that lets you schedule posts to Facebook and other social media sites days, weeks, or months in advance.

You can add as many social media accounts as you want, and you can create different posting schedules for each.
You can also manually schedule posts for specific dates and times, and Buffer will automatically post them whether you're logged in or not. This will allow you to post consistently without having to always be at your computer or on your phone.
This is especially useful when you want to take advantage of the audience preferences you learned with Facebook Insights or Quintly.
For example, let's say that those platforms show that your followers are most engaged in the middle of the day, but you're usually busy with client meetings and phone calls at that time. You can use Buffer to schedule Facebook posts for while you're away from your computer.
Take your Facebook advertising to the next level
Want help creating a Facebook advertising campaign that gets results? Request a free quote or call us at 888-601-5359 to learn how our Facebook advertising services can help you accomplish your marketing goals.