Our team works with you to improve your idea. Our clients have told us that when they were looking for web developers in PA, they found that most others simply provided code with little consultation. Our mission is to review your idea and provide ways on how it can have a greater impact in the real world. That's what sets WebFX apart from other web development companies in PA.
The process behind the success
Unlike other web developers in PA and beyond, our team focuses on exceeding client expectations, not just meeting them. With over 15 years creating applications, our team has defined a solid process behind their projects. Our clients have noted how easy it was working with our team.
Here's a review of the four step process we use when developing an application for our clients.
Step 1: Research
Our team starts by researching. They work with you to fully understand your idea and your goals. We ask what you want to accomplish with your application, who you want to reach, and how you want to monetize it. With this information, our development team then researches the industry, the competition, and the viability of the project.
This crucial step sets our team apart from other web development companies in Pennsylvania, not to mention around the world. Others only code your idea. Meanwhile, we work with you to improve your idea.
Step 2: We create a master spec doc
Based on their research and conversations with you, our team will create a master specs document, including a flowchart, to document the exact functionality of the application.
Together with our website development team, you'll refine this document until it perfectly defines every component of your application, down to the actions of each button. We'll continue to make revisions until you're happy. No code will be written until you approve this spec doc. Again, this is what sets us apart from other web development and application development firms: we don't just deliver code. We deliver what you want, and what we know will get you results.
Helping Businesses Grow Since 1996
WebFX has been driving results for satisfed customers online for over 2 decades.
Read our story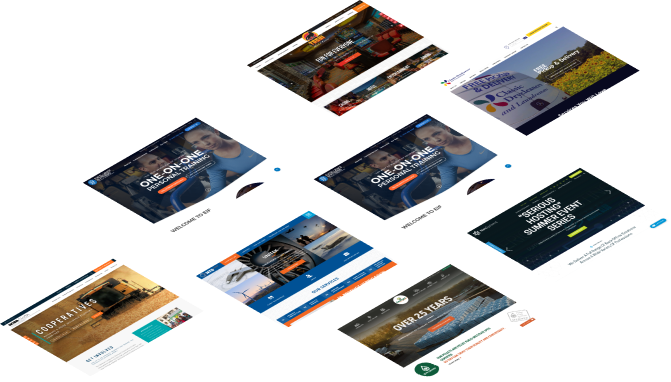 Step 3: You'll receive wireframes to map where the application components will be positioned
Our website developers will create wireframes of your application or site. This is a bare bones, black and white map (without any design elements) to show where the application components, from buttons to fields, will be positioned on the front-end for the end user.
After the wireframes are perfected, our team will work with our award-winning website designers to integrate the look of your application into the back-end, ensuring perfect functionality. We'll be in touch with your throughout this entire process, ensuring you are happy with everything that is going on, and communicating any changes with you to ensure you're aware of them.
Step 4: We'll finalize and test your application
Once your application is fully coded, our web developers will test your application on a variety of platforms to ensure any bugs are fixed, and that everything operates smoothly. After we thoroughly test your application, we'll send a proof of the application to you to start your beta testing.
Over a period of several weeks, you'll work with our web developers PA team to address any bugs discovered during your internal beta testing. Once all bugs have been alleviated, your application will be ready for use! We'll assist you as needed during the launch, and provide any post-launch support you desire to resolve any final bugs or make any requested changes.
Ready to make your development dream a reality?
Other web development companies in PA may promise results, but they don't have the expansive portfolio that WebFX does—nor do they have more than 550 satisfied clients, or hundreds of happy testimonials.
When you want real results from a web and application development company, choose WebFX. Contact us today for a free, fast, no-obligation quote on your app or web development idea. One of our development experts will be happy to discuss it with you in more detail. We look forward to hearing from you soon! Not sure if you need a designer or a developer? We can help!
Did you know that we provide our services to clients all over the world? Our development services are available to New York clients as well as clients in California. Wherever you are, we can't wait to work with you!