What Is Website Security Analysis? [+7 Web Security Tools]
The likelihood that your website is vulnerable to hackers, viruses, and other security threats might be higher than you realize. Conducting a website security analysis is essential to ensure that your website, customers, clients, and business are protected. But what is website security analysis anyway? Keep reading to find out!
A website security analysis, or a website security check, enables you to create a site that builds customer trust and loyalty and boosts your rankings in search engines like Google.
On this page, we'll explore the ins and outs of a website security analysis and take you through some of our favorite website security tools to help you keep your site safe and secure.
Bonus: Want to check the security of your website right now for free? Then try out our quick and free website security checker! And if you need any help understanding your report, give us a call at 888-601-5359 or contact us online! Our experts would be happy to help!
Looking for an all-in-one SEO audit tool? You've found it.
SEO Checker provides data on key metrics to give you:
Complete SEO score

Content Grade

Site Speed Analysis

and more.
What is website security analysis?
A website security analysis is an in-depth audit of your site's current security level and measures. With a site security analysis, you can identify any problem areas or current security issues within your website, so you can improve and fix them.
What does a website security analysis include?
A website security analysis usually involves scanning your site to detect any security vulnerabilities. Your scan can identify security issues like:
Viruses
Malware
Harmful links
Hacked areas
And much more
Here are a few examples of the types of scans you can expect to see when conducting a website security analysis for your site:
Web application security scan
Database vulnerability scan
Web server vulnerability scan
Server virus scan
Secure Sockets Layer (SSL) security scan
PCI scan
Server and software patch scan
Hacked issues scan
If you decide to use a security analysis tool or invest in website security analysis services from an experienced agency, you can expect to receive a comprehensive report that details your website's current security and highlights any issues.
You can then use your report to implement the necessary fixes and website security measures to ensure that your website, business, and customers are protected from any security threats.
Why do you need website security analysis?
Analyzing your site's security is essential for protecting your business and your current and potential customers. Check out more reasons why you need a website security analysis below:
Instill customer confidence and trust
Keeping customers engaged on your website and encouraging them to return is the key to unlocking more leads and conversions for your business. And your website security plays a significant role in whether customers will remain on your website and trust your brand enough to make purchases.
If your website contains any harmful links or malware, your customers might end up with a virus on their device. As a result, customers will begin to lose trust in your brand, affecting your brand awareness and reputation in the long run.
Improve your search engine rankings
Search engines like Google want to provide their users with websites that answer their questions and offer a positive and safe experience.
If your website contains security threats, it can send signals to Google that your website offers a negative user experience, resulting in lower rankings in the search engine results pages (SERPs).
So, if you want to outrank your competitors to help more consumers discover your business online, conducting a website security analysis is a must.
Protect your data
Conducting a website security audit keeps your data and information safe from hackers. This data can include important passwords, payment information, addresses, account information, and much more.
It's essential to protect your business from hackers and other security vulnerabilities if you want to continue to drive sales and revenue for your business. By conducting a website security analysis, you can ensure your business's data stays safe and secure for the long run.
Protect your customer's information
A site security audit also highlights areas where your customer's data might be unsafe. For example, if you have an ecommerce website that enables users to complete purchases, it's essential to protect their payment information and other identifying information.
You want to protect information like their credit or debit card details, phone number, address, and more. It's essential to keep your customers' and clients' information secure to protect their data and encourage them to continue shopping or partnering with you in the future.
Analyze your website's security: 7 website security testing tools
If you're ready to perform a website security check, we've got just the tools to help you out. Check out our favorite website security testing tools to help you identify security vulnerabilities below:
1. SEO Checker
Price: Free
As we mentioned above, your site security plays a prominent role in determining your rankings in search engines, affecting your overall search engine optimization (SEO) strategy. SEO Checker is a free tool that can help you conduct an audit of your site's SEO performance and site security.

With SEO Checker, you can get not only an analysis of your site's current security, but also a comprehensive report of your website's performance in search engines.
You'll identify any problem areas with your site's security and current SEO performance to help you craft a safe and secure website that boosts your online visibility in search engines.
2. Sucuri
Price: $199/month
Sucuri is a popular website security scanner that can help you identify any potential security risks.

Sucuri will scan your site for:
Viruses
Malware
Blacklisting status
Website errors
Out-of-date software
Malicious code
And more
If you're looking for a quick and easy way to test your website for security risks, Sucuri can help. Simply enter your URL and let this handy tool do the rest.
3. Secure Sockets Layer (SSL) Server Test
Price: Free
The SSL server test enables you to scan your website for any SSL misconfiguration and vulnerabilities. If you just got an SSL certificate for your site, using the SSL Server Test is an excellent way to gain an understanding of its current performance.

Just enter your URL to view and detailed analysis of your site's SSL configuration and much more for free.
4. SiteGuarding
Price: Free
Next on our list of website security testing tools is SiteGuarding. With SiteGuarding, you can scan your website for viruses, spam, and much more.

This tool also provides you with details on how to remove malware, so you can fix those pesky security issues and get your website back into tip-top shape.
5. Observatory
Price: Free
If you're searching for a reliable website security check from Mozilla, be sure to check out Observatory. Observatory helps you check a variety of website security elements with twelve different tests.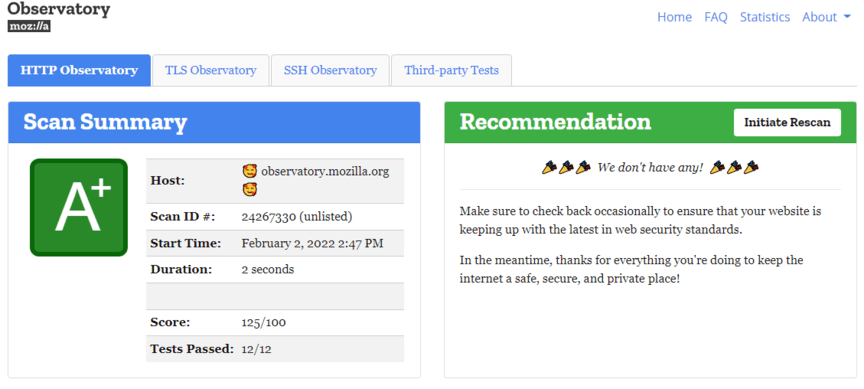 This helpful tool will also give you a website security score out of 100, so you can gauge just how safe your site is. You'll also have access to a report that details the tests performed and your scores for each, so you can easily identify any problem areas within your website.
6. Intruder
Price: $90/month
Intruder is another excellent scanner that can help you analyze your site's security.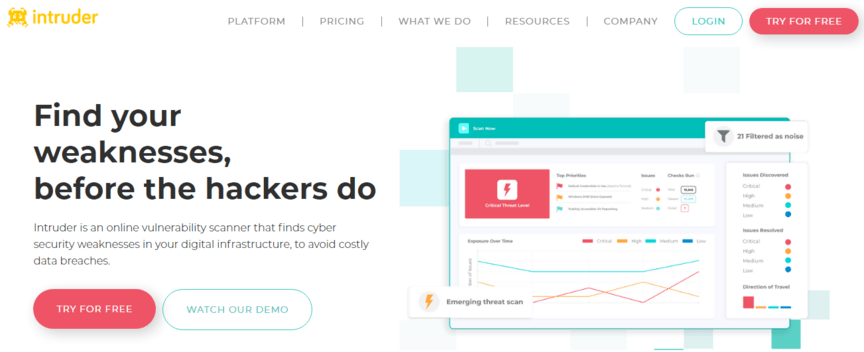 Intruder can help you detect weaknesses in your web application infrastructure, such as:
Missing patches
Misconfigurations
SQL injections
Cross-site scripting
Intruder also enables you to prioritize and filter your security scan results, so you can view any security threats quickly and easily.
7. UpGuard
Price: $420/month
Another excellent website security tool is UpGuard. UpGuard tests multiple areas of your website to check if it's safe and secure.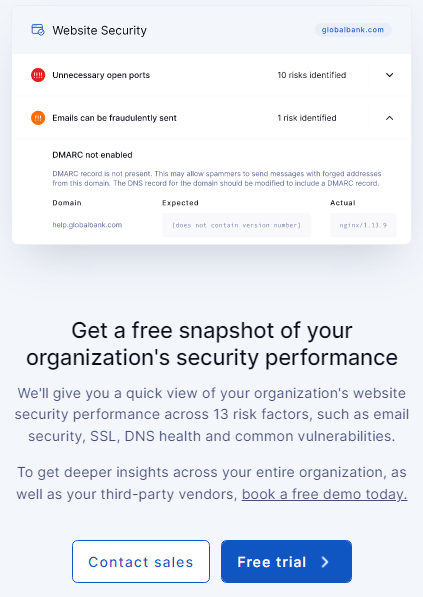 Your report will include tests in the following categories:
Email risks
Website risks
Network security
Phishing and malware
Brand protection
If you're looking for a comprehensive website security check for multiple areas of your website, look no further than UpGuard.
93% of WebFX customers are extremely satisfied with their digital marketing results.
"Working with WebFX, everything is very organized and strategic. We're only a year into our partnership, and our expectations have definitely been met."
View More Client Testimonials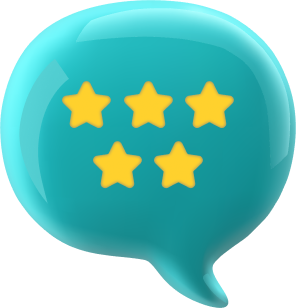 Create a safe and secure site that drives revenue with WebFX
Are you ready to create a safe website that keeps customers coming back? That's where WebFX can help!
With our website security analysis services, we'll help you scan your website for pesky security threats and help you resolve them to keep your site secure.
Our award-winning team of web developers and designers can help you craft a secure site that drives traffic, builds brand awareness and trust, and increases your leads and conversions.
Our team has already helped businesses just like your drive over $3 billion in revenue and generate more than 7.8 million leads. We can help your business achieve impressive results too.
Speak with one of our strategists today by calling 888-601-5359 or contact us online to learn more about how our website security analysis services can help your business grow.