20 Effective Tactics to Improve Your Online Presence in 2023
Your next client will (most likely) find your business online. That's why businesses, from well-known brands to thriving midsized companies, are always looking for ways to improve their online presence. With a stronger online presence, these brands — and your business — can capture more sales and revenue.
Learn how you can drive more sales and revenue with an increased online presence in this guide!
Just keep reading to discover 20 proven tactics for how to increase your online presence in 2023.
For professional help with your company's online presence, check out digital marketing services from WebFX, which are built for small-to-midsized businesses (SMBs). Just for perspective, in the past five years, we've helped our clients earn more than $3 billion in revenue by improving their web presence.
Give us a ring at 888-601-5359 or contact us online to learn more about partnering with us!
1. Have a website
If you ask someone how to improve your online presence, almost every answer will include having a website. That's because your website is the online version of your brick-and-mortar store — it's your digital location. It's where people can find your business online, whether you sell offline or online.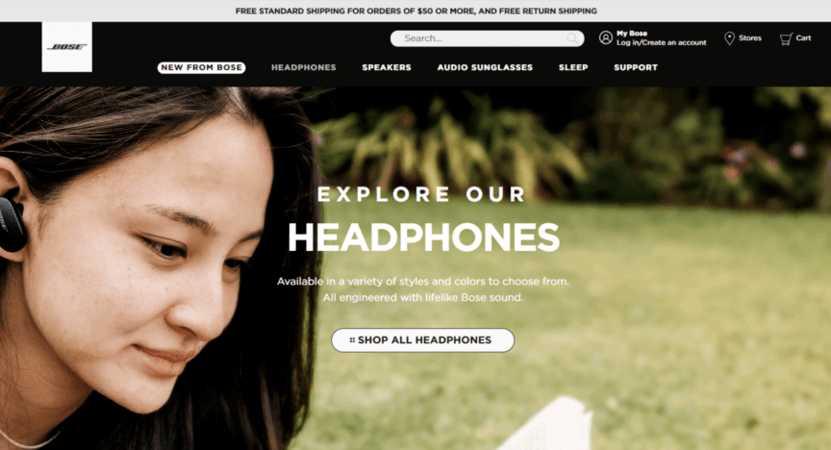 Shoppers and business buyers will use your site to get essential information, like your:
Location
Hours
Prices
Products or services
History
Advantages
And more
If you don't have a website, you make it extremely difficult for people to do business with your company. Since more than 70% of people research companies online before they visit that company (or buy from them), you want to make finding your business online as easy as 1-2-3.
When it comes to having a website to improve your online presence, you have a few options:
You'll have a lot of factors to consider when choosing between these three options, like:
Price
Time
Advantages
Disadvantages
Generally, it's best to have a professional web designer and web developer create your website.
If you rely on yourself — and you're not a designer or developer — you'll most likely prevent your site from reaching its fullest potential. For instance, certain design decisions could influence conversion rates, which impact your website's ability to drive revenue.
No matter which option you choose, make sure your site follows these best practices:
Learn more about building a site to improve your online presence with these related resources:
2. Optimize your website for SEO
SEO is another super-effective way to improve your online presence.
This digital marketing strategy aims to increase your visibility in search results, like on Google or Bing. If your company sells noise-canceling headsets like Bose, for example, you want your website to appear when someone searches "noise-canceling headphones" on Google or another search engine.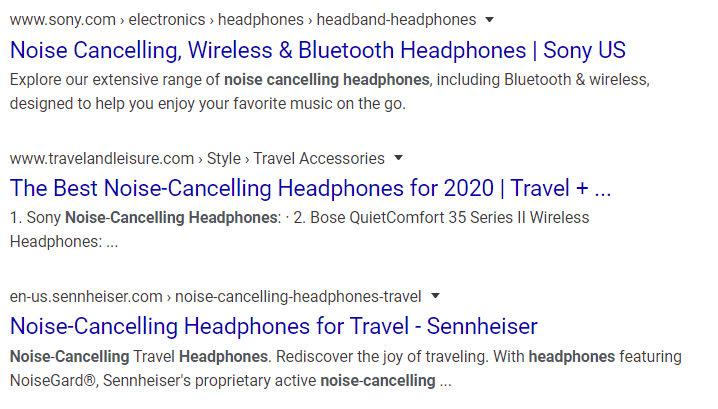 With SEO, you optimize your site to appear in these search results — and at the top of them, too.
Earning a top spot in search results is critical because most people (around 75%) stick to the first page of search results, with the first three results earning 75% of traffic. If your company isn't in the top three, you'll gain significantly less traffic, leads, and sales.
How should you optimize your website to gain a top spot and improve your web presence, though?
You'll need to invest your time into three critical areas of SEO:
A few examples of what you'll do to optimize your site for these three areas are:
Depending on your business, you may focus on specific SEO areas, like local SEO or ecommerce SEO.
SEO does require time and dedication, as you'll need to learn off-page and on-page SEO, as well as technical SEO. You'll also need to put in the time optimizing your website, which can include coordinating with your development team on projects related to web design and page speed.
Not to mention, you probably won't see the results of your work until three to six months later.

That's why it's critical to get the support of your company's decision-makers.
When you help them understand the value of SEO (and it's pretty valuable since organic traffic, which SEO drives, captures more than 40% of revenue), you get them to invest in SEO and commit to it long-term.
Use the following resources to learn more about how to improve online presence with SEO:
3. Build an online experience that's accessible to everyone
Chances are, you've probably used the zoom feature on your browser, which made reading an article or viewing a site a lot easier. You got to make the text larger, which saved you from grabbing your reading glasses or creeping into your monitor's personal space.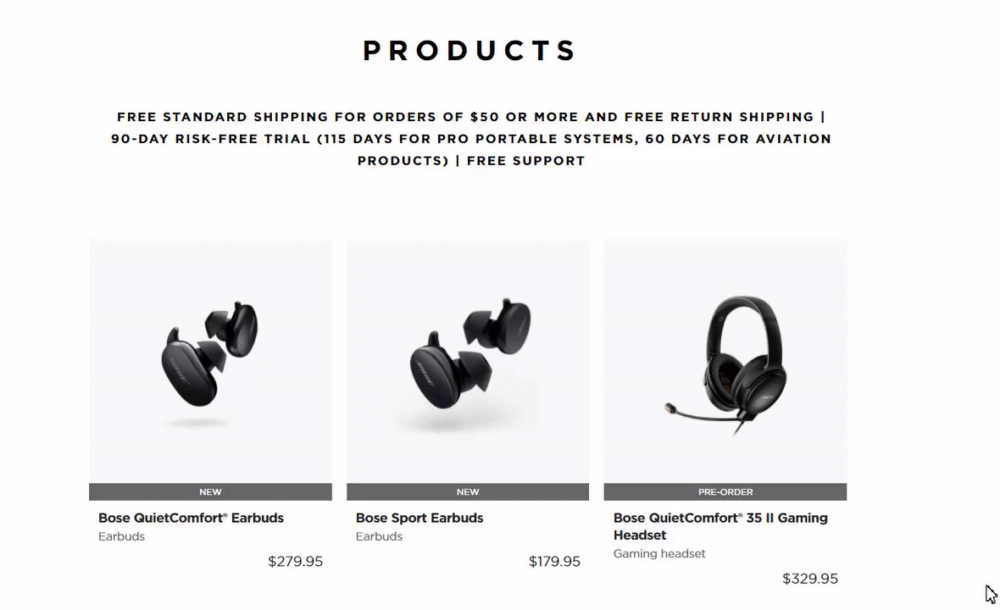 That's just one example of an accessibility feature that websites like yours should offer.
When you make your site accessible, like by allowing users to update your font size and contrast colors, you make it even easier for people to do business with your company. Plus, you exemplify the values of your business, which probably don't revolve around excluding people.
Of course, building an accessible website (and online experience) does come with a cost.
The good news, however, is that online accessibility is easier than ever for companies to adopt. WordPress websites, for instance, can easily install plugins that allow users to use your website according to their unique needs.
If cost is holding your business back from adopting accessibility initiatives, however, your team may want to research ADA compliance. Fines for non-compliance range from $55,000-$75,000 — and that's just for first-time violations. Repeat violations get rewarded with a $150,000 fine.
That's why accessibility needs to become a priority, especially if you're looking to improve your web presence. Even if you use other tactics to increase your online presence, getting fined for breaking the Americans With Disabilities Act can damage your brand and hurt your efforts.
Start researching and learning more about ADA compliance with these resources:
4. Schedule time for managing your online presence
Increasing your online presence doesn't happen overnight — it takes time.
Strategies like SEO, for instance, take a few months to drive results. SEO is also an ongoing strategy. Just because you're number one for a search, like "best noise-canceling headphones," today doesn't mean you'll be there tomorrow.
You'll always compete with competitors in search results, and in other areas, like social media.
That's why it's essential to set aside time for managing your online presence. This time block can range from writing a new blog post for your site, responding to a review on Facebook, or developing a new ad campaign to run on Google.
For the best results, expect to spend time managing and improving your web presence every week.
If that sounds like a lot, it is — especially if your job doesn't revolve around increasing your company's online presence. That's why many businesses will either hire someone in-house to help or partner with a digital marketing agency, which specializes in improving online presence.
At WebFX, for instance, our full-service agency focuses on increasing your web presence so you can generate more revenue. We mean it, too. In the past five years, we've helped improve our clients' online presence so much that they generated more than $3 billion in revenue.
You can learn more about staying productive while managing your presence with these articles:
5. Establish a budget for improving your web presence
You have options when it comes to how to improve your web presence.
In most cases, your business won't have the time or the resources to invest in all of them. That's why setting a budget, as well as evaluating each strategy and its potential impact can help you focus on the areas that matter most.
You can get started with establishing a budget by learning the average price or investment for different tactics. For example, how much should a business set aside for SEO? Or, how much will a redesign of your site cost?
Since we've created pricing guides for almost every online presence tactic, it's easy to get answers:
Once you have an idea for how much different strategies cost, you can start to strategize. You can also provide company decision-makers with a realistic budget — and the data to back up your numbers. If you need help planning your budget, try our free marketing budget calculator.
You can also check out these resources to learn more about creating and managing your budget:
6. Claim your profile on local directories like Google
Even if your company's operations go beyond the local area, you want to claim (or create) profiles on local directories. With a presence on local directories, people can access information about your business without visiting your website.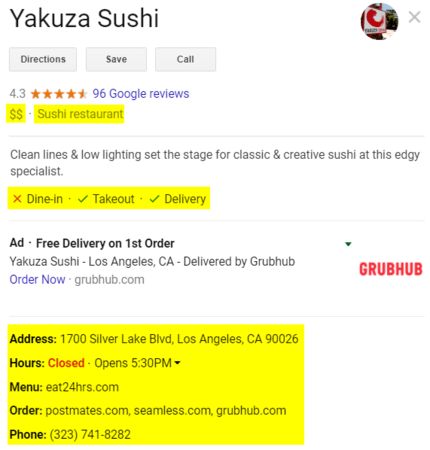 While you may prefer people to come to your site, that's not always what people do.
Someone researching a new place to eat, for instance, is much more likely to use Google's local directory (called Google Business Profile) to explore and compare their options because it's easier than going back-and-forth between each restaurant's site.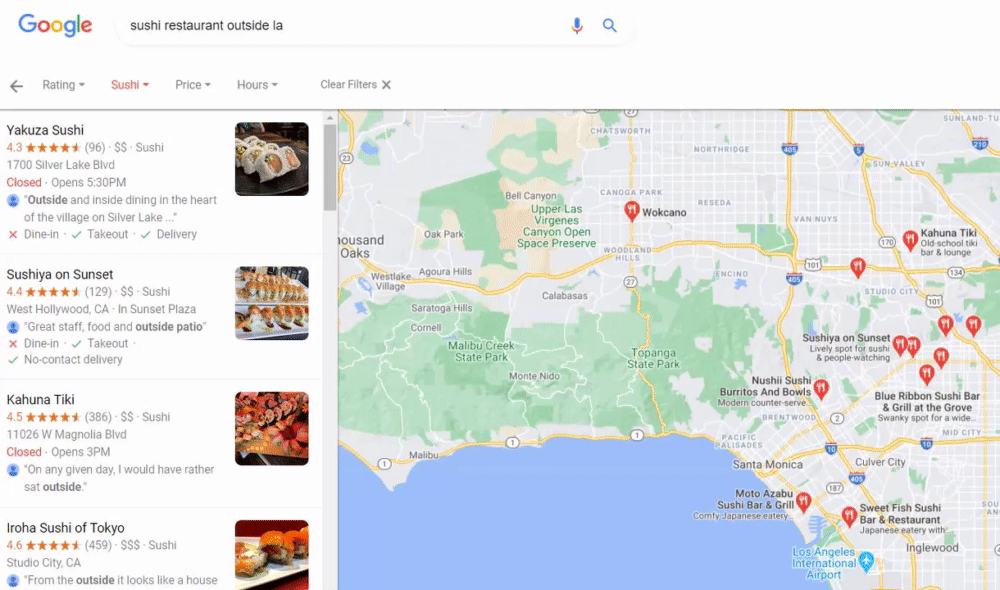 Of course, people can also visit your website via a local directory — which many do when nearing the end of their journey. For instance, a deal-seeker may visit a restaurant's website before ordering to check for any coupons or special offers.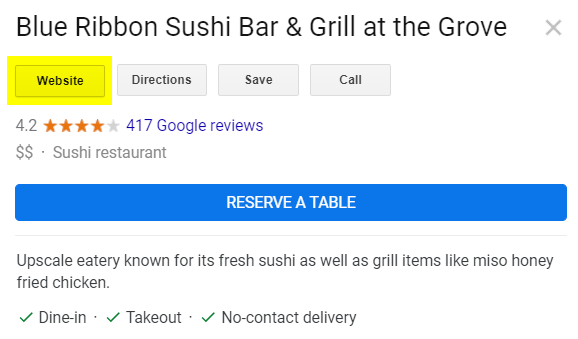 What's great about local directories is that they help improve your online presence, plus support strategies that also aim to increase your web presence. Local directories, for instance, are useful for SEO and review management.
While you have dozens of local directory sites to choose from, like Angie's List, Yelp, and Google My Business, you'll likely follow the same best practices when creating or claiming a profile on these directories.
For instance, you should always:
Provide your business name, address, and phone number
Update your hours for holidays, sudden closures, or events
Upload photos or videos of your location, services, or products
Respond to reviews, comments, or questions
Compared to other tactics for improving your online presence, this one will require more proactive management. Since people can leave reviews and post questions at any time, for instance, you'll want to check your profile regularly so you can respond as soon as possible.
You can learn even more about using local directories to improve web presence with these resources:
7. Investigate your competitors and their strategies
Not every idea for how to improve your online presence needs to be original.
Competitors — and even companies outside your industry — can inspire you. Even if you don't get any inspiration from the competition, it's helpful to know what your competitors are doing to increase their presence online.
When it comes to a competitor analysis, you'll want to research the competitions':
Search result rankings
Social media
Paid ads
Local directory profiles
Email marketing campaigns
A competitor analysis does take some time, but you can make your life easier with tools like:
Ahrefs, for researching your competition's search results rankings
SEMrush, for researching your competition's paid ads
GeoRanker, for researching your competition's local directory profiles
For uncovering a competitor's email marketing campaigns, you'll get the best results by signing up for their campaigns. If your competitor is Bose, for instance, you may opt-in to their email campaign for product announcements, promotions, and more.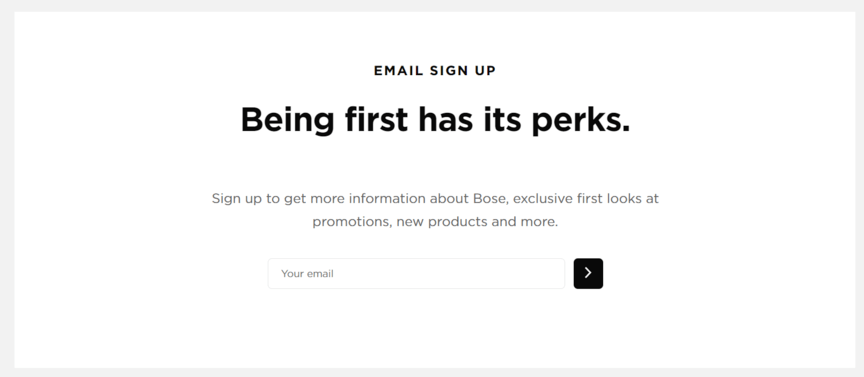 Similarly, you can visit your competitor's social media profiles to research their activity and user interactions. While you can follow the competition on social media, you may want to go incognito and use an account that's not associated with your brand.
If you want to learn more about conducting competitor research, check out these resources:
8. Develop interactive content and tools
A tactic that many companies know about, but fail to use to improve their online presence is creating interactive content and tools. From quizzes to calculators, your business can use interactive content and tools to get people talking about your brand, visiting your website, and purchasing your products.
For example, if your company sells home speaker systems, you could offer the following:
Quiz: Which speakers are right for you?
Tool: See what these speakers will look like in your home or business
Quiz: How much of an audiophile are you?
As you can tell, your business can create interactive content for different stages of the buying funnel.
With the first quiz, you can help shoppers in the middle and bottom of the buying funnel narrow their choices. In comparison, the second quiz is for more top of the funnel users. They're likely within your target audience (because of their interest in sound), but aren't searching for speakers.
While this strategy for improving web presence requires some brainstorming and some help from your web development team, it's often worth the investment. That's because interactive content can go viral, helping you reach a massive audience while also building your backlink profile for SEO.
Get started with this strategy by checking out the following resources:
9. Promote your products and services with online ads
Do you want to improve your web presence instantly? Then consider online advertising.
With online ads on places like Google, Facebook, and YouTube, your business can drive brand awareness, website traffic, and revenue fast. The catch, however, is that your company will need to pay for these results.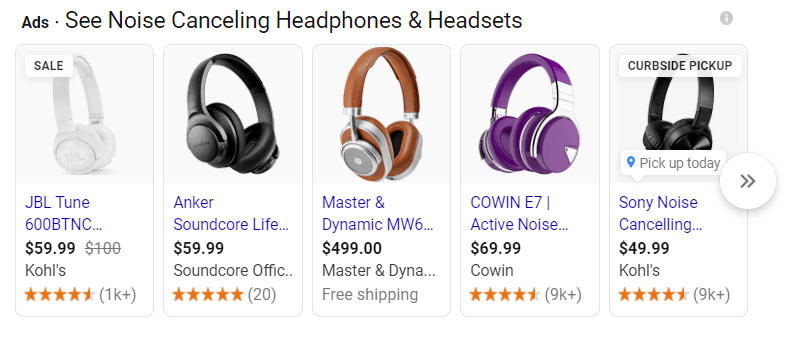 However, the good news is that digital advertising operates on a payment model beneficial to businesses of all sizes.
With online advertising, you have complete control of your ad budget. Instead of paying a fee set by someone else, you decide what you're willing to pay for someone to interact with your ad, like by viewing it or clicking it.
For example, if you advertise on Google, you may set a max bid amount of $0.50 for someone to click on your ad. That means, at max, you will pay $0.50 for someone to click on your ad, which will get deducted from your monthly ad budget, which you also set.
You can use paid ads for a variety of goals too, like:
Increasing brand awareness
Generating website or social media traffic
Acquiring leads or social media followers
Generating sales
And more
Even better, you can advertise in multiple formats, including:
Online advertising also offers advanced targeting options, allowing you to target users by:
Age
Location
Interests
Behavior
And more
If you want to get started with digital advertising, whether on Google, Facebook, or Instagram, there's a lot to learn. Of course, if you're in a rush to get started (or have tried online advertising with limited success), you can always hire an online ad agency like WebFX to help.
No matter what you decide, the following resources can help you learn more about digital advertising:
10. Create profiles on the top social media networks
With more than 50% of people using social media to research their next purchase, your business needs a social media presence. While you don't have to create a profile on every single platform, you do need to have one on the networks your audience uses the most.
In most cases, your business will want an account on the following social media platforms:
Facebook
LinkedIn
Instagram
Twitter
Of course, you'll still want to research your audience and their social media preferences before getting started with social media marketing and advertising. If you discover that your target market uses Instagram more than Facebook, for instance, that information will likely influence where you advertise.
You can learn more about your audience and their social media habits with the following tactics:
Once you decide where to focus your attention, you can take the following steps:
Build a style guide or best practice guide for social media posts and replies
Establish a strategy for what you'll post, how often you'll post, and more
Determine if you'll advertise on social media — Hint: You should.
Decide who will manage your social media posts, replies, and direct messages
Get even more advice on how to improve your online presence with social media with these resources:
11. Engage and respond to people online
Any initiative to improve web presence should include engaging and responding to your audience.
It's not enough to write a blog post, share it on social media, and ask your followers to read it. You need to engage your audience, like by asking their opinion on the post or their experiences with the blog post's topic.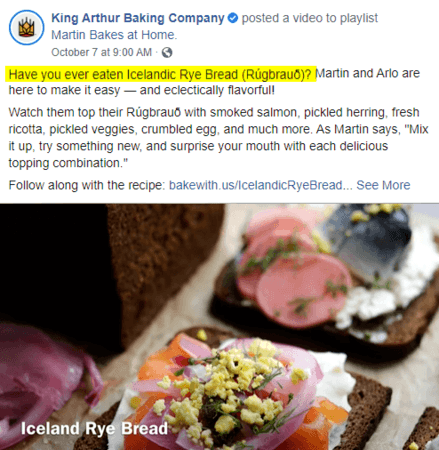 Besides engaging your audience, you also need to acknowledge them.

If someone leaves a review, say on Google My Business, for instance, you should respond to them. Even if they had a fantastic time, thank them and hop in on their happiness — they had a great time at your business. That's a tremendous win for your team, and something worth celebrating.
Should someone not have a great time with your company, still take the time to reply. Apologize for the experience (and provide an explanation, if possible), and offer the opportunity to communicate privately so you can further resolve the issue, like by helping a user get account access or a refund.
Learn more about interacting with your social media followers and clients with these resources:
12. Run regular A/B tests
Your organization's online presence can also benefit from conversion rate optimization (CRO).
With CRO, you experiment with different versions of your website, which can range from different:
Page layouts
Button colors
CTA text
Product images
And more
Testing different versions of your site can help you discover better ones. If you're looking to increase product sales, for instance, a CRO test may reveal a more compelling CTA, which could lead to more purchases.
Think about that win from a broader perspective.
With more people buying your product, you get your product in more homes and businesses. When more people have your product, you have a higher chance of getting your product recommended to their friends, families, and co-workers, creating a ripple effect of brand awareness and sales.
In most cases, businesses will run A/B tests using a free tool like Google Optimize.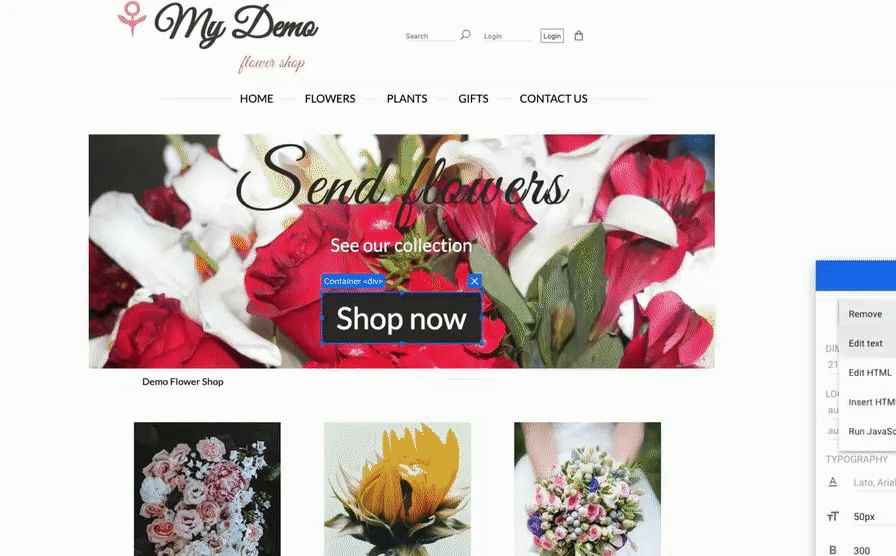 With an A/B experiment, you're changing a single page element. For example, you may test the CTA "Buy Now" against the CTA "Add to Cart." If conversion rates change, you can easily attribute that to the CTA.
Now, if you're looking to get started with CRO on your site, you have plenty of resources to reference:
13. Produce helpful and informative content regularly
Every company wants to make money. That's why businesses often focus on reaching bottom-of-the-funnel users, or people who are ready to contact your company or buy your product. The problem, however, is that this approach cuts out a significant part of the market.
That's why companies that want to improve their online presence and earn more revenue should invest in strategies (like content marketing) that attract top-of-the-funnel and middle-of-the-funnel users. These users, while not ready to buy, have the potential to become clients.
If you're not sold on this approach — or content marketing — check out these findings:
Content marketing also boasts impressive results.
It generates three times as many leads as traditional marketing strategies, for instance. Even better, it costs 62% less than conventional marketing and drives six times as many conversions when compared to companies that don't use it.
So, how can you get started with creating content for top- and middle-of-the-funnel users? A few ways:
Use search trends and keyword data to understand what your audience wants to know
Decide on a content format, like a blog post or guide
Determine how often you'll produce new content, like two blog posts every month
Establish who will brainstorm content topics, plus write, edit, and publish content
A lot goes into this tactic, but it's well worth the investment.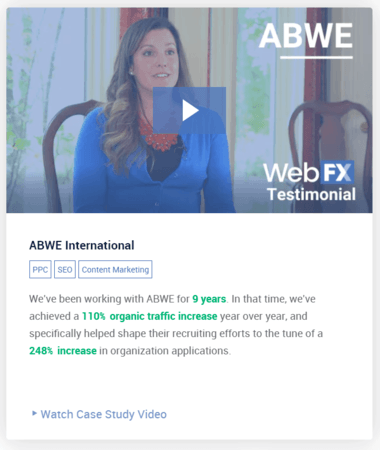 For example, ABWE International (a WebFX client) used our content marketing services and saw tremendous results. The organization's organic traffic saw a 110% increase year-over-year, and their applications improved by 248%.
If you want to start benefiting from content marketing too, get started with these resources:
14. Create a strategy for building a qualified email list
Since email marketing delivers an unmatched return on investment (ROI) of $44 for every $1 invested, it's a go-to recommendation when people ask about how to improve online presence. Getting that kind of ROI, however, depends on your strategy for building a qualified email list.
While you can purchase email lists, this approach often fails.
That's because you're sending emails to people who didn't subscribe or opt-in to receive emails from your company. They know nothing about your business, and you suddenly arriving in their inbox won't earn you any interest.
If anything, it'll lead to people:
Marking your email as spam
Unsubscribing from your email campaign
Associating your brand as being spammy
So, you need to develop a strategy that motivates people (within your target market) to subscribe.
A few common tactics that businesses use to build qualified email lists include:
Offering a downloadable guide or ebook
Providing a free tool that requires a user to supply their email
Promoting exclusive offers and discounts to email subscribers
You can also make updates to your website that encourage people to sign-up for your email newsletter. If your business has a blog, for example, you could include a sign-up form on every blog post so that readers can get the latest updates.
Just remember when brainstorming the strategy that you want quality, not quantity.
Since you'll likely use an email management tool to manage your subscriber lists and send email campaigns, you don't want to spend money on subscribers that don't matter to your business. Instead, you want to invest in the subscribers that have the best chance of becoming clients.
You can learn more about building your subscriber list to improve your web presence with these guides:
15. Track your online channels
You can use various tactics to increase online presence but if you don't measure those strategies' performance, you'll have a hard time understanding which ones worked and which ones didn't, which can make demonstrating ROI difficult.
Luckily, there is a range of tools that will help you track your performance, including:
You can even use a free tool like Google Data Studio to create visual reports and summaries.
Before you start marketing your business online to improve its web presence, determine what tools you'll use, and set them up. For example, if you use Google Analytics, you'll need to add a tracking code to your site so you can grab valuable data related to traffic, session times, conversions, and more.
Use the following resources to learn more about tracking your online performance:
16. Nurture shoppers and business buyers with email marketing
Besides building a qualified email marketing list, your business also needs to nurture it. When you nurture your subscribers, you can improve your web presence by increasing their brand awareness, reducing their churn rate, and more.
You can nurture users via email marketing a few different ways, like by:
For example, if your business is like the King Arthur Baking Company and offers different products for different needs, you could reference a user's behavior to create tailored email campaigns. If someone purchased gluten-free flour, for instance, it makes sense to send them gluten-free recipes.
If you use an email marketing tool like EmailMarketingFX, it's easy for your business to adopt these strategies.
Within EmailMarketingFX, for instance, you can easily segment users based on their actions. You can also personalize emails using the information you have about a subscriber, like their name, time zone, and more, and create customized journeys for them.
You can learn more about getting started with this strategy with these resources:
17. Analyze your digital marketing performance
Assessing your online marketing performance is a behind-the-scenes tactic for increasing your online presence. When you evaluate your digital marketing strategies, you learn which ones work, which ones don't, and which ones need some help.
Then, you use what you learn to improve your plan for increasing your web presence.
If you use tools like Google Analytics and Google Search Console, you can easily monitor your online performance. However, you will need to spend some time evaluating and analyzing your data, say every month or quarter.
For example, if your business runs pay-per-click (PPC) ads, you'll want to ask questions like:
Is our keyword targeting reaching the best audience?
What can we do to improve our conversion rates?
Should we refine our audience with additional targeting settings, like location and device?
If you work with a digital marketing agency, they will often handle this aspect of your campaign for you. Should you manage your online presence initiatives in-house, however, you'll need to take on this task because it will impact the success of your strategies.
Check out the following resources to learn more about tackling this task:
18. Recognize when you need help — and ask for it
Improving your web presence is an ongoing investment of your time, resources, and money. That's why it's critical to get results from strategies like SEO and marketplaces like Amazon. If you don't, you'll have difficulty proving to company decision-makers the value of online channels.
With these kinds of stakes, it's become vital to recognize when your business needs help, like when it:
Doesn't have the staff or time to manage the strategy, like social media
Doesn't have the experience to deliver the expected results
Doesn't have the resources to track and evaluate the strategy
While you can try to do it all, you'll often find your campaigns will underperform.
Just take this example from Wheeler Machinery, a heavy equipment dealer: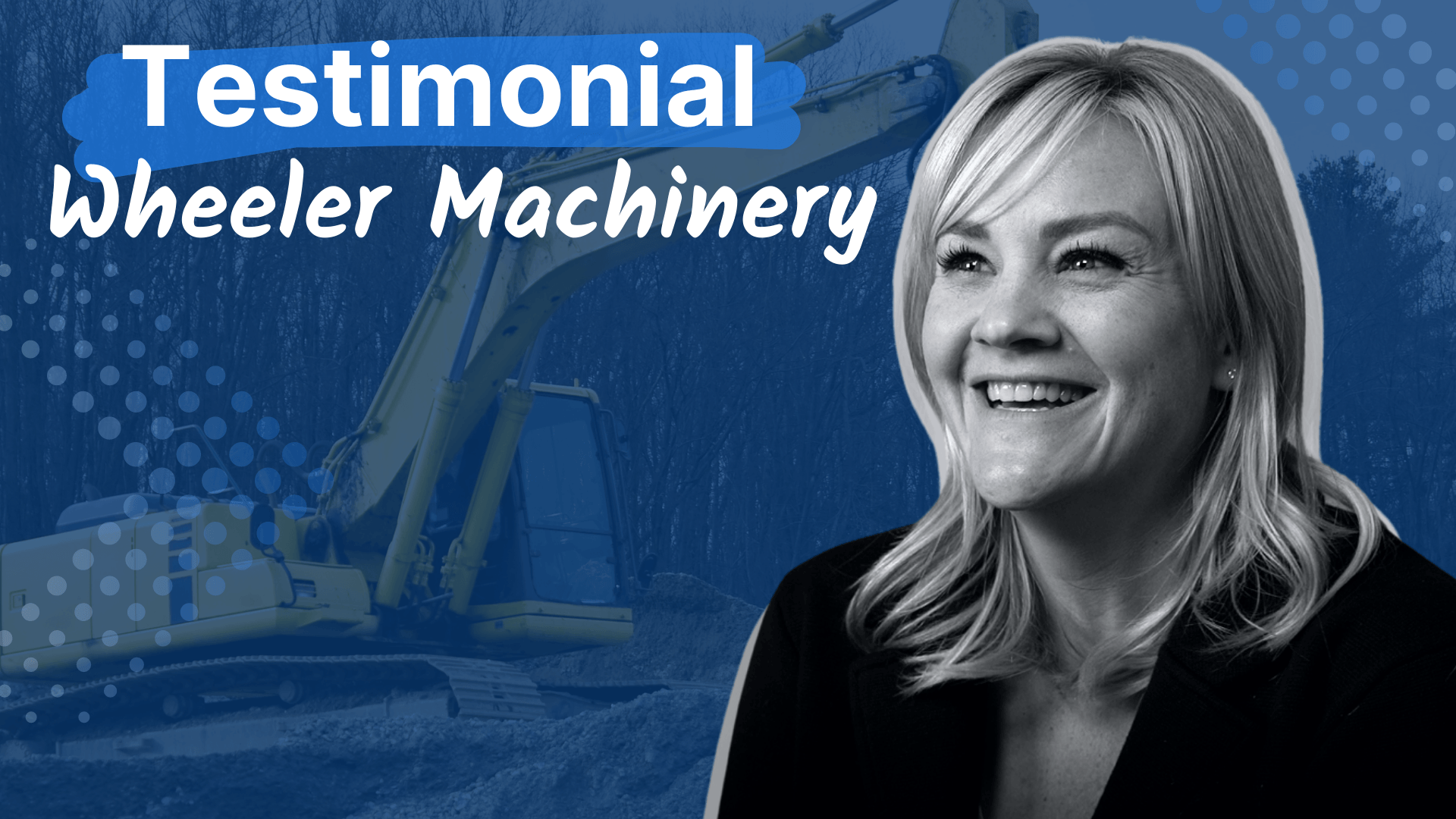 As Greg Roth from the Wheeler Machinery team shares, "We didn't have a third-party partner that we relied on, and it was just overwhelming. We just couldn't keep up with the work." So, Wheeler Machinery partnered with WebFX, and guess what?
Things got more manageable — and more cost-effective.
Just ask Roth, who says, "We were getting more traffic and spending less money, which is always a great thing. We have a lot more time to manage our business. I'm not worried about SEO, PPC, AdWords…we can just tell them [WebFX] what we want, and they do it, and they take care of it."
Like Wheeler Machinery, your business can also benefit from partnering with an experienced digital marketing agency. You can spend more time on the tasks that your job revolves around and less time managing a marketing campaign that isn't working out.
If you're experiencing the same challenges that Wheeler Machinery was, check out these resources:
19. Join online marketplaces like Amazon
Businesses in the ecommerce sector can also improve their online presence with top marketplaces like:
Amazon
Walmart Marketplace
Target Plus™
These online marketplaces can help your company expand its online reach and connect with a vast audience of shoppers, while also leveraging the trust that shoppers associate with brands like Target, Walmart, and Amazon.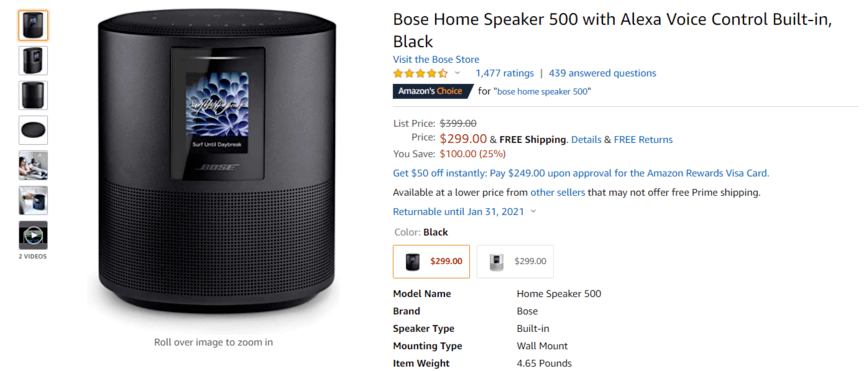 While Target Plus™ and Walmart Marketplace feature strict application standards, Amazon is an easy marketplace to join. It's also one of the most beneficial since Amazon is responsible for more than 40% of online sales.
When it comes to choosing the best marketplace for your business, think about these questions:
Where are my competitors selling?
Where is my audience shopping?
How much will it cost to join this marketplace?
What are the logistics for fulfilling orders through this marketplace?
You can also learn more about each marketplace and its pros, cons, and costs with these resources:
20. Encourage clients to post reviews online
Businesses like yours can also improve web presence by earning online reviews, whether on your:
Website
Local directory listings
Marketplace listings
Social media profiles
That's because people love reviews.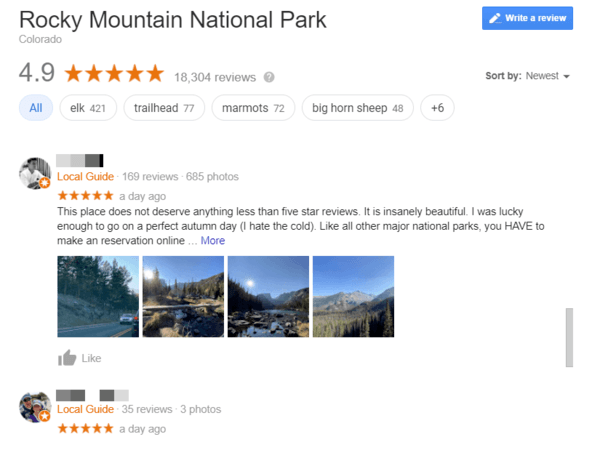 From everyday consumers to business buyers, everyone uses reviews to gauge a product, service, or company's quality. If you don't have reviews, you will struggle to earn your target audience's trust and business.
You can encourage people to post reviews online a few ways, like by:
Offering a discount
Including a CTA to leave a review within your product's packaging
Sending post-purchase emails
Of course, asking for reviews with specific strategies, like offering a discount, can backfire. If people visit your store and see the promotion, for instance, it can create doubt as to whether the reviews they read were genuine or purely motivated by the offer.
That's why it's better to use strategies that don't offer something in exchange for a review.
Go ahead and read resources to learn more about how to generate reviews for your business:
Are you ready to improve your online presence? Make it easy with WebFX
An online presence is essential, whether your company conducts business offline or online.
That's why it's critical to understand how to improve online presence and learn which strategies offer your business the best chance at success. While this guide shared 20 different ways to go about increasing web presence, there are plenty more.
If you're interested in learning more about them — and receiving custom recommendations for your business — contact us online or give us a ring at 888-601-5359 to speak with an experienced strategist about how to increase your online presence with digital marketing services for SMBs.