The Differences between SEO and SEM
Search engine optimization (SEO) and search engine marketing (SEM) are two of the most popular advertising buzzwords in the world. But it can be easy to confuse the two and what exactly differentiates them from one another. Below, we'll take a look at what each of the keywords mean and how they work together.
SEO refers to the practice of refining your website to make it show up better in Google search results and provide a great experience to your visitors.
SEM refers to the entire set of online advertising practices, which includes SEO, pay-per-click advertising (PPC), web design, and more.
That makes SEO one of many strategies under the SEM umbrella, which you can see in the graphic below.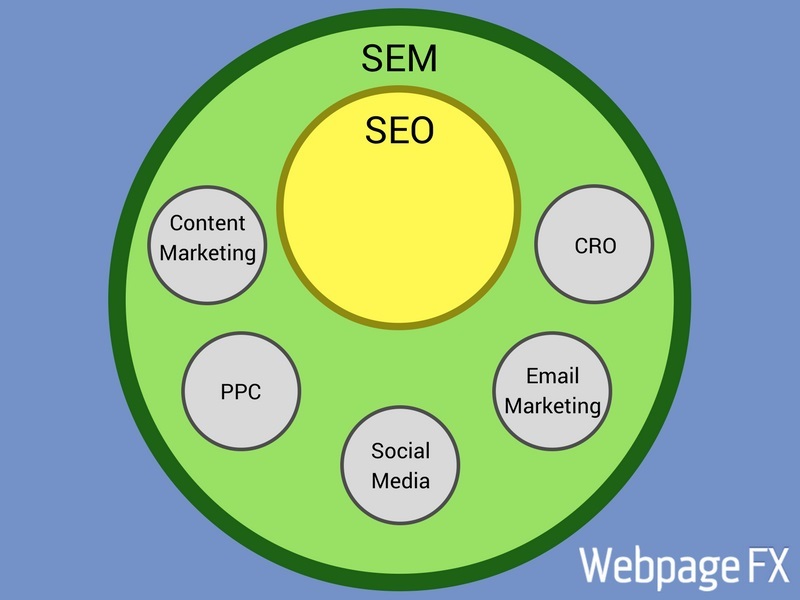 To fully grasp all of the differences, let's take a closer look at each topic individually. You can always contact us online or call 888-601-5359 to speak directly with one of our Internet marketing experts!
What is SEO?

At its core, SEO is the practice of making your website as easy-to-use as possible.
When you do that, Google and other search engines will notice that your site provides value to your visitors. Then, they'll start ranking you above your competitors in search results.
That boost in your ranking will attract more users who will have a great experience and show search engines that you're a valuable and helpful resource in your industry.
This cycle continues as you work on your site, particularly when you follow SEO best practices.
These are five of the most important SEO best practices
Title tag optimization: Using keywords in your page's name
Meta descriptions: Writing a short summary about your page to display in search results
Heading optimization: Adding keywords in your page's headings
Internal page links: Creating text-based hyperlinks to other pages on your site offering similar information
Multimedia alt tags: Writing short descriptions about each image for search engines to read and understand
With these practices — and others we haven't listed — you tell search engine users exactly what to expect from your page and then deliver with your body text, multimedia, and other site elements.
This shows your visitors that your business is savvy and in-tune with the needs of your customer base.
In other words, you demonstrate your company's value to those who may not have known about you before. And if they did know about you, then you prove that you're an excellent resource on any question they have for your industry.
That establishes trust, and that trust makes it easier for your website visitors to convert into full-paying customers.
SEO isn't a once-and-done task, though. You have to maintain your rankings, especially as competitors crop up and try to steal your spot in search results.
It's also important that you expand your SEO strategy over time so you can build off of the progress you established your first time around.
With that in mind, SEO is a process. It takes time, patience, and hard work, but the results are worth the effort.
Now that we've checked out SEO, let's take a look at SEM.
What is SEM?

SEM is a general term that includes SEO along with a range of other strategies.
Other than SEO, the five most popular SEM strategies include:
Often, companies cherry-pick the SEM strategies they'd like to use to fit their specific needs. A company that just started its website might concentrate on content marketing and PPC to get an early foothold online, while a company that's been online for 10 years may focus on converting its existing traffic with CRO.
There's always one or two companies that want to use every SEM strategy they can, though. These companies tend to be well-established, household brands that fight for positions in high-traffic keywords.
If that describes your business, then a total SEM package could be the right choice for you.
Most companies will be fine only using a few strategies, though. Small, mid-sized, and even large companies don't usually need to use every SEM strategy at once.
Still, it's nice to have the option.
A big part of SEM's appeal is that it's so cost-effective. When you partner with an agency, you may pay a few hundred or thousand dollars for the service you get.
The payoff is huge, though. It's also completely trackable through the use of analytics software.
That gives SEM a big advantage over traditional marketing. SEM is more affordable, cost-effective, and trackable than something like a billboard or television commercial.
While you can continue using traditional advertising with SEM, many companies find that they can just use SEM and succeed just fine.
For the companies that want to go really big with their marketing — again, typically household brands — it's always an option to use SEM and traditional advertising together.
WebFX's SEO and SEM recommendations

At the end of the day, you're the only person who should make the choice of whether to use SEO, SEM, or any number of other digital strategies for your business.
Still, we can give you a few recommendations to follow to identify what strategies you can use to achieve specific goals.
All the strategies below fall under the umbrella of SEM. It's just a matter of choosing what works best for your needs.
SEO is an ideal fit for the following goals:
Earning long-term revenue
Competing intensely with others in your industry
Building traffic to your site
SEO works best when you have a long-term goal you want to achieve. That means actively pursuing that goal via your website while remembering that the best results take a long time — sometimes more than a year!
By combining your business's natural work ethic with the patience required by SEO, you have a bulletproof plan for earning more customers from search engines.
Content marketing is a catch-all strategy with a lot of applications, including:
Building out your website for SEO, PPC, and other strategies
Providing helpful information to your customer base
Encouraging potential customers to buy
Content marketing is one of the foundational SEM strategies that lets you build additional strategies on top of it. If you want to use SEO, PPC, social media, and other marketing initiatives, you'll need a content marketing plan in place.
Content does just about everything, too. It builds trust between you and your customers, encourages them to buy, and keeps you competitive in your industry online.
PPC has a lot of uses, but it works best to achieve the following objectives:
Earning short-term ROI
Saturating search results
Building brand awareness for new websites
PPC is great for short-term results because it requires regular payment to maintain. When you invest over the short-term, you can get a lot of customers in a short amount of time. But spending on the long run decreases your ROI because of the continued investment.
Still, PPC complements lots of other SEM strategies by drawing that short-term traffic while you flesh out other strategies (like SEO).
So if you're looking to earn quick revenue for whatever reason — even if that reason is working on long-term SEM strategies — PPC is a smart choice for you.
While social media marketing has a lot of applications, it tends to work best for the following goals:
Building a trusting following of customers
Providing quick customer service
Saturating search results
Social media marketing connects you with people who are interested in becoming customers and turns them into a consistent audience for your brand.
It also builds your reputation by allowing you to respond to reviews, comments, and criticisms in the blink of an eye. When your customers see that you care about what they have to say, you'll build trust with them much more quickly than any other SEM strategy.
Email marketing is an essential part of any sales funnel. Most often, companies use it for:
Following up with qualified customers
Demonstrating industry expertise
Encouraging repeat purchases
Email marketing can do all of this because it's a series of tested, optimized messages that turns leads into paying customers.
It's also a golden opportunity to create a newsletter that talks about news related to your brand, industry, and other topics. This keeps leads in the know about your business, and it shows that you're an active, knowledgeable presence in your industry.
CRO is frequently used by companies looking to increase purchases without attracting new traffic to their website. In general, CRO works best for:
Increasing the percentage of converted customers
Refining other marketing strategies to earn more revenue
Maximizing revenue from current strategies while minimizing repeat costs
With CRO, you look at the parts of your online strategy that sell and increase how often they sell.
This takes time, experimentation, and diligence. But when you pull it off, you can make your website earn a lot more without pouring a ton of money into it.
SEO or SEM: Which is right for you?
Wondering whether SEO or SEM is right for you?
WebFX is here to help!
We've spent the past 20 years working in SEO and SEM. We'll even give you a free quote and consultation!
Contact us today to lay out your SEO or SEM strategy today!
Work with a leading SEO company and boost your site's traffic, ranking, and conversions. Call 888.449.3239 or contact us online today for a free quote on SEO and SEM plans from WebFX.