Let's Talk About Organic Search
As you begin to venture into the world of digital marketing, it's important to understand the terms and phrases that advertising platforms and marketers use to describe your options. Digital channels come with many new features and metrics, and having a solid grasp on them can help you make the most of your strategy. View our Digital Services
One of the terms you will come across often with many digital marketing channels is "organic search."
So, what exactly is organic search?
On this page, we'll dive into the nitty-gritty of organic search and how your business can utilize it to attract traffic and generate leads. Call us today at 888-601-5359 to speak with a strategist or keep reading to learn more!
We foster and form long-term partnerships so that your business has long-term results.
Over 90% of WebFX clients continue partnering with us into year 2 of their campaign.
Hear from Our Happy Customers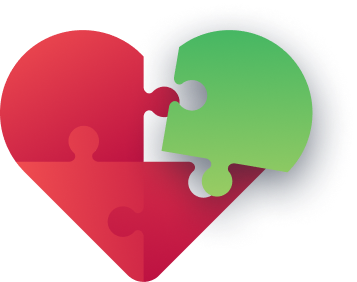 Defining organic search
Organic search, which is a type of organic marketing, refers to the results that appear in search engines like Google and Bing. These listings appear because they are relevant to the search terms. They are not paid advertisements.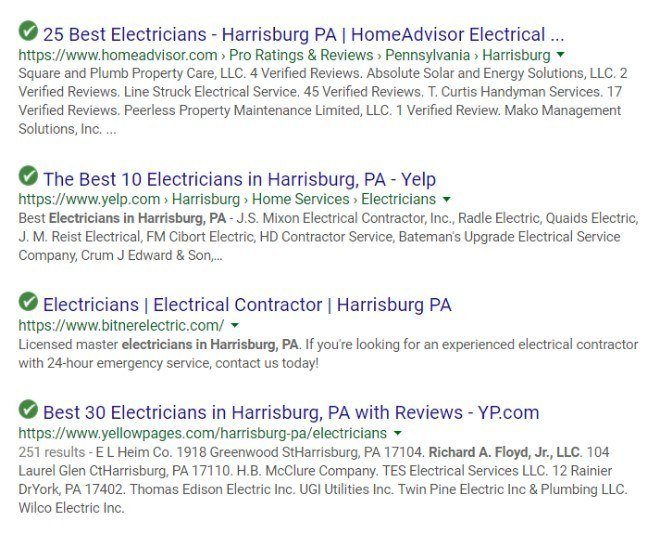 Website owners do not pay to appear here. Google selects the results based on several factors that determine the most relevant results for any given search.
When users conduct searches, they type in specific keywords. Then, Google delivers results that it believes contain the information that a user is seeking. This generates the organic listings.
Your website's position in the organic listings is important, especially when you consider that 75 percent of users don't go past the first page of results. When users conduct organic searches, the majority are checking out the first few results that appear.
You can improve your rankings in organic search results by utilizing search engine optimization, or SEO. SEO involves improving your site's architecture and content in a way that helps search engines like Google see that it is relevant for the keywords you want to rank for.
It is important to note that organic listings can't be bought. Your rank is determined by Google. You achieve a higher rank by optimizing your website and creating a positive user experience.
It can be a complex process, but the basic idea is this: You select keywords your target audience searches when they're looking for your product or service your business offers. Then, you work on improving your site in order to rank better for those specific keywords.
Organic search vs. paid search
As you learn more about organic search, you'll likely also see the term "paid search." What is the difference between organic search and paid search? Though both of these listings appear in search engine results, the way they get there is very different.
The biggest difference is that paid search placement costs money, in the form of pay-per-click, or PPC advertisements. With paid search, you still select keywords — but instead of improving your site to rank for them naturally, you pay search engines to display your site in results.
PPC advertisements operate on a bidding system in which advertisers set a maximum bid for how much they're willing to pay for an ad click for any given keyword. You bid against other companies to determine the placement of your advertisement.
You'll need to set a maximum bid. This is how much you are willing to pay every time someone clicks on your advertisement.
Since PPC works on a bidding system, companies can pay as much as they want for an advertisement. This is why you'll want to focus on keywords with a lower CPC. We'll address the different types of keywords later.
Once you set your maximum bid, you'll get your placement. Your bid and your quality score determine that placement. Everytime someone clicks on your advertisement, you'll pay the designated amount that is your maximum bid.
The advantages of organic search
Organic and paid search are two entities that have their advantages and disadvantages. While they both bring something unique to your campaign, it is important to note how each them of impact your campaign.
One advantage of organic search is that you don't have to be limited in your budget. Your SEO ranking won't cost you anything when someone clicks on it. This means that, even if you were to stop trying to rank, your position would remain until someone outranks it.
Another advantage of SEO is that you can always bring people back to your site. Your organic listing will always exist in the search results, as long as you are still trying to rank for a particular keyword.
There are numerous other advantages of SEO, but it is important to note the disadvantages as well. The biggest disadvantage of SEO is that not all of the traffic you attract will be qualified.
Organic visitors are at various stages in the buying process. Some may find your site for the first time and are just getting familiar with your brand. Other visitors have been to your site numerous times and are working their way towards conversion.
You may even have visitors that are ready to convert and just want to find the right business. With a diverse group of traffic, it makes it difficult to cater to the needs of all these groups. You'll have to spend time segmenting your visitors in order to address their needs best.
The advantages of paid search
This is where PPC has an advantage over SEO. The traffic from PPC is 50 percent more likely to make a purchase than organic visitors. People who click on PPC ads tend to be at the point where they are ready to convert and just need to find the right business.
Another advantage of PPC ads is that it puts your business at the top of the results. Even though some may recognize it as an ad, 46 percent of people can't identify ads in search engine results pages.
Almost half of people will click on your ad without knowing it is an ad. They will be directed to the right place, but they won't realize which methods got them there. This is an advantage for your business because people won't miss your business listing.
PPC does have its disadvantages. The biggest disadvantage is that is costs money to run a campaign. If you don't have a big budget for PPC, you advertisement will be limited by the number of clicks you can receive.
Organic and paid search bring different kinds of traffic to your website. Each of them has their own unique benefits and something to offer to your business. These methods are great, especially when you use them together.
By utilizing SEO and PPC, you ensure that you will reach all kinds of people in your target market. If people skip over PPC, they'll still find your business through your organic listing. This enables you to reach more people in your target audience.
How can you start using organic search?
Organic search can be a powerful tool for improving your online visibility and earning valuable leads for your business. If you want to start making the most of it, there are a few steps you'll need to take.
1. Select your target keywords
The first step to using organic search is to conduct keyword research.
You can use Google Keyword tool to figure out your keywords, but there are many other tools that can help you figure out your keywords. These tools enable you to see many important statistics.
One of these statistics is the search volume. The search volume tells you the number of searches that are conducted using a particular keyword.
Another statistic you will see is the cost per click (CPC). This is estimated cost you will have to pay each time someone clicks on your advertisement.
These are two important statistics because they shape your campaign. A high search volume will increase the cost per click, while a lower search volume will decrease the cost per click. A lower search volume will enable you to reach a small group of qualified leads, while a high search volume will enable you to reach more people, but they aren't exactly qualified leads.
As you are picking your keywords, it is important to note these statistics. You will also need to focus on the type of keyword.
When you are selecting your keywords, you'll want to stick to long-tail keywords as opposed to short-tail keywords. Long-tail keywords contain 3 or more words, while short-tail keywords only contain one or two.
If you owned a flooring company, you would want to use "flooring companies in Harrisburg, PA" as your keyword, rather than "flooring" or "flooring companies."
So, why are long-tail keywords better?
For one, there is far less competition for long-tail keywords. Since short-tail keywords are generic, there are many companies trying to rank for that keyword. These are often bigger corporations that have larger budgets.
Long-tail keywords are more specific, so there is less competition. This makes it easier for your business to try and rank for particular keywords.
These keywords are also better because users are conducting specific searches. People conduct specific searches in order to find the results that best fit their needs. Generic terms can turn up all kinds of results that don't exactly fit what a user is seeking.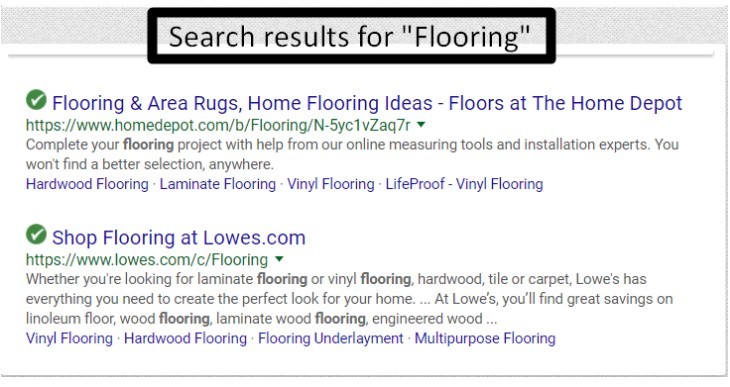 If you were searching for flooring companies, your keyword choice would drastically impact the results. When using the keyword "flooring," you drum up results for big-name companies that offer different types of flooring products. If someone wanted a local company to do it, they wouldn't see their name in the search results.
This is why long-tail keywords are so important. When you utilize long-tail keywords, you generate results that include local businesses. Long-tail keywords are better for generating results that suit what a person is seeking.
Keyword research will help you figure out what keywords are a good fit for your business. You will be able to figure out your keywords and create your plan to rank for them.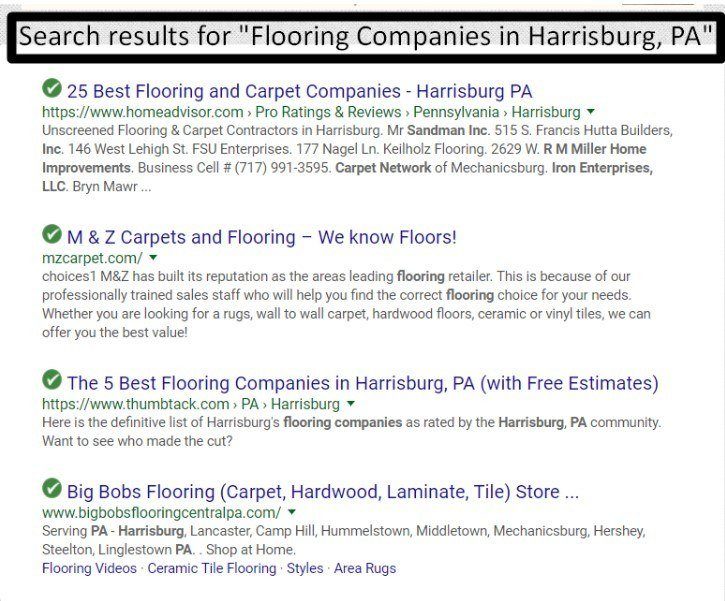 Once you select your keywords, you'll want to use them on your website. Using keywords throughout your pages indicate to Google the topic of your page.
Utilizing keywords will help your page rank for those keywords. You need to be careful that you don't overuse keywords. Overusing keywords can lead to keyword stuffing, which negatively impacts your ranking.
2. Earn links
An important part of organic search is link building. It is important that your site obtains backlinks. Backlinks are links from authority sites back to your own site.
Backlinks help boost your ranking because you are linked to these credible sites. These sites will bring in traffic to your own site. It is a great way to bring in new traffic and build your website's credibility.
Your site becomes trustworthy because of these authority sites linking to your page. It sends a signal to Google that your site has reliable information.
The best way to earn backlinks is by creating content. When you produce content, you can ask other sites to check it out.
Content creation has other benefits too. It is a new avenue to attract people to your website, which helps you bring in more leads for your business.
Blogs are also great for keeping people on your site. They spend time reading your blog or checking out a video, so they remain on your site longer. This also positively impacts your SEO ranking because it signals to Google that your website provides a positive user experience.
So, if you create content, you'll keep people on your site and provide authority sites with an avenue to link back to your site. If these authority sites like your content, they can use it as a resource on their own pages.
This enables you to build a relationship with that site. You can nurture that relationship and earn more backlinks from that site. When you have more backlinks, your SEO ranking is boosted.
3. Improve user experience
A big portion of organic search relies on the functionality of your website. The most important thing to keep in mind as you optimize your website is the user experience. You want users to have a positive experience on your website so that they will stay on it and come back to it.
There are numerous ways that you can improve your website to create a positive experience for users.
Update your designYour website design is the first impression users get when they come on your page. You want it to have a positive impact on your visitors. Users don't want to see an outdated website. They want to see modern and sleek designs. It is important that you update your website so they users will have a good first impression of your business. You'll want to choose colors that are reflective of your business. These are colors that people will associate with your business. You want to be consistent with colors throughout your website. By having an updated design, you will keep users on your site longer.
Create a functional navigationOnce you create an updated design, you'll need a functional navigation to go with it. Your navigation is an important part of your website. You don't want users to struggle to find information. If they can't find the information they are seeking, they will return to the search results and look for another website. Your navigation should include headings that are broad. This enables you to encompass numerous topics beneath each heading. You'll enable your users to find the information they are seeking, which will keep them on your page longer.

Make sure your page loads fastUsers don't like slow loading pages. They want to get answers quickly. If your page loads too slow, users will leave it and return to the search results. This will increase your bounce rate. A high bounce rate will negatively impact your ranking. You want to keep users on your page in order to decrease your bounce rate. The best way to keep users on your page is to make sure your page is running quickly and efficiently. You can check your page speed by using Google PageSpeed Insights. This tool will help you see how well your page is running and where you can make changes. If making these changes seems like an overwhelming task, check out our page speed services to see how a digital marketing company can help you improve your website.
Use responsive designYour users are going to visit your website through multiple devices. It's important to make sure your design adapts to those different devices. The best way to do this is to use responsive design. A responsive design adapts your website to fit a mobile device, tablet, or computer. This enables users to have a good experience on your website. Responsive design will keep users on your website longer. This will send a positive signal to Google and help to boost your SEO.
Incorporate multimediaA great way to keep people on your page longer is including multimedia. Multimedia keeps people interested in your page and content. You can include pictures, videos, and infographics in your documents. These are great visual elements that add interest to your page. They break up the text and keep people engaged with your content. Videos are one of the best pieces of content to have on your page. Customers are 10 times more likely to interact with content that has video than text. Incorporating video into your pages is a great way to boost engagement. When you boost engagement, you increase how long people stay on your page. This sends a signal to Google that people like your page. This will increase your ranking and help you rank better in the search results. By implementing these strategies, you will be able to create your organic search plan.
WebFX is a partner businesses trust.
Hear from HydroWorx, who saw a 236% increase in organic sessions with WebFX services.
Watch the Video Testimonial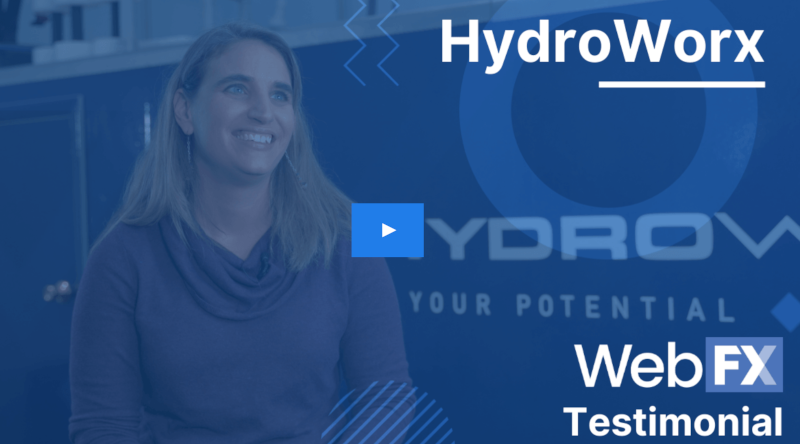 Benefits of organic search
Once you know how organic search works, you want to know the benefits. How will utilizing organic search, or SEO, benefit your business?
1. You'll get more qualified leads
You want to obtain leads that are interested in your products and more likely to convert. The hardest part is connecting these leads to your website.
SEO help you reach these leads. By focusing on specific keywords, you are trying to reach people who utilize those keywords. Those who utilize your keywords want to be matched with a business like yours.
By using this method, you are reaching more qualified leads. Since you are utilizing long-tail keywords, you are reaching a more precise audience than if you used short-tail keywords.
This precision will help you reach more leads because there is less competition. Instead of competing for a highly competitive word, you are focusing on keywords with less competition. This enables you to gain more traffic because there isn't as much competition.
2. You can cover all your bases
46 percent of people can't tell the difference between advertisements and organic results on search engines. There are many people, however, that recognize them, ignore them, and skip to the organic search results.
You don't want to rely solely on PPC to drive in qualified traffic because there are people who skip past the advertisements. SEO can help you capture these leads that turn to the organic search results.
By utilizing SEO, you are ensuring that people can still end up on your site. If you have a PPC ad and your website ranks on the front page, there's a good chance that they will still find your site even if they skip over your PPC ad. This enables you to draw in traffic from your PPC ad and from your website.
3. You can create repeat customers
SEO enables you nurture your leads through the buying process. When leads click on PPC ads, they are typically at the point where they are ready to convert. Many people who visit your website are just beginning to associate with your brand or become familiar with it.
By taking the time to nurture these leads, you build a relationship with them. You educate them on your brand and show them why your business is the best choice. This builds trust with your leads.
When you build this relationship, you create repeat customers. This enables you to create multiple conversions from the same people, rather than a once and done conversion.
4. It's constant promotion
When you use PPC ads, you set the duration and time in which they'll run. Typically, ads don't run continuously. Many companies structure their PPC ads to appear when most of their target audience is projected to be online.
Your organic results, on the other hand, can show up whenever a user is searching. It requires work to maintain your rankings, but your website won't disappear from the search results because of campaign settings. This is constant, passive, promotion for your business.
Anytime someone types in your keywords, your website can appear in the search results. Your PPC ads may not if they aren't running during that time frame. SEO ensures that people can still find your website whenever they conduct a search.
Your SEO ranking is constant advertisement for your business. It's a great way to obtain customers and drive them to your website.
5. It can drive long-term results
The benefits of SEO last long-term. You may use PPC with the intention of gaining a certain number of conversions or making a certain number of sales. But as soon as you stop paying, you stop getting in front of potential customers and seeing results.
The benefits of SEO, however, don't require payment to maintain. The rankings you achieve can bring in traffic and leads for years to come.
SEO is a long-term method that continually improves your website and its ranking. You can continuously set new goals and work to improve your SEO campaign to meet those goals. There are no limits with SEO.
6. It drives offline sales
How many times have you checked out a business' website before going in to visit them? This is a behavior that is common now that most people have smartphones on them all the time. They will conduct a search to find a business that fits their needs, look at their website, and leave the page.
This doesn't mean that these people won't convert. Many times, people will check out your business' website to obtain important information like hours of operation or pricing. Then they visit your store in person and make a purchase.
SEO is a great tool to bring customers to your physical business to make a purchase.
Is SEO effective?
Now that you know what organic search is and how to use it to your advantage, you may be wondering how effective it is. How can achieving strong organic rankings positively impact your business?
1. Many marketers are already experiencing success with SEO
Many companies are already using SEO in their marketing strategy. In fact, 89 percent of marketers say that SEO is successful.
2. It puts your business on the map
When you first look into SEO, you may be wondering how you are going to compete with with bigger companies. It can feel like it isn't possible to compete with these companies because they have bigger advertising budgets. You may think that you will lose out on leads to brands that are more well known or have a bigger advertising budget — but with SEO, that doesn't have to be the case.
65 percent of people focus on the relevancy rather than company name when they search online. They're looking for the best product or service for their needs. When you figure out which keywords they're using to describe those needs, you can optimize your site to reach them — regardless of whether you're a national brand or a small business.
3. These leads close
SEO leads have an average close rate of 14.6%, which is extremely high compared to a close rate of 1.7% for outbound leads. This method is a great way to close leads and help people convert.
Outbound methods require you to reach out to leads and persuade them to convert. You have to try to find interested parties and convince them that your products or services best fit their needs.
With SEO, interested people come to you. You work on nurturing leads that already have an interest in your products or services. It has a higher close rate because it drives in traffic that is more qualified.
SEO has the ability to effectively drive relevant traffic to your website. These are leads that you can nurture and help convert. It is an effective method that will bring your business the results you want.
WebFX is a top SEO company
If you want to start using organic search in your digital marketing plan, look no further than WebFX. We're a full-service digital marketing company with years of experience in SEO.
We have a team of 500+ marketing experts that are on top of the industry and will contribute their expertise to your campaign. We'll create a customized plan to maximize your website's ranking potential through SEO.
Our focus is on driving results. That's why to date, we've driven over $3 billion in sales and over 7.8 million leads for our clients. Our team is dedicated to helping you see results.
We deliver work that makes our clients happy — in fact, we have over 1020 client testimonials from a variety of industries. Check them out and see for yourself what it is like to partner with one of the top SEO agencies!
Get started today
If you're ready to start creating your customized organic SEO plan, then contact us online or call us today at 888-601-5359 to speak with a strategist. We look forward to working with you!
How Is Your Website's SEO?
Use our free tool to get your score calculated in under 60 seconds.