With over 89% of home buyers purchasing their homes through a real estate agent, it's no secret that people rely on your knowledge and experience to help them find the right home or sell their current home.
The rapid growth in technology has led home buyers and sellers to turn to the web to help them find the right real estate agent. If you haven't built up your presence online, you're missing a valuable opportunity to obtain new clients for your real estate company.
So, how can you get more real estate clients online?
Keep reading to learn about six strategies for getting clients in real estate!
If you aren't sure how to set up these marketing strategies and need help, give us a call at 888-601-5359 or contact us online to speak with a strategist about our digital marketing services!
Our digital marketing campaigns impact the metrics that improve your bottom line.
See More Results

WebFX has driven the following results for clients:

$3 billion
In client revenue

7.8 million
Leads for our clients

5.2 million
Client phone calls
1. Use search engine optimization (SEO) to help people find your real estate company
If you want to know how to get clients in real estate, start using search engine optimization (SEO). SEO is the process of optimizing your real estate website to help your business appear in relevant search results.

When home buyers and sellers want to find the right real estate agent for them, they turn to Google to help them find qualified candidates. If you aren't optimizing your website and content to appear in these search results, you're missing a prime opportunity to get more real estate clients.
Here's how you can start with this strategy:
Find relevant key terms: Keywords help your website appear in related search results. If you want to attract the right clients to your company, you must select keywords that help them discover you. You can find the right keywords by conducting keyword research.You can use numerous keyword research tools, like KeywordsFX, to help you find long-tail keywords for your site. Long-tail keywords contain three or more words and help you drive more qualified traffic because these terms have a specific search intent.
Ensure your site loads quickly: Users don't want to wait for slow-loading sites, and Google doesn't want to direct users to them. To ensure you're providing the best experience, check your site's load time using a tool like Google PageSpeed Insights.

When you check your website with this tool, you can see how quickly your site currently loads and how to improve it. Some suggestions include compressing images and reducing redirects to help improve site load time.
Make sure your site is mobile-friendly: Users will look for real estate agents on their laptops, tablets, and mobile devices. If your site doesn't adapt to these devices, people won't enjoy their time on your site and are more likely to bounce. Not to mention, Google uses a mobile-first index, so you need a mobile-friendly site to rank in search results.You can create a mobile-friendly site by integrating responsive design into your website. Responsive design ensures your website will adjust for all devices, so users can have the best experience on your site and remain engaged.
Bonus tip: Consider partnering with SEO experts to help you manage your campaign. SEO involves many tactics, and if you don't have experience with creating an SEO strategy, you may find yourself feeling frustrated. Consider partnering with the SEO experts at WebFX to help you optimize your SEO to drive more clients!
Hear What It's Like to Work With WebFX!

"We were referred to WebFX and have been wowed with their company culture, professionalism and attention to our business needs. It has been a great few months working with them and we look forward to continuing our relationship with them and enhancing our seo!"
Real Estate Agency
2. Optimize your local presence to find more clients
If you want to know how to find real estate clients, you need to optimize your local presence. People want to use a local real estate agent, whether they're buying or selling.
You can optimize your local presence by claiming your Google Business Profile listing.
Your Google Business Profile listing is also known as your local listing. This listing appears in the search results when users search for "real estate agents in Los Angeles," "Manhattan real estate companies," or any other local search query. When users search for a local keyword related to real-estate, it triggers a box that features three local listings, known as the local SEO 3-pack.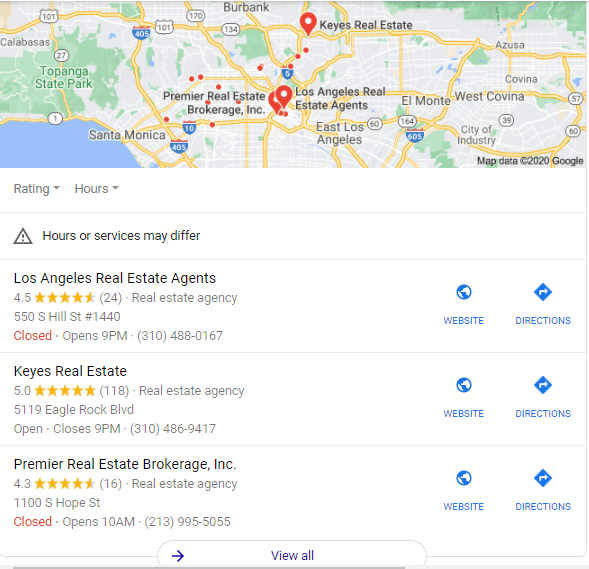 If you want your local listing to appear in this box, you need to claim your Google Business Profile listing. Once you claim your listing, fill it out completely. Verify your name, address, and phone number.
Then, add essential information like:
Hours of operation
A short blurb about your real estate company
Photos of you, your team, and homes you've sold
By optimizing this listing, you'll help buyers and sellers find your real estate business when conducting local searches.
Bonus tip: Want to take your local presence to the next step? Consider running Google Local Services ads to help more people find you at the top of the search results. You only pay for these ads when someone contacts you, which creates an excellent opportunity to haul new clients for your business.

Additional Reading: Google Local Services Ads for Real Estate Services
3. Use pay-per-click (PPC) to drive interested buyers and sellers
One of the best ways to get leads in real estate is to use pay-per-click (PPC) advertising. PPC ads appear at the top of search results and above organic listings.

These ads help you put yourself above your competitors in valuable search results.
To get started with PPC, you need to select keywords. Keywords trigger your ad to appear in the right search results, so you need to conduct keyword research to find relevant terms.
Like SEO, you'll want to use long-tail keywords for your PPC ads. Long-tail keywords drive more qualified leads, but also, because they're specific, they have less competition and therefore have a lower cost per click (CPC) for your business.
Once you select your keywords, you'll bid for ad placement. You set your maximum bid, which is the most you're willing to pay each time someone clicks on your ad. The amount you bid will depend upon the keyword and your competition.
After you bid, you'll focus on the meat and potatoes of your ad — the ad copy and landing page.
Your ad copy is what your audience sees in search results. You can use ad extensions to help provide your audience with more information about your real estate company. You can choose from multiple extensions, from call extensions to sitelink extensions.
In general, you'll want to ensure you're delivering informative ad copy that compels your audience to click on your ad.
Your landing page is what your audience sees after clicking on your ad in search results. When you craft your landing pages, you want them to deliver the information your audience seeks. So, for example, if you run a PPC ad with ad copy about your selling services, your landing page should focus solely on your selling services.
A tailored landing page will help you provide the most relevant information to your audience, making them more likely to keep engaging with your company and turn into leads.
Bonus tip: Use geo-targeting to help your ads appear in specific areas. If you buy and sell homes within cities or towns, you can set up your ads to only target those areas so you can find the most qualified clients for your real estate business.
4. Connect with clients through social media to build relationships
If you want to know how to get more real estate leads, turn to social media. Social media is one of the most powerful tools for helping you connect directly with interested leads and share valuable information with them.
To get started with social media, you need to decide which platforms you'll use to connect with your audience. You can choose from numerous platforms, including:
You'll want to choose platforms where your audience spends the most time. You can look at the platform demographics to see where your audience is likely to spend their time.
Once you have your platform selected, you can start posting content! Social media is an excellent place for you to share your active listings, homes you sold, and more.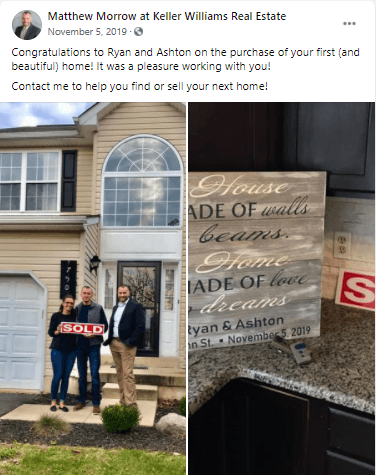 Your social media profiles are a great place to help people get to know you and your business. You can build relationships by interacting with people when they interact with your posts. You can also help answer any questions through your social media direct messages too.
By engaging with your audience and building relationships, you will get more real estate clients that partner with you for their home buying and selling needs.
Bonus tip: Use social media ads to help you reach buyers and sellers who haven't yet discovered your real estate company. These ads will appear in their newsfeed and help attract them to your company. It's a great way to earn more leads that convert.
Additional Reading: How to Advertise on Social Media
5. Invest in video marketing to help get clients interested in your listings
One of the best ways to get leads in real estate is to use video marketing. Video marketing is a strategy for you to engage your audience and get them interested in your business. Not to mention, brand association increases 139% after watching a video.
People love consuming video content — U.S. adults spend five hours per day watching videos. So, by creating video content, you can deliver information in a medium your audience loves.
You can create numerous types of videos, including:
Tours of homes you're selling
Interviews with real estate agents
Q&A videos
Testimonials
Videos are a great medium because they can go anywhere. You can post videos on your site, send them in emails, and share them on your social media.
Bonus tip: Make sure you post high-quality videos! If your videos are grainy or poorly lit, people won't want to watch them. Whether you're using a video camera or your phone, make sure your video content doesn't contain shaky footage, has clear audio, and overall delivers a high-quality experience.
6. Create a blog to share your real estate knowledge with home buyers and sellers
If you want to know how to get clients in real estate, you can create a blog. Blogs are an excellent way to share your knowledge about the real estate market with your audience.
There are countless topics you can write about that cater to different groups in your audience. From first-time homebuyers to first-time sellers to buyers and sellers buying homes in new locations, your audience will have many questions.
By creating a real estate blog, you build a hub for information on all things buying and selling. You share your knowledge with your audience and help them understand the real estate market better. It's an excellent way to provide helpful information while establishing yourself as an authority in your field.
Blogs are great for getting clients in real estate. If people read your information and find it helpful, they'll remember you when they're ready to buy or sell their home. They'll trust your knowledge and expertise and be more likely to choose you as a result.
Bonus tip: Optimize your blogs with SEO! By following SEO best practices for your blog, you'll help your pages rank in search results and drive more valuable traffic for your real estate company!
How to get clients in real estate: Hire a digital marketing expert
When you're busy running your real estate business, you may not have the time to dedicate to running your digital marketing campaign. That's where WebFX can help. We're a full-service digital marketing company that's been in business for over two decades.
We have a team of over 500 experts that can help you craft a custom campaign that drives results. In the past five years alone, we've driven over $3 billion in sales and over 7.8 million leads for our clients. We know how to craft campaigns that help our clients grow their businesses.
If you want to reach more buyers and sellers looking for the right agent, contact us online or call us today at 888-601-5359 to speak with a strategist about our digital marketing services!