In a recent study of Internet usage, the Pew Internet & American Life Project highlighted the following statistic: 15% of American adults do not use the internet at all, and another 9% of adults use the internet but not at home. This is vital for all businesses – especially those with an online store front. With the 'information super-highway' boom of the late 90s and early 2000s, it's not surprising to find almost every business these days has a website.
In fact, many businesses only have websites. For eCommerce, it is commonplace for an offline (physical) store to be non-existent; rather, just a warehouse and distribution center. If our presence is 100% online, we're missing out on at least 15% of potential customers.
So how can an eCommerce business get quality leads from strictly offline customers? The first step is to understand the mindset of offline customers. Why don't they use internet?
According to the Pew Internet report, some of the popular reasons were a lack of interest, time, and technical knowledge or skill. It seems the demographic citing internet usability as a turnoff also mentioned their age as a limiting factor. They said it was too difficult or frustrating and 92% did not express a strong desire to go online in the future.
We can use this information to create a better offline experience that simultaneously sends referrals to our website. For example, we know a portion of our potential offline customers do not have the technical chops to interact with any segue or portal to our website. A QR code or online coupon code would most likely be a futile effort for these particular customers.
Instead, we need to embrace traditional offline marketing with the goal of securing that extra bit of offline market share and having those customers send referrals via online. There are two fundamental objectives many eCommerce businesses set to reach that 15%. 1. Communication objectives 2. Retail objectives
Communication Objectives
A commonly overlooked and underestimated investment of time and resources for eCommerce businesses is in communication objectives. Public relations campaigns can be an extensive time suck that is better used for customer support or product development. However, niche targeted communication objectives are not as time consuming and may provide serious ROI.
Rather than trying to land coverage in the New York Times or Forbes, we target specific publications and media outlets that our potential customers and clients read. Examples include:
Industry trade publications
Industry thought leaders and interviews
Industry product catalogues
Direct mail lists
Industry broadcasts
Traditional offline advertising is always an option as well. While this is a more expensive route, the exposure, message, and theme is completely in our control.
Community and event involvement
A common strategy for many organizations is to participate in their local communities with events, sponsorships, philanthropy, and fundraising. Primarily, these are branding opportunities with undertones of marketing a product or service. These are excellent opportunities for eCommerce businesses to establish localized presences.
Depending on the size our businesses, we can target major cities and simultaneously spread awareness. The goal of community events is to cement our message to strictly offline customers so they may complete a goal such as signing up for direct mail, making a point-of-sale, or receive a piece of branded media. Another goal is to make ourselves a reference point.
If a friend asks them about a product or service we offer, we should be at the top of their mind, ultimately resulting in a referral purchase.
Retail Objectives
When eCommerce looks to expand into offline realms, retail normally becomes the go-to plan. This is variable to the product and customer. For example, apparel dominates both online and offline realms.
Yet, a specialty shirt designer may only have a humble shop on Etsy. They might showcase their designs at local events or among friends and family, but the majority of business is online. The costs and time of owning and managing a dedicated retail store may not be suitable or profitable.
The same goes for partnering with large retail like Walmart. The profit per product shrinks and marketing control is mostly limited. However, physical retail remains an ideal marketplace for thousands of businesses.
Online still only accounts for 8% of total retail sales, but according to recent statistics from Forrester, that figure is expected steadily grow: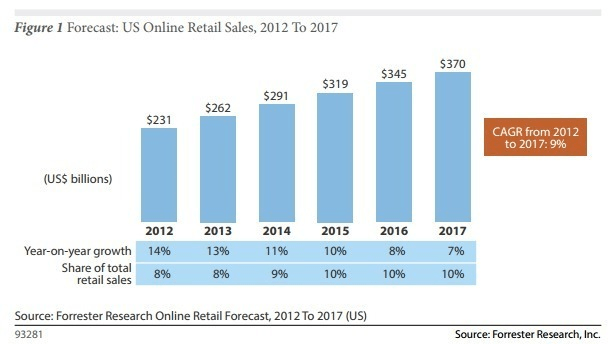 The division of online and offline market share can be confusing for establishing eCommerce business goals. In fact, the implications can be even more confusing. For example, Dave Gilbao, co-founder and co-CEO of Warby Parker, said, "the offline sales component is part of a long-term customer acquisition strategy which can fuel more sales online." A web-averse shopper might recommend their offline experience to friend who enjoys online shopping, thus scoring a referral through the eCommerce front.
Whether it's a pop-up store to test the viability of a permanent location or a deal with one of the big retail companies, the benefit of offline retail integration should not be overlooked. For eCommerce businesses with products or services that are not 'suitable' for the standard retail environment, there are other appropriate offline avenues.
Strategic partnerships
Organizations with a built-up offline community, such as city and school chapters of technology clubs or programs, may prove beneficial for partnering. Common forms of partnership in this kind are:
Giving an insightful presentation
Sponsoring/hosting an event
Offering job opportunities
Collaborating on a philanthropy campaign
Offering a reward (i.e.; scholarship) for an exclusive contest
The type of involvement depends upon our niche and target demographic.
Dumbing down technology
While the majority of the 15% are not likely to go online in the future, that doesn't mean our vendors can't do it for them. We can equip our event tables with tablets and a card reader. This allows one of our representatives to 'escort' a web-averse person through our eCommerce products.
A popular and relatively new way to carry out such a transaction is with a Point-of-Sale system: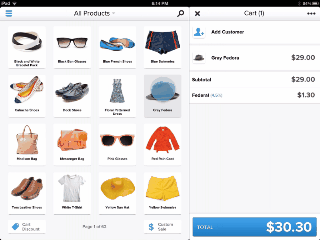 Along the same vein, we can always create a physical catalog of our online store for customers who prefer that experience. By including an easily accessible customer service phone number, we've just opened a new customer conversion path – one that remains offline. Ultimately, these offline marketing strategies should work towards multiple goals.
We are extending our reach by tapping into the offline market share, influencing purchasing behaviors, and sending referral conversions. Which offline marketing strategies would you recommend for an eCommerce business?