Your team serves as the backbone of your business. That's why for many companies, hiring the most qualified professionals is no trivial task. So, how do you find the best team members, especially when you and your competitors are after the same talent?
Use geofencing for recruiting.
When you're looking to fill empty positions in your company, geofencing tactics can help you recruit the right team members. Geofencing works for any business looking to hire top candidates in competitive markets.
Keep reading to learn more about geofencing for recruiting! If you're looking for professional help building your team, contact WebFX. With more than 25 years of experience, plus more than 500 digital marketing specialists, we have the expertise needed for geofencing.
Give us a ring at 888-601-5359 or contact us online!
**DISCLAIMER** GEO-RECRUITING SERVICES ARE AVAILABLE TO CURRENT CLIENTS ONLY AT THIS TIME.
What is geofencing?
If you're new to geofencing, you're probably wondering, "What is geofencing?"
Geofencing is a marketing strategy that uses location-based technology to target prospective candidates in your area. With a geofence, you can establish a virtual fence around a specific area and send ads or messages to users in this fence.
For example, if you wanted to target recent college graduates, you may create a geofence around a college campus. You can then reach students preparing for their post-graduate career, resulting in applications from top candidates.

Hear What It's Like to Work With WebFX!

"WebFX is the area if not the region or national experts on SEO. Their service is incredible."
Healthcare Recruiter
How can you use geofencing for recruitment?
In today's digital landscape, geofencing works well for recruiting.
Are you interested in adding fresh new faces to your team by giving new college grads a unique employment opportunity? Geofencing can help you recruit recent or future college grads by sending out ads to students on a specific campus.
When you're planning on visiting a conference, job fair, or another industry-related event, you can use this strategy to capture the attention of active and passive candidates that may have an interest in joining your team.
Companies can even create a geofence around a competitor's location. This strategy, while aggressive, works well for businesses looking to bring passive candidates onto their team.
Remember, businesses of any size and in any industry can use geofencing.
It's an excellent strategy for bringing talented and professional team members into your business. Geofencing for recruiting can also make it easier to recruit specialized candidates.
Why does geofencing for hiring work?
Geofencing for recruiting works for several reasons, including these four:
1. Prevalence of mobile phones
An astonishing 95 percent of Americans have a mobile phone. With the prevalence of mobile phone ownership, it makes sense for companies to use phones as a channel for reaching shoppers, as well as candidates.
Use geofencing to display relevant mobile ads or deliver notifications to potential candidates.
Your ads can reach prospective workers at all hours of the day, whether they're sitting on the couch or browsing the Internet on their subway ride home from their current job.
2. Personalization factor
When you decide to target prospective workers in a designated area, you can personalize your ads to fit the culture that defines this region, as well as the people in it.
You can personalize your messages too.
Rather than sending out mass advertisements that look like spam, you can use personalization to make users feel like your message is just for them. For example, an ad for a college campus may feature that college's name.
With the amount of personalization available in geofencing, you can create an ad strategy that drives engagement and conversions. Both actions contribute to our goal of building a team of top-notch candidates.
3. Targeted emphasis
Why does geofencing connect companies with the most qualified candidates?
With geofencing, your business takes a targeted approach to recruitment. That makes geofencing a results-driven recruitment tool, which is why companies are using geofencing for recruitment.
When you create your ad and establish a virtual radius for your recruitment campaign, you can also target specific candidates based on educational records or online profiles.
For candidates, the targeted emphasis of geofencing removes some of the hassles related to finding their next career. With your ad, candidates can view a position in their field and area.
For your business, this results in a higher response rate to your advertising efforts.
4. Multiple ways to reach your audience
Geofencing focuses on targeting a specific audience and getting your ads in front of the right people. When you use this marketing tactic, you can reach your specified audience with various advertisement forms too, including:
Text messages
Push notifications
Pay-per-click (PPC) ads
With geofencing for recruitment campaigns, it's easy to diversify your promotional tactics. The different advertising options also let your team experiment with varying ad types to discover the best recruitment strategy.
Partner with a team of ecommerce masters!
WebFX campaigns have delivered more than 12,936,451 ecommerce transactions in the last 5 years
Read the Case Studies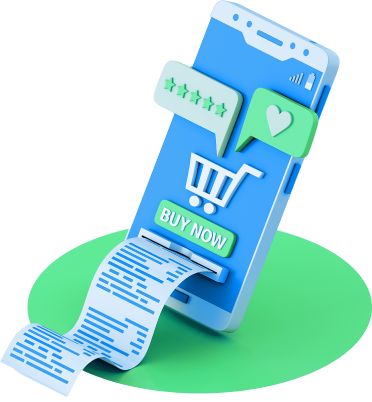 6 tips for improving your geofencing for recruitment strategy
Are you interested in using geofencing to increase the success of your recruitment efforts? Below, you can find a list of six simple tips for maximizing the success of your next geofencing campaign.
1. Research your audience
Knowing your targeted audience is fundamental to the success of your geotargeting campaign. Research the people you're looking to recruit, and answer these questions when building your audience:
What are their areas of interest?
Where do they hang out?
What do they typically look for in a job?
What makes your company a compelling choice?
Outline everything that you need to know about your audience before delving into your marketing campaign. When you know what will capture your audiences' attention, you can improve the success of your recruitment efforts.
2. Create a sense of urgency
Finding a new employee is often a time-sensitive matter. You don't want to wait for an extended period because growing your business now is vital. Plus, limited team members can result in a higher workload for current employees.
Get immediate results from your geofencing recruiting campaign by creating a sense of urgency. Use calls-to-action (CTAs) that emphasize an application deadline or demonstrate why joining your business is the right choice.
While it may seem like an aggressive approach, people respond to time-sensitive offers. That's why motivating candidates to submit their application sooner, rather than later, can result in more applications.
3. Continue to review your data
Once you launch your geofencing recruitment campaign, you may think that your work is done. It's only begun, however. Getting the most benefits from your recruitment efforts means evaluating your strategy on a routine basis.
A few factors worth looking at every week include:
Conversion rate
Click-through-rate (CTR)
Bounce rate
Cost-per-click(CPC)
If you're not sure how to review your data or what to look for when evaluating your campaign, it's worth investing in some professional help.
A marketing agency that specializes in geofencing advertising, like WebFX for example, can help you discover areas of improvement. They can also help you implement changes to maximize the success of your efforts.
4. Stick to small geofences
When you want to target a specific audience, it's best to keep your geofencing radius small. Sometimes, businesses think that a broader range equates to more candidates. However, that's not the case when it comes to geofencing for recruiting.
For example, targeting the entire college campus will help your business reach a large audience. Most of that audience won't fit your candidate requirements, say for students with a business degree.
With some research, however, your team can discover which buildings host business courses. You can then use that information to create a smaller, targeted geofence that reaches your ideal candidate.
5. Use creative messaging
Your messages and promotional efforts aren't the only alerts your target audience receives throughout the day. No matter how you intend to reach your market, one crucial requirement remains the same across all geofencing campaigns — creativity.
Write compelling ad copy or design eye-catching graphics to capture your audience's attention and ensure that your ads receive the views and clicks they deserve.
Your geofencing strategies should also make it convenient for people to apply. While you want to come up with a creative approach, you want to also make it simple for people to act on that message.
6. Respect your audience's privacy
Every time your target market receives a message, whether via text or through social media, they may have some concerns about how a specific company retrieved their contact information.
When recruiting prospective team members, trust is crucial from the get-go.
For example, if your business connects with users through a designated app, it's critical for you to respect their privacy. It's also essential for your team to keep notifications to a minimum so that you don't appear spammy.
Need help finding top candidates with geofencing for recruiting?
Do you know how to use geofencing for recruiting? When you establish a well-defined strategy with superior ad content, it's easier to target, reach, and convert the candidates you want on your company's team.
If you need some assistance with geofencing, we're here to help.
At WebFX, our team of more than 500 digital marketers will apply results-driven tactics to your geofencing campaign, helping your business build an award-winning team.
Learn more about our geofencing services by contacting us online or calling 888-601-5359!
Earn a 20% greater ROI with WebFX