You don't need to be a big, enterprise-level company to use a customer relationship management (CRM) system. There are lots of options out there that fit the needs of small businesses without breaking the bank. But how do you know which CRM to choose?
With this list of the best CRMs for small businesses:
In this post, we'll discuss what to look for in a CRM and give you a list of the top CRMs for small businesses. Keep reading to get our insights on the best CRM tools for small businesses. For more marketing tips from our team of experts, sign up for our email newsletters.
Our digital marketing campaigns impact the metrics that improve your bottom line.
See More Results

WebFX has driven the following results for clients:

$3 billion
In client revenue

7.8 million
Leads for our clients

5.2 million
Client phone calls
The best CRMs for small businesses
What are the best CRMs for small businesses? Here are some of the top options!
1. Nutshell
Nutshell is an all-in-one CRM for business-to-business (B2B) companies that will help you seamlessly track and manage your leads. You can manually upload the contact info for your existing prospects, collect lead contact info from your website, or even scan business cards for easy input. When a lead enters Nutshell's system, it automatically fills in any information it can find about the lead's job title and location.
This CRM also offers features to manage your sales pipelines, create lead generation forms, automatically move leads along the pipeline, send them automated email sequences, view fully customizable reports, and more.
$16 per user per month, or $42 per user per month for Nutshell Pro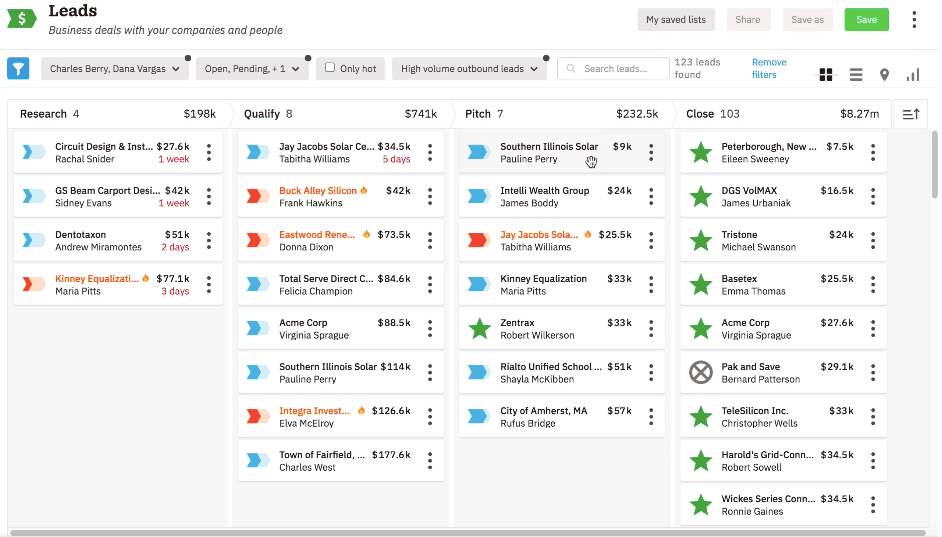 2. HubSpot CRM
The free version of HubSpot's CRM is an excellent option for small businesses. It includes all the fundamental small business CRM features as well as features like live chat and meeting scheduling. The user interface is easy to use and visually appealing. It also includes several built-in integrations. If you eventually find you want more CRM features, you can upgrade from the free small business CRM to a more advanced version.
Free for unlimited users, $50 – $1200 / per month for additional features
3. Freshsales
Freshsales is an easy-to-use, free small business CRM. There are lots of built-in features to help you learn how to use the program, such as tutorials and FAQs. It includes automatic lead scoring powered by artificial intelligence (AI) and the ability to set up custom workflow automations. It offers a desktop and mobile version and several integrations. You can upgrade from the free Freshsales CRM to the full version, called Freshworks, as your business grows.
Free for unlimited users, $29 – $125 / per month
4. Zoho CRM
Zoho offers a free version of its CRM, as well as several tiers of paid versions. The free option is a great place to start for small businesses, and you can always upgrade to get more features. It offers basic small business CRM features as well as some advanced ones like lead scoring, pop-up notifications about leads, and website visitor tracking. It also features numerous integrations, including with social media platforms.
Free for up to three users, $12 – $55 per month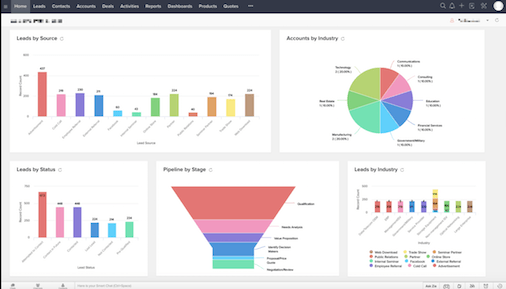 5. Streak
If you use Gmail a lot and want a relatively simple CRM, Streak might be right for you. Streak is a browser plugin that adds CRM features to your Gmail inbox. It captures leads from your emails and allows you to create pipelines so you can track your sales and other processes. Streak offers a free and paid version for a single user and a pro and enterprise plan for teams.
Free to $15 per month for a single user, $49 – $129 per user per month for teams
6. Agile CRM
Agile CRM includes contact management, sales, marketing, and customer service features. In addition to standard CRM functionality, you can get more advanced features like marketing automation and detailed lead reporting. Your options include a limited free plan and a monthly paid plan that offers access to all features.
Free for 10 users, $8.99 – $79.99 per month
7. Insightly
Insightly is a user-friendly small business CRM platform with a host of sales and project management capabilities. The tool helps you keep track of contacts, leads, and projects and the tasks associated with each. Insightly also includes business intelligence tools that collect data and present it in easy-to-understand visual reports.
Free for up to two users, $29 – $99 per user per month for additional users and features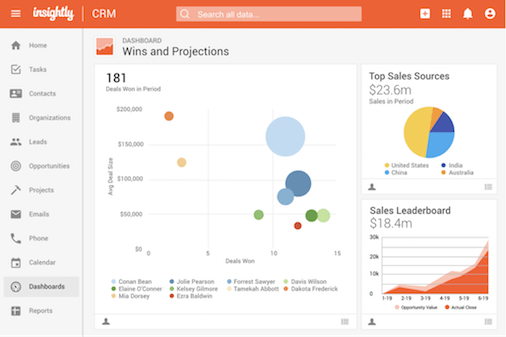 8. Salesforce
Salesforce is a popular CRM among large and small businesses alike. The company offers several basic options of its software at a lower price for small businesses. With the Essentials package, you get an advanced contact manager that automatically captures customer data, integrates with email, and more. Salesforce also integrates with numerous other tools, and you can upgrade or add functionality as your company grows.
Essentials package: $25 per user per month for up to 10 users
Sales Professional and Service Professional packages: $75 per user per month
Why use a CRM software as a small business?
Do you need a CRM as a small business? CRMs provide a lot of benefits, and with the long list of small-business-friendly CRMs, it's totally feasible for smaller companies to take advantage of their capabilities. Here are some of the benefits of CRMs for small businesses.
They help you stay organized: CRMs help you keep your contact information organized and all in one place.
They save you time: A CRM saves you time by helping you quickly find information, reducing the need for manual administrative tasks, and keeping everyone on the same page.
They improve workflow and streamline communication: With a CRM, everyone has access to the same information and can easily update each other on projects.
They help you learn more about your customers: With all your data in one place and the capabilities of a CRM, you can learn more about who your customers are, enabling you to personalize your interactions, improve your marketing, and more.
They improve customer experience: CRMs help you get back to customers more quickly and learn more about your customers' preferences, leading to better customer experiences.
They help you track and improve return on investment (ROI): CRMs help you to track the ROI of your marketing and sales efforts, enabling you to improve them.
They allow you to scale your business: A CRM can help you close more sales and give you tools that help you more easily scale your business.
What to look for in CRM systems for small businesses
What makes a CRM one of the best CRMs for small businesses? While the right CRM for you depends on your unique needs and goals, small businesses should, in general, look for the following features in your CRM software.
Ease of use: If you're just starting out with CRMs, you'll likely want one that's easy to learn and use. The best CRMs for small business are user-friendly and let you get started quickly.
Affordable pricing: You'll also want a CRM that doesn't break the bank. Establish your budget before beginning your search, and look for tools with upfront, affordable CRM pricing.
Customization: Every business is unique, especially when it comes to small businesses. Look for CRMs that you can customize according to your business's needs.
Automation: While you might need not need highly complex automation features, automation is a huge plus due to the time it can save you.
Integrations with other tools: If a CRM can integrate with your tools, using it will be much easier and more beneficial. Look for built-in integrations with tools you already use and the ability to add custom integrations.
Vendor customer support: What kinds of technical and customer support does the CRM vendor offer, and what do their reviews say about their customer service? Helpful, readily available support can make a huge difference in how much you get out of your CRM.
Get started with one of the best CRMs for small businesses
Small businesses can get a lot of value from CRM tools, but you don't need to break the bank or learn a complex program to use one. There are lots of CRMs and CRM packages that are excellent options for small businesses looking to start using a CRM.
If you need help deciding which one is best for your business, give us a call at 888-601-5359 or contact us online today. Our strategists would love to speak with you!