So, you've decided to invest in a customer relationship management (CRM) platform for your business. Congrats, you're one step closer to driving more revenue for your business!
But now you're faced with another important decision: Which CRM platform should you adopt? If you're wondering which CRM features you should look out for, we've got you covered.
Keep reading to view the most important features in CRM software you need to help you drive more sales and revenue.
P.S. Are you ready to get started with one of the best CRMs right away? Look no further than Nutshell! Nutshell enables you to track audience behavior and data so you can turn long-lasting relationships into revenue!
Meet WebFX:
Your world-class, tech-enabled marketing agency with over 1.6 million hours of combined expertise.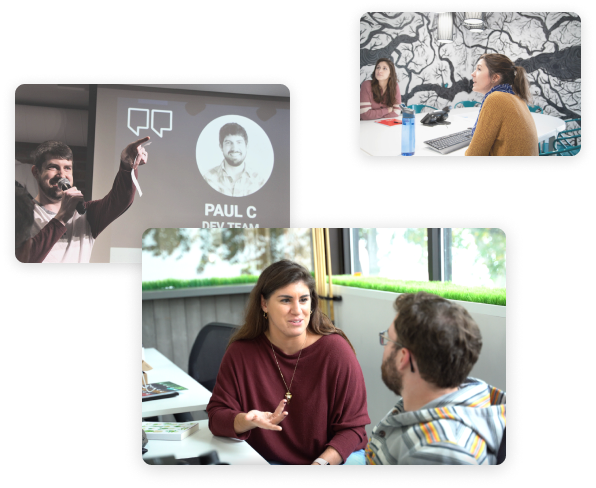 Top 10 CRM features to help you drive more sales in 2023
If you're wondering how to choose a CRM, check out our list of the best features in CRM software you should keep an eye out for below:
1. Contact management
First on our list of must-have CRM software features is contact management. To build strong relationships with your prospects and customers, you need to know their contact information, like their email addresses and phone numbers.
With these details, you can send them relevant content that encourages them to convert.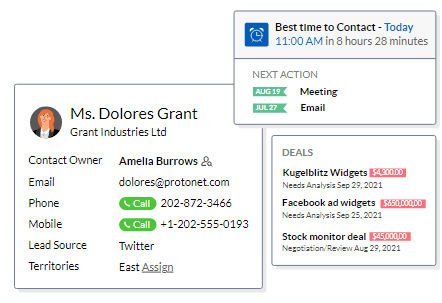 You'll want to ensure that your chosen platform enables you to collect and store essential contact details from your audience. And the biggest bonus of this feature is that your CRM software collects this information automatically, saving your team tons of time.
2. Workflow automation
Marketing automation helps you save tons of time and resources. That's why workflow automation is one of the best featured in CRM software that can help you become more productive and efficient.
Workflow automation features can:
Send you alerts when a prospect fills out your free quote or contact form
Send preset responses to your customer's messages or emails
Send follow-up messages if your prospect doesn't respond to your messages
Log and keep track of audience interactions and communications with your brand
And more
These automated functions help streamline time-consuming and repetitive tasks so your team can complete more items on their daily to-do list.
3. Third-party integration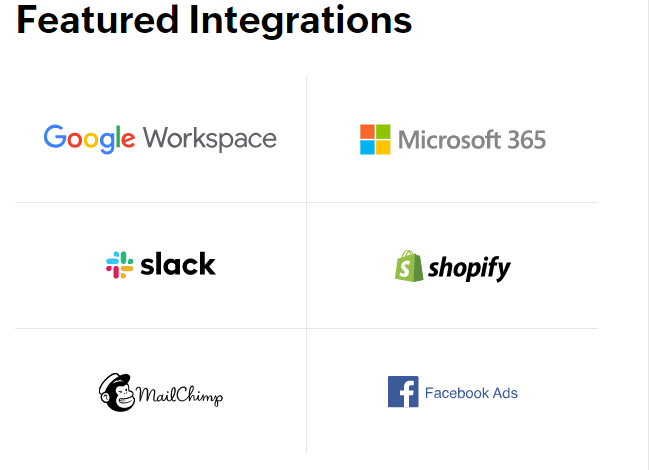 Next on our list of top CRM functions and features is third-party integration. Connecting your CRM platform with your website and other tools you already use is a must.
For example, you can connect your CRM with your email marketing platform and other various marketing tools like accounting software, social media monitoring tools, and much more.
Integrating your CRM with other apps allows you to sync your data across channels and automate multiple marketing tasks to improve efficiency. So, having third-parting integration options for your CRM is one feature you won't want to miss out on.
4. Lead management
To increase your company's conversions and sales, you need to successfully manage your leads. That's why having a lead management feature in your CRM is essential.
A lead management function will help you identify, score, and monitor your leads as they move through your sales funnel. That means you can effectively find high-quality leads that will produce the most value for your business.
You can then provide those high-value leads with the information they need to convert, resulting in more revenue for your business.
5. Real-time data
Next on our CRM features list is real-time data. Real-time data gives you an instant snapshot of your audience's interactions and behaviors on your website.
With real-time data insights, you can track the following information about your audience:
The pages they visit
The content they view the most
How much time they spend on your website
And more
With this information, you can learn how your audience interacts with your website and which marketing channels and messages they respond to the most.
6. Reporting
If you want to take the legwork out of analyzing your data and identifying trends, you'll want to opt for a CRM that produces reports. After all, the insights your CRM provides are the key to closing more deals and increasing sales for your company.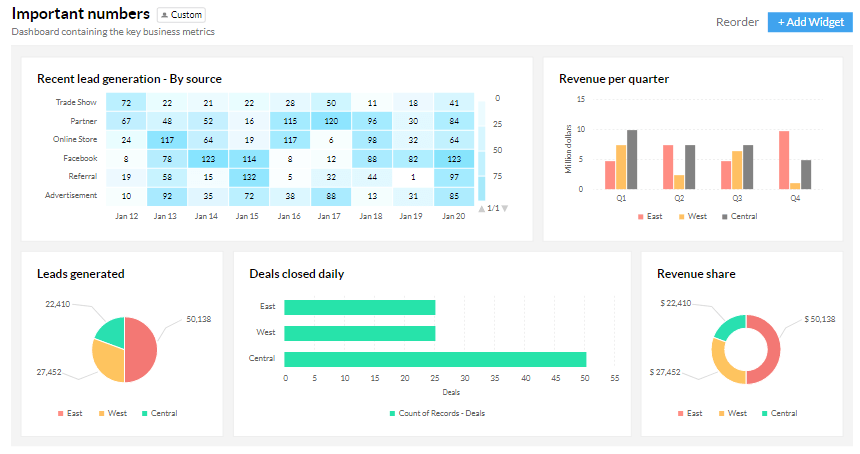 A CRM reporting feature can help you easily gather all the data your CRM provides into one easy-to-understand report. As a result, you can quickly identify trends to optimize and improve your sales and marketing strategies.
7. Sales forecasting
Predicting your future sales is crucial. It helps you alter your marketing messages and allocate funds to the appropriate channels and CRM strategies. That's why sales forecasting is one of the best CRM software features you won't want to go without.
A sales forecasting feature can help you predict future sales based on previous data from your sales pipeline. For example, it could predict that one of your products will be more popular next month. With this knowledge, you can allocate resources toward promoting this product to generate more sales for your business.
8. Email integration
If your sales team sends lots of emails to prospects and current customers, you'll want to ensure your CRM has email integration.
It can help you:
See previous conversations with prospects
Send follow-up emails
Create and access email templates
And more
An email integration feature helps keep your sales team organized and productive to effectively engage with prospects and customers.
9. Meeting scheduling
Next on our CRM features list is meeting scheduling. Your sales team likely spends a lot of time scheduling meetings and sales pitches with your prospects. Wouldn't it be great if your CRM platform could handle this task for you too?
Thankfully, plenty of CRMs come equipped with a handy meeting scheduling tool so your prospects and team members can book and set reminders for your appointments.
This feature enables you to sync your calendar with your CRM platform to share your availability so prospects can easily book a time that suits them best.
10. Pipeline management
Last on our list of the best CRM functions and features is pipeline management. You must manage your sales pipeline to move more prospects down your funnel so you can close more deals.
Pipeline management gives you a bird's eye view of your entire sales funnel. With these insights, you can view:
Each prospect's current stage in your sales funnel
How many leads are currently in your pipeline
Where leads entered your sales funnel
Where leads exited or dropped out of your pipeline
Which interactions led to a prospect's conversion
A pipeline management feature helps you uncover any holes in your sales funnel so you can make optimizations to keep your prospects from falling through the cracks.
Looking for a platform that has all the CRM features you need?
Are you looking for the best CRM for small businesses that has all the CRM functions and features you need? Your search ends with Nutshell.
Nutshell is our top-tier CRM platform that powers more than $600 million in annual sales for clients. It enables you to:
Analyze the entire lifecycle of your leads from initial awareness to conversion
Track your return on investment (ROI) so you can allocate funds to the strategies that drive results
Collect valuable audience behavioral data
Store prospect and customer contact details
And much more
Do you want to learn more about how this powerful software can drive sales and revenue for your business? Chat with one of our strategists by calling 888-601-5359 or contact us online! We can't wait to hear from you!
How is your website's SEO?
Use our free tool to get your score calculated in under 60 seconds.
Get posts by email
Join 200,000 marketing managers and subscribe to Revenue Weekly!
"*" indicates required fields
WebFX Careers
Join our mission to provide industry-leading digital marketing services to businesses around the globe - all while building your personal knowledge and growing as an individual.