Customer relationship management (CRM) platforms gather valuable information about your audience and discover insights so you can implement strategies that drive more revenue.
But to analyze trends and audience data, you need CRM reports.
On this page, we'll dive into everything you need to know about CRM reporting, including what it is, why you need it, and eight types of CRM reports you should use to maximize your sales and revenue.
So, keep reading to learn more!
Bonus: Don't forget to sign up for our newsletter, Revenue Weekly, to join over 200,000 other marketers who get their digital marketing advice for free from our award-winning experts!
8 types of CRM reports you need to use in 2023
Are you wondering which reports you should view in your CRM?
Check out these eight essential types of CRM reports you need to use in 2023:
1. Pipeline report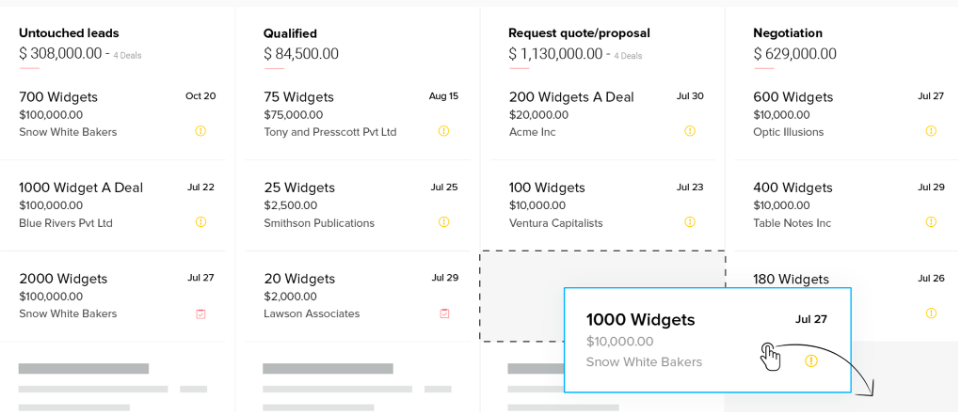 When it comes to CRM reporting, accessing your pipeline report is a must. Your CRM pipeline report provides a visual bird's eye view of your entire sales funnel.
You can view the total number of leads and their current stage in your funnel to easily see how your prospects are progressing toward conversion.
A pipeline report lets you view how leads enter your funnel and where they exit. With this information, you can discover which channels drive the most leads and any problem areas that cause a lead to lose interest before they convert.
2. Sales performance report

A sales performance report details how many closed deals and sales your business earns. It's an excellent way to compare your current sales to your overall goals and analyze the performance of your sales team.
You can view the value of your current sales for specific products and services. It also enables you to analyze which team members closed the most deals and how many potential sales you lost over a given period.
3. Forecasted sales report

Wouldn't it be nice to know how many sales and how much revenue your company will drive in the future? Well, with a CRM forecasted sales report, you can!
This type of CRM report will display your projected revenue within a specified time based on previous data from your leads, sales, and trends.
Sales forecasts help you set benchmarks for future goals and allocate funds to the strategies that will drive more revenue and growth for your business.
4. Lead source analysis report

You need to use a lead source analysis report to understand which channels drive the most leads for your company.
A CRM lead source analysis report lets you view which marketing channels generate leads. You can analyze how prospects first became aware of your business and what makes them interested in your products or services.
With these valuable insights, you can optimize the lead generation strategies that drive the most leads and conversions for your business instead of wasting resources on the ones that don't.
5. Call and interaction report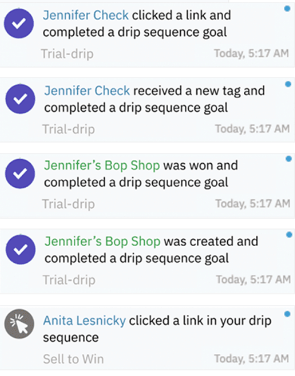 Next on our list of the best types of CRM reports is the call and interaction report. This report gives you a breakdown of your prospects' calls and interactions with your sales team.
For example, you can view which sales rep the prospect spoke with, the previous emails they received from your sales team, and what they discussed in their consultation with your sales team.
This overview helps keep your sales team organized and on track when nurturing leads. Without this information, your team could easily miss out on crucial information that could cause a lead to drop out of your sales funnel.
6. Profitability report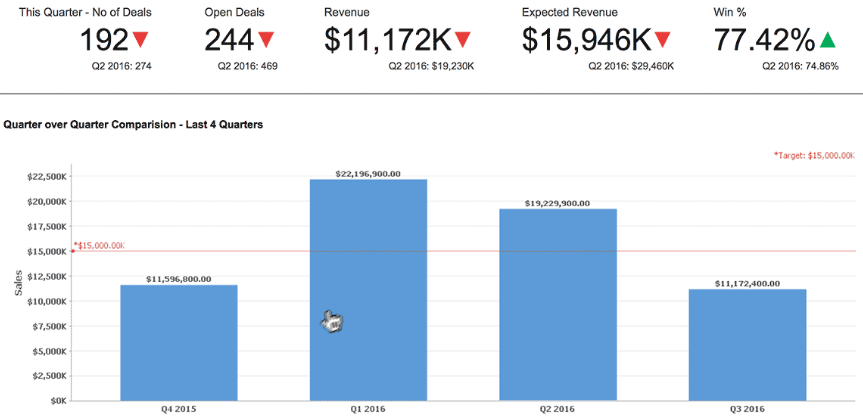 A CRM profitability report details how much revenue you drive from specific customers. It can also tell you which customers are most loyal to your brand and which are most likely to become repeat buyers.
This report is crucial for identifying high-quality leads for your business. When you know which prospects are likely to drive the most revenue for your company, you can focus more resources on nurturing and converting those leads to earn more sales.
7. Goals report

To grow your business, you must set goals and measure your success in achieving them. With a CRM goals report, you can do just that.
By viewing a CRM goals report, you can easily view your progress toward meeting your next sales or revenue goal. And if you're not currently on track to meet your goal, you can adjust your techniques or improve your strategies to get back on track.
8. Campaign performance report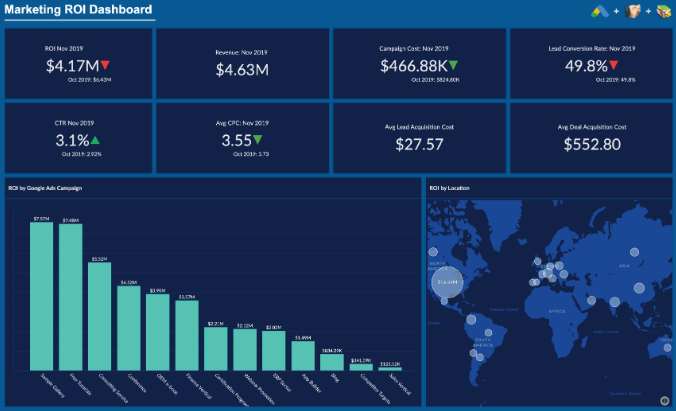 CRM reporting is crucial for evaluating the performance of your marketing campaigns and strategies. That's why using a CRM campaign performance report is essential.
A campaign performance report tracks important metrics for your marketing strategies, like your ROI, conversion rate, click-through rate (CTR), and more.
By tracking the success of your marketing campaigns, you can identify which strategies drive the most revenue for your business. As a result, you can focus on optimizing those strategies to drive even better results in the future.
What is CRM reporting?
CRM reporting is a valuable feature of CRM platforms that gives you a complete overview of all the data your software has collected and tracked. It helps you identify trends, gaps in your sales funnel, and optimization opportunities for your marketing strategies.
Why do you need CRM reporting?
So, do you need CRM reporting? Yes! There are several benefits a CRM report can bring to your business.
CRM reports are essential to:
Personalize experiences
To encourage customers to convert, you must appeal to their interests and needs. A CRM report displays valuable details about your audience, like their demographics and behaviors on your site.
With these insights, you can personalize your prospect's experiences with messages that will resonate with them.
Form strong relationships
You need to form relationships with your prospects to encourage them to convert into customers. And you need to stay in touch with your customers to foster loyalty that keeps them returning for more.
A CRM report displays all the contact details you need to build long-lasting relationships that turn into revenue.
Earn a higher return on investment (ROI)
CRM reporting helps you earn a higher ROI. It enables you to easily find trends and gaps in your sales funnel. It helps you develop different sales analysis reports.
With this information, you can optimize your marketing strategies and fix the holes in your sales funnel to drive more conversions and sales.
Measuring the metrics that affect your bottom line.
Are you interested in custom reporting that is specific to your unique business needs? Powered by MarketingCloudFX, WebFX creates custom reports based on the metrics that matter most to your company.
Leads

Transactions

Calls

Revenue
Learn More

Need help with your CRM reporting?
At WebFX, we know that it's no easy feat to uncover revenue-driving insights from your CRM. That's why our industry-leading platform, Nutshell, offers comprehensive reports that analyze the data and insights that matter the most to your bottom line.
With Nutshell, you can:
Measure your ROI
Track the entire lifecycle of your leads from initial awareness to conversion
Store prospect and customer contact information
And much more
Do you want to learn more about how Nutshell can take your business to new heights? Chat with one of our strategists by calling 888-601-5359 or contact us online!
How is your website's SEO?
Use our free tool to get your score calculated in under 60 seconds.
Get posts by email
Join 200,000 marketing managers and subscribe to Revenue Weekly!
"*" indicates required fields
WebFX Careers
Join our mission to provide industry-leading digital marketing services to businesses around the globe - all while building your personal knowledge and growing as an individual.