Amazon vs. eBay for Businesses: Which One Is Best?
Amazon has more than 300 million monthly users, and eBay maintains 167 million monthly users. Both of these marketplace sites are valuable for helping businesses, like yours, reach new leads and earn conversions. Amazon and eBay provide a great opportunity for businesses to grow. As you look into these two platforms, the biggest question arises: which one is better? On this page, we'll compare the differences between Amazon and eBay and analyze the pros and cons of each platform. If you aren't sure which seller platform is right for you, check out our online marketplace guide or call us today at
888-601-5359
to speak with a strategist.
Amazon vs. eBay
Before we dive into the pros and cons of these two ecommerce sites, let's take a look at how these two businesses function.
Amazon: The competitor-driven marketplace
Amazon is an online marketplace that allows third-party sellers to sell their products. This site sells over 12 million products on its own, with Amazon marketplace sellers bringing the grand total to more than 353 million products.
With Amazon, the focus is on conversions. Amazon doesn't focus on sellers and helping sellers earn conversions. Their focus is on promoting sellers with products that people are most likely to buy.
This can seem frustrating as a third-party seller because it doesn't guarantee you'll earn conversions. You must optimize your product listings, earn reviews, and create a positive customer experience.
Amazon pins competitors against one another. With comparison shopping options, users can compare products and choose which product is best for them. It makes Amazon an extremely competitive market.
Buyers and sellers have access to some unique features through Amazon's platform. For buyers, there is the Amazon Prime program. For a yearly fee, Amazon users get access to free and fast shipping every time they make a purchase.
As for sellers, it costs $39.99 per month to sell products on Amazon's site, plus additional seller fees. In addition, sellers get access to Fulfillment by Amazon (FBA). This program allows sellers to sell their products on Amazon's site without having to worry about packing and shipping.

eBay: The bidding king
eBay's platform operates a little differently compared to Amazon. This platform is built on a bidding system. While there is still the option to buy products outright, many people use the highest bidding system to create a competitive marketplace.
This bidding system allows sellers to post products that are old, new, unique, or hard to find. It allows for a diversity of products for those who browse on the site.
eBay makes it easy for sellers to feature their brand in the eBay store. There's more room for customization and making your store stand out from the competition.
If you choose to sell on eBay, you must be prepared to ship and fulfill all products on your own. eBay does not offer any special program to ship your products for you. This means you must do it in house or hire a third-party fulfillment center.
When you sell your products online, there is an insertion fee you must pay per listing. Like Amazon, there are also seller fees once you make a sale.

Pros and cons of using Amazon or eBay
If you're trying to figure out if Amazon or eBay is right for your business, it can be difficult to know. Both of these platforms offer an opportunity for you to grow your business. Let's take a look at the pros and cons of using these marketplaces.
Pro: You will increase your sales.
The biggest benefit of using Amazon or eBay is that you will increase sales for your business. These platforms open a door of opportunity for your business to reach new customers.
You can only reach so many people through your website and advertising efforts. Selling on a platform like Amazon or eBay opens a world of opportunity for you to reach new leads and grow your business.
More people will find your products on these sites. This will lead to more conversions for your business.
Con: You must pay fees for selling your products
Though this is an opportunity for you to earn more conversions, it will come at a cost. Amazon and eBay both charge businesses to use their service. This is something you must factor into your costs, especially when you're setting the price for your product.
It's also important that you understand how and where you'll be charged. With eBay, the charge is per listing. Amazon has a set monthly cost for posting an unlimited number of products.
These costs will influence your profit margin. You must understand how much these companies charge before you get into selling on their platform. It will help you market your products for a price that enables you to make a good profit.
Pro: You reach new leads.
Amazon and eBay offer a great opportunity for you to reach valuable leads. These platforms have millions of users that are searching for products. There are dozens of people looking for products that you offer.
This creates an opportunity for you to reach people that you might not be able to reach through other marketing efforts. It opens new opportunities for you to grow your business by earning more conversions.
Con: You're restricted to their rules.
Amazon and eBay have expectations and standards that must be upheld. If you're selling your products on these platforms, you must abide by their rules to keep your store running.
For example, Amazon restricts the sale of certain brand names. You can still sell these products, but there is an additional fee on top. For a third-party seller to sell Nike products, there is a $1500 fee on top of all other fees.
In addition, these platforms are more focused on putting conversions first. It isn't about getting your store first and helping you earn conversions. You must work on your own listing to help it rank better in the search results.

Pro: People trust Amazon and eBay.
Amazon and eBay built themselves as large ecommerce stores that people can trust. This trust helps your business earn conversions. When people trust the host platform, it makes them more likely to purchase your products listed on the host platform.
This makes it easier for you to sell your products. If people haven't heard of your business before, they are more likely to buy your products through Amazon or eBay than your website. They know that eBay and Amazon will step in if people have an issue with a seller.
It's a great opportunity to establish yourself as a brand and really drive valuable leads for your business. This can lead to more conversions on both your Amazon or eBay page, as well as your website.
Con: You must keep track of your inventory on various platforms.
As stated previously, Amazon and eBay built trust with their audiences. A big part of this trust is the guarantee that packages will go out on time. If someone orders a product through Amazon Prime, they expect to see that product in two days.
Being short on stock can affect you shipping products quickly. Since you are selling your products in multiple places, you must manually keep track of your inventory. It can create a headache while you're trying to figure out how much product you have in stock.
There is no program that enables you to efficiently track all your products in one place. You must look at your different mediums and see how well you're selling and compare them to one another. It also requires you to separate your stock to ensure you have enough for each medium.
Partner with a team of ecommerce masters!
WebFX campaigns have delivered more than 12,936,451 ecommerce transactions in the last 5 years
Read the Case Studies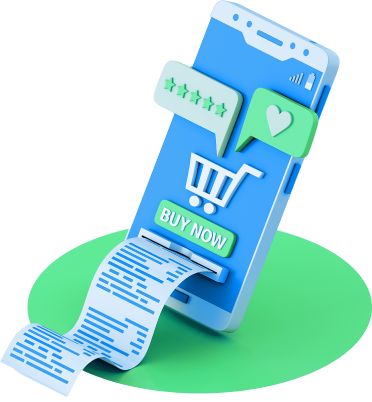 So, should I choose Amazon or eBay for my business?
There is no clear-cut answer to this question. The answer depends upon numerous factors.
Products you're selling: This will determine where you go. If you're selling new products that are commonly searched, Amazon will be a better option. On the other hand, new and used products that are unique or uncommon will drive better results for you on eBay.
Fees you're willing to pay: Amazon's seller fee sits at 15 percent, while eBay's is closer to 10 percent. You must determine how much you're willing to pay in fees to list your products.
Work you're willing to put in: eBay requires you to ship, store, package, and distribute your products. You can experience this with Amazon, but they also offer the FBA to take the burden off your plate. They will handle shipping, packaging, returns, and refunds for your business.
Profit you want to make: eBay has a slight advantage over Amazon because you can earn a little more money than the latter. eBay's seller fees are lower, so companies take home a little more profit compared to selling on Amazon.
These are some factors you must consider when trying to choose which platform is best for your business. It will solely be at your discretion to decide your goals and which platform will help you achieve them.
Both of these platforms are great for helping your business reach more valuable leads and conversions, but the right one for your business will depend upon your goals, products, and the work you're willing to put into running your store on these platforms.

WebFX will help you set up shop on marketplace sites
Amazon and eBay offer great opportunities for your business to branch out and sell your products in new places. It helps you reach new customers that you might not have reached through your site. If you're ready to branch out and start selling your products on other popular marketplace sites, WebFX can help.
We're a full-service digital marketing company that specializes in marketing on sites like Amazon. With our team of 500+ experts, we'll help you get your shop set up and optimized to start attracting valuable leads. We'll optimize your product listings to help you earn more conversions for your business.
If you're looking for a company that drives results, look no further than WebFX. In the last five years, we've driven over $3 billion in sales and over 7.8 million leads for our clients. Our team focuses on driving valuable results that help your business grow.
Don't believe us? Just ask our clients! Check out our 1020+ client testimonials that attest to the great work we do!
Start selling today
If you're ready to start selling on Amazon or eBay to earn more conversions, contact us online or call us today at 888-601-5359 to speak with a strategist.
We look forward to taking your business to new heights!