On January 10th, Google made a ground-breaking announcement that Google search will now be integrated with your social signals. The name for this update is Google Search plus Your World which is only activated when the searcher is logged into their Google+ account and searching on Google's secure search. Google Search plus Your World marks a major shift toward increased social marketing and makes the use of Google+ necessary. With Google's new social search feature, there are 3 main changes that you will notice on your results page.
Personal Results
The first is that your personal interactions will now show up in the results for related terms. For example, when I type in the term "technology" I see results from some of my co-workers.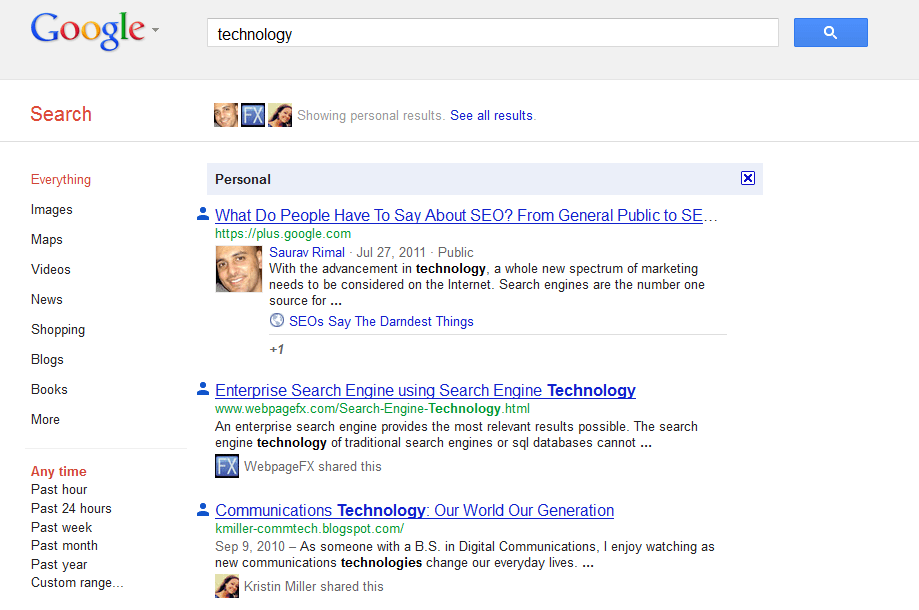 Search plus Your World denotes searches that are specific to you with the blue person icon. These results are ones that have been shared with you on Google+ or are public results. Images will also appear in these results if related to the search term. If you are not looking for results specific to you, click on the "See all results" link to be redirected to information not limited to just your personal search results.
Profiles in Search
The second change that you will notice is that personal profiles will appear in the results and autocomplete when you type in a name of a person in your circles on Google+.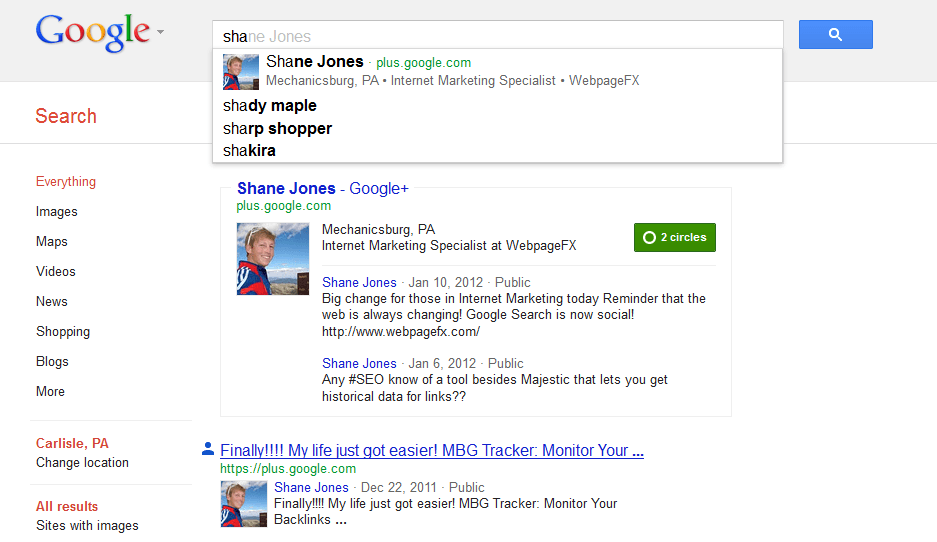 When you select a predicted profile you will be shown results from that person's Google+ profile and relevant results from the web. However, because that person has a Google+ page, their Google+ results will outrank all other information related to them on the Internet.
People and Pages
The last major change that you will notice is the results for people and pages in the top-right of the browser for your search term. For instance, if you type in "movies," you will see a few Google+ profiles highlighted since they are related to "movies".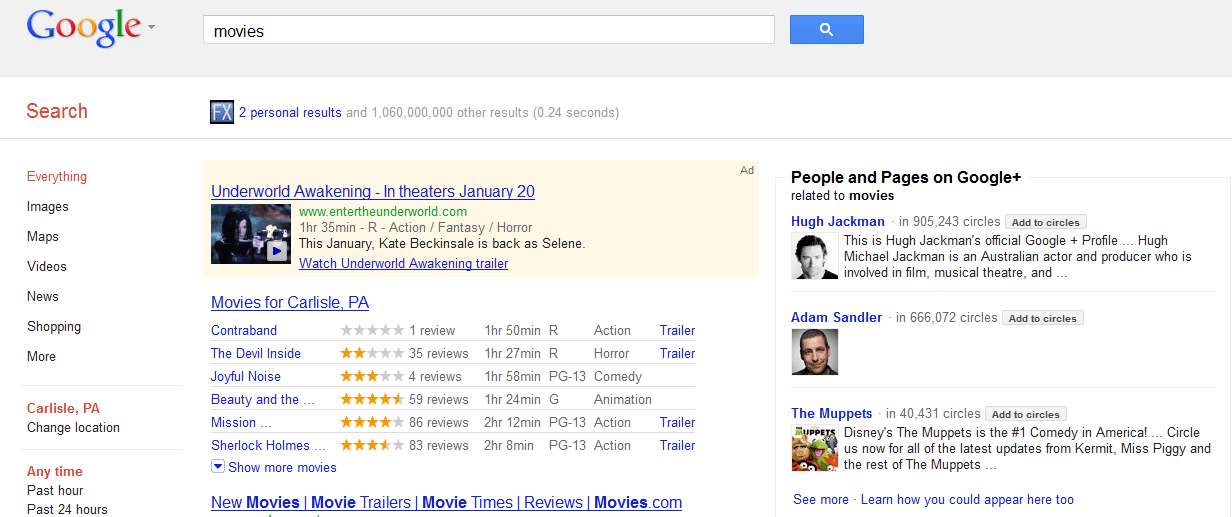 This feature also allows you to quickly add these people to your circles. As a result, this section will become vital for individuals and businesses to generate new traffic to their social profiles through Google. With the People and Pages on Google+ results showing so prominently in the results, who wouldn't want to be there?
How to De-activate Search plus Your World
Fortunately, if you do not like the changes that Google has made to the search feature when logged-in, you can opt-out of seeing personal results. The first way to do this is with the convenient toggle that Google added to the top-right of your browser.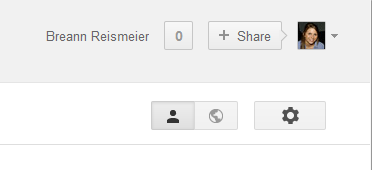 When Search plus Your World is activated, the person icon will be darkened. To view organic results without personalization, just click on the globe icon. A second way to opt-out is to update your search settings. You can do this by clicking the gear at the top-right of your browser and choosing "Search Settings" then under "Personal results" choose "Do not use personal results" and save your new settings.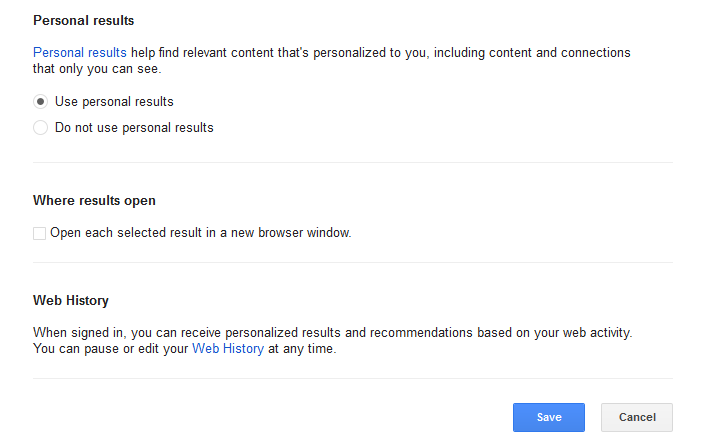 This will de-activate the personal results and profiles in search features, but the People and Pages on Google+ section is an addition to the results that will remain regardless of your settings or being logged into Google+.
What this Means for the Internet Marketer
With these changes being so significant, many of you Internet Marketers may wonder how they will affect you. At this point, the extent to which Google's Search plus Your World will affect Internet Marketing is still unknown, but one thing is certain; that it is time to focus on Google+ as a serious social engine.
So take all the posts you are sharing on Twitter and Facebook share them on Google+ too! I mentioned earlier that the People and Pages on Google+ will be very important for individuals and businesses today. This section now takes up a prominent place on the results page and appears above pay per click results, so it will most likely take some traffic away from organic and paid search results. For example, look at the results for the term "seo."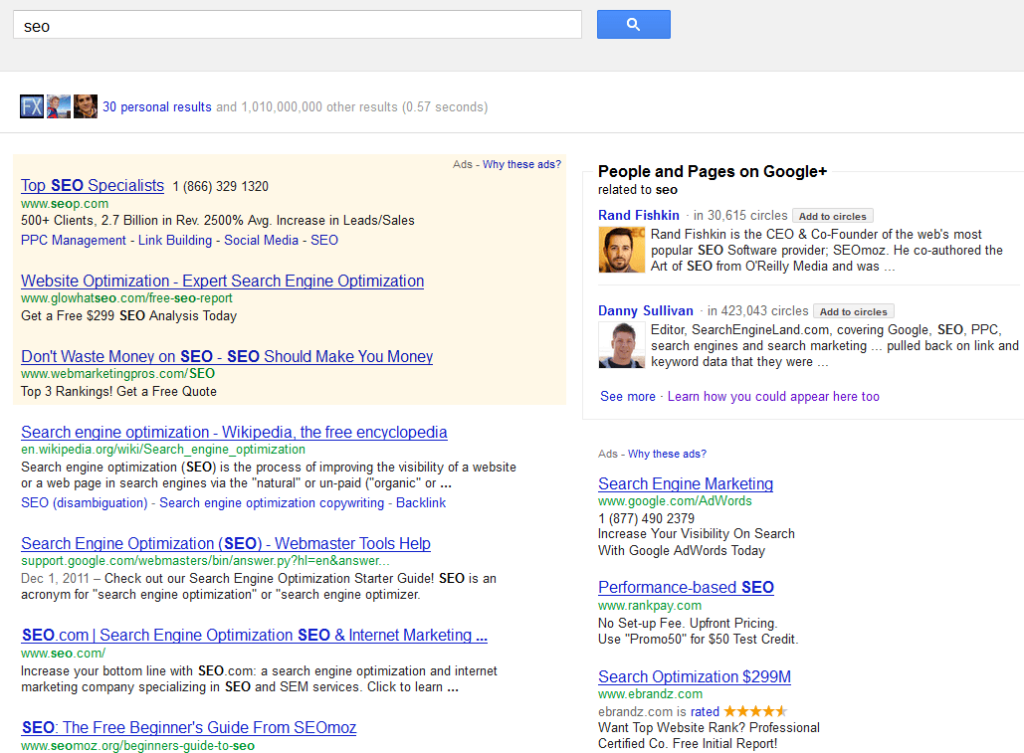 You will definitely want your page to show up on the People and Pages on Google+ section and Google provided some tips on how to accomplish this with the "Learn how you could appear here too" link. In order to appear in this section, the first and most obvious step to take is to create a Google+ page.
Many people and businesses held out on creating Google+ pages because they figured their social media initiatives should be focused on Facebook and Twitter.
But they are now realizing how important Google+ pages are with Search plus Your World. After creating a page, Google recommends adding a photo and filling your profile out completely. Ensure that your Google+ page includes all the information for which you want to be ranked for. Next, Google suggests sharing information on topics that are important to you. The more content you provide related to the terms you want to rank for, the better you will rank for those terms.
Also, the content you shared will then be delivered to people who have added you to their circles when they search for similar queries.
Most importantly, make sure that you are getting added to circles! All of your information will mean nothing if you don't have people who are interested in it. The more circles that you are in, the more likely it is that you will show up in the results for People and Places on Google+.
This is great for the early adopters of Google+, however many influential and relevant people did not embrace Google+ and will not appear in this section. But not to worry, if you follow these steps to create a well optimized Google+ page you will be on your way to reaching out to the over 60 million users and growing on Google+.