You've put into practice basic search engine optimization (SEO), but then you hit a snag. No worries! On the road to high rankings and surges in traffic, we can help patch up common SEO issues.
To improve your SEO strategy, you need to identify and fix any SEO problems to continue driving results. Odds are, you're experiencing a common SEO issue that plagues other marketers and website owners. Keep reading for six prevalent SEO issues and how to troubleshoot for them!
If you need the help of a top SEO agency right away, WebFX can perform an expert SEO audit and provide powerful site improvements to improve your rankings and drive results. Contact us online or call us at 888-601-5359 now to speak with our team members.
1. Your content isn't comprehensive for SEO
With easy access to information and high-speed search engines, you probably expect users to have paper-thin attention spans. But their attention spans aren't as short as you think. Comprehensive, in-depth material performs better in search engines because people want the full picture when they're researching.
Search engines also want to reward comprehensive pages, so they help people get as much information as they need. While a low word count doesn't keep you from an ideal spot in the search engine results page (SERP), there is a connection between longer posts thoroughly addressing a topic and how they rank. If you have more room to explain your point, you can address significant details and satisfy users.
Add depth to SEO content
An insufficient word count becomes an SEO issue when your competition is churning out 2000 and 3000-word posts as you keep your content at 500 words.
Go deeper in your content to rank higher. If you're afraid visitors don't want to read more content, create easy-to-digest chunks through the use of headings, bullets, images, videos, and other on-page elements. This will allow visitors to quickly locate the information they need.
2. You have accidental duplicate content
Google doesn't punish every type of duplicate content. Like most of Google's warnings, the duplicate content penalty comes down to deceptive practices. Content on your site that flies under the radar of harmful duplicate content includes printer-only versions of pages and syndicated content.
The bad duplicate content they monitor for is the material people copy (or "scrape") only to win a better ranking. Usually, Internet marketers don't go around stealing copy from other sites, so duplicate content as an SEO problem tends to be unintentional.
Sites most often run into duplicate content issues when a variety of URLs represent the same page. For instance, you might have Google attempting to index "http://www.muffinsforbreakfast.com/blueberry/" and "http://www.muffinsforbreakfast.com/blueberry/index.html."
Find duplicate content
So, how can you catch this SEO issue before it becomes a pain?
You can find duplicate content caused by variants of URLs in Google Search Console's Search Appearance report. The "HTML Improvements" section shows duplicate meta descriptions, which is your tip that you've got an infestation of duplicate URLs. Rel=canonical and 301 redirects signal to search engines what the appropriate action for those pages is.
The HTML attribute rel=canonical explains why the URLs have the same copy and which one to rank on the SERPs. It's perfect to use when you have other URLs showing up for keywords, like "https://www.hulahoopsofamerica.com" and "https://hulahoopsofamerica.com." 301 redirects permanently send people to the preferred URL and channel most of the ranking power of the page. It can also smooth out some of the kinks that these duplicate content problems create.
Use 301 redirects to preserve the link juice from an old website while guiding users (and search engines) to the new location.
3. You have ineffective titles and header tags
Title and header tags are handy tools in your SEO kit, but if you fail to correctly execute these tags, you've got a pesky SEO issue on your hands. Title tags issues that affect SEO tend to weigh down your strategy. Duplicate title tags can be a barrier to your SEO performance, but luckily, you can investigate them with the same method as duplicate URLs.
Navigate over to the Search Appearance report's HTML Improvements again, and you'll see a duplicate title tag section. If your SEO mistake happens to be a missing title tag, you can miss out on the opportunity to orient your page on your site and tip-off users in the SERPs.

Bolster title and header tags
You can work with a web developer or SEO expert to add or enhance this simple HTML tag and give your page the title it deserves.
Header tag problems also breach your carefully planned campaign. The H1 tag is different from the title tag, and it typically graces the top of the article on the actual site page (while title tags stick to the browser tab area and the SERPs).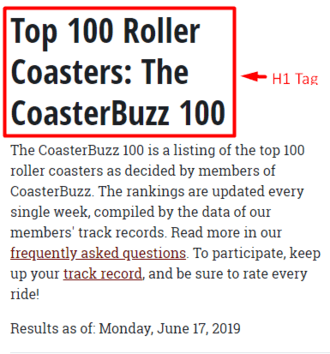 Search engines use header tags to distinguish important information about your page.
If you repeat the H1 tag down the page instead of switching to small-sized fonts and a structured pattern, it looks like you have multiple on-page titles to Google. Place a unique H1 tag at the top of your content, and use H2 and H3 tags for subheadings. You can set up an information hierarchy that Google will love and users can appreciate.
Looking for an all-in-one SEO audit tool? You've found it.
SEO Checker provides data on key metrics to give you:
Complete SEO score

Content Grade

Site Speed Analysis

and more.
4. You have a slow site load speed
A page that loads at a snail's pace is an undeniable SEO issue — but there are several reasons your pages can drag through the loading process. The real SEO problem with page load speed is when sites gradually get weighed down and the inefficiency of loading goes unnoticed.
Speed up your site
To inspect your pages' load speed, Google offers a free tool called PageSpeed Insights that evaluates your speed.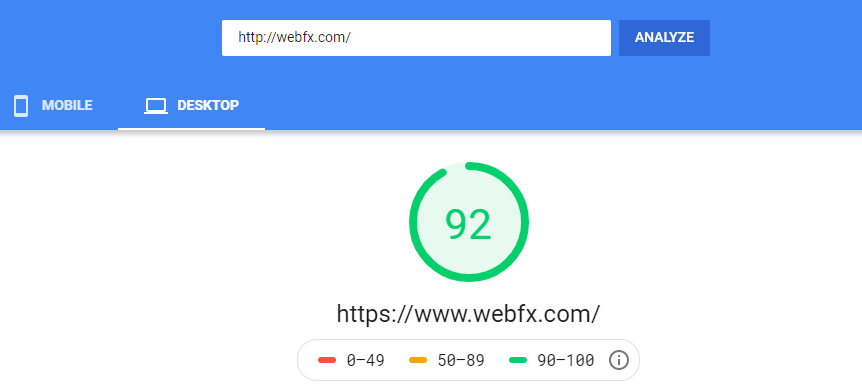 Oversized image files can be the culprit of slow pages.
It's common for huge image files to hold back sites and frustrate users. Resize images to get the perfect dimensions and sharpness for better loading. However, the PageSpeed tool and others can identify the SEO issues and suggest solutions to boost the load time.
WebFX's page speed optimization services can improve your site and speed up your loading time.
5. You have broken links
Plummeting traffic and many broken links are often connected. Broken links — links that don't work — deplete your crawling budget, which is the capacity of Google to find and process your site's pages.
Remedy broken links
You can check in to see if you've got an influx of broken links on Google Search Console's Crawl Errors section. The "Not Found" links are the ones that leave people without helpful content, looking at an error message.
If you want your page to remain credible and authoritative, remove the broken links from your site. Redesigns and major site changes frequently cause these SEO issues, so pay attention to how you alter your site. Prepare to keep your links intact with intentional steps during the redesign project.
6. You skipped mobile optimization
What many people termed "Mobilegeddon" — Google's choice to index mobile-optimized sites first — isn't as scary as it sounds. But it also isn't something to put off. Users constantly carry out searches from their mobile phones, but they can experience setbacks when websites keep desktop proportions for tiny screens.
Among the many SEO issues you can face, going without a mobile version and responsive design is a big one.
Catch up to mobile-first indexing
You can look at the way your site appears for mobile device users via Google's Mobile-Friendly Test. Just enter your URL to get a picture of your site in a mobile context.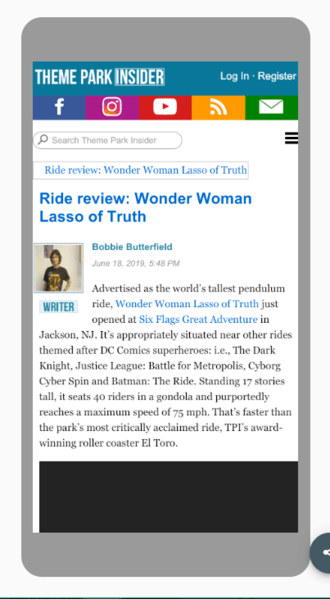 Fix SEO issues with help from WebFX
SEO issues aren't pleasant, but with hard work, your site can be topping the SERPs for your desired keywords again and reigning in qualified traffic.
An SEO audit from a leading SEO company is a reliable way to move forward and address SEO issues. WebFX is a full-service Internet marketing agency that's proficient in SEO. We've generated 7.8 million leads and $3 billion in client revenue in the last five years with our SEO expertise!
Are you interested in making the most out of your SEO strategy? Contact us online or call us at 888-601-5359 today to speak with a specialist about strengthening your campaign.
How is your website's SEO?
Use our free tool to get your score calculated in under 60 seconds.
WebFX Careers
Join our mission to provide industry-leading digital marketing services to businesses around the globe - all while building your personal knowledge and growing as an individual.