Are you not getting enough traffic to your site? Maybe you're getting traffic, but it's not leading to conversions. You might even know what keywords to target but have trouble ranking for them.
Search engine optimization (SEO) is about increasing the quantity and quality of the traffic to your website by improving its performance in search engines. If you're not getting the traffic you want, you may be wondering how to fix your SEO. Below, we'll discuss 12 of the most common SEO issues and how to fix them. Some are quick SEO fixes, while others will require a bit more time to resolve.
If you're not sure what issues to focus on, check out our free SEO checker tool for a free SEO report.
How to improve your SEO in 2023: 12 SEO issues and how to fix them
Are you looking at your site traffic and wondering, "how do I fix my SEO?" Then keep reading! Below are some of the most common SEO issues and how to fix them.
Bonus Reading: How to Improve On-Page SEO
1. Slow page speed
Users expect websites to load in three seconds or less, and page speed is also a ranking factor in Google, meaning Google considers it when determining how to rank pages. Check out our list of tools for measuring and improving your page speed.
Google's PageSpeed Insights will rate your page speed and give you suggestions on how to improve it. Here's an example of what a report from PageSpeed Insights looks like: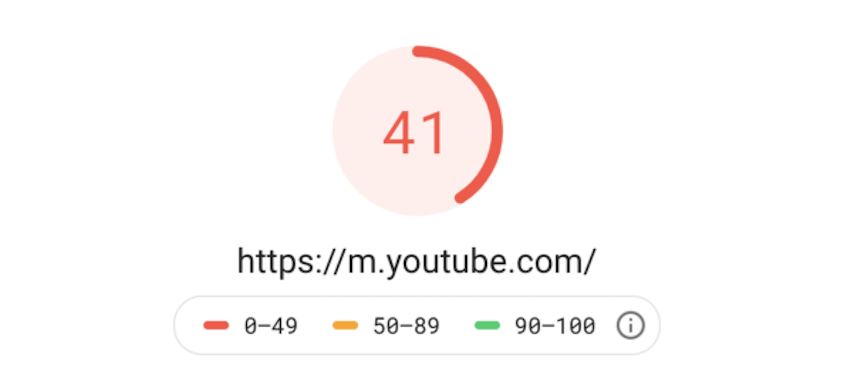 And an example of recommendations from the tool:



At WebFX, we offer page speed optimization services if you're unsatisfied with your page speed report.
2. Missing or unoptimized image filenames and alt tags
Images can help your SEO, but only if they have optimized filenames and alt tags. All image filenames should be descriptive and contain keywords, and you should separate words in your filenames with hyphens.
All of your images should also have descriptive alt tags that contain your keywords. Alt tags allow Google to understand your site's images and improve your site's accessibility. Also, compress your images using tools like Kraken and Photoshop to prevent them from slowing down your page speed.
3. Duplicate content
Duplicate content can lead to lower rankings since Google will view this content as less useful to users.
Duplicate content is any content that is identical or very similar across multiple pages on your site or across multiple websites. You can use tools such as CopyScape and Duplichecker to check for duplicate content on your site. If you discover duplicate content, you can:
Change the copy to remove duplication
Use a 301 redirect to send users from the duplicate to the original page
Use the rel=canonical to indicate which page is the copy
Use the noindex tag to tell Google not to index the duplicate page
4. Non-optimized URLs
Optimizing a page's URL can give it a boost in rankings. Make sure you use your main keyword in your URL, keep your URL relatively short, and use hyphens instead of underscores to separate words. Choose a well-known top-level domain (TLD) — the suffix at the end of your URL.
Some of the best options are .com, .org, and .edu., as well as TLDs associated with specific countries, such as .us for the United States and .ca for Canada.
5. Unoptimized title tags
Your title tag tells both users and search engines what your page is about. A page's title tag can provide substantial SEO help since Google uses it to determine your page's purpose and, therefore, how to rank your page.
It can also encourage users to click through to your page, which tells Google that users find your page useful. When a lot of users click to your page from search results, Google will see this as a positive signal and rank your page higher over time.
To create an optimized title tag, make sure it's unique, accurately describe the page's content, and encourages users to click through to your page. Also, keep your title under 70 characters, and include your keywords.
6. Missing or unoptimized meta descriptions
Meta descriptions are short snippets that describe your page's content and entice users to visit your page. They often appear on search results pages.
Here's what a meta description looks like in Google:



While meta descriptions are not a direct ranking signal, they can encourage users to click through to your page, thereby providing indirect SEO help. Make sure each page on your site has a unique meta description that accurately describes the page's content. Use your target keywords in your descriptions and keep them under 155 characters so that Google doesn't truncate them.
7. Not using heading tags
One relatively quick SEO fix is to add heading tags to your pages, such as H1, H2, H3, and H4 tags. These headings help break up the text, making it easier for readers to digest.
Headings also help Google understand what your content is about, and they're a prime place to include keywords.
8. Thin content
According to Google, thin content is content that provides little or no value to users. Some examples of thin content include:
Content stuffed with keywords that provides little actual information
Duplicate content
Content designed to attract users to a site but not provide them anything of value
If the content on your site provides little value, it might be thin content. If you discover any potential thin content on your site, either delete or improve it by adding more substance — like more written content, a video, and multimedia. The negative impacts of thin content go beyond just lower rankings.
Google may issue a penalty and stop showing all or part of your site in search results entirely. If this happens, you'll need to correct the issue and then file a reconsideration request with Google.
9. Messy code
Messy or unnecessary code on your website make it harder for search engines to analyze and index your site. It also increases the likelihood of coding errors and may slow down your site's loading time.
Try to reduce your code-to-content ratio and keep your code well organized.

Make sure that every tag serves a purpose. Try using indentations for every new tag or tag group to keep your code easy to read.
You can try using HTML validation tools, such as the W3C Markup Validator, to help you find errors and junk code on your pages. If you're not sure how to fix technical SEO issues like these, turn to a web developer or professional SEO agency for technical SEO help.
10. Broken links
Links between pages on your site help users navigate your site and improve user experience. Linking from high-authority pages on your site to other pages can also help boost your rankings. Broken links, however, disrupt the user experience and can be frustrating to site visitors.
Google may also view broken links as a sign of a low-quality website. To find broken links, use a broken link checker tool and ask staff to report broken links if they find them. Whenever you discover a broken link, fix, replace, or delete it to improve your rankings and user experience.
11. No mobile optimization
Another essential strategy for how to improve your SEO in 2023 is to optimize your website for mobile devices. Google now analyzes websites from a mobile user's perspective first, so if your site isn't optimized for mobile, it could hurt your rankings. You can use Google's mobile-friendly test tool to check if your website is optimized for mobile. If you haven't already, make your website responsive.
Websites that use responsive design adjust to the screen on which they're viewed so that they look great and work correctly on any device. Work with a web designer to convert your site to a responsive design.
Bonus Read: Why using a mobile SEO checker is crucial
12. No backlinks
Backlinks are links from other websites to yours. When another site links to yours, Google views this as a sign that your site is high-quality and authoritative, leading to improved rankings for your site.
You can check how many backlinks your site has with various backlink checker tools. To increase your backlinks, try the following strategies:
Create compelling content that other sites naturally want to link to
Look for broken links on other sites and suggest links to your pages as replacements
Pitch a story about your company to a local news organization
Write a guest post on a blog
Bonus reading: On-page SEO checker
Fix your SEO with WebFX
These 12 SEO issues are just a few of the factors that affect how your site ranks in search engines. Fixing them, however, can make a significant difference in helping users find your website online! If you want to see where your site stands, try our free SEO checker.
You can also learn more about SEO with our free resources. If you're looking for SEO help, consider partnering with WebFX. Our dedicated team of more than 200 digital marketing professionals can help take your SEO to the next level.
Contact us to speak with a strategist about how our SEO services can help you grow your business.
How is your website's SEO?
Use our free tool to get your score calculated in under 60 seconds.
WebFX Careers
Join our mission to provide industry-leading digital marketing services to businesses around the globe - all while building your personal knowledge and growing as an individual.