Does Duplicate Content Hurt Your SEO?
You've heard time and again that you shouldn't have duplicate content on your website, but very few people talk about why. Many search engine optimizers, or SEOs, simply state that it's bad, without offering any explanation.
That's why we put together this article. Keep reading to learn more about duplicate content, whether duplicate content hurts your SEO, and what you can do to fix it.
If you'd like to speak with a specialist about duplicate content and SEO, or suspect that you have duplicate content on your website, you can contact us online or reach us at 888-601-5359.
What is duplicate content?

Duplicate content describes substantive blocks of identical or similar content that appears on a single domain (like your website) or across domains. In most cases, duplicate content is not intentional or deceptive, which is why Google does not issue a duplicate content penalty.
How does duplicate content on a website happen?
It's easy for duplicate content on a website to happen. A few of the most common reasons include:
Duplicate Content Issue
Example
Multiple URLs for the same page
https://www.shop.com/shoes.html

https://www.shop.com/shoes.html?color=blue

HTTP and HTTPS page versions
http://www.shop.com

https://www.shop.com

www. and non www. page versions
www.shop.com

shop.com

Copied content
Recycled product descriptions from manufacturer

Republishing of site content via scraping
For perspective, think about the following examples.
Consider a website with several landing pages that are geo-targeted for different locations.
The content creator may think it's enough to use all the same copy, and just change the name of the state or city they are targeting. And while that would certainly be convenient, it clutters your site with pages that are basically the same.
Duplicate copy can also exist if a company has multiple websites.
If your company thought it was a good idea to purchase two URLs and host identical sites with the intention of attracting more traffic, I have bad news: if the content is the same for both sites, it's duplicate content. Even if the company is the SAME company, it doesn't matter.
Regardless of the reasoning behind having pages with the same copy, it's duplicate content.
Why does duplicate content on your website (or even off) matter, though?
WebFX is a partner businesses trust.
Hear from HydroWorx, who saw a 236% increase in organic sessions with WebFX services.
Watch the Video Testimonial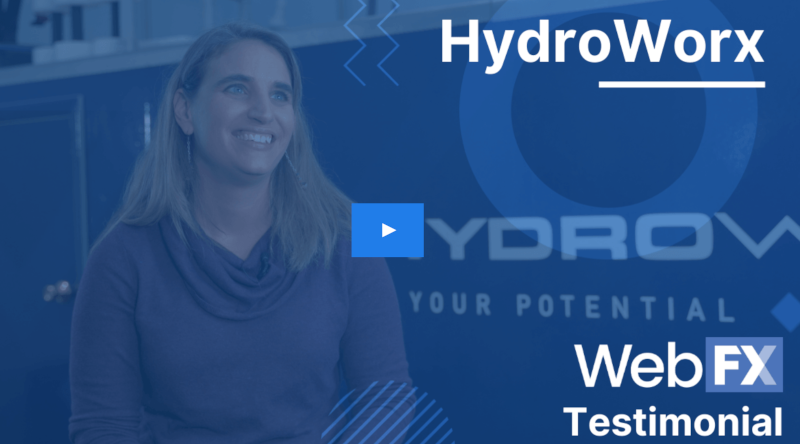 Why is duplicate content an SEO issue?
Some companies wonder why duplicate content is an issue at all, especially if the duplicate content is at their own site. The problem stems from people stealing content from other sources and using it as their own.
Look at it this way: you spend a lot of time and effort to create your content. How would you feel if that content could just be stolen without penalty by your competitors? Wouldn't that make you angry? Of course!
The other issue with duplicate content is that the search engine doesn't know which page to rank. If your site has two pages with identical content, which one should Google serve to searchers? Which one is more relevant?
Not to mention, from Google's perspective, a site with a lot of duplicate content doesn't seem that valuable. Your website looks thin, which can hurt your rankings in search results. For your business, that means less traffic, which means fewer leads and sales for your company.
While Google doesn't issue a duplicate content penalty, it does use duplicate content as a ranking factor. That's why the answer to the question, "Does duplicate content hurt SEO?" is a yes, and why you need to fix duplicate content on your website if you have it.
Is there a duplicate content penalty?
No, Google does not issue a duplicate content penalty. At least, not directly.
If you have duplicate content on your website, Google uses that as a signal. It sees that identical (or near-identical content) as a sign that your site doesn't have much to offer users when it comes to original and helpful content.
For your website, that results in lower rankings, which impacts your site traffic and revenue.
What can happen if you have duplicate content?
If you have a lot of duplicate content on your website, a few things can happen, including:

Lower rankings in search results
Dissatisfied users looking to learn more about a topic, like a product and its features
Decreased website traffic, sales, and leads
You want to avoid this scenario, which is why it's essential to take a proactive approach to duplicate content. While your site may feature some identical or near-identical content, you want to create a website with almost all original content.
How to fix duplicate content on your website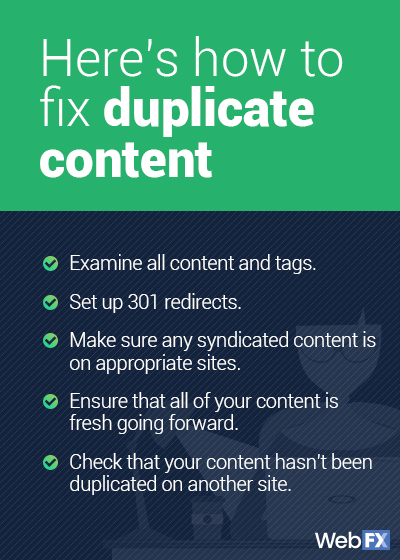 Many site owners in the past have asked us, "How does SEO effect duplicate content?", so if that's what you're wondering, you're not alone. But the truth is, the best way to eliminate any possibility of being penalized is by removing the content.
Here's how:
Examine all content and tags
While it's fine to repeat some words and phrases, it's not fine to have entire blocks of text that are the same. Take the time to examine the pages on your site and look for any instances of duplicate content, and make a list of the pages you need to work on.
Set up 301 redirects
There are certain signals you can send to Google to help its bots effectively crawl your site. For example, you may want to indicate a 301 redirect to a page that has the same content as another page.
Use rel="canonical"
The rel="canonical" tag is another way to fix duplicate content on your website.
This tag tells Google, as well as other search engines, which page is a duplicate and which is an original. If you're using UTM parameters for tracking some online marketing initiatives, for example, you want to use this HTML tag.
Apply noindex
You can also approach duplicate content and SEO with the noindex tag.
With this HTML tag, you allow Google and its web crawlers to crawl your duplicate content. You instruct it, however, to not index that page. That means your duplicate content won't appear in search results on Google — only your original pages.
Make sure any syndicated content is on appropriate sites
Do you have syndicated content, such as an article that's been picked up by many websites, or a press release that's being run in several online news outlets? You shouldn't experience a penalty for this content as long as the site at which it's located is legitimate.
Ensure that all of your content is fresh going forward
Now that you know why duplicate content is such an issue (and how much of a pain it can be to eliminate it after the fact), be sure to avoid it in the future. You may even want to run all content through a program such as CopyScape or Duplichecker to avoid issues of unintended plagiarism.
Better yet, create a blog for your website to ensure that there is always fresh content being created. Any kind of new content is great for your site, and although it won't get rid of duplicate content or lessen it's consequences, it's a great best-practice for your website.
Check that your content hasn't been duplicated on another site
If you discover that another website has lifted your content, take action immediately. Let Google know, and make your voice heard.
You should be able to prove that you had the content originally, which will reduce your chances of being penalized—and heighten theirs. You may think that small enough sites aren't worth worrying about, but a penalty is not worth the risk.
Good agencies have more than 50 testimonials.
Great agencies have more than 100 testimonials.
WebFX has over 1000+ glowing client testimonials.
See What Makes Us Stand out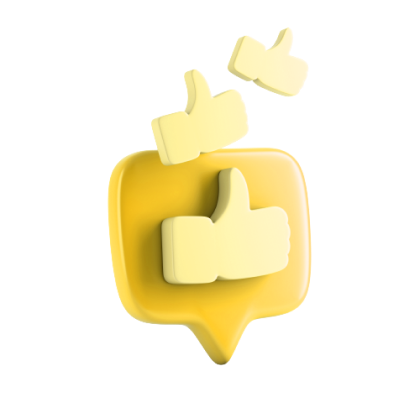 Do you need help eliminating duplicate content on your website?
If you need help eliminating duplicate content on your site, or if you aren't sure how to check for it, WebFX can help!
Feel free to contact us! Our dedicated team is more than happy to work with you and ensure that your site is optimized to rank as well as possible in search engines.
How Is Your Website's SEO?
Use our free tool to get your score calculated in under 60 seconds.