You've been sitting on your Facebook page with the cursor blinking in the content box. You want to post something for your followers, but you don't want it to be another text update about your business's offers or hours of operation. But what do you post?
If you're running out of Facebook post ideas, we've got some for you! Check out these nine Facebook post ideas for small-to-midsized businesses (SMBs):
Keep reading to learn more about these Facebook post ideas for SMBs!
Facebook post idea #1: Ask questions
If you want to know what to post on Facebook, start with asking questions.
Asking questions is a super simple way to get people to engage with your business. You can ask industry-specific questions, but you can also ask questions about the time of year, holidays, or special events. Take this example from McDonald's.
They created a hypothetical product around one of their most famous food items, the Shamrock Shake, and asked people if they would buy it.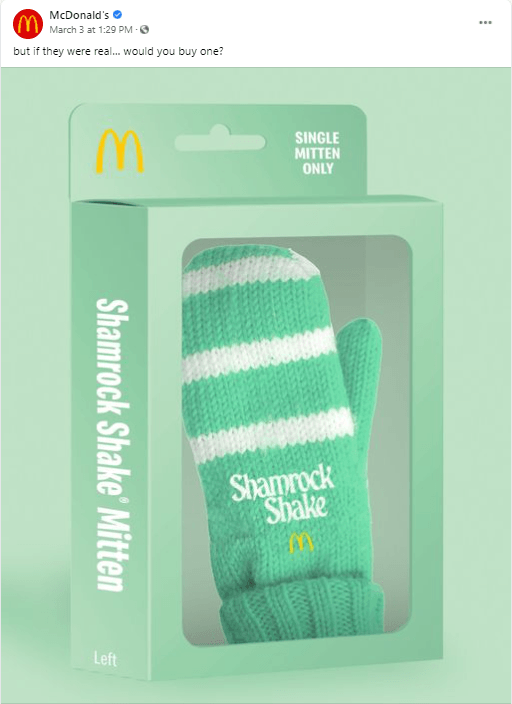 While it wasn't a product they had, people still joined in and answered whether they would buy the product if it were real. Asking questions is a simple and easy way to get content on your Facebook page while engaging your audience.
Facebook post idea #2: Share videos
Next on our list of Facebook business post ideas is videos.
Videos are a popular form of content that people enjoy consuming and can help improve your visibility on Facebook. The average U.S. adult spends at least five hours each day watching videos, making it an incredible engagement tool for your business.
When you post videos on Facebook, you have dozens of options for the types of videos you can post. From promotional videos to informative videos to product releases, the possibilities are endless! Here's a video example from Starbucks promoting the new addition of oat milk to their drinks.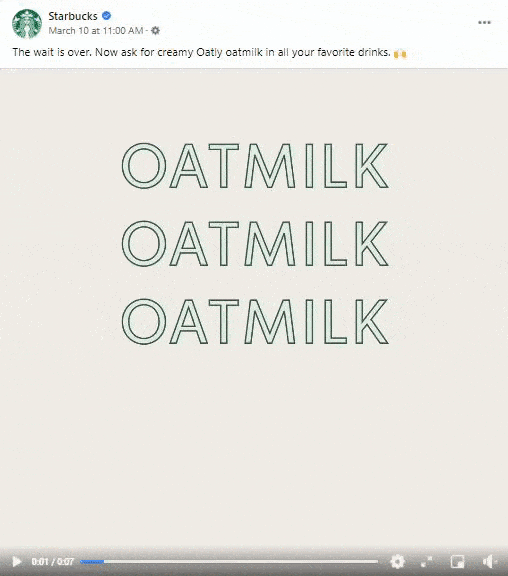 It's a simple video, but it gets the point across that they have oat milk, and it can go in different drinks they offer. With this video from Five Below, they share a piece of user-generated content that highlights the journals they sell at their store.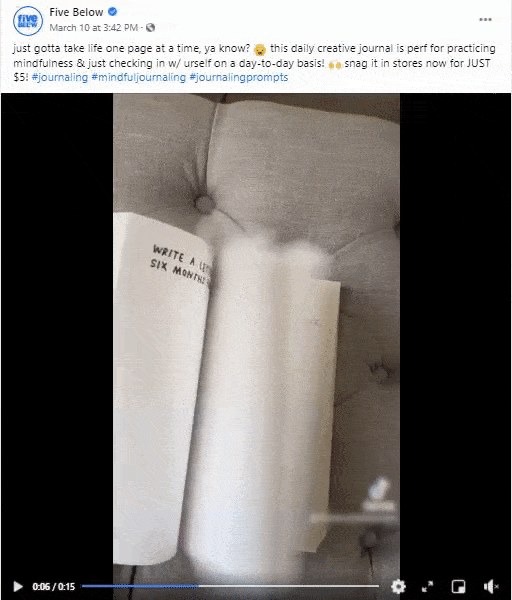 Whatever you choose for your videos' content, make sure it's exciting and engaging for your audience.
Facebook post idea #3: Give a behind the scenes look at your business
If you don't know what to post on Facebook, try giving your audience a behind-the-scenes look at your business!
People love to get an inside look at your company, your staff, and what you do. It's a great way to humanize your brand while also giving your loyal followers a sneak peek. Here's a great example from Mary Ann Donut Kitchen.
They gave their donut shop an upgrade and provided their audience with a look into the project's progress.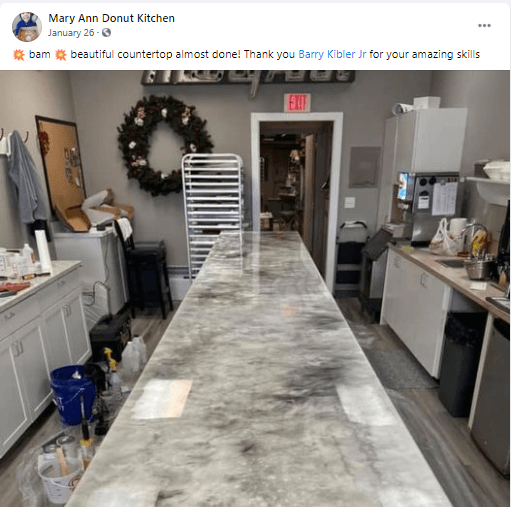 Then, when it was complete, they shared before and after photos to show their followers the upgrade.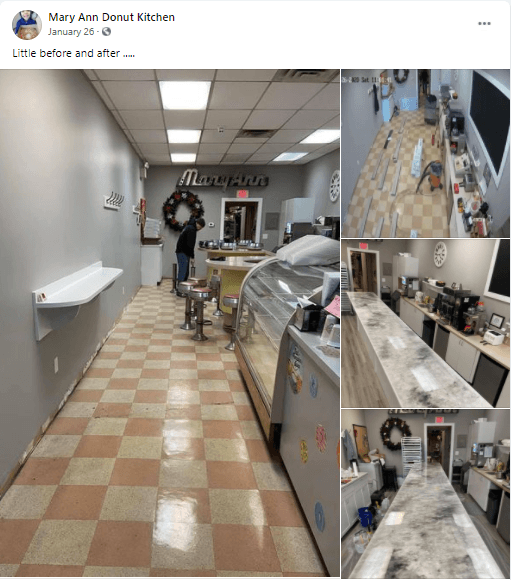 Providing these glimpses into your business is a great way to get people more interested in your company.
Get the Ultimate SMB Marketing Checklist
Facebook post idea #4: Host contests or giveaways
Next on our list of Facebook business post ideas is to host contests or giveaways.
Social media is a great place to hold promotional events that entice people to participate. Whether you're hosting a social media-specific contest/giveaway or one that anyone can enter, social media is the best place to share it. Take Wendy's, for example.
They shared a giveaway for their Honey Butter Chicken Biscuit that coincided with March Madness. Any of their social media followers who saw this promotion could go to Wendy's and get the free biscuit without purchasing anything.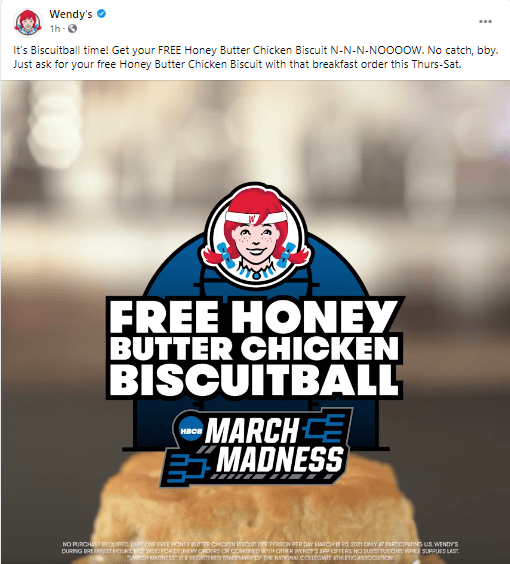 If you choose to post a contest or giveaway, you'll want to use a graphic that stands out to your audience to catch their attention.
Like Wendy's, you can promote what people will get or win right in the graphic and then provide further details in the caption. With any contest or giveaway, make sure you provide clear rules.

Facebook post idea #5: Post links to blogs
Next on our list of Facebook post ideas is post links to blogs.
If you have a content marketing strategy in place, you're creating blog posts to share your knowledge with your audience. Where better to share that content than Facebook? Facebook is a great place to share your blog content with your audience and help drive more traffic to your blogs.
In this example from Wegmans, they share a blog post about great ways to stay hydrated.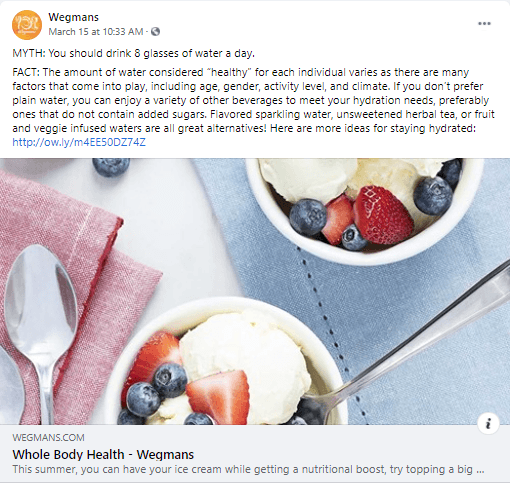 While it's recommended that you share blog posts of your content, you can share blog posts from other companies if it's relevant to your brand or industry. These blog posts might mention your business or share information that's relevant to your industry.
Facebook post idea #6: Share product photos
When you're crafting Facebook posts for your business, you don't want to be overly salesy and constantly push your products.
But that doesn't mean you can't ever share product photos! Product photos are a great idea if you don't know what to post on Facebook. You can post product photos in numerous contexts.
If you're having a special promotion on a product, share it and let your followers know about the promotion. Added a new product to your inventory? Let your social followers know.
Got a product back in stock? Let your brand-lovers know they can purchase it now! In this example from Billie, they let their social media followers know a beloved product was back in stock.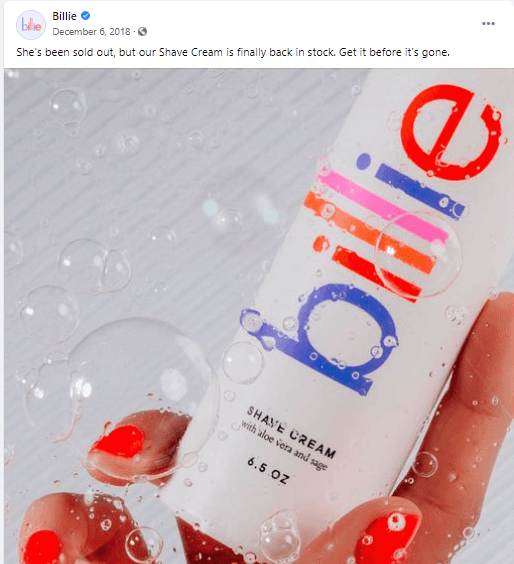 Sharing product photos is a great way to help your followers keep tabs on what's new and changing with your product lineup and inventory!
Facebook post idea #7: Share special sales
If you want more Facebook post ideas for businesses, try sharing special sales and promotions on your profile. Facebook is a great place to let your audience know you're having a store wide sale, product sale, or special promotion. You'll want to include important information about your sale or promotion in the graphic or text of your post.
Make sure you lay out the deal clearly and state any stipulations to the sale. In this example from Dollar Shave Club, you can see they promote their Cyber Monday sale on some of their grooming products.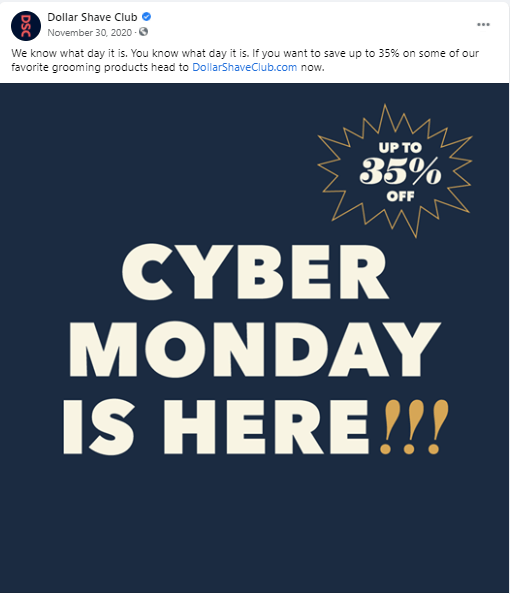 In this Facebook post from Dunkin', they shared a promotion where if people bought $25 worth of gift cards, those people could get a $5 promo gift card.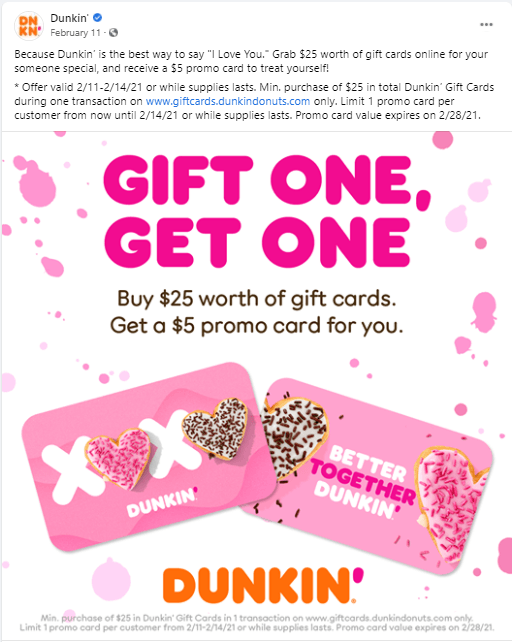 Whether you're sharing a special sale or special promotion, you can use this content as an opportunity to entice people to buy from you.
Facebook post idea #8: Tell a story
When you're looking at Facebook business post ideas, one recommendation you'll see is to tell a story. Stories can be a powerful way for you to catch your audience's attention and get them invested in your social media content. You can tell a story about anything related to your business.
It may be a story of how your product benefitted someone, or how the idea for your product came to be. You could also tell stories about your staff or regular customers. Videos and text are excellent mediums for telling your stories.
In this example from the Animal Rescue League, they shared a story about how getting a microchip helped a family find their pet again.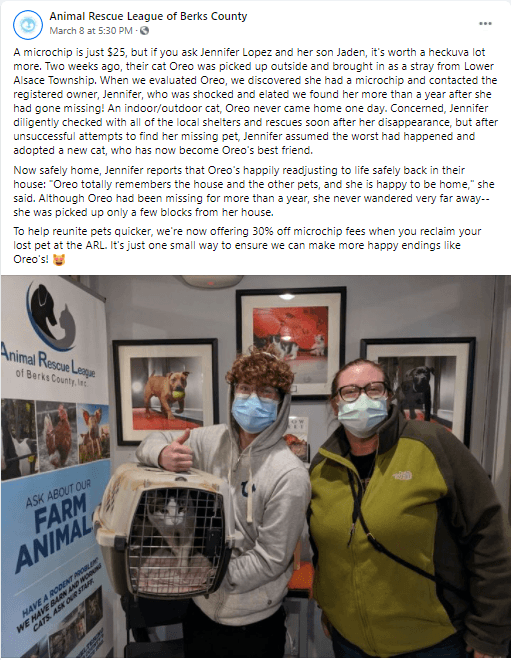 This story highlighted the importance of microchipping pets — a service the ARL offers — and encouraged people to get their pets microchipped. As a bonus, the ARL offered a discount on microchipping when people claim their lost pets at their facility.
By telling a story, you can hook in your audience and get them interested in checking out your content.
Facebook post idea #9: Capitalize on popular trends or memes
The last item we'll cover on our list of Facebook post ideas for SMBs is using memes or posting popular trends. This option is exceptional for your business if you're trying to appeal to an audience that frequently shares meme-type posts and viral content. You can take memes or popular trends and put your brand's unique spin on them.
It's a great way to show your brand's lighthearted side while simultaneously relating to your target audience. Wendy's is once again a great example of this. They took advantage of the trending meme "You've heard of Elf on the Shelf, now get ready for…" Here's an example of the meme, with Shrek on a deck.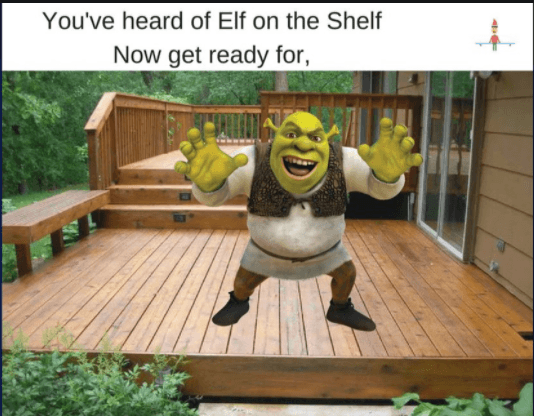 Wendy's took their own unique spin on the meme by creating "Baconator on a refrigerator."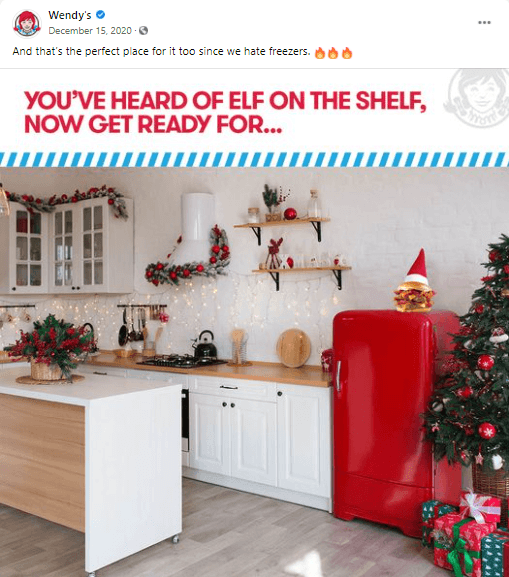 Memes can be a great way to connect with your audience and show them your business is relatable. Likewise, capitalizing on popular trends can be an efficient strategy, too. In this example from Target, they hop on the trend of "Tell me you _______ without telling me you ________." In this case, Target posted, "Tell me you love Target without telling me you love Target."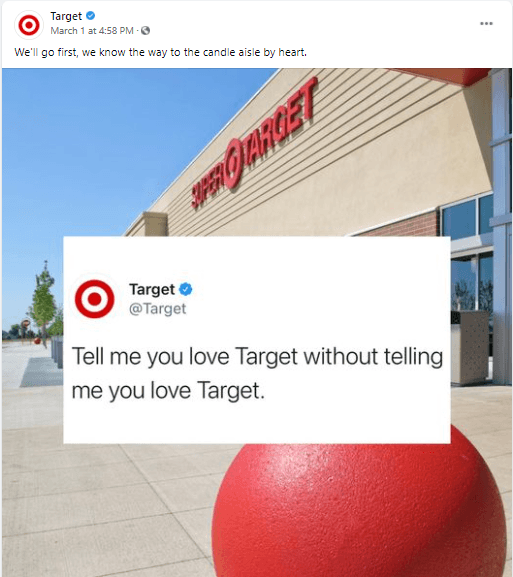 By capitalizing on popular trends and memes, you can help create a more lighthearted perception of your brand.
Time to Level Up Your Sales
Our long list of services helps you grow every aspect of your business with marketing strategies that are proven to increase bottom-line metrics like revenue and conversions.
In the past 5 years, we've managed more than 12.9 MILLION transactions across our client base.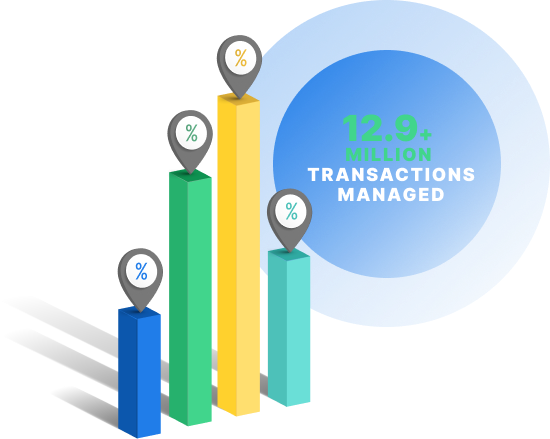 Need help generating Facebook post ideas for SMBs?
Managing the content you post on Facebook is a big job.
From coming up with new ideas to crafting your content, it can be an overwhelming process. If you need help managing your social media, WebFX is ready to assist you. We have a team of over 450 social media experts that can help you craft social media posts that boost engagement and help you earn more leads and sales.
We know how to drive results — we've driven over $3 billion in sales and over 7.8 million leads for our clients in the past five years. If you're ready to build a solid social media strategy that helps you grow online, contact us online or call us today at 888-601-5359 to speak with a strategist about our social media marketing services!