Selling your products is the heart of your small-to-medium-sized business — in fact, sales are crucial to your ongoing success. But what marketing strategies should you use as an SMB to ensure that you drive real results? On this page, we'll provide you with an SMB marketing checklist that outlines some of the most effective marketing strategies out there — as well as how to make them work to your advantage.
If you need help boosting the effectiveness of your SMB's digital marketing or need to start from scratch, WebFX can help! Contact us online or give us a call at 888-601-5359!
Our digital marketing campaigns impact the metrics that improve your bottom line.
See More Results

WebFX has driven the following results for clients:

$3 billion
In client revenue

7.8 million
Leads for our clients

5.2 million
Client phone calls
Marketing checklist for SMBs
In our SMB marketing checklist, we'll go over various strategies that you can use to boost the effectiveness of your marketing campaign. Not only that, we'll give you some SMB marketing ideas within each strategy to ensure that you make the most of your marketing dollars.
Let's get started!
1. Website design
You'll find that the end goal of nearly every strategy on our checklist is to lead users back to your website. Your website is the home base for your marketing, and it provides a place for users to learn about your business, mission, products, and services. Not only that, but if you're an ecommerce business, your website acts as your digital storefront — making it the primary location of business conversions.
There's a lot that goes into SMB website design, so let's break it down.
Page design
Of course, the design of your site pages is one of the most critical aspects of your website design. All your pages should be cohesive, work together, and encourage user interaction. Here are a few page design tips to keep in mind:
Use your brand's style guidelines throughout your site. This includes using your brand colors, fonts, spacing guidelines, and more.
Provide enough white space on pages to let your page elements breathe.
Organize page elements in a manner that doesn't overwhelm site visitors.
Provide multimedia on pages to break up large walls of text.
Page speed
Fast page speed is crucial for a successful website. That's because users will consider leaving your site for a competitor if your pages don't load in three seconds or less. If users don't stick around long enough to view the pages they're interested in, you're unlikely to earn more sales or even build brand awareness from your website. To check your page speed, you can use a tool like Google's Page Speed Insights, and if you don't like what you see, contact WebFX about our page speed optimization services!
Multimedia
We touched on multimedia in the page design portion of this section, but it's so important, we gave it its own section!
Multimedia doesn't only help break up long walls of text on your site, but it also helps you effectively engage users. When it comes to multimedia, there are a variety of options to choose from:
Images: Team photos, stock images, office photos
Custom graphics: Illustrated vector graphics that are custom to each page's content
Infographics: Informational data expressed in an illustrated format
Motion graphics: Graphics that move
Videos: Clips that engage users about a topic on a page
Each multimedia option provides something different to your pages, and you should utilize as many as possible! Keep in mind that users consume information in different ways. Some users might love images throughout their content, while others might enjoy learning via video.
Providing a little something for everyone that visits your site will help you win customers over.
Responsiveness
Creating a responsive website is vital since more than 50% of website traffic is via mobile devices. This high percentage means that more than half of users visiting your site do so from a smartphone — which undoubtedly has a smaller screen than a laptop or desktop computer. When you make your site responsive, you allow your entire site to scale to fit smaller devices, which is extremely important for site elements like buttons and forms.
If a user can't view your site effectively on mobile, you can lose up to half of your site traffic. Not to mention, with Google's rollout of its mobile-first index, it crawls and indexes the mobile version of your site. That said, if your site isn't responsive, it could affect your ranking.
2. Search engine optimization (SEO)
Next on our SMB marketing checklist — SEO. SEO is one of the most effective SMB marketing ideas since its goal is to help you rank better in search. The impacts of SEO create a domino effect since ranking highly in search engines leads to more clicks to your website, which leads to increased brand awareness, and eventually, increased sales and revenue.
Want to check SEO off your small business marketing checklist? Keep reading to find out how to optimize your site.
Create user-targeted content
Perhaps one of the most significant elements of SEO is creating content. With no content on your site, Google has nothing to rank, and the process becomes useless.
To see success with SEO, you must create targeted content that focuses on your most highly qualified audience. To do so, perform keyword research to determine the terms your audience searches for most often. You can do this with a keyword research tool like KeywordsFX.
After finding the keywords you want to target, you'll want to create content around those keywords. But be sure not to keyword stuff since it could negatively impact your rankings. Remember to also follow best practices for blogging as an SMB.
Provide internal links
You create internal links when your content links to other pages on your site — and it's an SMB SEO best practice.
Not only do internal links help users find content related to what they're interested in, but it also makes it easier for Google to find and index your pages. For example, if a user is reading a page on your site about how to bake chocolate chip cookies, you might add an internal link to a blog you created about flour alternatives when you mention flour in the recipe. This strategy keeps users moving throughout your site and helps to decrease bounce rate.
Double down on page speed
We mentioned page speed as a part of web design, but it's also a huge part of SEO.
When Google ranks site pages, the goal is to provide users with the best experience possible. That said, Google won't rank pages that don't load quickly — since site speed is such a large part of a fantastic user experience. You can ensure that your pages load quickly by:
Compressing photos
Cutting down on redirects
Minifying your code
Using browser caching
Removing render-blocking JavaScript
Optimize title and meta tags
Your title tag and meta description help users decide if your content fits what they're looking for. They both show up in search results as your page listing when Google ranks your content. Your title tag tells users what your page is about, and your meta description gives users a brief synopsis of the page.

Though titles and metas don't directly affect your ranking, they can make or break a click — making them essential to your SEO efforts.
3. Paid advertising
Third, on our small business marketing checklist is paid advertising. Paid advertising can take your small business to the next level — especially because it is cost-effective and highly targeted. This kind of advertising is also known as pay-per-click advertising (PPC), and you can take out these kinds of ads in search engines and on social media platforms. You can also opt to place PPC ads on other websites as display ads. In search engines, PPC ads appear above organic results, earning you prime real estate in search engine results pages (SERPs).
Learn More: How to Advertise Your Business Online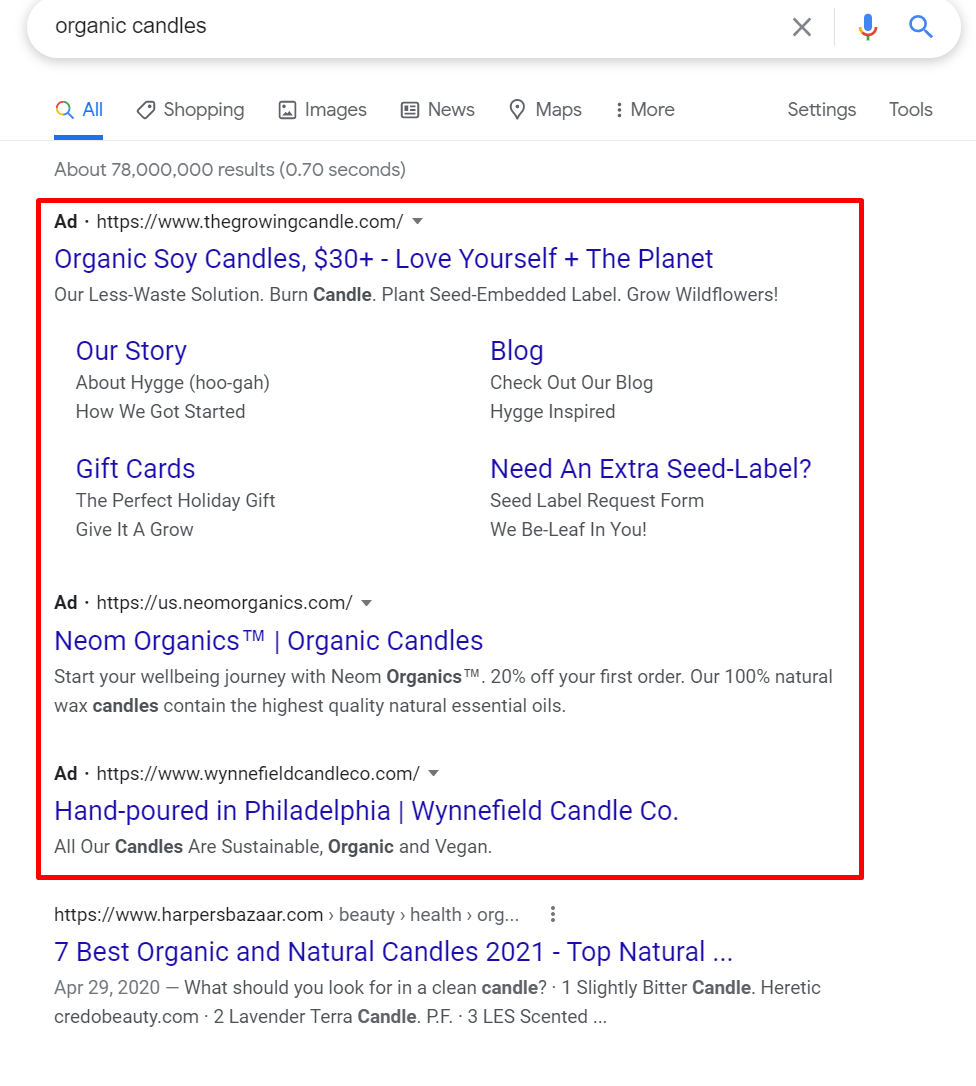 Below are some tips to make the most of your PPC campaign.
Do keyword research
Like content creation, you'll want to research keywords before creating a PPC campaign.
That's because PPC ads trigger when users search for keywords that you target. You'll want to search for keywords with a high search volume and a low cost per click (CPC). Since PPC operates on a bidding system (which we'll talk about next), it's important to pay attention to the CPC of your target keywords to avoid paying more than you intend.
Optimize your bidding strategy
You only pay for PPC ads when a user clicks them, which is where your PPC bidding strategy comes in. You'll bid on each keyword you create an ad for, which is when you decide how much you're willing to spend every time a user clicks on your ad.
If your bid is too low, your ad likely won't show up, but if your bid is high enough to compete with top bidders, your ad will show up. However, platforms like Google Ads also look at things like quality score to determine which ads earn real estate.
Design an engaging ad
The goal of PPC ads is to get users to purchase your product or service — but your ad must be well-designed with engaging copy to encourage a click. Your ad should feature an image of the exact product you're selling, and the copy should be brief but descriptive.
Don't forget to add an exciting call to action (CTA)!
Create effective landing pages
When users click on your ads, they'll arrive on a landing page. A landing page features important information about the product in the ad to encourage users to convert. Here's what to include in an effective landing page:
Image of the product
Price of the product
Product description
Product reviews
Product materials or ingredients
CTA button (like "buy now")
If you're not sure how to create effective landing pages for your PPC ads, WebFX can help!
4. Social media marketing
Social media platforms are home to billions of daily users, making social media marketing one of the best SMB marketing ideas. When you market to users via social media, you'll be able to connect with them directly, improve brand awareness, and increase clicks to your website. Here are the platforms that you can use for social media marketing:
Although every platform is unique, the protocols are similar across the board. For example, across all platforms, you should optimize your profile by using your logo as your profile picture and uploading a high-quality cover photo (if applicable). You should also fill out the entire about section to teach users more about your business.
This includes things like your business location, services, and contact information. In terms of post frequency, you should post often on all your platforms to stay top-of-mind to potential customers. With so many businesses on social media, you can easily fall to the bottom of user feeds if you don't post consistently. And like we mentioned in the PPC section of our SMB marketing checklist, you can also advertise on nearly every social media platform.
Most platforms have an ads program baked in — making it easy to create social ads. If you need help constructing a social media marketing or social media advertising campaign for your business, contact WebFX!
5. Email marketing
Email marketing is one of the best SMB marketing ideas since it provides an extremely high ROI, reaches interested users directly in their inboxes, and is highly targeted. For every dollar you spend on email marketing, you're likely to make $44 back, meaning email marketing provides a 4400% ROI. Here's why we recommend adding email to your marketing checklist for SMBs:
You reach interested users
One of the main benefits of email marketing is that it's highly targeted — to receive emails, users have to sign up for them, meaning you already know that the recipients of your emails are interested in what you offer.
The targeted nature of email marketing means that you won't waste any of your marketing budget advertising to users who aren't interested in what you offer.
It's low-cost and high-return
We've already touched on the ROI of email marketing, which proves that it's a low-cost, high-return strategy. You won't have to dedicate a large chunk of your marketing budget to email marketing to see results. Keep in mind that if you work with an agency to manage your email marketing efforts, you'll pay more than if you were to do it on your own.
However, there are many benefits to working with an email marketing agency — like effective campaigns, saved time, and analyzed campaigns.
You can promote other channels via email
Email is an important list item on our SMB marketing checklist since it helps improve the effectiveness of other marketing channels you use. For example, you can send links to your website blog in emails to increase website traffic or share links to your YouTube videos to increase your subscriber count. This is called cross-channel marketing, and email marketing is a crucial player in the strategy.
Need help bringing your SMB marketing ideas to life?
If you're interested in using the strategies featured on our SMB marketing checklist but aren't sure how to get started, our SMB marketing company can help. With more than two decades of digital marketing experience, WebFX can help you take your business to the next level with online marketing. We work with a variety of industries and have locations across the U.S.
to best serve you. If you're ready to kickstart your SMB marketing campaign, contact us online or give us a call at 888-601-5359 about our professional marketing services!
How is your website's SEO?
Use our free tool to get your score calculated in under 60 seconds.
Get posts by email
Join 200,000 marketing managers and subscribe to Revenue Weekly!
"*" indicates required fields
WebFX Careers
Join our mission to provide industry-leading digital marketing services to businesses around the globe - all while building your personal knowledge and growing as an individual.