How to Increase Sales Online with Social Media
16 minute read

Trevin serves as the VP of Marketing at WebFX. He has worked on over 450 marketing campaigns and has been building websites for over 25 years. His work has been featured by Search Engine Land, USA Today, Fast Company and Inc.
By this point, most marketers are familiar with the benefits of using social media to reach new customers. It's becoming a staple for companies of all sizes and industries and an effective tool for reaching your overall marketing goals. Its primary function is not to generate sales, but to grow your brand awareness and build relationships with customers.
That being said, you can use social media to increase your sales online – but only if you adapt your approach to the channel. Each platform presents its own unique challenges, and as a result, requires a different strategy. And much like any other marketing channel, there's a definite learning curve to generating sales on any of them.
That's why in this post, I'll break it down by platform and provide a few specific tips for Facebook, Twitter, Instagram, and Pinterest. Don't forget, WebFX is a full-service digital marketing agency that offers services to clients across the country. So whether you need digital marketing in Pittsburgh or digital marketing in Raleigh, we've got you covered.
Facebook
When most businesses decide to start using social media marketing, their first stop is Facebook.
It has the largest reach of any social network today, and for users who already have personal profiles in place, the business page setup is simple. Assuming that you already have a Facebook business page set up for your company, the following tips will help you use it to increase your company's online sales.
Utilize Facebook's advertising options
Although it used to be enough to rely on Facebook's organic post reach, that is no longer the case. Thanks to the growing competition for attention in users' newsfeeds, average organic reach has already decreased by 52% this year.
If you're serious about using Facebook as a marketing tool for your business, you'll have to pay for it. However, thanks to the platform's advanced targeting options, it's often worth the investment. You can choose your audience based on basic information like age, gender, and location, as well as more in-depth characteristics like interests and the pages they like.
For more information on running effective ads on the platform, check out our full guide to Facebook ad specifications and dimensions.
Add a "Shop Now" button
Facebook introduced call to action buttons last year, and they're completely free to add to your profile – so there's no reason not to. These buttons show up directly below your cover photo, and you can choose from several pre-set button text options, like "Contact Us", "Call Now", and "Learn More." If you're looking to drive sales online, your best option is "Shop Now."

You can link this button to anywhere on your site, as long as it allows users to do what they want: Shop. You can also set different destinations for users based on their device.
So, for example, if you have an iPhone app, you can opt to send iPhone users to your app's listing in the app store.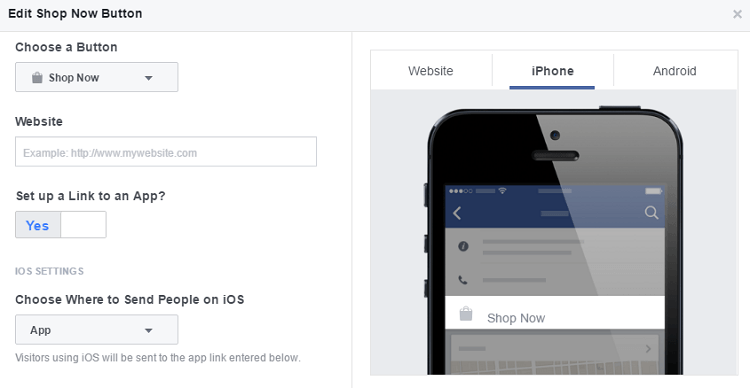 This makes it easy to send users exactly where they need to go for the easiest possible conversion.
Twitter
As I mentioned above, each of these platforms presents its own challenges. With Twitter, the main challenge is compelling users to take action with 140 characters.
Unlike other social channels, you don't have room for much explanation. In most cases, your best bet is to link to a specific page on your site and use the rest of your characters to explain to your followers what they can expect from clicking it. Fortunately, that doesn't have to be boring.
Here's what you can do to stand out:
Link directly to landing pages
Many new social media marketers make the mistake of simply linking to their site's homepage. And while this can certainly drive traffic to your site, it won't do much to drive sales. Instead, you should choose specific pages on your site that allow visitors to convert.
Because Twitter users expect more frequent posts from the brands they follow (compared to Facebook or Instagram, where 1-2 posts per day is the norm), you can be more specific with the content you link. After all, if a follower isn't interested in the products in one specific tweet, there's still a chance they'll be interested in the ones you tweet a few hours later. If your site is already sorted into different product types, you can simply link to the category pages.
Forever21 does this on their account and also includes photos of the clothing within those categories – meaning that if one of their followers is interested in purchasing a pictured item, all they have to do is click the link.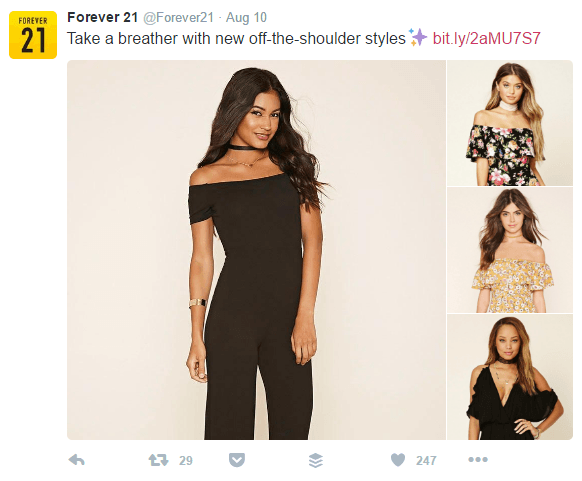 This is not only effective in driving conversions, but provides a much simpler shopping experience for their followers.
Include images
One of the best ways to stand out is to use eye-catching images along with your text. You can add up to four to each of your tweets.
If you already have professional product photos, that's an easy place to start. You can also use tools like Canva to create simple graphics that go along with your brand and current promotions.
Encourage users to retweet you
Unlike other platforms, where it's unusual for users to share branded content with their friends, you can gain more followers by encouraging your current followers to retweet your posts. Although this doesn't directly drive sales, it increases your overall reach – and as a result, the number of people who will see your more sales-oriented content.
That being said, your followers won't retweet just anything you tell them to. One of the most effective ways to grow your following is to provide some sort of incentive, like free products or a discount. In H&M's case, they make it a requirement for entry into their giveaways.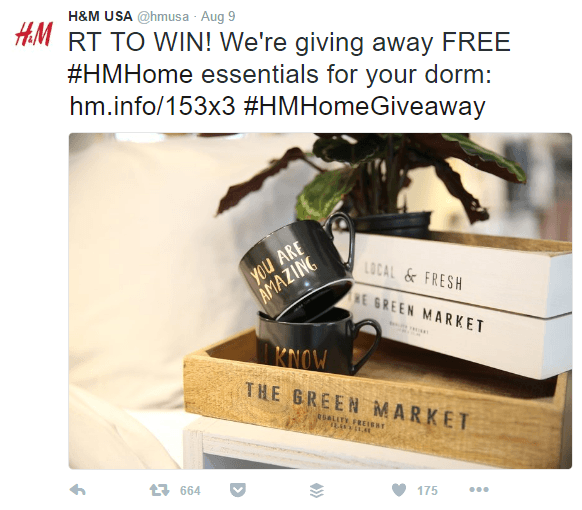 Some of the most successful content for this goal isn't sales-related at all, and many of your followers will likely follow you as a result of the funny, entertaining, or otherwise interesting things you tweet.
Pin important tweets
Every Twitter user has the option to "pin" one tweet on their profile, meaning that it will remain at the top even after they make more recent posts. If you tweet something particularly important, like an announcement about a sale or promotion, you can use this feature to make sure it's the first thing users see when they visit your profile.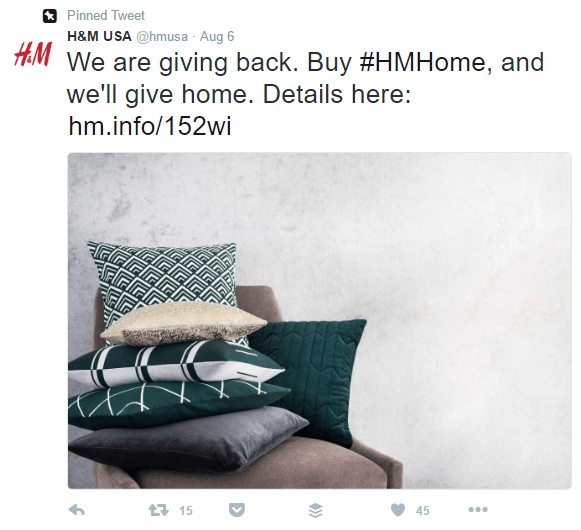 This means that if one of your followers retweets you, and one of their followers is interested in learning about your brand, they'll click on your profile and see your pinned tweet right away.
Essentially, pinning a tweet gives you the opportunity to define the first impression you want to make on new visitors to your profile, regardless of when you tweeted it.
Instagram
Instagram is the only social media platform that focuses primarily on images, meaning that it's ideal for companies who have lots of visually interesting products to show off, like clothing or décor. That being said, it's also the only platform that doesn't allow you to include a link with every post, and their short character limit makes it challenging to convey complex ideas. Still, there are a few ways you can use Instagram as an effective marketing tool.
Invest in quality photos
As a photo-centric platform, quality photos are absolutely essential for marketing on Instagram.
Blurry, low quality images simply won't perform well. If you already have professional photos of your products, that's a great start. Still, your Instagram account shouldn't just be a product catalog.
Scroll through almost any successful branded Instagram account, and you'll see lots of professionally shot and filtered images of products displayed and worn in artistic ways. Instagram is your chance to get creative, but your posts still need to show quality.
Include a link in your bio
The main challenge with driving sales on Instagram is that you can't include links with individual posts. You only get one chance to link to your site, and it's in the brief bio on your profile page.
You can change this link as often as you want, and many brands update theirs every time they make a new post. Then, they include something along the lines of "link in bio" in the caption of each post. However, this can get tedious if you post more than once or twice a week – especially since you have to do it from a smartphone each time.
One way to avoid this is by adding a "featured on Instagram" page to your site, and adding a link to it in your bio. Society6 uses this strategy and updates their page with links to every product featured on their Instagram account.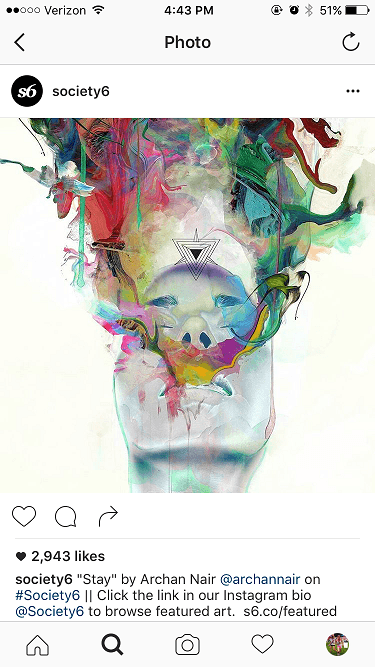 As a marketer, it's not the most convenient way to drive sales – but it simplifies the purchasing process for your followers.
And if you're intent on driving sales with your account, that's what really matters.
Use appropriate hashtags
Like many other platforms, you can include hashtags in all of your Instagram posts. These hashtags are clickable, searchable, and allow users to browse all posts that include them. You don't want to go overboard, as using more than five hashtags for any given post can make your account look spammy.
This is especially true if you use tags that are irrelevant to the content in your photos. Instead, focus on using hashtags to build your brand – and ultimately, a community. This is a popular strategy, and many successful brands simply use their slogans as hashtags on all of their posts.
Saucony does this, and as of this post, their #FindYourStrong tag is included in over 150,000 posts.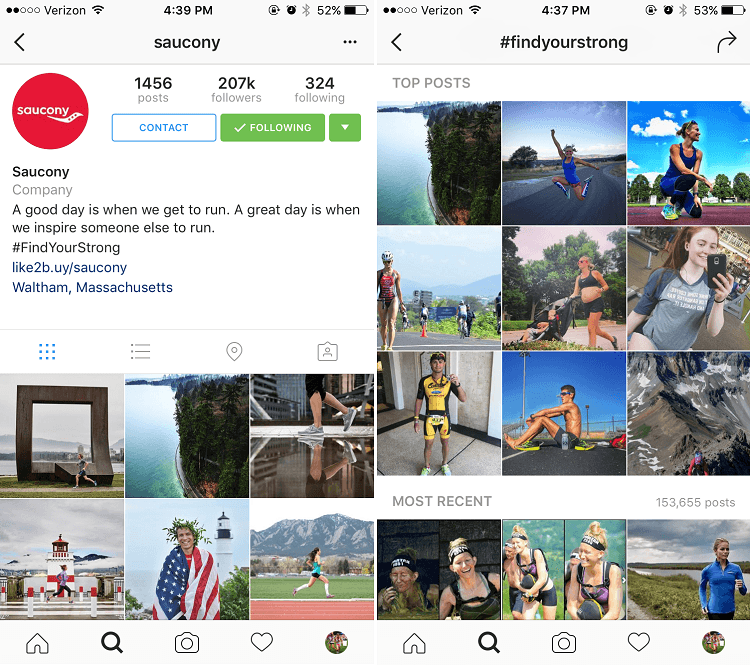 Considering that they've made fewer than 1,500 posts on their own account, this means that the vast majority of the posts with their hashtag were made by their fans and followers. Although this is a lofty goal if your brand isn't as well-known, encouraging your customers to use a specific tag with posts about your products is a great way to grow your brand awareness and build a community with the people who love your brand.
Research your advertising options
Up until recently, Instagram displayed posts in reverse chronological order.
This almost guaranteed that as long as a user followed you, they'd see your content. In June, however, they rolled out an algorithm similar to Facebook's, meaning that there's no guarantee that all of your followers will see your posts. This doesn't mean that it's absolutely necessary to run ads on the platform – but it's worth considering if you want to make it a major part of your marketing strategy.
Pinterest
Pinterest is, in my opinion, one of the most under-utilized social platforms – especially when it comes to driving sales.
It's essentially a way for people to save and share the items that they like, and many users log in with the specific intent of finding products to buy. And even if they don't buy those things immediately, they'll be shared with anyone who follows them. If you run an ecommerce store, Pinterest is a goldmine.
Here's how to make the most of it.
Create Pins for each of your products
You can upload each of your products as individual Pins, and unless you have a huge or constantly-changing inventory, there's no reason you shouldn't. Each of these Pins should contain a photo of the product, as well as a link to its product page. When a user scrolls through their feed and notices something they like, all they have to do is click the photo and they'll immediately land on the page that allows them to purchase it.
You can also organize these Pins into different boards. This not only makes it easier to keep track of the products on your account, but also allows users to browse your products just as they would on your site. Express does an excellent job of this, and has individual boards for each type of clothing they sell.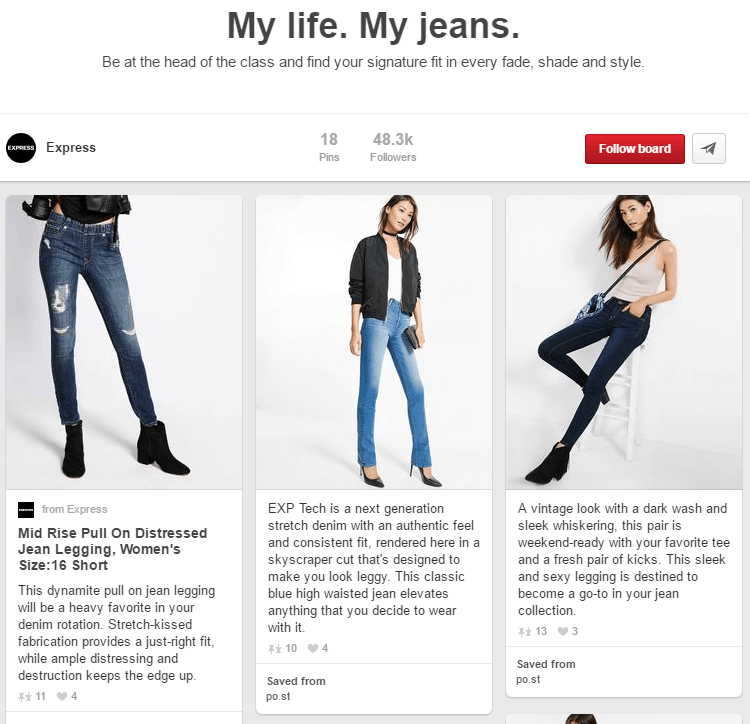 Browsing their account is almost exactly like browsing their site, with the added bonuses of social proof from other users and the ability to save items for later.
Include relevant tags
Many Pinterest users find specific products by using the platform's search bar. If you want to increase your online sales with Pinterest, you need to include the words users are searching for in your Pins. Unlike the basic search tools on other social networks, though, Pinterest also helps users narrow their searches down with additional keywords based on their original search.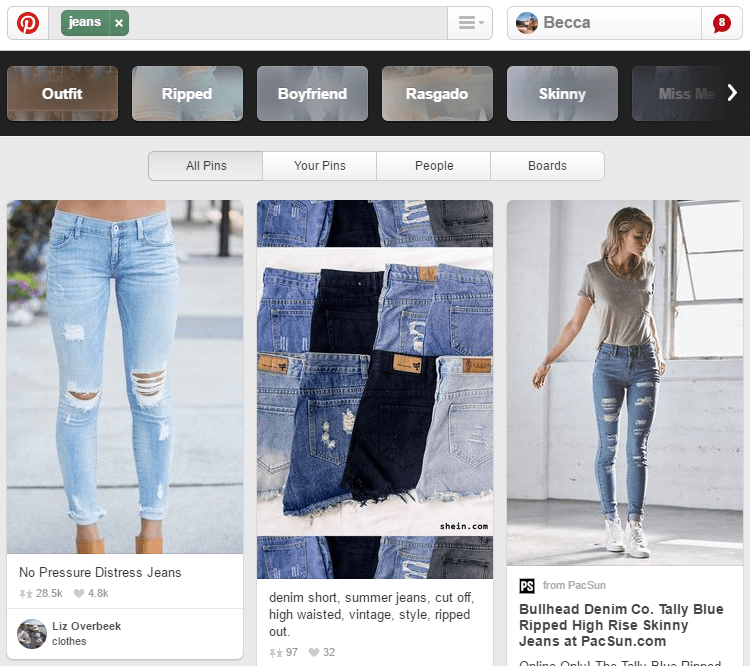 As you create your Pins, be sure to run a few searches for the keywords you use and try to include Pinterest's additional suggested keywords where appropriate.
Make your products easy to Pin
In addition to your strategy on Pinterest itself, you should also encourage your site visitors to Pin products themselves. Doing this is simple with Pinterest's "Pin it" buttons. You can either use their default button options, or create your own based on the look of your site.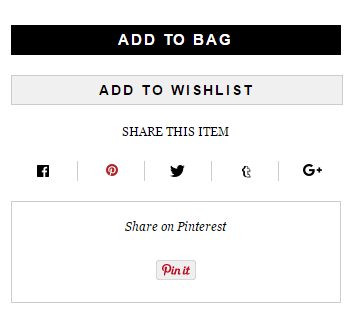 When a user clicks this button, it'll automatically pull the product name, photo, and link – making it easy for shoppers to share the products they like with their Pinterest followers. Although this doesn't directly drive sales, it ensures that your potential customers won't lose track of the items they're interested in, meaning there's a higher chance they'll ultimately come back and buy them.
Include non-sales content
Now that we've gone over a few specific, sales-oriented tips for each platform, it's important to remember that not all of your posts should be designed to drive sales. After all, social media wasn't designed to primarily be a marketing channel.
And if your followers feel like they're constantly being sold, they'll simply unfollow you. In order to be successful in driving sales on social media, you also need to post content that's engaging, informative, and serves a purpose other than selling to your followers. Here are a few tips to help you do just that.
Create a content calendar
The best way to ensure that you have the right mix of content on all of your accounts is to create a calendar for each channel.
Personally, I recommend creating a new calendar before the start of each month. That way, you never have to worry about coming up with last-minute content and you can schedule most of it in advance.
Share useful and interesting content
Not all of your social posts need to directly tie to your company. You can also engage your followers by sharing industry news and other information that your target audience finds interesting.
If content marketing is part of your overall strategy, the blog posts, videos, and other content you publish is a great way to start. You can also share articles from news sites, bloggers, and other online sources. This may seem counter-intuitive if you're focused on driving traffic to your own site, but it will show your followers that you're a valuable source of information – and one that isn't just trying to sell them things.
Interact with your audience
As you grow your social media audiences, it's important that you not only continue to post content, but also interact with the people who follow and engage with it.
Depending on the size of your brand and the amount of comments you receive, this can be challenging. But unless you're a major company with thousands of followers, you should be able to respond to (or at least acknowledge) the majority of the comments on your accounts. In many cases, a simple "thank you" will do.
This may not seem like it has a huge impact on sales, but when it comes down to it, people want to buy from the companies and brands they like.
Keep your tone consistent
As you post both sales and non-sales-oriented content, it's important to maintain a consistent tone across both. It doesn't make sense to have a fun, lighthearted tone for half of your posts, and a boring, robotic one for the other half. Instead, incorporate your brand's personality into everything you share with your followers.
This requires more thought and effort than posting product names and links, but it's much more engaging – and ultimately, more effective for driving sales.
Does your company use social media to drive sales?
Social media can be a challenging channel for many marketers, especially when it comes to driving direct sales. Does your company do it effectively? Let me know in the comments below!
Trevin serves as the VP of Marketing at WebFX. He has worked on over 450 marketing campaigns and has been building websites for over 25 years. His work has been featured by Search Engine Land, USA Today, Fast Company and Inc.

WebFX is a full-service marketing agency with 1000+ client reviews and a 4.9-star rating on Clutch! Find out how our expert team and revenue-accelerating tech can drive results for you! Learn more
Twitter and Facebook Status Generator
Finding engaging social media content for your business can be difficult. Use our tool to quickly find ideas and post directly to your page.
Give Me an Idea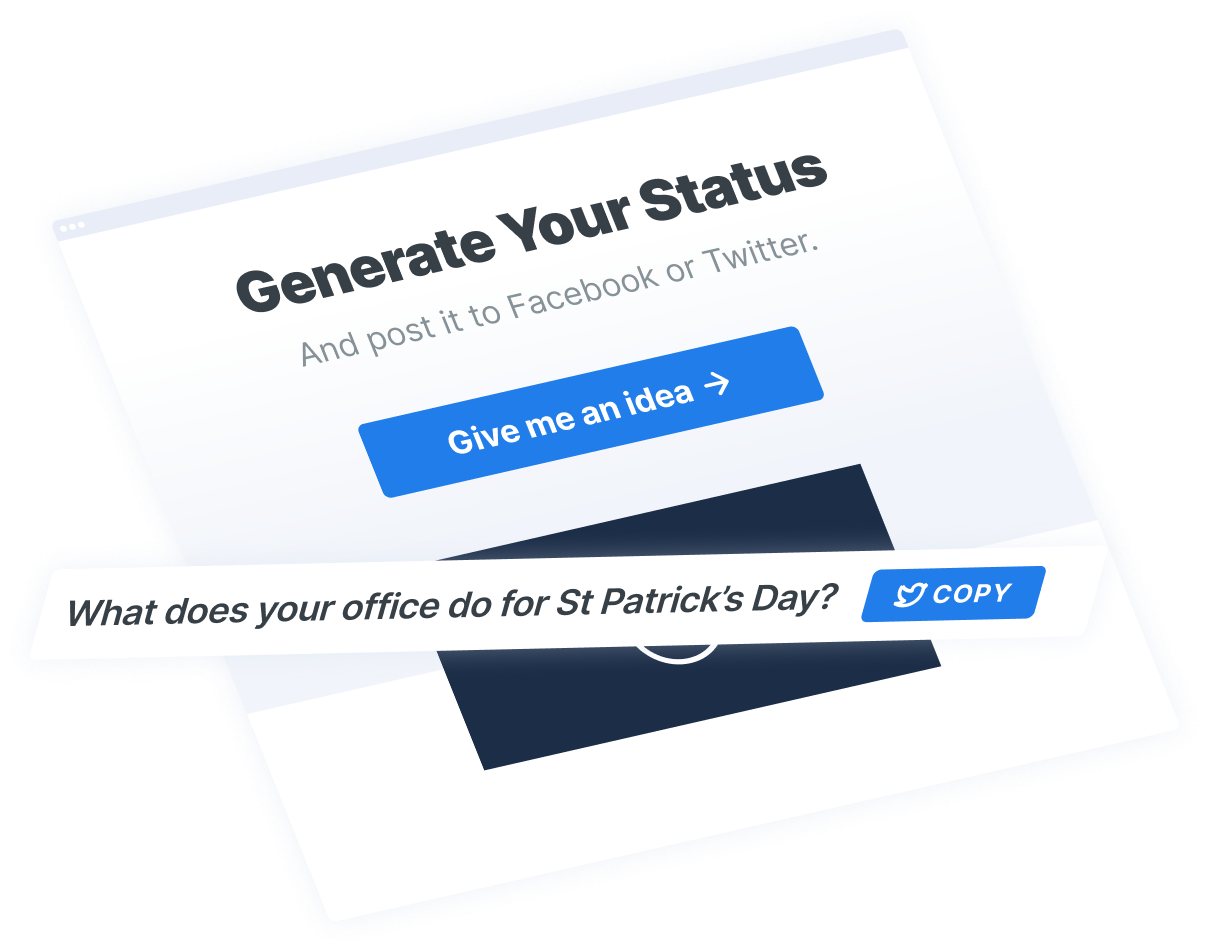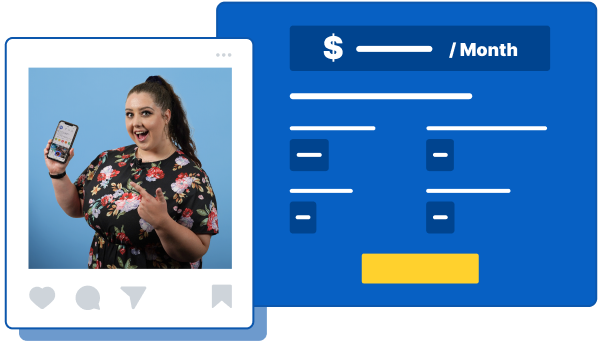 Twitter and Facebook Status Generator
Finding engaging social media content for your business can be difficult. Use our tool to quickly find ideas and post directly to your page.
Give Me an Idea