August 2, 2023
9 minute read

Abbey is a digital marketer, copywriter, and lead editor. She has worked on over 200 client campaigns and WebFX, and she specializes in marketing strategy analysis and industry-specific digital marketing plans. Outside of writing and editing, you'll likely find her taking pictures of her cat, making a new playlist, or tending to her houseplants.
Improving online sales is crucial for your company growth. As your website grows and you learn more about your clients, you can find new ways to convert leads and earn more revenue. Otherwise, you might be missing out on growth opportunities.
So, what can you do to increase online sales?
This post is your master list for increasing online sales through actionable tips. We will cover the following:
Read on for more, or click the tip you want to see first!
Don't miss our Marketing Manager Insider emails!
Join 200,000 smart marketers and get the month's hottest marketing news and insights delivered straight to your inbox!
Enter your email below:
Inline Subscription Form – CTA 72
"*" indicates required fields
(Don't worry, we'll never share your information!)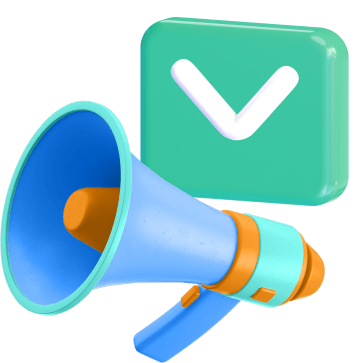 1. Create buyer personas to target the right people
Buyer personas are created profiles of the people who typically buy from your company. Your buyer personas can help you determine what marketing materials will work best for your audience.
To create buyer personas, you need to capture some important data about your users, including:
Age range
Location
Occupation
Gender
Let's say your audience is 25-year-old female college graduates. Your marketing materials would look different than if you were trying to reach middle-aged working-class men. This strategy can help you meet the customer's needs and encourage conversions.
2. Offer a discount/coupons
Discounts, promotions, and coupons can be a great way to encourage purchases from your customers. Ideally, the discount should make them want to purchase more to earn it:

Discounts can become a staple part of your marketing that all customers have the chance to earn, such as free shipping on certain orders or for rewards members. You could also send coupons to your email subscribers periodically.
3. Share customer testimonials/reviews
It's easy to say you're the best at what you do, but would your customers agree? Getting customer testimonials on your website can help build your reputation and show your quality from another buyer's perspective: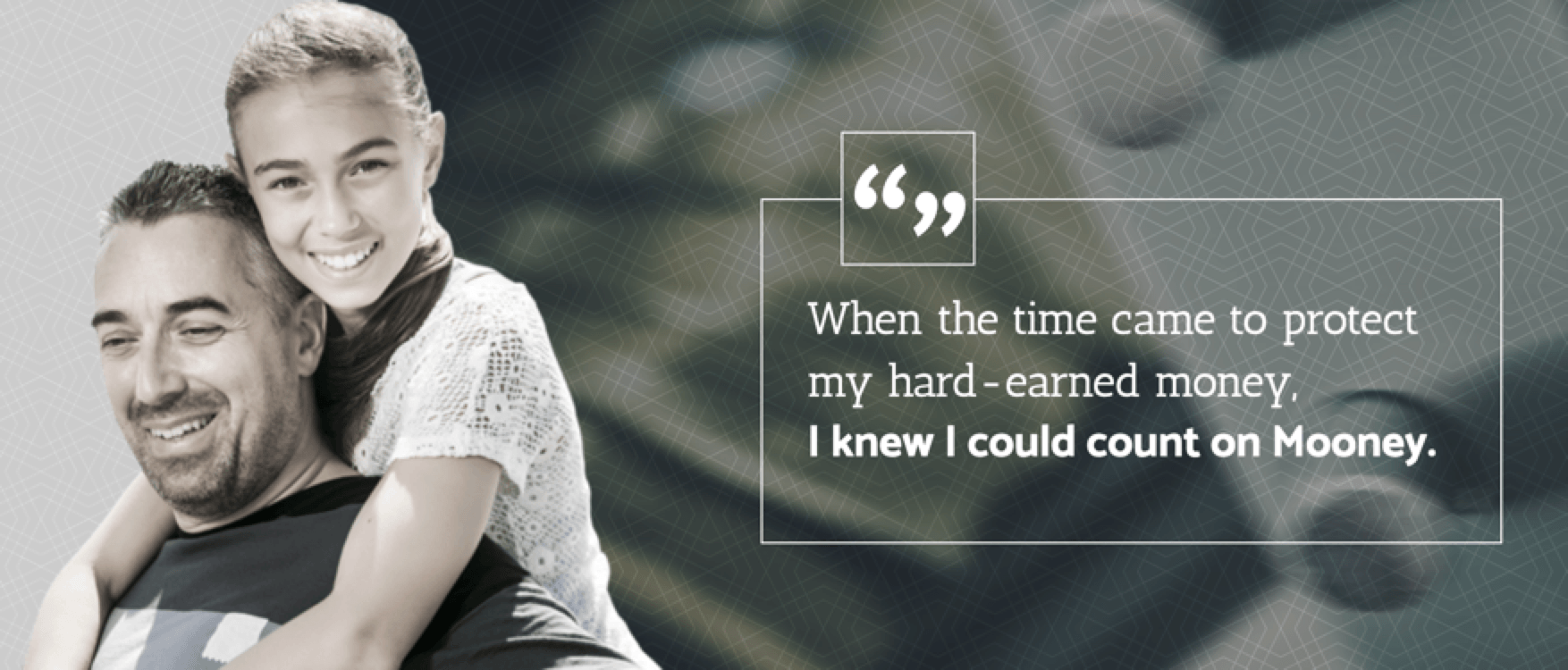 Encourage your customers to leave a review or submit a testimonial after they've purchased. This step is another opportunity to offer discounts in exchange for their comments.
4. Create an email marketing campaign
An email marketing campaign can help you earn more sales. In fact, email marketing generates 50% more sales than other lead generation methods. If you still don't have an email marketing strategy, now is the time to invest.
Your emails can include:
Newsletters
Company updates
Promotions and coupons
Automating your email strategy can save you time and keep customers interested in your company.
5. Address abandoned carts
One of the best ways to increase online sales is to send abandoned cart reminders.
When people shop online, they often add items to their cart but never complete the purchase. People often get distracted or aren't ready to purchase yet, so they leave their cart and your site.
It may feel like this is a lost sale, but you can recover it! Abandoned cart reminders help you bring these leads back and remind them of what they put in their cart. It gets them to reconsider purchasing: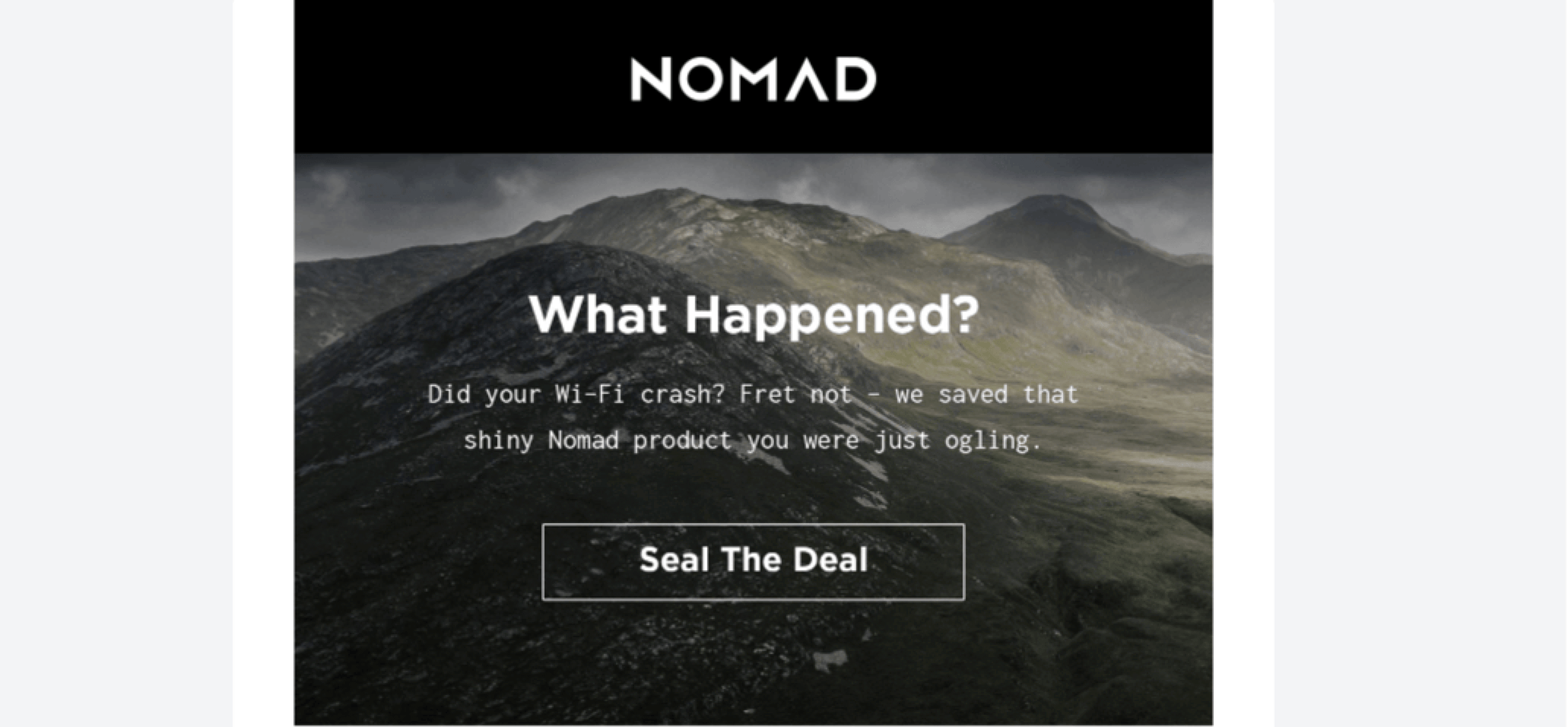 These emails are extremely valuable for roping leads back in and making them reconsider the purchase.
6. Use social media for promotion
Social media can be a great way to attract customers to your site and encourage them to shop. You can share sales, promotions, and other updates right to your user's feed. Social ads also help you advertise right to your target audience across platforms.
Plus, many sites (like Instagram) now offer in-app shopping to help you earn more sales through different channels.
7. Make returns easy
While you may consider returns to be a bad thing, they can actually make your company look better and encourage sales.
Some people may not buy because it's a hassle to return, so they avoid purchasing all together. Easy returns make customers happy because there won't be a hassle if product doesn't work out!
Lay out your return and exchange policy in simple terms on your site: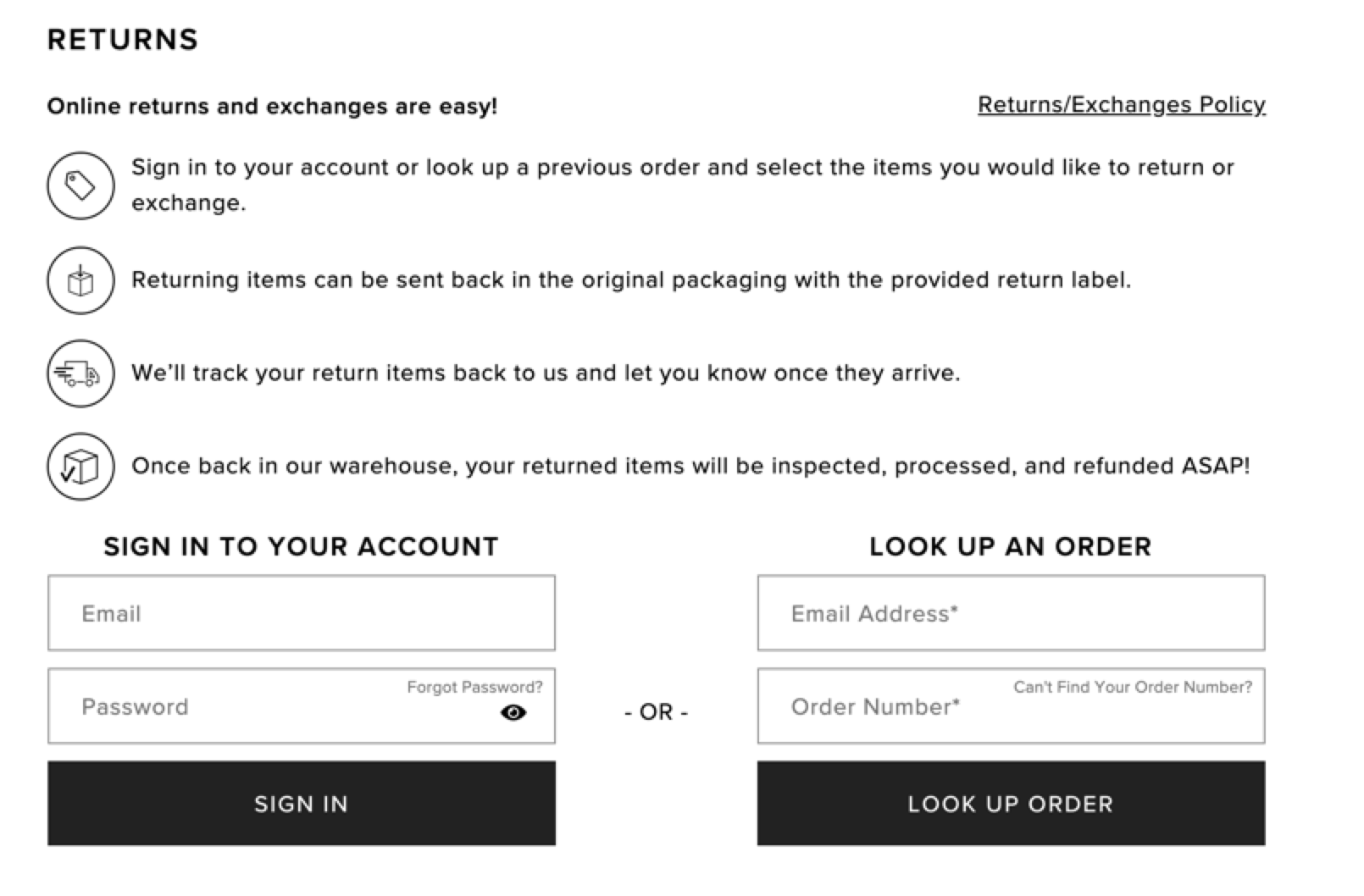 The easier you make it on the customer, the more likely they will be to purchase.
8. Use high-quality product photos/videos
This tip may seem obvious, but adding high-quality visuals to your product listing is one of the best strategies to increase online sales.
When users shop online, they don't get the opportunity to see your product in person. They rely on the visuals you provide to determine if your product is the right fit for their needs.
Use clear product images that show different angles and important features. This step makes it easier for the customer to see what they're buying and encourages them to shop.
9. Take a user-focused to naming benefits
Features and benefits are not the same thing. While you might list the product's features (and you should!), the benefits are another set of perks.
When trying to think about benefits, pretend you're the customer and ask yourself, "how does this make my life easier/better?"
For example, say you sell custom machine parts. The features might include:
The materials you offer
The size range
Your timeline
The benefits could include the following:
Customers can save time by sending you all their designs instead of looking for multiple companies.
You offer quick turnarounds, so they can get the materials they need fast.
Your prototyping stage saves them money and time by preventing re-dos and corrections.
10. Run PPC ads
PPC ads can give you a boost of traffic to your website while saving you money on advertising costs. Generally, companies make $2 for every $1 spent on PPC, which correlates to a significant increase in sales.
Investing in PPC in search engines and ecommerce sites can help you target people looking for your services instead of a general advertisement. You can narrow down your audience and get more conversions by meeting customers in the middle.
11. Limit choices/options
While you might have an extensive inventory, too many options can be a bad thing. Too many choices can lead to decision paralysis, ultimately leading people to not purchase at all. Less choices and options mean less indecision, leading to more sales!
Try to limit the number of options you have to make it easier for customers to browse and buy what they want. Your product listings can also group items by certain traits, removing duplicate listings and helping them think through their purchase.
12. Simplify your checkout process
If you find you're getting a lot of abandoned carts or incomplete sales forms, you may need to revise your checkout process. When you have a complicated or long checkout process, your audience will be more likely to abandon their carts.
Analyze your checkout process to see what could stop your audience from completing their order. Some common problems include:
Your checkout forms are too long
You don't have enough payment options
You don't state your shipping rate upfront
You require filling out separate billing and shipping information
These types of problems can prevent people from completing their checkout.
Prevent users from abandoning their carts by simplifying the checkout process. Share your shipping fees up front and have the least amount of steps necessary. By fixing these issues, you can simplify the checkout process and improve sales for your company.
13. Offer multiple payment options
Having multiple payment options makes it easier for everyone to access your site.
Not everyone has the same financial background or payment methods. For example, someone shopping on their phone may prefer to use Apple Pay because their credit card isn't immediately nearby.
Diverse payment options prevent people from abandoning carts.
14. Use chatbots to answer quick questions in live chat
Chatbots are computer programs that utilize artificial intelligence to interact with your audience and have a conversation. It helps you automate your customer service process so that you can deliver answers fast. You can use chatbots on your website or social media platforms like Facebook.
Chatbots can answer common questions your audience may have, so you can provide them with answers that can help them convert. From questions about shipping to discount codes, you set up your chatbots to know the answer to these questions. As a result, your audience will feel more prepared to purchase.
15. Create reward-based incentives
Incentives encourage people to purchase from your company for some sort of reward. Think Old Navy Super Cash — the more you spend, the more "cash" you get, so people want to make more purchases to get the reward.
Consider free shipping incentives for spending a specific amount, discount codes for next purchase, or another perk that comes from purchasing.
16. Allow email opt-in for discounts
Offering a discount for email signups is a great way to bolster your email list: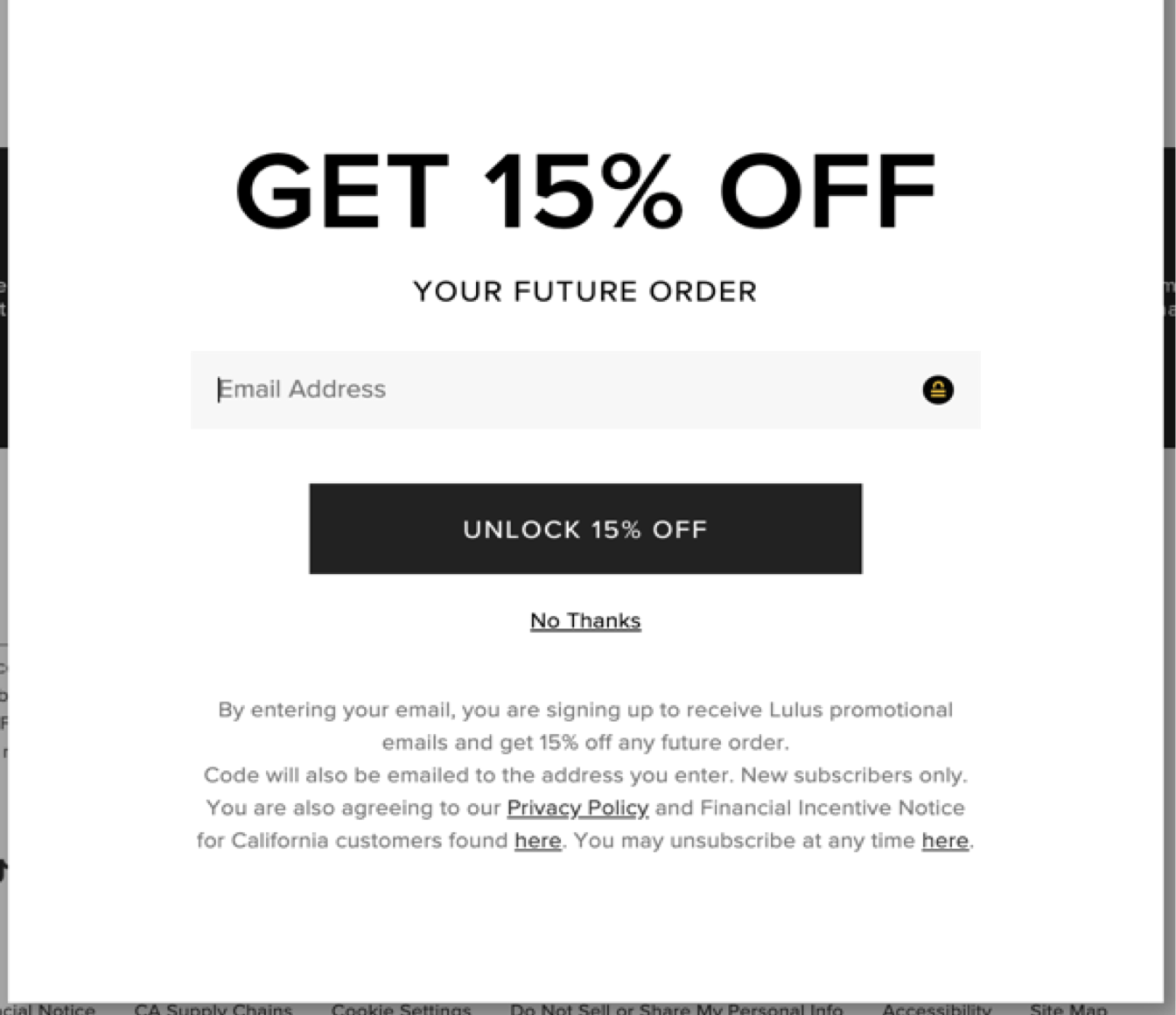 Some common signup bonuses include a certain percentage off the first order or a coupon code for a particular item.
17. Invest in a responsive website
Creating a mobile-friendly site is one of the best strategies to increase online sales. Your audience uses mobile phones to shop, so if you don't have a mobile-friendly site, you risk losing leads for your business. When over 40% of online transactions happen on mobile, you don't want to miss out on potential sales.
If you want to increase sales online, make your site mobile-friendly. The best way to create a mobile-friendly site is to use responsive design. Responsive design enables your website to adapt to whatever device someone uses.
When you integrate responsive design, whether in-house or with responsive web design services, your site adjusts to whatever device your audience uses. It enables you to deliver the best experience for your audience, so they're more likely to buy from your business.
18. Make sure your website loads fast
If your website is slow, users will notice, and your sales will suffer. In fact, $2.6 billion in revenue is lost from slow-loading websites every year. Investing in the following can help improve your website speed:
Compressing and optimizing your images
Finding a solid website host
Minimizing redirects
Prioritizing and testing your website speed will make sure that you get every sale possible.
Our digital marketing campaigns impact the metrics that improve your bottom line.
See More Results

WebFX has driven the following results for clients:

$3 billion
In client revenue

7.8 million
Leads for our clients

5.2 million
Client phone calls
Bonus tip: Work with an agency to increase online sales
If you want help getting the most sales from each of the tips above, working with a digital marketing agency could be the best option. Luckily, WebFX has 25 helping clients earn more sales from their website.
During our time, we have driven 7,839,684 leads and $3,021,182,299 in revenue for our clients. We have over 1020 testimonials that highlight our success in our clients' words. Our digital marketing services cover the steps above and more to help you convert more users.
Want to learn more? Request a free quote today and see how we will help you close more sales online!
Abbey is a digital marketer, copywriter, and lead editor. She has worked on over 200 client campaigns and WebFX, and she specializes in marketing strategy analysis and industry-specific digital marketing plans. Outside of writing and editing, you'll likely find her taking pictures of her cat, making a new playlist, or tending to her houseplants.

WebFX provides digital marketing solutions with expert marketers, designers, and developers to increase visibility, conversions, and revenue.

Learn more
Try our free Marketing Calculator
Craft a tailored online marketing strategy! Utilize our free Internet marketing calculator for a custom plan based on your location, reach, timeframe, and budget.
Plan Your Marketing Budget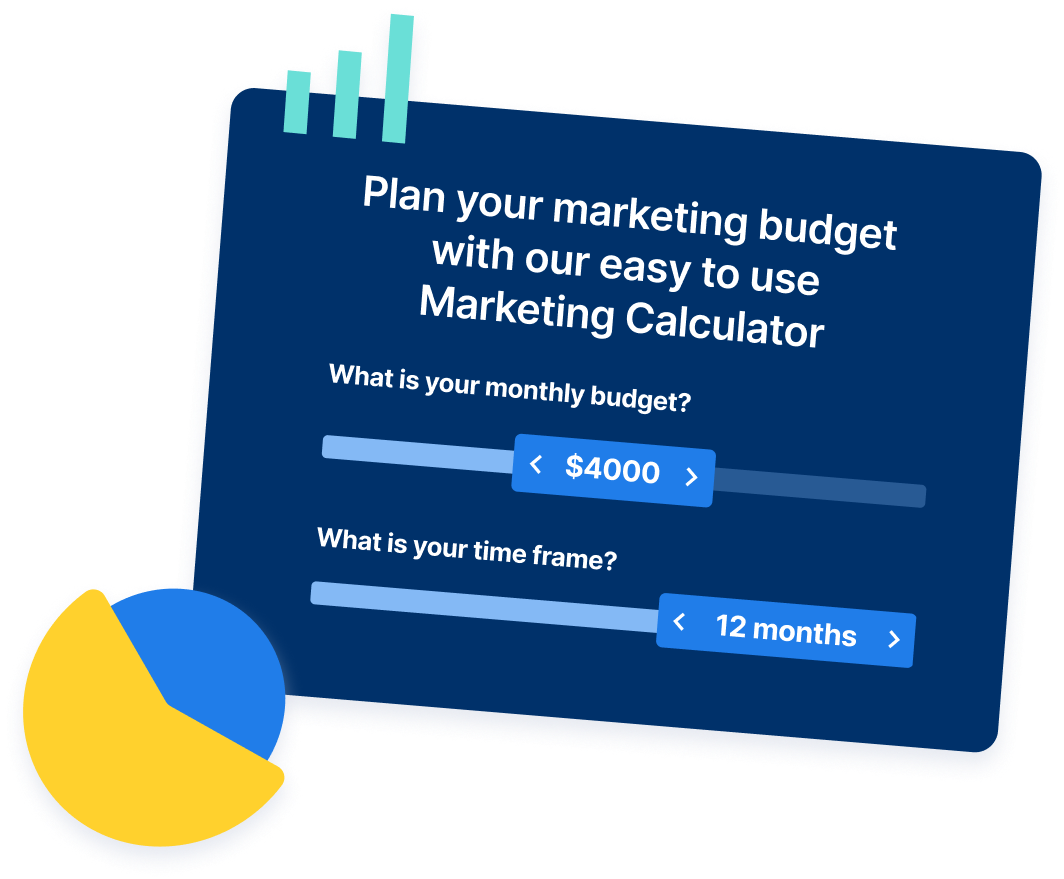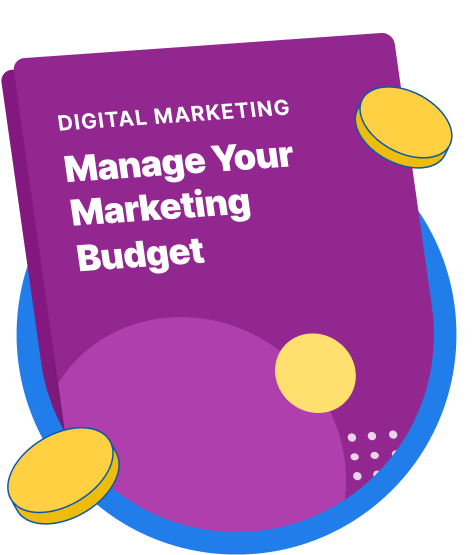 Maximize Your Marketing ROI
Claim your free eBook packed with proven strategies to boost your marketing efforts.
Get the Guide
Try our free Marketing Calculator
Craft a tailored online marketing strategy! Utilize our free Internet marketing calculator for a custom plan based on your location, reach, timeframe, and budget.
Plan Your Marketing Budget