Are you tired of having a lackluster conversion rate? If so, 2023 is the right time to start compiling ideas to increase online sales. Luckily, we've got tons of strategies to help you boost your conversion rate!
Keep reading to learn 11 ways to increase online sales in 2023 for your business.
1. Add ad extensions to your pay-per-click (PPC) ads to increase clicks
To increase sales online, start by adding ad extensions to your pay-per-click (PPC) ads. If you currently run PPC ads, you know they appear at the top of search results, above organic listings, and can drive highly qualified traffic to your site. Ad extensions take your PPC ads to the next level.
These extensions provide users with additional information about your business, which can compel them to click and convert.
There are numerous ad extensions you can use to increase sales online, including:
Sitelink extension: The sitelink extension lets you add additional links to your ad, like in the example listed above. These additional links can guide people to specific and relevant pages on your website, which can help expedite the shopping process.
Callout extension: The callout extension enables you to add small descriptive phrases of text that provide detail about your business or products. Some examples include "free shipping," "military discount," and "hassle-free returns."
Structured snippet: Structured snippets let you categorize parts of your business to help you attract people looking for a specific type of product from you. If you sold clothing, it might look something like "Products: Women's Clothing, Men's Clothing, Children's Clothing."
Ad extensions are just one of the ways to increase online sales by driving more people to click on your PPC ads and check out your products.
2. Create a sense of urgency to get more leads to convert
If you want to know how to increase online sales, start by creating a sense of urgency on your site. Creating a sense of urgency can get users to convert because you're offering a great deal they don't want to miss.

Your urgency offer can range from discounts on orders to promotional offers for free shipping.
You can choose to have a code for these urgent offers or just apply the discount automatically when users meet the requirement. Urgent offers should always have a deadline. The length of the deadline is up to you — it can be a one-day-only offer or a weeklong offer.
You'll want to choose the timeframe that works best for you and your business. Creating a sense of urgency will increase online sales because it will operate as the final selling point for making a purchase. If someone is considering purchasing your products and sees an offer for an extra 20% off their entire purchase, it can be the final nudge they need to convert.
3. Use high-quality product visuals to sell your audience on your products
This tip may seem obvious, but adding high-quality visuals to your product listing is one of the best strategies to increase online sales. When users shop online, they don't get the opportunity to see your product in person. They rely on the visuals you provide to determine if your product is the right fit for their needs.
Use high-quality visuals of your products so your audience can get an accurate perception of how your product looks. Let's look at this listing for a barstool as an example.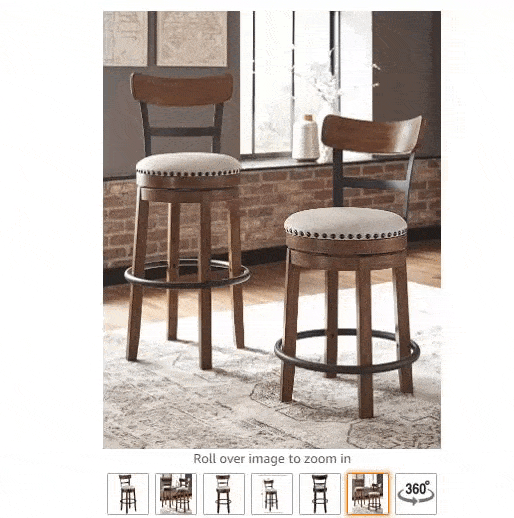 In this example, you see numerous photos of the barstool that show off the product.
The company shows the back and front of the chair so users can see the detail. In one photo, the company also includes the product dimensions so users can determine if it's a good fit for their bar top. Additionally, the listing shows the two height options available so shoppers can pick the barstool that fits their needs.
Lastly, they include an interactive 360-degree view so users can see the chair from all angles.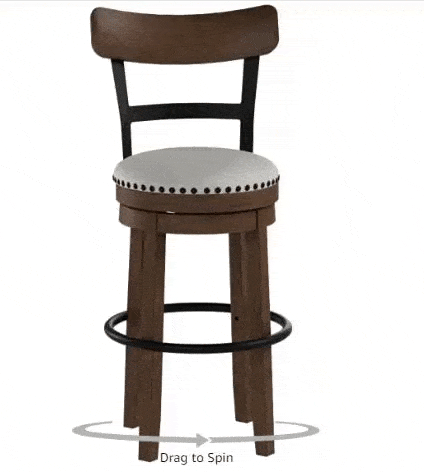 All these visuals add to the user experience and allow users to see the product from all angles. When your audience can see your product better, it makes them more likely to feel confident enough to purchase.
4. Focus on building reviews to instill confidence in your brand
Along with stunning visuals, you'll want to build your audience's confidence in your business by earning reviews and showcasing testimonials. When people shop online, they rely on reviews to help them determine if a product is right for them. Reviews are beneficial in the buying process, which is why 80% of people say online reviews changed their minds about a purchase.
You must focus on earning reviews to help build your audience's trust in your business. When 92% of users trust recommendations over a brand, you can't afford to neglect this strategy if you want to increase sales online. So, how can you earn more reviews?
The best thing you can do is follow up after a purchase. You'll want to give your shoppers time to get the products and use them, but a few days after the product arrives, you can send a follow-up email asking how they like the product and encouraging them to leave a review. You can also invest in review management services to help you get and maintain your reviews.
5. Use chatbots to help answer common questions
If you want to know how to increase online sales, start by utilizing chatbots. Whether you choose to use chatbots on Facebook Messenger or on your website, they can benefit your business greatly.
Your audience will often have questions about your products, but you aren't always available to answer those questions. Sometimes, when your audience can't get answers, they decide not to buy.
To help combat this issue so you can increase sales online, use chatbots.
Chatbots are computer programs that utilize artificial intelligence to interact with your audience and have a conversation. It helps you automate your customer service process so that you can deliver answers fast. You can use chatbots on your website or social media platforms like Facebook.
Chatbots can answer common questions your audience may have, so you can provide them with answers that can help them convert. From questions about shipping to discount codes, you set up your chatbots to know the answer to these questions. As a result, your audience will feel more prepared to purchase.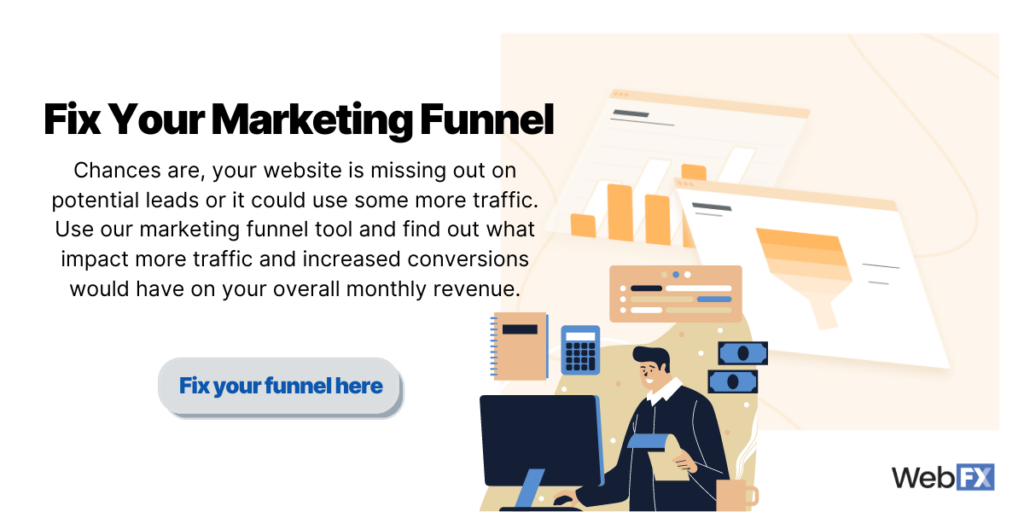 6. Use social media ads to target interested leads
Social media ads are a great way to increase online sales. These ads enable you to reach leads that haven't discovered your business yet but are interested in your products. When you run social media ads, you put your business in your audience's newsfeed.
As they scroll through their feed, they'll see your ad and check it out if it's relevant to their interests. You can create relevant ads and reach the right people with the ad targeting options available. If you want to run social media ads, you need to select the right networks for your business.
You can choose from numerous popular platforms like:
Once you choose your platform, you can run ads. Some standard ad formats include:
Photo ads
Video ads
Carousel ads
To run a successful social media advertising campaign, you need to target the right people. Think of your typical customers and what they have in common. Based on that information, you can start to compile a buyer persona, which is a fictitious representation of your customers.
These buyer personas will help you know who to target with your ads. You'll generate a more successful social media advertising campaign that increases online sales because you're reaching people with the most interest in your business.
7. Send abandoned cart reminders to recover sales
One of the best ways to increase online sales is to send abandoned cart reminders. When people shop online, they often add items to their cart but never complete the purchase. People often get distracted or aren't ready to purchase yet, so they leave their cart and your site.
It may feel like this is a lost sale, but you can recover it! Abandoned cart reminders help you bring these leads back and remind them of what they put in their cart. It gets them to reconsider purchasing.
These emails are extremely valuable for roping leads back in and making them reconsider the purchase.
Measuring the metrics that affect your bottom line.
Are you interested in custom reporting that is specific to your unique business needs? Powered by MarketingCloudFX, WebFX creates custom reports based on the metrics that matter most to your company.
Leads

Transactions

Calls

Revenue
Learn More

8. Simplify your checkout process to boost sales
If you find you're getting a lot of abandoned carts or incomplete sales forms, you may need to revise your checkout process. When you have a complicated or long checkout process, your audience will be more likely to abandon their carts.
Prevent users from abandoning their carts by simplifying the checkout process.
Analyze your checkout process to see what could stop your audience from completing their order. Some common problems include:
Your checkout forms are too long
You don't have enough payment options
You don't state your shipping rate upfront
You require filling out separate billing and shipping information
These types of problems can prevent people from completing their checkout. By fixing these issues, you can simplify the checkout process and improve sales for your company.
9. Make a compelling offer to nudge leads towards conversion
When leads are on your page, you can make them a compelling offer to convince them to purchase. One of the best tactics for making a compelling offer is to use pop-ups. Pop-ups are a great way to make a quick offer that can convince your audience to purchase your products.
Typically, these pop-ups offer a percentage off or free shipping and only require using an email to sign up.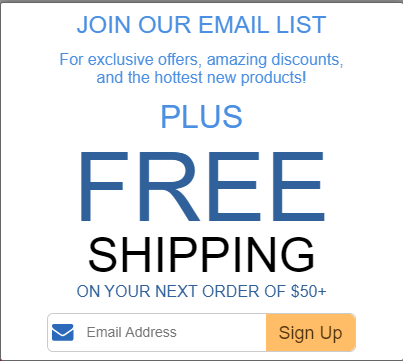 These offers can prompt users to buy a product from your business. Even if leads offer their email but don't purchase right away, you can send them tailored emails to help nudge them towards conversion.
10. Ensure your site is mobile-friendly
Creating a mobile-friendly site is one of the best strategies to increase online sales. Your audience uses mobile phones to shop, so if you don't have a mobile-friendly site, you risk losing leads for your business. When over 40% of online transactions happen on mobile, you don't want to miss out on potential sales.
If you want to increase sales online, make your site mobile-friendly. The best way to create a mobile-friendly site is to use responsive design. Responsive design enables your website to adapt to whatever device someone uses.
When you integrate responsive design, whether in-house or with responsive web design services, your site adjusts to whatever device your audience uses. It enables you to deliver the best experience for your audience, so they're more likely to buy from your business.
11. Use remarketing ads to bring customers back
You may have shoppers that visit your site, browse your products, and leave. Whether they're not ready to buy or aren't sure if you're the best option, you can reel these customers back in with remarketing ads.
Remarketing will help you increase sales online by driving leads back to your site to purchase.
Here's how remarketing works:
A user visits your site and looks at your products
The user leaves your site and browses other pages on the web
They see an ad for your website on this other site
This user remembers the product they browsed on your page
The user returns to your site and purchases the product
You can create remarketing ads on numerous platforms, from social media to display ads on Google's Display Network. These ads will help you increase online sales by driving interested leads back to your business and getting them to convert.
Increase online sales with WebFX
If you want to boost your conversion rate and earn more sales, it's time to invest in strategies that will help you grow online. From remarketed ads to abandoned cart emails, you have many new tactics you can implement to increase online sales.
At WebFX, we have over 25 years of experience in increasing online sales for our clients. In the past five years, we've driven over $3 billion in sales and managed over 12.9 million ecommerce transactions for our clients. Our experts will help your business increase sales and revenue to thrive online.
Give us a call today at 888-601-5359 or contact us online to speak with a strategist about how we can help you increase online sales through digital marketing!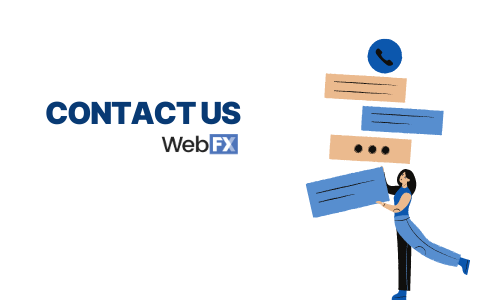 WebFX Careers
Join our mission to provide industry-leading digital marketing services to businesses around the globe - all while building your personal knowledge and growing as an individual.