All the Details on Facebook Ad Specifications and Dimensions
Advertising on Facebook is all the rage in Internet marketing, and for good reason!
Facebook is one of the most lucrative ways for any company to reach new customers. It's precise, calculated, and exact — and Facebook wants its advertisers to be the same!
Facebook is the world's largest social network with 1 billion daily active users. That also makes it one of the world's largest ad networks.
With so much data on so many different people, Facebook is one of the best ways for you to get in touch with potential customers and grow your brand.
If you're not advertising on Facebook, you should. And if you're just starting, here's everything you need to know about how their advertising model.
Facebook ad specifications and dimensions

Facebook ad objectives
Facebook offers 10 different objectives for your ads, and they're all valuable to your company's website and social media presence.
Specifically, these are the 10 objectives you can choose:
Clicks to website
Website conversions
Page post engagement
Page likes
App installs
App engagement
Local awareness
Event responses
Offer claims
Video views
That's a lot of options for a single ad. But they're easy enough to use once you determine what you want from your Facebook campaign. After all, each ad form is named after its objective.
It's important to note that app developers have an extra edge in Facebook's ad model.
With the "App installs" objective, you have the chance to get more conversions for your app just by listing it on Facebook.
That means you get your product in front of a new potential customer without them even going to your site.
Even if nobody's heard of you before, you can get a conversion with a single click. That's incredible.
But other ad objectives have their place, too. Offer claims are great for promotion, videos work wonders for long-term engagement, page likes bolster your Facebook presence, and website conversions specialize in getting people to convert on your site.
Your choices don't end there, either.
Different ways to show your ads
Most objectives have different ways you can display your actual ad. These subtypes let you customize exactly what you want to say and show so you can effectively engage users.
Most objectives have the same ad subtypes, and a few of them are unique. Regardless, you can use them all to promote your business.
Subtype #1: Facebook links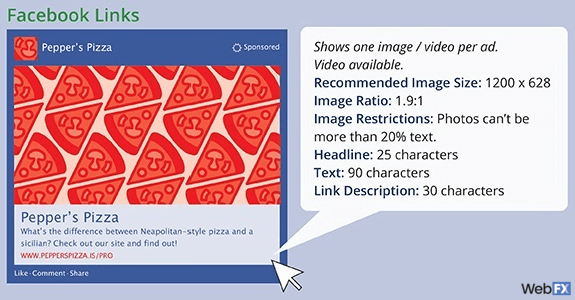 Facebook link ads are like PPC ads with photos. You have a few characters for a headline, text, and a link description. Then, you can throw a big photo into the mix to grab user attention.
The effect is the same as PPC ads too (driving traffic to your site), and it gives users a chance to visit your site or your Facebook page for more information.
Overall, it's a good standard ad to promote your business.
Subtype #2: Instagram links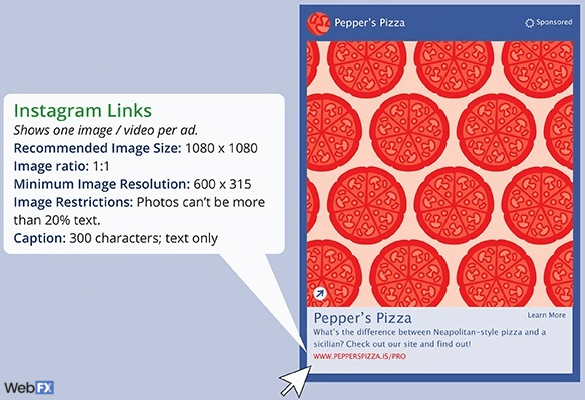 On April 9, 2012, Facebook bought Instagram for a cool $1 billion.
That means Facebook got all of Instagram's users — and a new advertising platform.
Instagram ads usually show one square photo and a sentence or two as a description. Surprisingly, you can write more on an Instagram ad than a Facebook ad (300 vs. 145 characters).
And as the name implies, Instagram ads don't show on Facebook — they only show on Instagram, which is pretty much a mobile-only network. (It has a desktop site, but it was originally designed as a mobile app.)
Subtype #3: Facebook carousel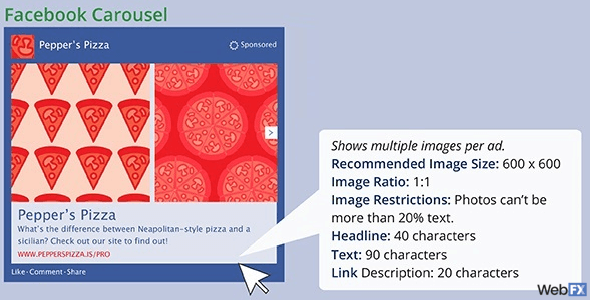 The Facebook carousel is a way for you to show multiple images in one ad.
Unfortunately, it has the same layout as a slideshow, and slideshows have abysmal completion rates. So that means you may pay Facebook for an ad that shows multiple images from your company, but a huge majority of people won't bother to click past the first one.
Subtype #4: Conversion links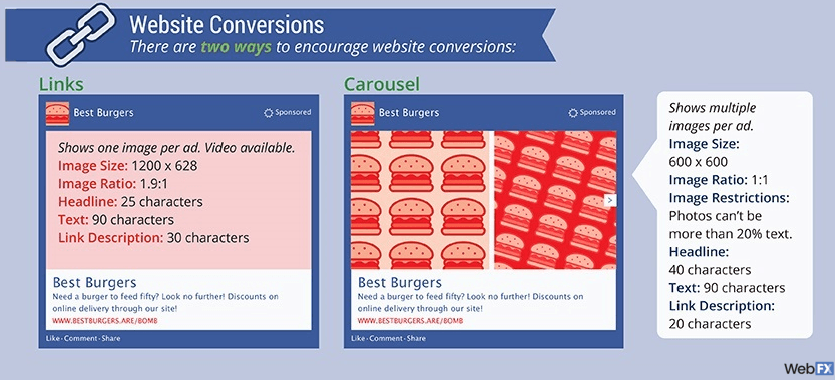 Conversion links are focused on turning Facebook users into your paying customers.
Whether that means getting someone to your site or allowing them to convert directly from Facebook is up to you. And that's an even greater possibility since Facebook is testing its "Buy" feature, which has been in production for a little over a year.
But, for now, conversion links focus mostly on your site.
Subtype #5: Photos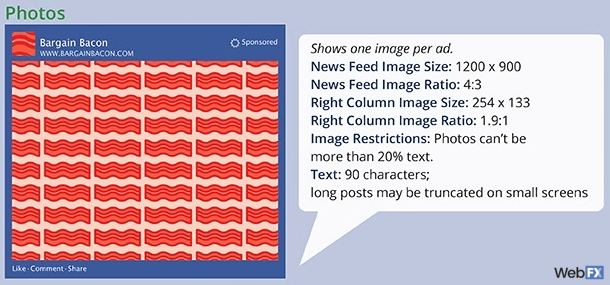 Photos are one of the most commons ights on Facebook. You probably have at least a dozen photos on Facebook yourself — but they may not be used for advertising.
Facebook's photo ad type is a great way to promote your brand with an engaging, eye-catching ad. Users get an eyeful of your company, product, or brand, and they can like, comment, or share your ad even more!
Your images are contained to 1200 x 900 with a 4:3 ratio for the news feed, and right column images must be 254 x 133 with a 1.9:1 ratio. And, naturally, images can't have more than 20% text on them.
You also have to keep your taglines concise. You only have 90 characters to use a call to action or otherwise get people to interact with your ad!
Subtype #6: Text

Text-only ads are an affordable and effective way to engage customers without disrupting their Facebook experience.
Unfortunately, that means you have to compete with big, eye-catching photos from competitors.
But on the plus side, your ad goes on the right side of your target audience's news feed, which is great placement.
Like every other subtype, it all depends on what you want to accomplish with your ad.
Subtype #7: Videos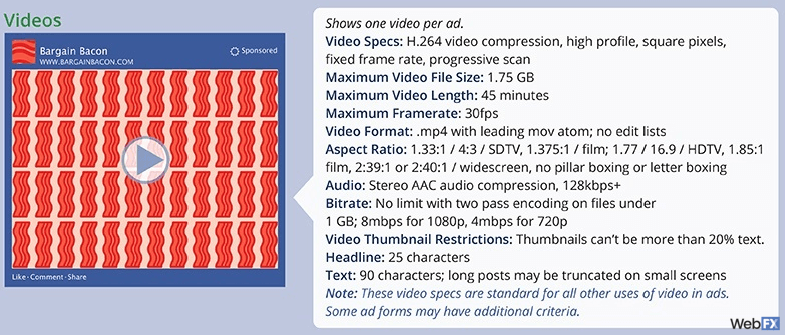 Video ads are a great way to keep users engaged for a long period of time.
You can show them virtually anything, including a tour of your facilities, how you make your products, interviews with your staff, and promotional materials.
But there's a downside — people don't watch videos on Facebook for very long, and they count a view after someone's been watching for three seconds. And even with that easily-achievable metric, Facebook videos only have a 3% engagement rate.
Still, videos can boost engagement by 65% for some brands, according to a 2012 report.
So it's up to you whether you want to use videos — but just be aware that it might not work out the way you'd like.
Subtype #8: Page likes

Page likes are great ways to get a better following on Facebook.
They don't have the same direct results that the website conversion and traffic objectives might have, but they can still help build an audience for your business.
Then, you can market directly to that audience to get them on your site and buying.
In terms of the sales funnel, page likes are at the very top. But you have to start somewhere, right?
Subtype #9: Apps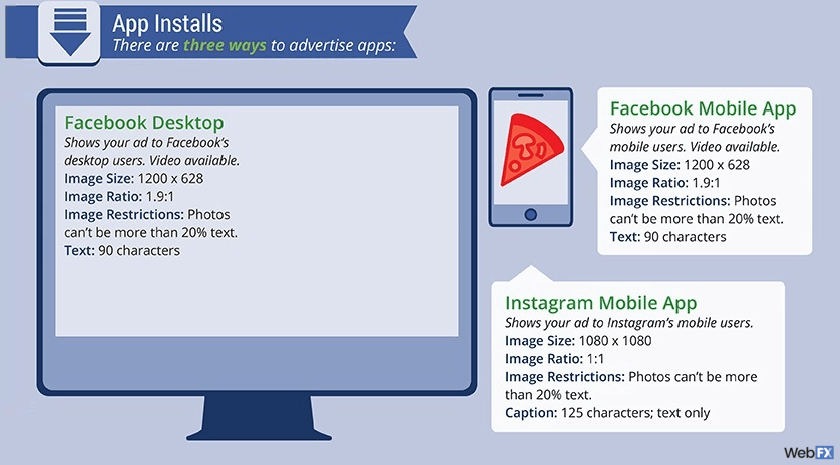 All the app-oriented ad subtypes are basically the same as other ad formats.
You can show text, images, and videos, but they're all oriented toward apps.
The biggest difference for app subtypes is that users can install apps directly from Facebook, which cuts out the middleman of your website.
Placing your ad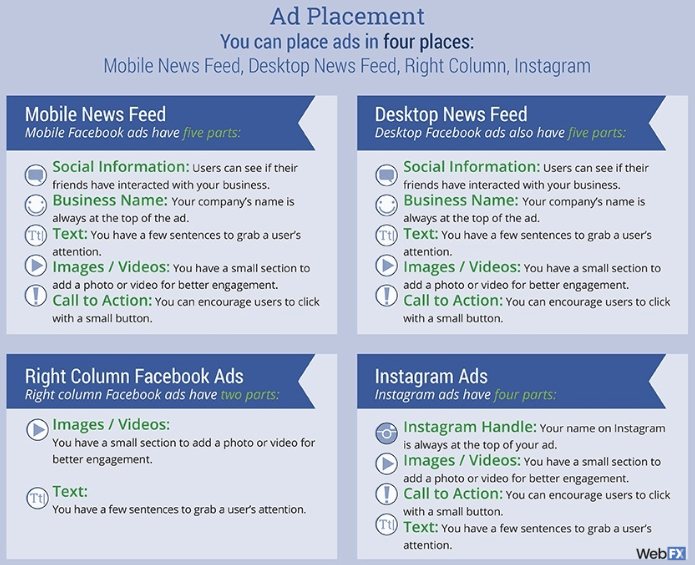 There are four possible locations for ads, but not every ad can go in every location.
The locations are:
Mobile news feed
Desktop news feed
Right column of Facebook
Instagram
All of these locations have different stipulations about ad format. But if they fit your goals for your social media marketing strategy, they're great ways to reach out to potential customers.
How you pay Facebook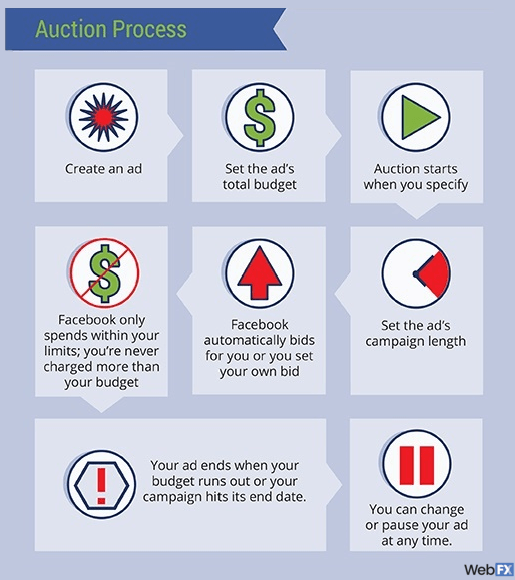 This is the nitty-gritty that you need to know before you actually start a Facebook campaign.
Facebook operates its ad system similar to Google's PPC system — it's an auction.
However, the difference is that Facebook's bidding system is automatic, which means you don't have as much freedom to customize it as you would a Google campaign.
So you create an ad, set a budget, and start advertising according to a schedule.
Then, Facebook bids your ad against others that target the same demographic.
You're only charged within your budget limits, and you can pause, change, or end your campaign whenever you want.
Still, that doesn't have the same level of control as a Google Ads campaign. So if you're the kind of person who likes to have complete control over every detail of your marketing strategies, you may find Facebook's advertising model frustrating.
That doesn't mean it isn't effective — it just means you may not like it as much as other ad platforms.
RELATED READING: HOW MUCH SHOULD YOU SPEND ON FACEBOOK ADS?
Billing specifics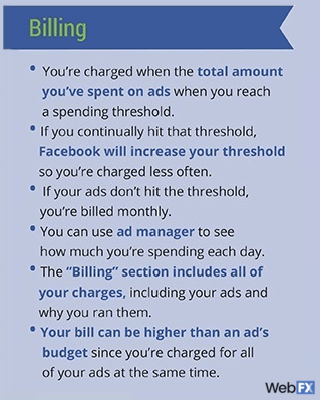 When you're advertising on Facebook, you're not billed every time someone clicks on your ad.
Instead, you're charged for the total you've spent on ads whenever you hit your budget limit (or "threshold").
If you never hit that threshold, you're billed monthly.
That means you can get a monthly bill for multiple ad campaigns at the end of the month, while all of your campaigns are still running.
Because that's more complex than standard PPC systems, it's important to keep an eye on the "Billing" section of your advertiser's dashboard. That way, you constantly know what's going on with your marketing budget.
BONUS READING: WHY WE THINK SIMON COWELL CRACKED THE CODE TO FACEBOOK MARKETING
Do you use Facebook ads?
If not, now is the best time to start!
Share this infographic with the people on your marketing team, so they can all make Facebook ads for your company.
And if your marketing team is all tied up with other strategies, check out our social media pricing page to see how WebFX can help!
ORGANIC OR PAID FACEBOOK ADVERTISING? SEE WHAT THE EXPERTS SAY